Versions
Here you have the four basic rigs and versions (Lay-outs) of Banjers.
RIGS
| | |
| --- | --- |
| Gaff - 28 sqm | Marconi - 28 sqm |
| Marconi - 42 sqm | Transoceanic - 75 sqm |
27.08.05
About the Transoceanic rig, Ton Koot writes:
"11 years ago as I was buying my Banjer I collected a lot of old, orginal and copies, pamphlets about Banjers. The information was not always the same. Pamphlets were from Eista warf, Intermarine and Stangate Marine. Sailarea : 28 , 40, 50, 65, 75 and 80 m2. Fuel capacity: 700, 900, 1600 l . Displacement: 12,2 , 14,3 tons. Ballast 4 and 5 tons
I think the Transoceanic was developed in the Stangate Marine period. The figures in Italics are Transoceanic. That means hull numbers 70 or more...... I think owners who increased their sailplan renamed their Banjers also transoceanic. I have a drawing dated 06031974, from Eista werf, for a sail area of 80m2. The dimensions measured from the drawing are: Bowsprit 2m; Mainmast: from waterlevel 13,7m; from cabin 11,9m; boom 4,4m; Mizzen: from waterlevel 9,7m; from top wheelhouse 7,2m; boom 3,1m . Note: There are also transoceanics with original sail plans of 65m2 and 75m2....."
05.09.05
Brian Hull informs about masts and booms measurements from DUCK SOUP, an A4 Transoceanic, hull 94.
....MAIN MAST (TOP TO DECK) 11.64M, DIAMETER AT MID LEVEL 54CM..
BOOM 4M, 26.5CM DIAMETER 41CM AT CENTRE.
MIZZEN MAST 8.86M TOP TO COCKPIT FLOORBOARDS. DIAMETER AT MID LEVEL 41.2CM..
BOOM 2.96M DIAMETER 28.3CM.....
(To know more about this magnificent example of a Banjer Transoceanic, visit its
dedicated page
.
05.09.05
More info on Transoceanics from Deees de Smet, who owns KITTYHAWK, an A3 Transoceanic, from 1974.
- Displacement 13.2 tons(13200Kilograms.), 5000 kilos iron ballast (4000 normal versions +1000 extra)
- Extra ballast placed under the starboard and under the backboard bunks(Seats) and covered with polyester.
- Masts and booms measurements:
front mast:profil P12 , 11.60 meter
mizzen mast profil p9 , 8.20 meters.
Front mast boom profil P7,4.44 meters
Mizzen boom profil P5 , 3.10 meters.
- Sail areas
main sail 23.30 m2 2 reefs
mizzen 11.25 m2 1 reef
Genua 42.00 m2 roll
( Jib 15.00 m2) no reef
Total 76.55 ( 91.55) m2
- Lenght of bowsprit 1.35 meters.The bowsprit is made of strong stainless steel pipes .
- Fixed rig wiring diameters
forestay to bowsprit 10 mm
forestay to bow(cutterstay) 9 mm
stays 8 mm (6 per mast)
backstays main mast 9mm
stay between main and mizzen 8mm (adjustable on the mizzen)
stay under bowsprit 10 mm
- The deck MUST be reinforced. A strong pillar must be placed under the deck to support the mast. The deck will otherwise be pressed a few centimeters and cracks will show! See the fotos on the banjersite..
- Fuel tanks 1300 liters (2 x 650 liters)
- 2 watertanks 700 liters
- Waste tank 100 liters
- Enginer 4 cyl. Perkins 81 HP.
- The engineroom is smaller than the non transoceanic version ,because of the large fueltanks.
- Do not forget : Larger masts need a bow truster, prefereably a strong one.
VERSIONS (LAY-OUTS)
Rear cabin - Full Wheelhouse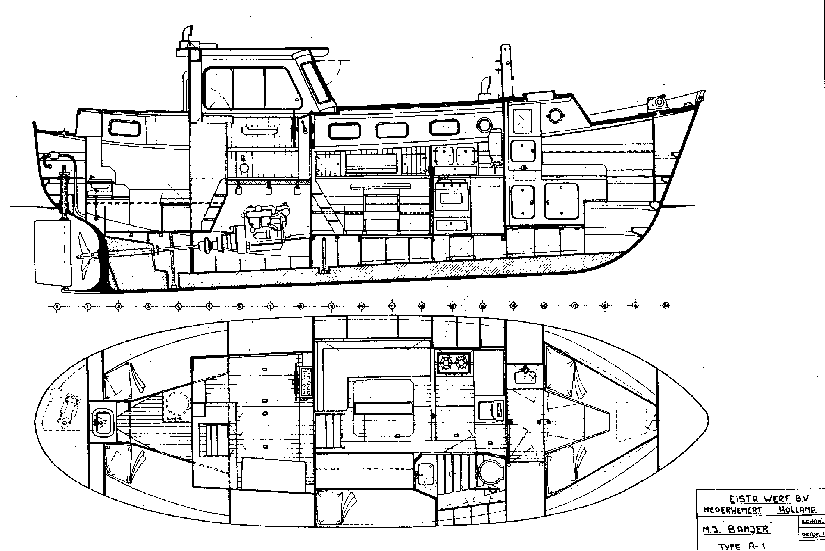 Rear cabin - Open wheelhouse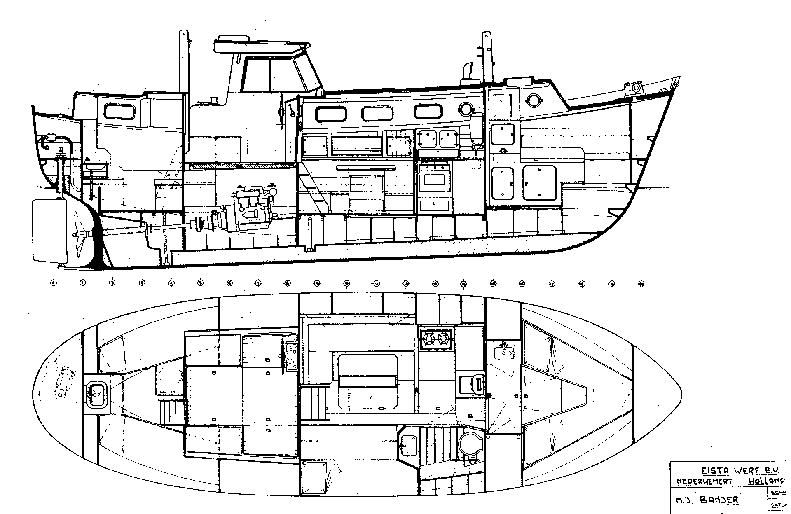 Rear cabin - Central cockpit with windshield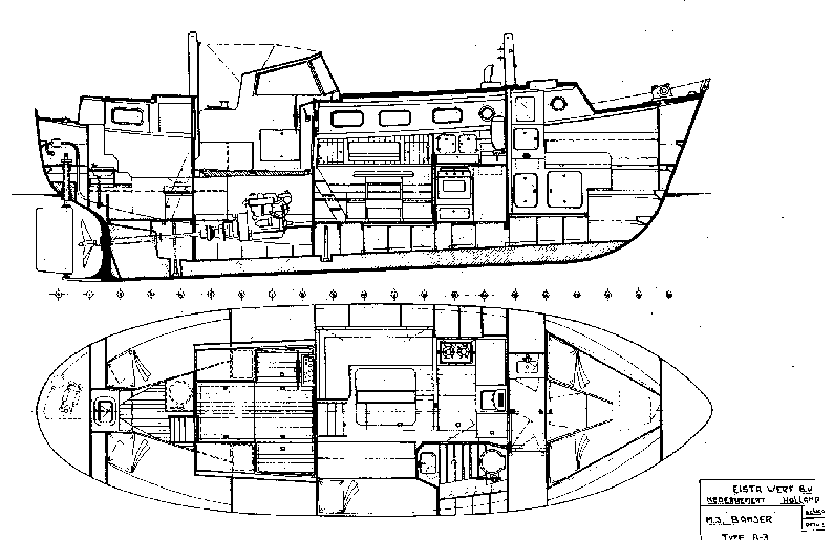 Rear cockpit - Full Wheelhouse