Zeeland Trip
Our first Banjer holiday.
By Maarten Jansen.
September 2005.
In November 2004 we bought `Banjer" nr 12 from Piet and Bep Jansen in Delfzijl, Holland. After a life long of sailing of which part in the Arabian Gulf, we decided to sell our 36 for sailing yacht and look for a capable motorsailor. Not much choice there so naturally we went for a Banjer. After looking at a couple of them we decided to go for Nr 12 "Banjer". Uptill now we do not regret our decision and we sailed throughout the winter. This was one of the reasons to go for a motorsailor. We wanted to extend our sailing season!
This summer holiday we planned to sail the Zeeland waters and Belgian coast together with our friends on board of "Woelwater", a Sturier Kotter 1200.
Here is a short log from our holidays:
Saturday 23 July
Left our homeport of Dinteloord at 1400 for Bruinisse. Passed Krammer locks without problems because we used the commercial locks. The smaller yacht locks can be very busy on holidays.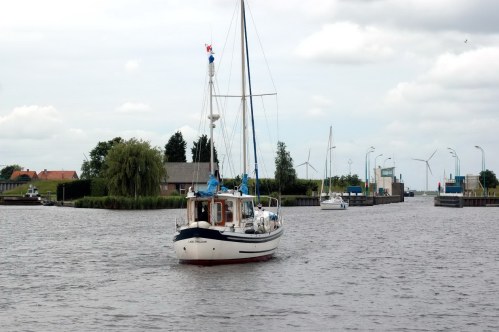 In Bruinisse the lock was very busy so we decided to tie up along a fishing boat and wait until it was less hectic. We went through the locks at around 20.00 hrs when most of the boats were safely tied up.
My nephew works as a assistant harbour master in Bruinisse so he arranged a berth for us despite our late arrival. We met our friends Bert & Annelies with their Sturier 1200 motoryacht. B & A will join us during the rest of our holiday.
Sunday 24 July
Left at 11.15 for a round "Grevelingen" with our friends on board. They left "Woelwater" behind so we were all on board of "Banjer".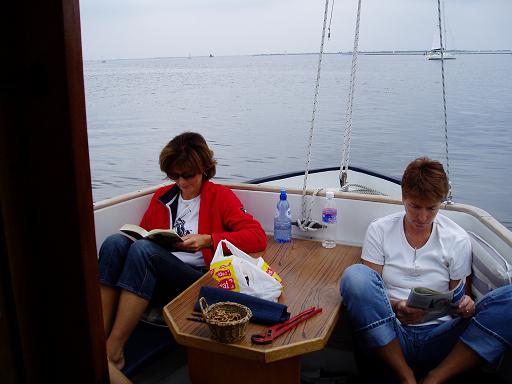 The ladies busy with their favourite pastime.
Made a nice round and parked the boat for lunch at a small island called "Archipel" Had a swim afterwards and reported back in Bruinisse at 1600. Funny but when we were sailing the "Grevelingen" seemed much bigger then when we are motering now!!!
Problems with the waterpump. Could not fix it so got ripped of by Visser Watersport when I bought a new one. (my brother nicknames that shop "Vissers Jewelery". Later we found out that the same pump was 80 Euro's cheaper at a shop in Breskens.
Not many shops stock 24 Volt pumps and other accessories any more.
Monday 25 July
Left Bruinisse after exchanging the water pump earlier. Headed for the famous mussel village "Yerseke" Lots of rain on the way so thanks heaven for Banjers wheelhouse. Poor Sailors!!!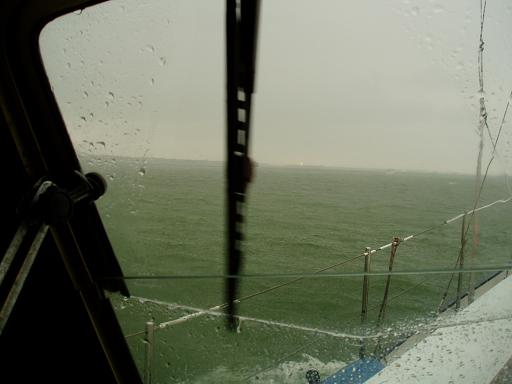 What do you mean "summer"
Yerseke is positioned a bit of the normal route but is surely worth a visit. Famous for its mussels and oysters it has a good marina that is reasonably priced. There is a good fish shop across the marine where we bought "Schar" a flat fish for less than 2 euro's a kilo. Very tasty and almost as good a a sole but at a fraction of its price. Went down nicely with a good Muscadet wine.
Tuesday 26 July
Departure 10.30 hrs. Went through the Canal of "Zuid Beveland" From Yerseke to the Hansweert Locks. Bridge openings 2x but nicely planned and almost no waiting time. 12.30 hrs out of the Hansweert locks and on to the Westerschelde. Took the southern route between the sandbars because we hoped to see some seals.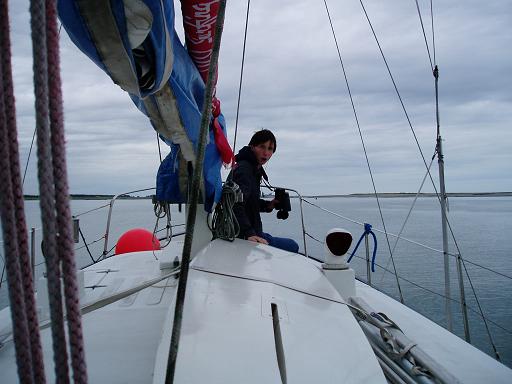 Son Sjoerd on the lookout for seals.
Saw indeed some 4 of them parked on the bar just before Breskens. Crossed the Schelde to Vlissingen (Flushing) where we were able to get a berth in the old harbour in the middle of the city. Very nice but very cramped as well with too narrow turning circles for "Banjer" Just made it around the corned with not an inch to spare. (we do not have a bowthruster.)
Wednesday 27 July
Rest day for sight and museum seeing in Flushing. Very nice city with lots of activities. Left at 1300 for the short crossing to Breskens.
Breskens is one of our favourites!! You feel like you are in Belgium already but the berths and accommodation are very good. Friendly harbour masters and a good restaurant at the yachtclub with famous fish and a more famous "Madam" who runs the place. Clear water in the marina which invites for a swim on hot days. We decided to stay here 2 days because we like it. The girls (ladies) can go to the beach or shopping while the men tend the boats and eat raw herring, washed down with a beer. This is how a holiday should be!!! Finally some nice weather as well.
Thursday 28 July
Rest day in Breskens, cycling, walking, swimming, shopping, reading,
Friday 29 July
Departure at 1000 for Blankenberge in Belgium. Weather nice an Seastate comfortable so we decided to continue to Oostende.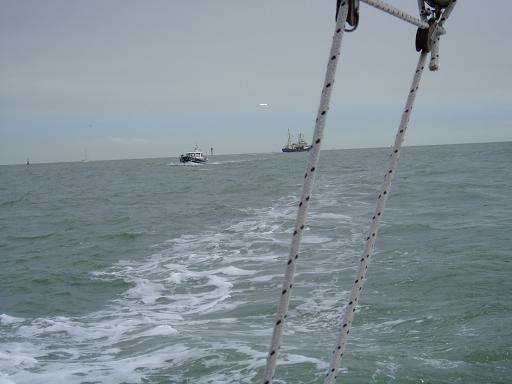 on the way to Oostende
Mizzen up for stabilising the boat. At 1300 waiting for the locks to get into the Mercator dock in the centre of the city. Very nice location, in the middle of the city only the toilet/showers are a bit unusual. There is one location and it is during daytime open for the general public as well. Funny they calculate the mooring fees according to your ships width. Good for a Banjer because they are relatively narrow.
Oostende has very nice pubs and a real boulevard. Good fish (we bought plenty of fresh sole at the local fish-street) and of course very nice beers. We really enjoyed Oostende.
Saturday 30 July
Rest day in oostende
"Banjer" and "Woelwater" in the Mercator Docks
Sunday 31 July
Northwest 5-6 beaufort. Planned to go to Blankenberge but stuck our noses outside of
Pier and decided quickly to go back because it was very uncomfortable. Banjer could handle it nicely but rolls a lot without mizzen. It was a relief to get back into port and a lot of other sailors returned as well because of the north western swell.
Monday August 1
Dep 10.00 for Blankenberge again. Nice trip although there still was some left over swell from last day. It is just a 1 ½ hours trip so we survived without rouble.
?

Woelwater leaving Oostende




Banjer with Oostende aft. ?
As we passed the fuel pontoon there stil was some space so we decided to take the opportunity to top up our tanks as diesel is much cheaper in Belguim as it is in Holland, The price difference can go up to 50 Eurocents a liter. Refuelled some 600 liters which saved me some 300 Euro's compared to Holland. And this in the EU!!!!
Found a nice berth in the marina at the VNZ. Had a beer in the yacht club which is small, informal but very cosy and cheap. Where else do you find a genuine Belgian white beer for 1,30 Euro!!!!
Tuesday August 2
Dep Blankenberge 10.45 for Breskens. Nice trip, sunny again little swell. Tried to fish but no strike. Used Repala lure but probably too big or too much barracuda taste from my Emirates fishing trips.
Margo enjoying a sunny day at sea with Woelwater in the background The boys relaxing.
Blankenberge-Breskens
Wednesday August 3
Departure Breskens 1030. Rough because of west 6 and wind against tide. Crossed the Westerschelde with a lot of rolling.
Rolling along on the Westerschelde crossing!
Took just 45 minutes but heavy rolling. Was too lazy to put up the mizzen but regretted it later. Went through the locks in Flushing to the Canal through Walcheren. Locks in Veere and finally moored in Woplhaartsdijk. Very nice Marina. Good facilities clean sanitary, very reasonable price.
Thursday August 4
Rest day. Surfed, walked etc, Had dinner in the "Kraaienest" where they charged us Euro 100 for a bottle of Sauvignon Blanc. Went back for compensation which we got. Left us with it bit of bad "aftertaste" .
We decided to stay here for another day because of the bad weather and we had to send the boys of by train which could be done in Goes which is not too far away.
Friday August 5
Another rest day. Went to Goes for shopping and put the boys on the train back home.
Were invited on board of "QimmiQ" of Frank Cools from Antwerp, who has his Banjer in Wolphaartsdijk. He had a look at our Banjer before he bought Qimmiq. Nice visit with a good discussion about Banjers.
Saturday August 6
Left at 1030. Could get into the locks at Zandkreek the first time so we were lucky despite the fact that it was already busy. Back on the Oosterscheldt and headed to the west again. Arrival at Roompot Marina at 1300.
Sunday August 7
Rest day in Roompot Marina. Biked and hiked. In the evening faboulous Cheese Fondue at B&A's on board of Woelwater.
Monday August 8
Stayed on till lunch and set sail for Zierikzee. Westerly 6 so nice chop outside. Used the Genny to stabilise a little. Berthed at 14.45. Always nice to be in Zierikzee which is a historic town with nice old buildings. The town was very busy with a fair on the market place.
Tuesday August 9
Left at 1100 for Colijnsplaat which is just across. Good facilities again at a reasonable price. Free showers!!! Diner on board of Banjer with fresh mussels and white wine. Cold wind but still some sun. Made a nice bike tour in the area. (We have two folding bikes in the "cellar" under the cockpit floor.)
Wednesday August 10
Left at 1100 for St Annaland. Arrival at 13.30 Choppy before the bridge but later it was ok. Lots of wash from the bigger motoryachts. Cloudy. Biked in St Annaland. Had dinner at the "Laguna" Baked Eel!! Long time since I had that but it was a bit heavy on the stomach.
Thursday August 11
Bert on board of Woelwater had the ships painter on board for a quote for painting his ship. I have already decided to do it myself this winter. Saves a lot of money!!! Departure at 1200. Went into the small creek to St Philipsland. Very nice and quiet. Went back and anchored close to a sandbar. Woelwater came alongside and we did some sandbarrin" and swimming in the creek.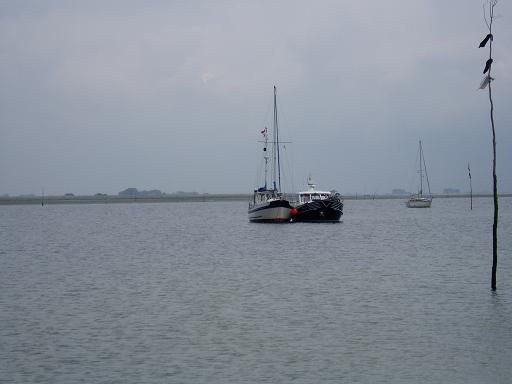 Woelwater and Banjer anchored together.
Very nice closure of the holidays. At 1600 anchor aweigh and to the Kramer locks. We were lucky as the lockdooors were open and we could sail right in. Stayed there for the night.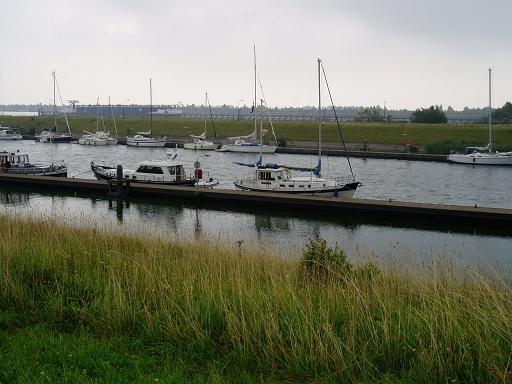 Last overnight stay at the Krammer Locks.
When lying at the locks we saw Sprot and Elskerinde passing by. Lots of waving and good to see more Banjers!!!
Next day we sailed for our homeport Dinteloord.
Conclusions:
Banjer performed above expectations.
No breakages apart from the waterpump.
Woelwater has a Perkins 135 HP and was sailing at 2000-2200 Rpm compared to our 1400 RPM with a perkins 6.534 of 95 HP. Cruising speed 7.5-7.7 knots.
You really need to pull up the mizzen for comfortable sailing on sea. Banjer rolls a lot and needs a "steadying" hand.
The cockpit is very comfortable and deep. This is one of the reasons we bought "Banjer" .
Manoeuvring in tight quarters can be tricky but we did not make any damage.
We have a simple Autohelm 4000 wheel pilot fitted and it works very well. It is only a bit noisy but seems to have no problem with the boats weight.
My wife loves the boat whereas she always had some doubt about real sailing where she always needed an extra hand to hold on!! Not required on board of Banjer. Wife happy, so Skipper happy as well!!