Sulasgeirnorth
The Nordic Circle (1)
A three year voyage round Scandinavia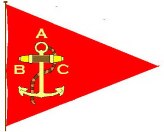 SULASGEIR is Banjer 37 ketch (hull no. 75 with a rear cabin and a Perkins 4235 engine). She dates from early 1974 and has had just two owners. We bought her 13 years ago and have had some good trips in the Dutch and French canals, the Med. And round Ireland as well as our own cruising ground of the west coast of Scotland. She is moored at the Isle of Seil near Oban in Argyll.
2004 Isle of Seil to Oslo Fjord
(NB Route Map included in Nordic Circle 2005)
| | | | |
| --- | --- | --- | --- |
| | | | |
| Scotland | Orkney | Shetland | Norway |
The plan was to go with the Royal Highland Yacht Club "Cruise in Company" to the Orkney Isles via the Caledonian Canal and then go on to Shetland and Norway. We plan to winter the boat in Norway or Sweden and then in 2005 - who knows?
2004 Part 1 Seil to Orkney
Friday 24th June. Met up with our friends Michael and Cherry and loaded up Sulasgeir. A very poor forecast of SE 5-6-7!
Saturday 26th June. Off from Seil. A fresh motor/sail to Lochaline, a fully enclosed sea loch just by the island of Mull. There we met 51 other yachts from the Royal Highland Yacht Club (RHYC) for our summer muster and barbecue.
Sunday 27th June. 18 of the RHYC yachts left for the Orkney Islands - 15 via the west coast and just three going through the Caledonian Canal. We had a good motor/sail Loch Linnhe to Corpach for the sea lock at the entrance to the canal. Into fresh water and paid our canal dues.
Monday/Tuesday 28/29th June Working the 29 locks along the 60 miles of the canal. We were in the locks with hire cruisers (what are fenders for?), large steel motor boats (usually Dutch!), fishing boats etc. Many nationalities transiting the canal - Norwegian, Swedish, Danish, Dutch French and American. And English and Scots.
In the Caledonian Canal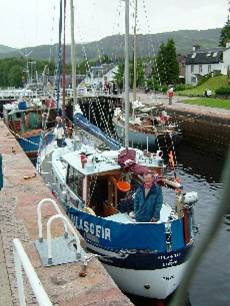 The Loch Ness Monster must sleep during the day as there was no sign - this time. On Tuesday we caught up with Kiskadee - they were originally coming to Orkney but had decided to stay in the canal. But we had a dram or two and planned to meet in Rotterdam in August.Wednesday 30th June. Off by 8am to get down the last flight of locks. By 11.15 we were back in salt water.
A brisk NW wind but we were going NE up the coast so we were sheltered. But, after careful watching all day at 10pm we picked up a rope from a lobster pot. The rope cutter did its job but we were secured to the sea bottom! A fishing boat stopped and cut the line so as to ensure that the tackle was not lost. We limped into Wick at about 11pm - still with rope round the rudder.
Thursday 1st July. Wick was a fine herring port (1000 boats in the harbour during the 19th century). But it is badly run down now. We spent the day removing rope from the rudder and propeller, repairing the VHF aerial (mizzen down - so easy on a Banjer) and touring the town.
Towing a Fisher 34 across the
Pentland Firth
Friday 2nd July. Left Wick with the two other RHYC yachts to cross the Pentland Firth to Orkney. Timing is critical here - the Pentland Firth has the strongest tides and the worst over falls round the British coast. It is very dangerous in the wrong conditions. But we had our timing right but just as we were preparing for the tides to pull us across a call from the Fisher 34 behind us gave us the news of their engine failure. So we had to go back about a mile and take them in tow! The first warp broke but the second attempt succeeded and we towed for two hours until they managed to get their engine restarted. We motored at our usual 1400 rpm and our speed reduced by 1.5 knots. We made 5.5knots through the water but up to 10.5 over the ground with the tide!
A very interesting - though alarming - exercise. We were lucky with the weather but it was still 26 tons of boats pulled easily by a Perkins 4236.
We motored into Stromness Harbour where the other 15 yachts that had come up the west coast soon arrived though they had been delayed for a day by a NATO firing exercise off Cape Wrath. All 18 RHYC yachts had made it!
Saturday/Sunday 3/4th July. Two days in Stromness - a fine old town with paved narrow streets. An important place in the history of whaling, arctic exploration and the fur trade (Hudson Bay Company's last port on the voyage to Canada). An excellent museum. Michael and Cherry left home on the Sunday and we visited Skara Brae, a remarkable 5000 year old village.
Monday 5th July. A six hour bouncy passage for 8 RHYC yachts up the west coast of Orkney to one of the northern islands, Westray. A fine harbour and even better lobsters and crabs. And a hotel serving excellent fish and chips (10 varieties).
Orkney courtesy flags on Westray

Tuesday 6th July. A fine clear day - walking - bird watching - and eating our lobster.
Wednesday 7th July. Five yachts headed due east to the remote island of North Ronaldsay. Famous for the small sheep that are kept on the beach by a wall right round the island. The meat apparently, but not surprisingly, tastes of seaweed - and is highly prized. But the wind got up and we couldn't get ashore so we all went down to Stronsay Island where we anchored in a fine sheltered harbour.
Thursday 8th July. From Stronsay down to the Orkney capital Kirwall - where almost all the RHYC fleet gathered in the new marina.
Friday 9th July. A coach tour. No tide tables. No navigation. No responsibility. Just visiting the Orkney World Heritage Sites of stone circles, tombs, brochs and villages. A superb day out and in the evening the final cruise dinner at the Orkney Sailing Club.
Saturday 10th July. Jay returned home to Fife and then over the next few days the rest of the fleet went south via the canal back to their home ports in Argyll.
And the weather got steadily worse as I waited for my `regular' crew, Peter, James and Ken to arrive on Wednesday 14th. But plenty of work on the boat - and washing!
2004 Part 2 Kirkwall to Shetland to Norway.
Wednesday July 14th Peter, James and Ken arrived from the south by plane, train, ferry and bus.
Thursday July 15th. The 4 days of strong north west winds were easing but we decided to have a day stocking up Sulasgeir and touring some of Orkneys Neolithic monuments.
Friday July 16th A light southerly wind. A gentle sail/motor north to the island of Westray. Moored in the harbour by the crab/lobster factory.
Saturday July 17th. Left at 0530 for the 12 hour crossing to Shetland. Light winds but plenty of old swell and the notorious `roosts' (tidal currents) made it an uncomfortable trip. We got into Lerwick the `capital' at 1740. Full of Norwegian yachts!
Sunday July 18th A day in Lerwick.
Monday July 19th Refilled with diesel and headed north-east to Out Skerries a remote collection of islands but with a fine sheltered harbour and an ideal start point for the shortest crossing to Norway - only 162 miles to Fedje.
Tuesday/Wednesday July 20/21st. Left 10am in a F1 SE wind motoring - 1450rpm - 7knots. The wind rose steadily during the day to reach F5 during the night which made it very uncomfortable being only about 20 degrees off the bow. But the visibility was good and we were able to find our way through the gas and oil rigs and platforms. The radar was a great help. At about 10.40 on Wednesday we entered the harbour at Fedje - where we caught up with some sleep! Fedje is a fine harbour and we tied up outside a Clyde-built large old yacht being restored.
Thursday July 22nd A five hour motor to Bergen through a narrow channel - Radsundet - our first introduction to the superb Norwegian system of channel and hazard marking. We tied up outside other boats on the Bryggen right in the city centre. Had a fine meal with a few expensive drinks.
Friday 23rd July. Up early to register with customs and change over to Scandinavian propane bottles. Then off south by a route described by an adjoining skipper through an amazing series of narrow channels to a very narrow anchorage on the island of Bomlo called Sikkavag. Now very little wind but pouring rain. Tied up outside a yacht on a pontoon
The crew's obsession with crosswords- six at once?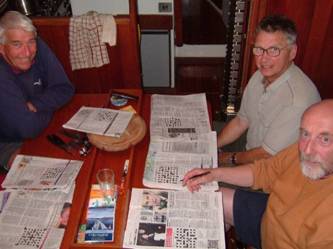 Saturday 24th July. Headed south into an increasing southerly wind past the city of Haugesund and east to the island of Rennesoya and the harbour of Vikavag - as usual we tied up outside another boat - this time a derelict fishing boat.
Sunday 25th July. Little wind. Once more under motor - heading towards the Lysefjord. A deep narrow fjord just twenty miles long with 800m cliffs. It became increasingly wet and stormy and there were superb waterfalls on either side. We launched the dingy for some Sulasgeir/cliffs/waterfalls photowent tgraphs. We o Lysebotn at the head and then bakck down to tie up on a quay at Viga - where they were selling superb fresh local cherries.
A fine waterfall - and deteriorating weather - in Lysefjord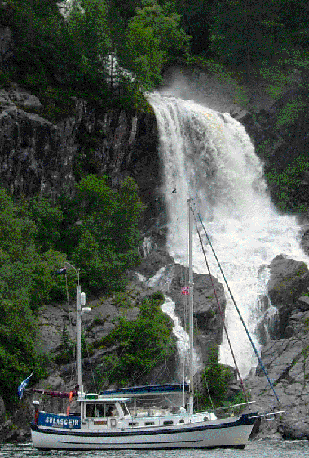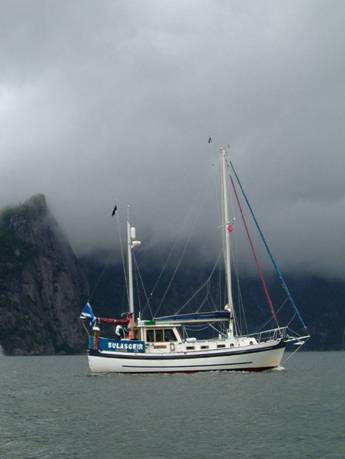 Monday 26th July. After the fjord diversion it was on with the journey! Out of the fjord, past Stavanger and out nearly into the open sea to tie up - outside a derelict fishing boat - in Tananger. Quickly off by bus to Stavanger to buy the next C-Map chart (very expensive cf. UK price) postcards and a few stores. And a quick look around. Then back to Tananger and a good meal at the hotel.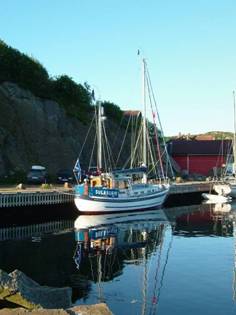 Tuesday 27th July.
Off at 0700 - only to pick up a fishing rope and buoy floating below the surface after about 30metres! Fortunately a quick dinghy launch and a lot of pulling we managed to free it and only lost 40 minutes! Then a long flog well offshore heading south-east. Finally at 7pm we found our way into a small leisure fishing port of Korshamn - just west of Lindesnes.
Wednesday 28th July. Left Korshamn at 0730. No wind. Rounded the Lindesnes headland, and as suggested in the Pilot, the weather improved as we went into the channels behind all the islands and skerries. We passed the entrances to Mandal and Kristiansand to stern anchor and moor at the small island of Stokken. We began to find everywhere extremely busy with boats - mainly power cruisers - everwhere. The power boats seem to pass very close indeed - obviously coming to admire the fine lines of a Banjer!
Thursday 29th July. Left Stokken at 0700 to enter the Blindleia Passage - an amazing small boat route through the islands. Some very narrow gaps and numerous waterside homes - once again boats everywhere. Past Lillesand and Arendal to Risor where we rafted up with many other boats. We were able to restock and have a good meal ashore.
Thursday 29th July. Left Stokken at 0700 to enter the Blindleia Passage - an amazing small boat route through the islands. Some very narrow gaps and numerous waterside homes - once again boats everywhere. Past Lillesand and Arendal to Risor where we rafted up with many other boats. We were able to restock and have a good meal ashore.
Friday 30th July. Very warm now and just a light north-easterly wind - we continued north-east! Along the coast partially in the open sea for a change. We entered the port of Langusand and tied up at a pontoon up the river about a mile beyond the town. Started to investigate a place to leave Sulasgeir for the winter.
The original plan had been for `the boys' to return home now and Jay was coming out with her cousin and husband to continue on to Sweden and the beginning of the Gota Canal. But due to a family bereavement that was not possible and we all had to return home.
Colin Whimster
October 2004