The Unexplored Dream
By Mike Davidson in the now extinct Pacific Power & Sail magazine,
about a trip on board Banjer DUCK SOUP, in Papua New Guinea's waters
(Because of the size of images, this page takes time to download. Please be patient)
Part One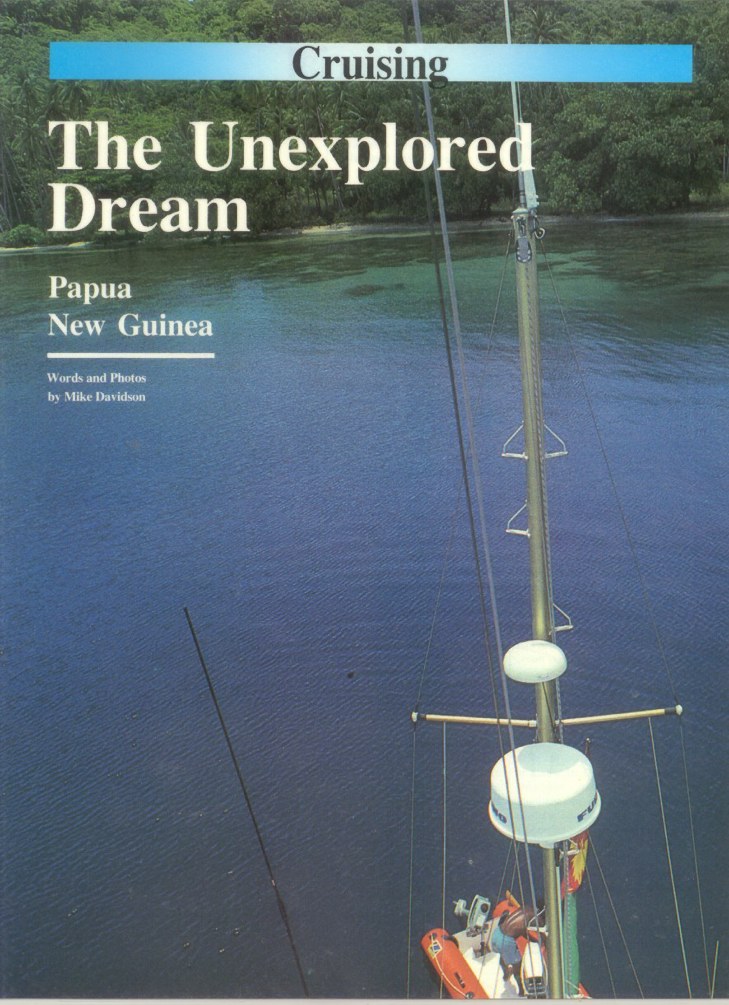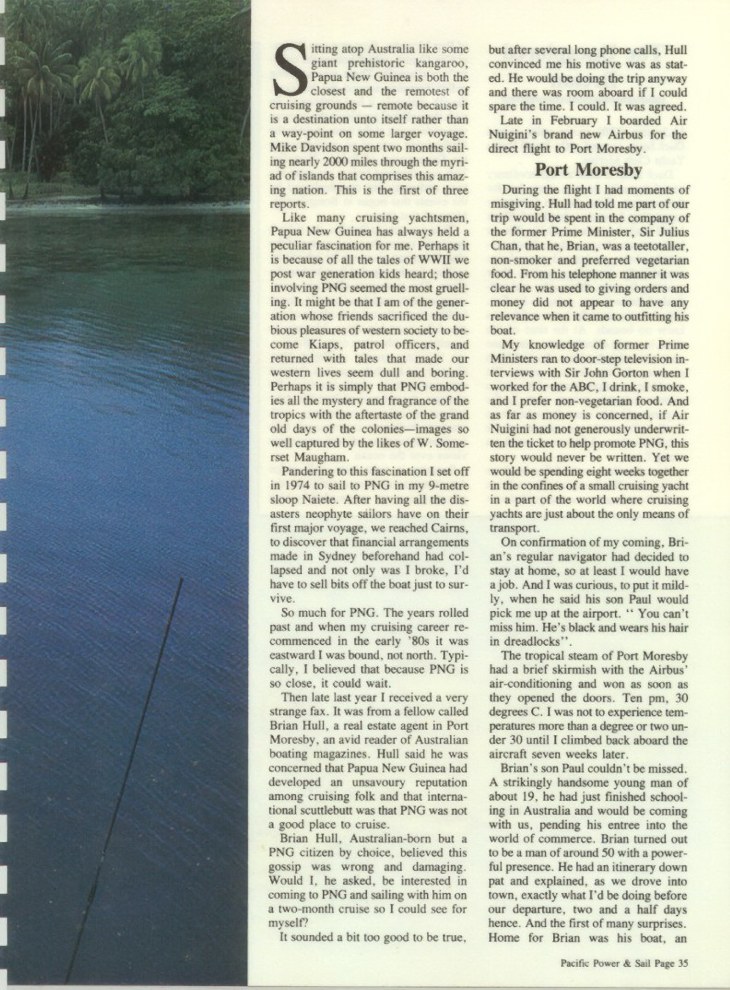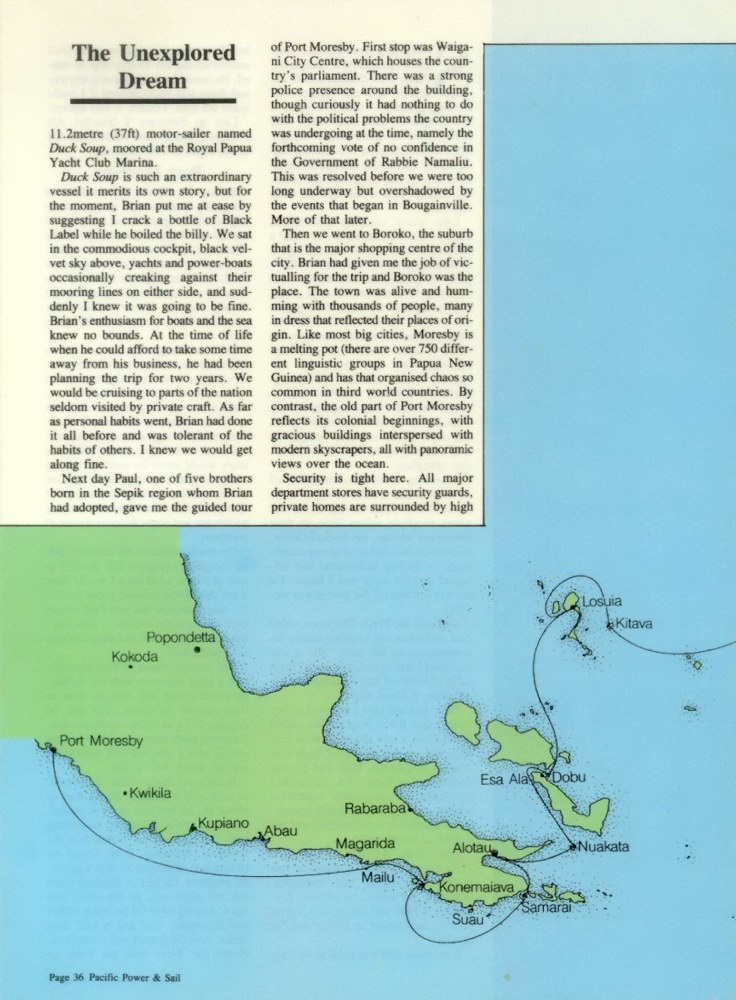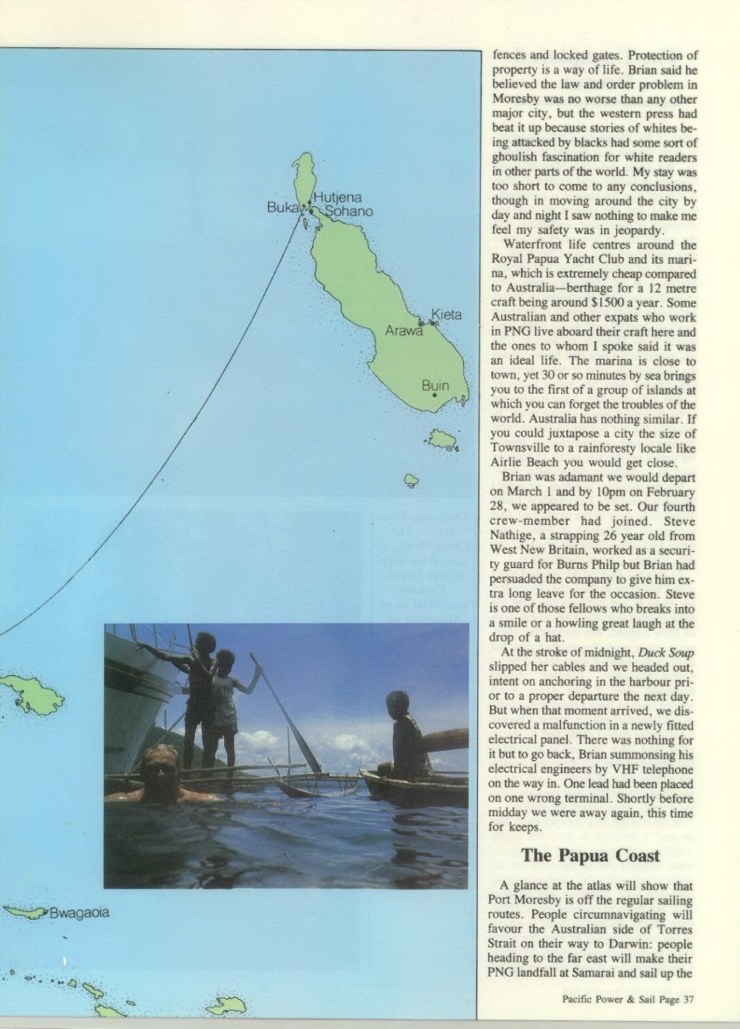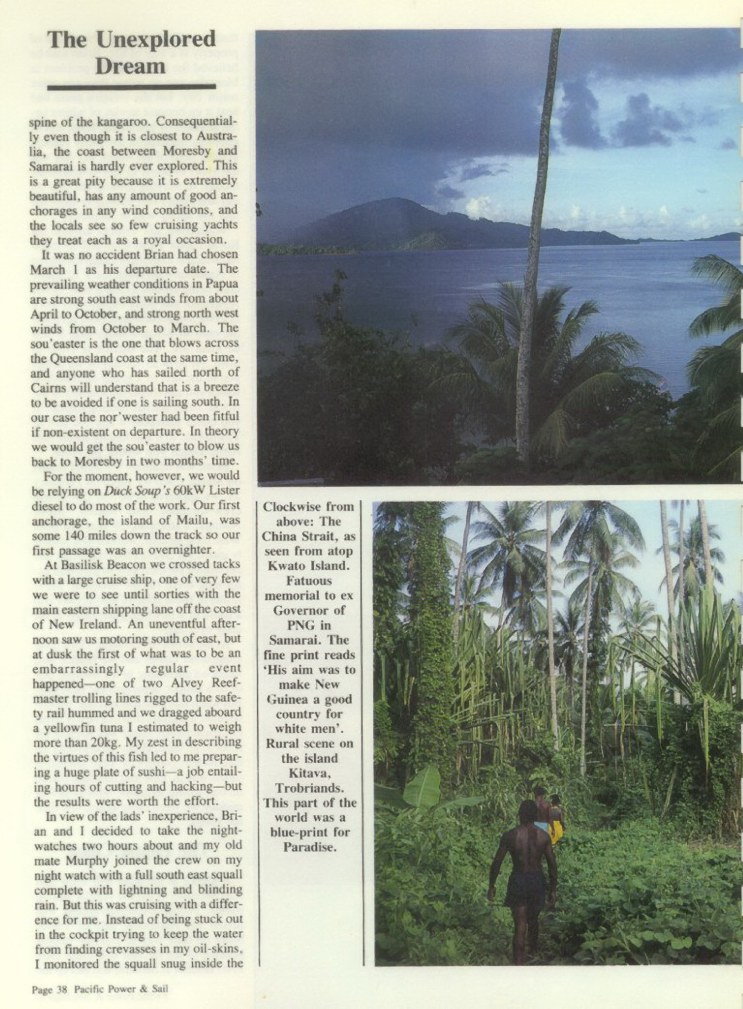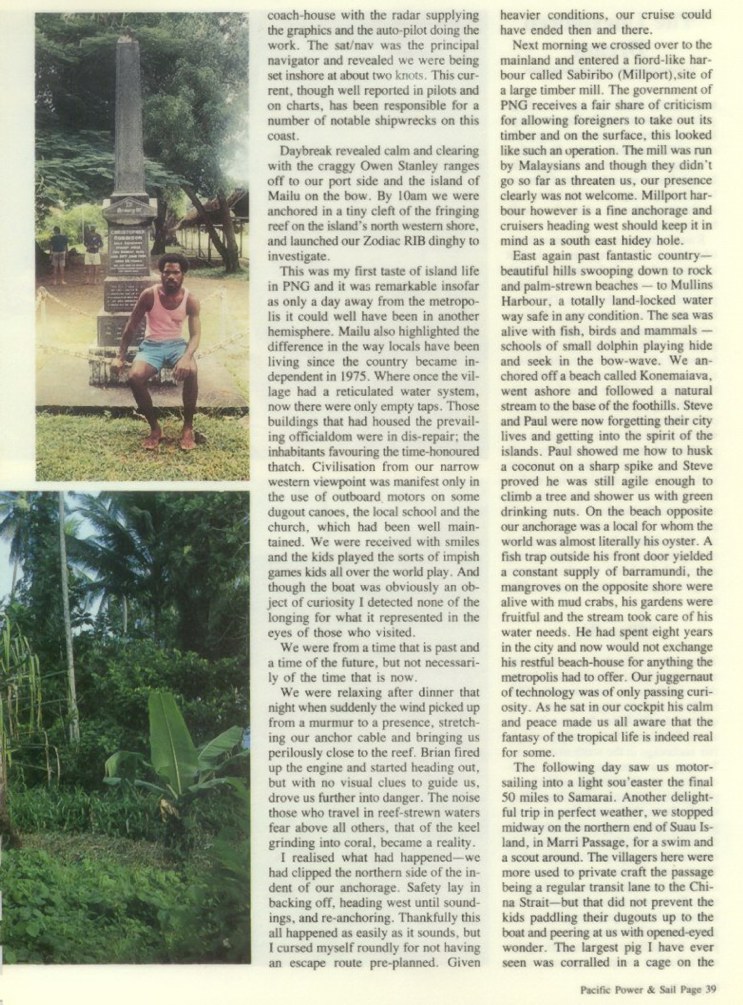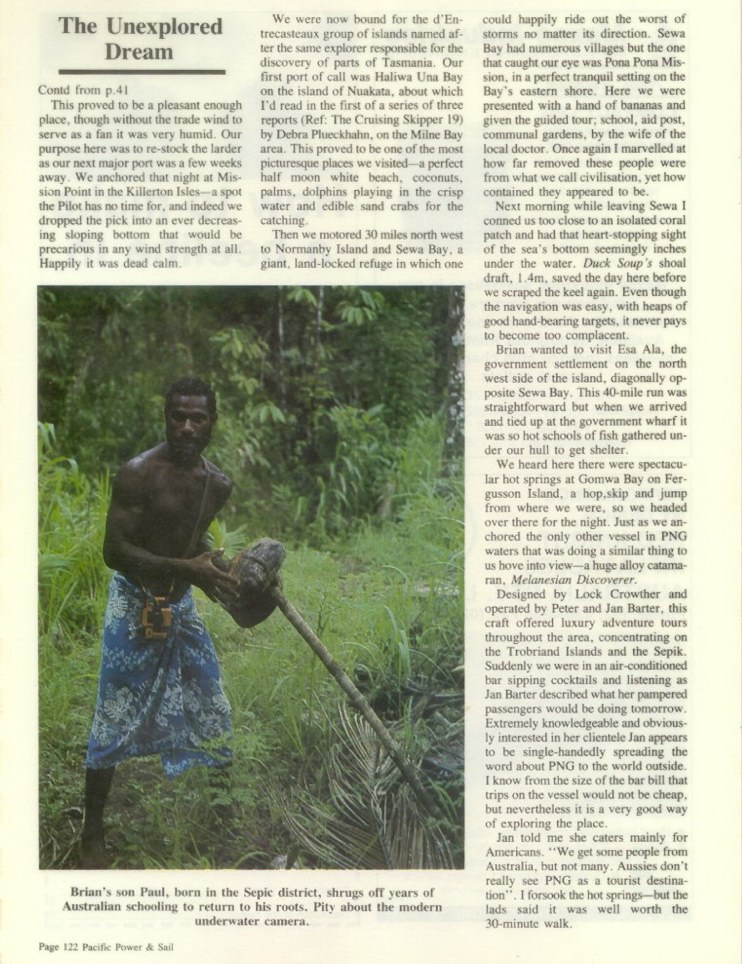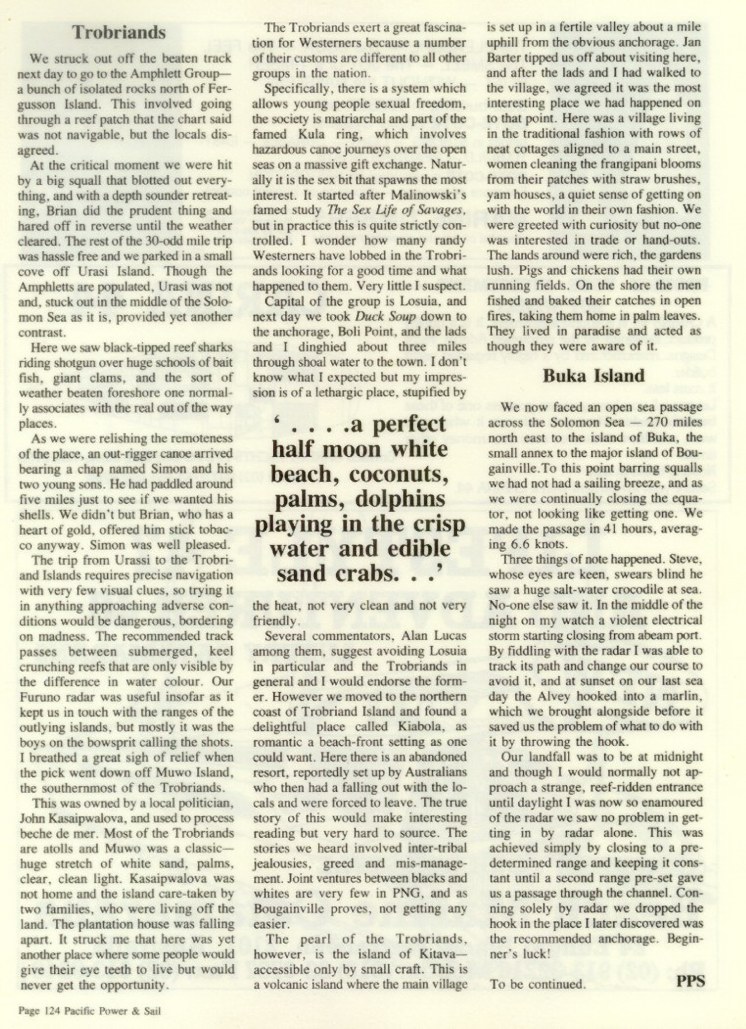 Part Two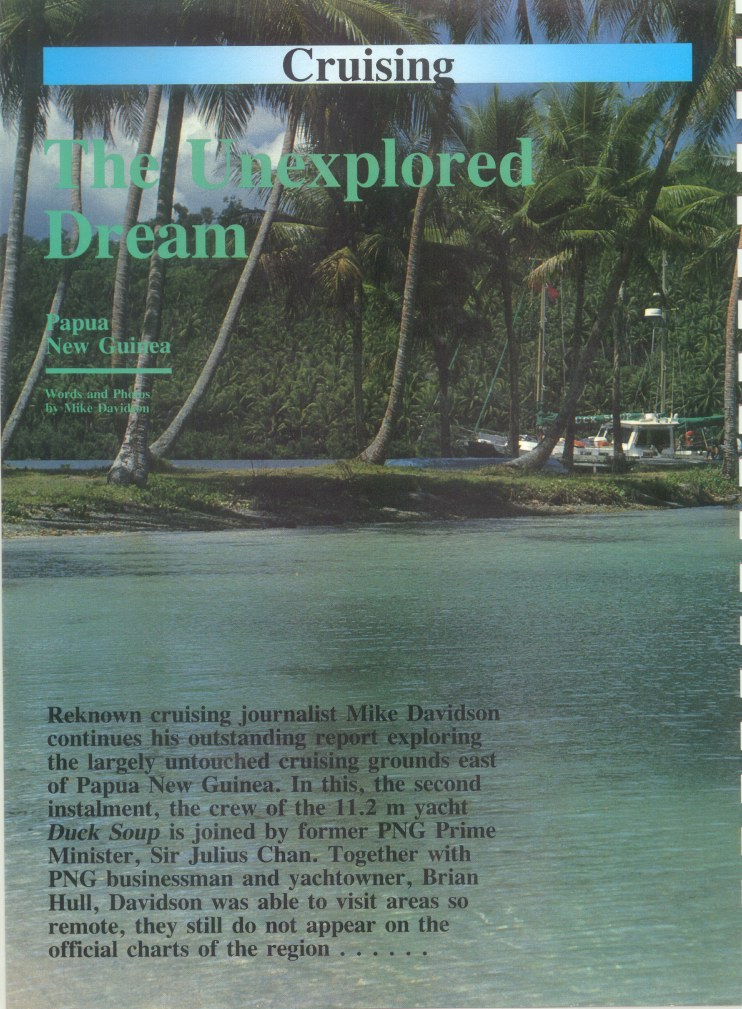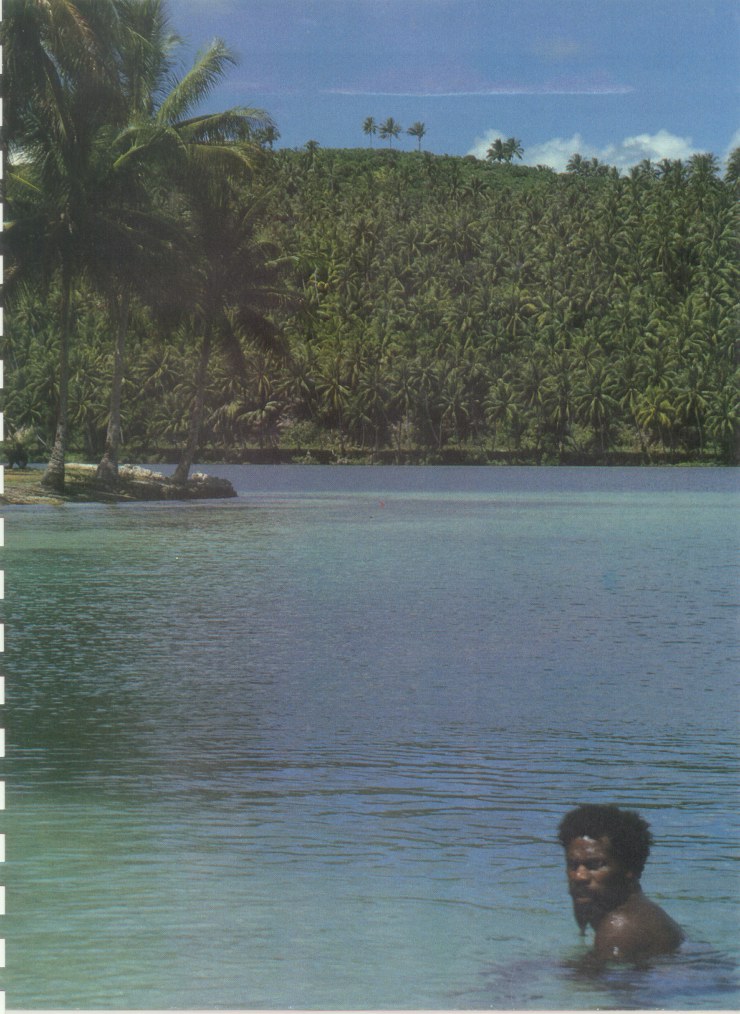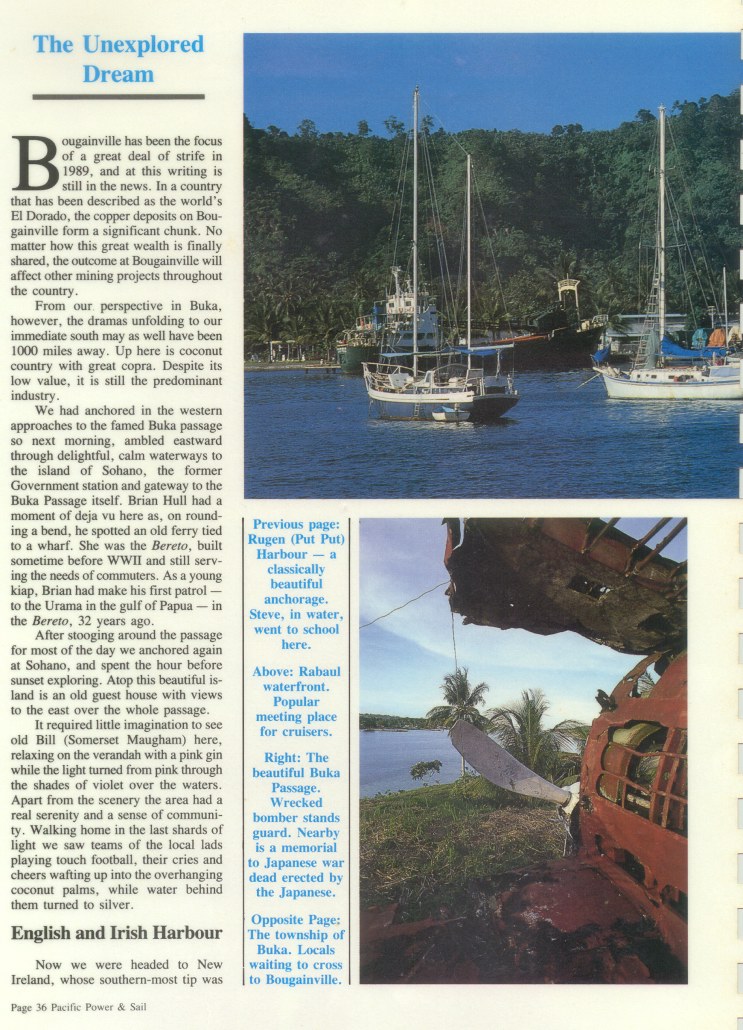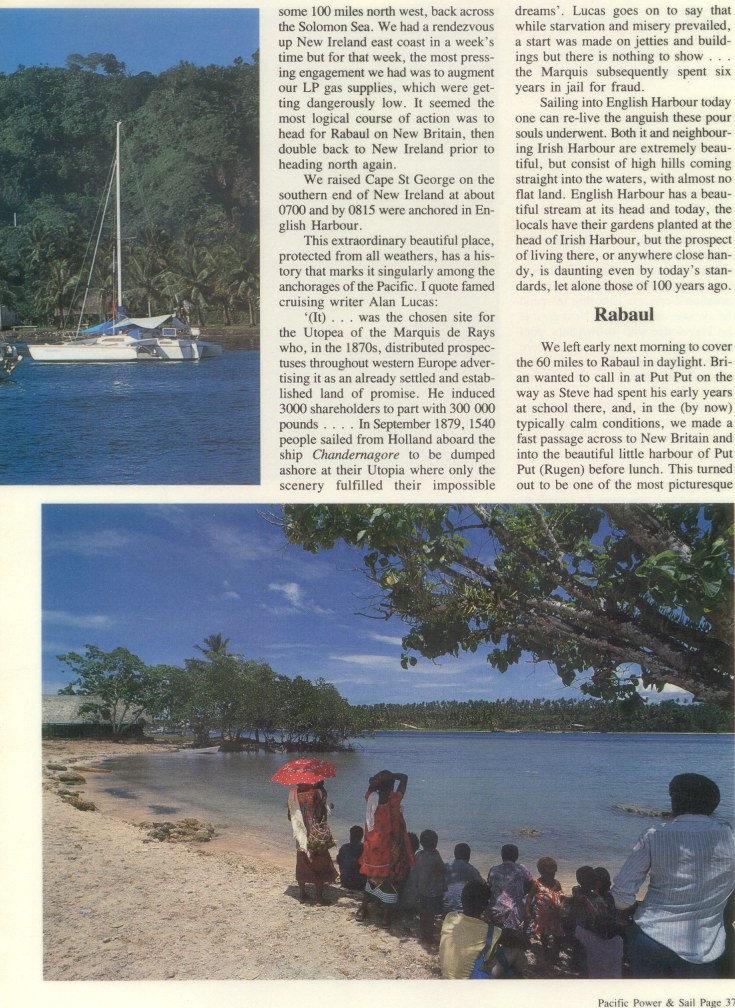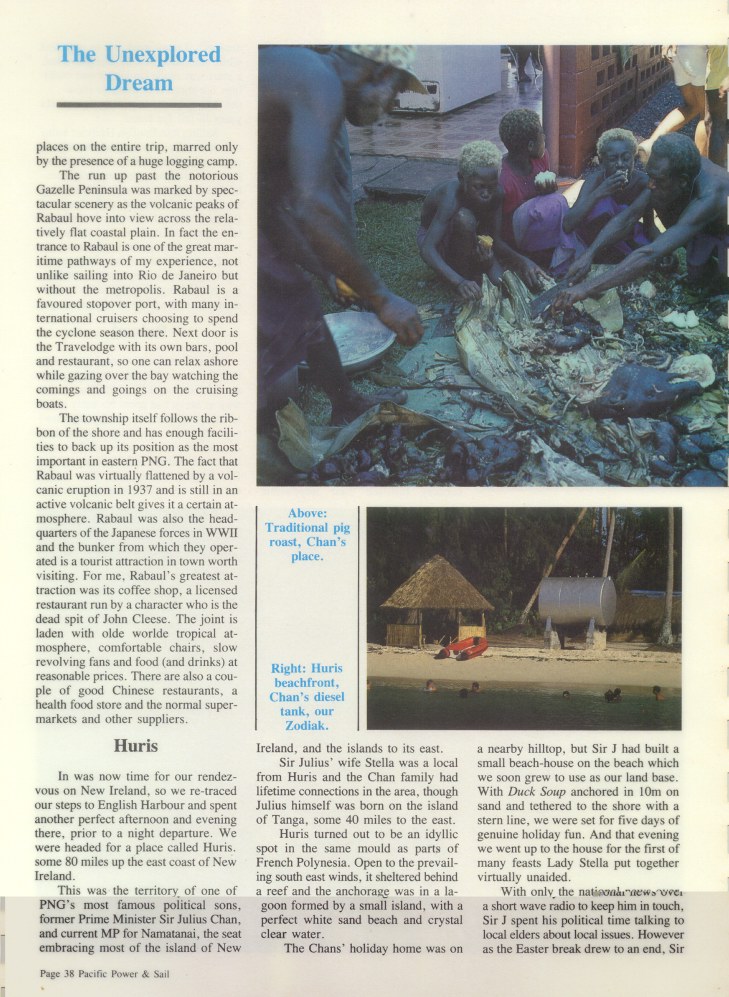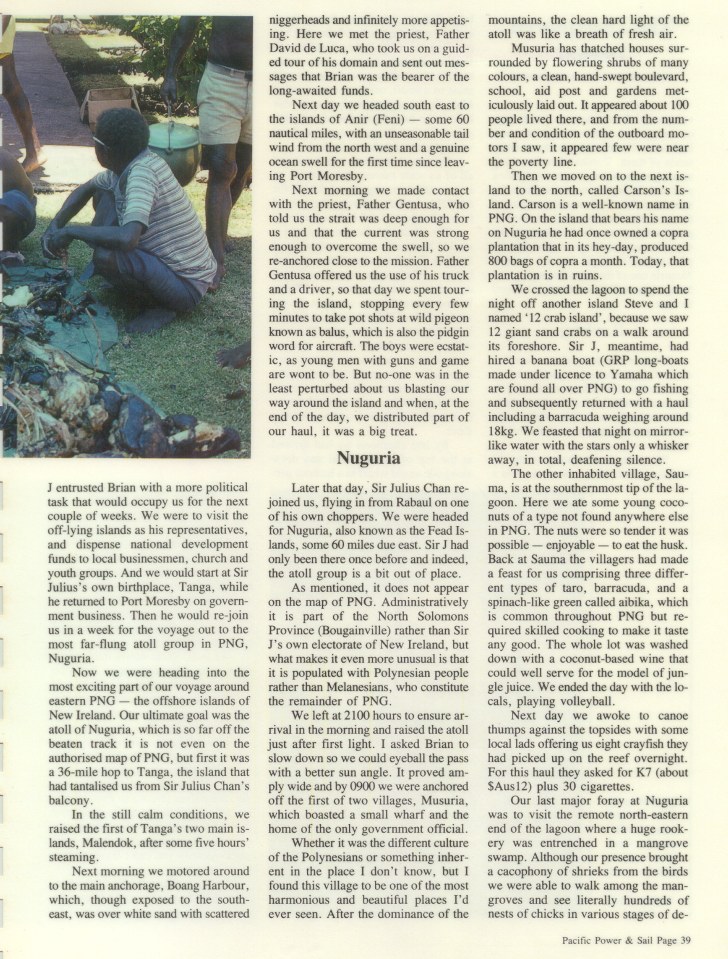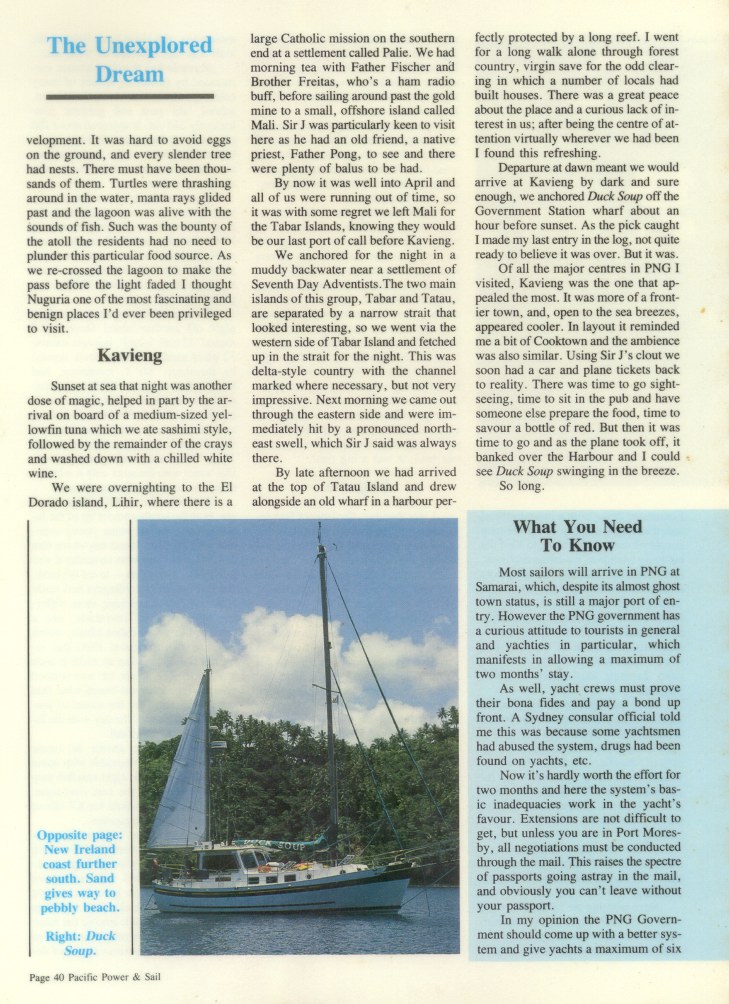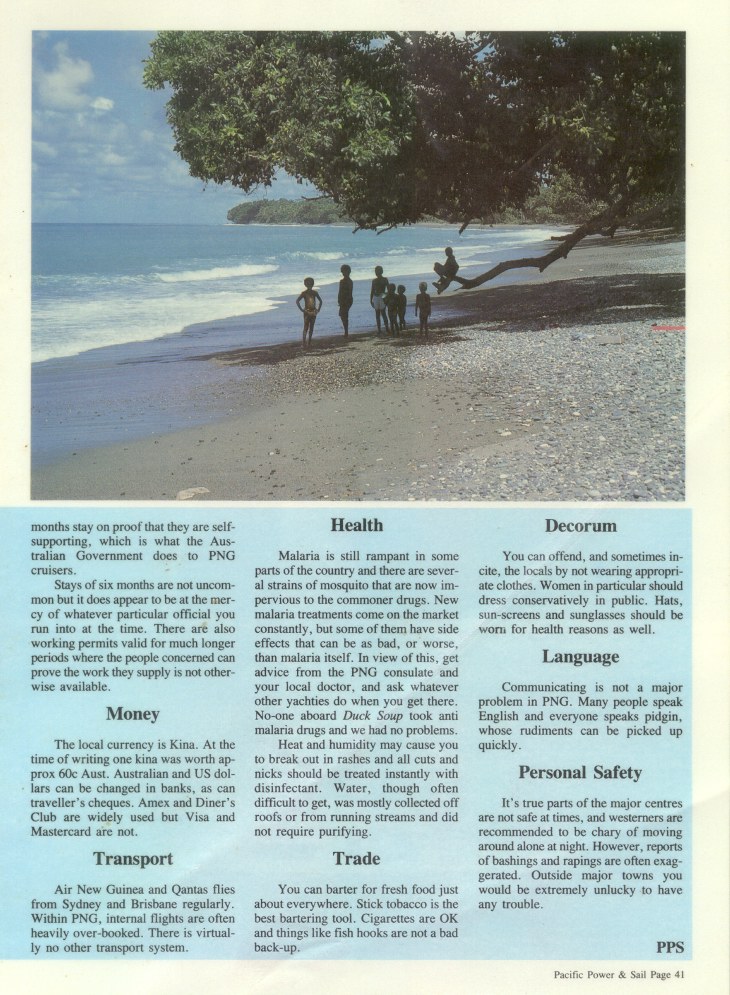 23.11.2000 Excerpts from an e-mail.
"DUCK SOUP WAS BUILT IN ENGLAND IN 1976/77. SHE IS A CUTTER KETCH WITH THE TALL TRANS OCEANIC RIG INCLUDING A 7' BOWSPRIT..."
"DUCK SOUP WAS SHIPPED TO LAE ON THE NORTH COAST OF PNG IN 1977. SHE THEN PROCEEDED WEST TO MADANG WHERE SHE WAS USED AS ACCOMMODATION FOR 6 MONTHS OF THE YEAR BY BELGIAN MARINE BIOLOGISTS..."
"IN 1984 I BOUGHT DUCK SOUP & BROUGHT HER TO PORT MORESBY..." "...MY FIRST OVERSEAS CRUISE WAS TO THE WHITSUNDAYS ON THE AUSTRALIAN GREAT BARRIER REEF. ON THE RETURN TRIP I LEFT DUCK SOUP IN CAIRNS TO BE REPAINTED & HAVE THE OSMOSIS DAMAGE ON THE BOTTOM REPAIRED. 1986/87/88 SAW A LOT OF LOCAL CRUISING & A RETURN TO THE WHITSUNDAYS. IN 1989 I CRUISED EAST TO THE MILNE BAY WATERS, THE TROBRIAND ISLANDS & THEN THE BISMARCK ARCHIPELAGO AS FAR AS THE EQUATOR".
"1990/91 SAW DUCK SOUP TRAVEL TO NEW ZEALAND VIA THE EAST COAST OF AUSTRALIA AS FAR SOUTH AS SOUTHPORT, LORD HOWE ISLAND & THEN AUCKLAND FOR A REFIT AT SALTHOUSE & ARCHER BOATBULDERS & A FULL BOTTOM JOB WITH MIKE MENZIES. 5M OF GLASS & CLOTH REMOVED & 7M OF STRUCTURAL CLOTH & VINYL REPLACED. I ALSO HAD THE BOTTOM COATED IN COPPER COAT WHICH GAVE A BEAUTIFULLY FAIR FINISH & HAS SO FAR LASTED NEARLY 10 YEARS. AFTER 12 MONTHS WE RETURNED TO PNG VIA TONGA, FIJI, & VANUATU.
"1992/93 SAW US CRUISING THE SOUTH COAST OF PNG WITH CHRISTMAS/NEW YEAR SPENT 20 KM INLAND AT KIKORI IN THE PURARI/KIKORI/TURAMA RIVERS' DELTA SYSTEMS. THIS DELTA SYSTEM IS STILL REASONABLY PRISTINE & ONE OF THE WORLD'S LARGEST".
"IN 1994 DUCK SOUP TRAVELLED TO DARWIN VIA THURSDAY ISLAND, TORRES STRAIT, JOINING THE "OVER THE TOP CRUISE" AT GOVE THEREBY VISITING MANY CLOSED ABORIGINAL AREAS & HARBOURS. FROM DARWIN WE JOINED THE DARWIN AMBON RACE WHICH FURNISHED US WITH AN INDONESIAN CRUISING PERMIT. FROM AMBON WE CRUISED NORTH OVER THE EQUATOR TO THE HALMAHERA GROUP THEN EAST ON THE EQUATOR AS FAR AS BIAK IN IRIAN JAYA. WE CONTINUED EASTING CROSSING THE BORDER & RE ENTERING PNG AT VANIMO. WE TOOK ANOTHER 6 WEEKS TO CRUISE THE NORTH COAST & ISLANDS OF PNG RETURNING TO PORT MORESBY VIA EAST CAPE".
"1996 SAW DUCK SOUP TRAVEL FROM PORT MORESBY AT 09 DEGREES SOUTH TO PORT DAVEY ON THE WEST COAST OF TASMANIA AT NEARLY 45 DEGREES SOUTH. THE TRIP SOUTH TOOK A LEISURELY 3 MONTHS VIA MANY INTERESTING HARBOURS INCLUDING 4 WEEKS IN SYDNEY & 6 WEEKS IN TASMANIA. THE RETURN TRIP WAS VERY TIRING AS WE HAD TO FIGHT A SOUTH BOUND CURRENT & NORTH EAST WINDS ALL THE WAY & ACHIEVED IT IN 4 WEEKS".
"1997/98/99&2000 HAVE BEEN SPENT WORK BOUND WITH LIMITED LOCAL CRUISING. IN NOVEMBER LAST YEAR I TOOK DUCK SOUP WEST ALONG THE PAPUAN COAST TO THE PURARI DELTA FOR 10 DAYS. IN ALL I HAVE CRUISED APPROXIMATELY 60,000 MILES. I CONSIDER DUCK SOUP TO BE A 50/50 MOTOR SAILOR WHICH CAN BE VIEWED AS EITHER A POWER ASSISTED SAIL BOAT OR A SAIL ASSISTED POWER BOAT. I RUN DUCK SOUP AS THE LATTER AS I LIKE ALL MY COMFORTS - PLENTY OF ELECTRICITY, REFRIGERATION, WATER & HOT WATER FOR SHOWERING ETC.. I HAVE LIVED ABOARD FOR NEARLY 14 YEARS..."
"OVER THE LAST 5 MONTHS I HAVE STRIPPED DUCK SOUP & PREPARED HER FOR A COMPLETE EXTERNAL PAINT JOB. I HAD TO SPEND 6 WEEKS ON THE SLIP AS THE TRADE WINDS WOULD NOT ABATE SUFFICIENTLY TO ALLOW PAINTING. WE EVENTUALLY GOT THE JOB DONE & I AM NOW BACK IN THE MARINA PUTTING DUCK SOUP BACK TOGETHER. THE FINISHED PAINT JOB WAS WORTH THE EFFORT & WAIT. WE USED INTERSPRAY 900 OVER PERFECTION UNDERCOAT - THE GLOSS & FINISH IS UNBELIEVABLE. I HOPE TO HAVE DUCK SOUP FINISHED BY CHRISTMAS."
21.12.2000 Duck Soup informs:
"....PAPUA NEW GUINEA.... WE ARE IN THE WESTERN PACIFIC & BASICALLY MELANESIAN
ALTHOUGH WE HAVE POCKETS OF POLYNESIANS & MICRONESIANS.
WE ARE THE WORLD'S MOST DIVERSE & COMPLICATED LINGUISTIC REGION HAVING
NEARLY 800 LANGUAGES. WE HAVE 3 OFFICIAL LANGUAGES - ENGLISH, MOTU &
PIDGIN - I AM FLUENT IN ALL THREE.
THE CRUISING HERE IS PROBABLY THE BEST UNSPOILT TROPICAL CRUISING IN THE
WORLD AS IS THE DIVING. IF YOU COME DOWN THE MILK RUN FROM PANAMA IT IS NOT PARTICULARLY
DIFFICULT TO GET HERE.
... I DO NOT HAVE SHUTTERS FOR THE CABIN PORTS. WHEN I BOUGHT THE BOAT I
REPLACED ALL THE OPENING PORTS WITH FRENCH GOIOT HARDWARE - I ADDED 2
OPENING PORTS TO THE LEADING END OF THE FORWARD CABIN COACH HOUSE & AN
OPENING HATCH JUST TO THE REAR OF THE LARGE ELECTRIC ANCHOR WINCH -
IMMEDIATELY ABOVE MY HEAD WHEN I AM SLEEPING.
....WHEN I TOOK DUCK SOUP TO TASMANIA ABOUT 6 YEARS AGO WITH MYSELF & MY GRANDSON
JOHN ON BOARD, WE CROSSED BASS STRAIT BOTH WAYS IN 40 KNOT SW WINDS - BASS STRAIT IS
CONSIDERED TO BE ONE OF THE WORLD'S MOST TREACHEROUS SEAWAYS. WE WERE DOWN
TO 1 KNOT UNDER STAYSAIL & MOTOR GOING SOUTH & SURFING UP TO 12 KNOTS GOING
NORTH WITH YANKEE, REEFED MAIN & MIZZEN. WE TOOK NO GREEN WATER ON BOARD
EITHER WAY. I HAVE NEVER TRIED TO HOVE TO - HAVE THOUGHT ABOUT IT.
FOR ME THE BANJER IS THE IDEAL SHORTHANDED CRUISING BOAT - FULL WHEELHOUSE,
POWERFUL ENGINE, PLENTY OF FUEL & WATER, HEAPS OF BATTERY POWER, EXCELLENT
HEAD & GALLEY.
FOR ME 2 PEOPLE IS IDEAL HOWEVER I CAN PUT UP WITH 3 FOR A WHILE.
I AM LUCKY AS I HAVE A FULL BUNK ON THE STARBOARD SIDE OF THE WHEELHOUSE
WHICH IS WHERE I SLEEP WHILE CRUISING. THE CREW CAN SLEEP IN EITHER THE FORWARD CABIN
OR SALOON. WITH ONLY 2 IT LEAVES THE SALOON AS NEUTRAL GROUND.
A BANJER CAN BE CONSIDERED EITHER:- A SAIL ASSISTED POWER BOAT OR A POWER ASSISTED SAIL BOAT.
I ALWAYS USE DUCK SOUP AS A SAIL ASSISTED POWER BOAT - I LIKE MY COMFORTS -
HOT WATER, REFRIGERATION, PLENTY OF WATER, AUTO PILOT, RADAR, ETC ETC..
21.04.2001
Duck Soup under full set of sails.
... I FOUND A HARD COPY OF A PHOTOGRAPH TAKEN BY AN ENGLISH GIRL WHO ... WAS CREWING ON AN AUSTRALIAN YACHT - EVEN - & THERE WERE 31 YACHTS ALL TAKING PART IN THE 1993 OVER THE TOP CRUISE FROM GOVE TO DARWIN BEING THE PRECURSOR TO THE NOW DEFUNCT DARWIN TO AMBON RACE.
WE HAD JUST CLEARED GOVE ON OUR WAY TO OUR FIRST ANCHORAGE ON THE WESTERN SIDE OF THE WESSEL ISLANDS.
THE CAMERA SHE USED WAS A REASONABLY CHEAP MODEL BUT THE RESULT IS WONDERFUL.
THIS PHOTOGRAPH APPEARED ON THE COVER OF THE 1994 YEAR BOOK OF THE ROYAL PAPUA YACHT CLUB.
I ALSO HAVE AN ENLARGEMENT ON MY WALL IN MY OFFICE.
I THINK THIS IS THE ONLY PHOTOGRAPH AMONGST THE EXTENSIVE RANGE IN THE CLUB'S ALBUMS SHOWING A BANJER REACHING UNDER FULL SAIL.
AS YOU CAN SEE DUCK SOUP IS CARRYING A YANKEE, MAINSAIL, MIZZEN STAYSAIL & MIZZEN..
THE FLAGS FLYING ON THE MAIN STARBOARD SPREADER ARE THE AUSTRALIAN COURTESY FLAG & A PNG INDEPENDENCE FLAG
MIZZEN STARBOARD SPREADER FLAG IS THE CENTAL PROVIDE FLAG.
MIZZEN PORT SPREADER FLAG IS THE PNG NATIONAL FLAG.
AND OF COURSE ON THE STERN IS THE PNG NATIONAL FLAG. THE PENNANT OF THE RPYC IS FLYING AT THE MAIN MASTHEAD & HIDDEN BY THE MAINSAIL ON THE PORT SPREADER FLIES THE SOUTHPORT YACHT CLUB PENNANT & THE ASSOCIATES PENNANT OF THE SEVEN SEAS SAILING ASSOCIATION.
07.10.2002
From DUCKSOUP to Jean Luc
JEAN LUC,
LES ANGLAIS TOUJOURS LES ANGLAIS.............................
I APOLOGISE FOR NOT RESPONDING IN FRENCH & FOR NOT RESPONDING SOONER. DUCK SOUP IS HULL NUMBER 94 & BUILT AS A TRANSOCEANIQUE VERSION IN ENGLAND FOR A BELGIAN - A MR TURSCH.
I CAN FLY EITHER A YANKEE OR GENOA JIB ON THE FORESTAY, A STAYSAIL JIB ON THE INNER FORESTAY, A MAINSAIL ON THE MAIN MAST & A MIZZEN SAIL ON THE MIZZEN MAST. IN ADDITION I HAVE AN ASYMMETRICAL SPINNAKER (GENNEKA) FOR BOTH THE MAIN & MIZZEN MASTS AS WELL AS A MIZZEN STAYSAIL.
MOST OF MY WEEKEND BOATING IS DONE UNDER POWER BECAUSE IT IS MY TIME FOR REST. WHEN PASSAGE MAKING I TEND TO MOTOR SAIL - STICKING TO A RHUMB LINE & THEN HOISTING & ADJUSTING SAILS TO SUIT THE CONDITIONS - THIS CAN REDUCE MY FUEL CONSUMPTION BY HALF OF THAT WHEN USED AS A PURE POWERBOAT.
YESTERDAY, BEING A BEAUTIFUL SUNNY DAY WITH GENTLE WINDS BETWEEN 10 - 15 KNOTS JUST FORWARD OF THE BEAM I UNFURLED MY GENOA & SAILED THE 7 MILES TO DESTINATION AT BETWEEN 3-4 KNOTS HULL SPEED. SIMILAR CONDITIONS ON THE RETURN & I FLEW MY MULTI PURPOSE SPINNAKER ACHIEVING A HULL SPEED OF BETWEEN 4-5 KNOTS - ALL MY CANOPIES APART FROM THE FORWARD CANOPY REMAINED IN PLACE & I DID NOT USE EITHER MAINSAIL OR MIZZEN NOR THE STAYSAIL.
I CARRY 140M OF CHAIN IN THE CHAIN LOCKER & UNDER THE GRATING IN THE FORWARD SAIL LOCKER UNDER THE BUNK. IN THE SALOON UNDER THE BUNKS ON EITHER SIDE I HAVE THE EQUIVALENT OF 4 X 200A/H SONNENSCHEIN BATTERIES.
THE ENGINE IS A PHYSICALLY LARGE & HEAVY HRWM6 LISTER DIESEL. ON EITHER SIDE DOWN LOW, JUST AFT OF THE AFT ENGINE ROOM BULKHEAD I CARRY 10 X 20KG OF LEAD INGOTS.
FUEL IS APPROXIMATELY 1200 LITRES.
WATER ALSO 1200 LITRES.
M. BORG STATES THE TRANS OCEANIQUE DISPLACES 12.5 TONNES 4 TONNE OF WHICH IS BALLAST - DUCKSOUP WEIGHS NEARLY 20 TONNE ON A TRAVE LIFT.
I HAVE GIVEN YOU THE ABOVE PREAMBLE AS I THINK THAT THERE IS MORE BALLAST IN CONCRETE IN THE TRANSOCEANIQUE THAN IN THE SHORTER RIGGED BANJERS. I HAVE CONCRETE UNDER THE SETTEES ON BOTH THE PORT & STARBOARD SIDES IN THE SALOON AS WELL AS IN THE FULL LENGTH OF THE KEEL - DO THE SHORT RIGGED BANJERS ALSO HAVE THIS CONCRETE IN THE SALOON?
YOU SHOULD BE ABLE TO GET THE DIMENSIONS OF MASTS & SAILS FROM THE WEB SITE. HOWEVER IF THIS IS NOT POSSIBLE I WILL BE HAPPY TO TAKE MEASUREMENTS FOR YOU.
SETTING UP THE BOWSPRIT & ROLLERS, BOB STAY & WHISKER STAYS ETC WILL BE TIME CONSUMING & EXPENSIVE.
DOES THE BOAT SAIL WELL? - YES IT DOES FOR A TRADITIONAL FULL KEEL KETCH THAT IT IS.
CAN IT COMPETE SPEED WISE WITH A MODERN SAIL BOAT TO WINDWARD? - NEVER! IT WILL TAKE A LOT OF MONEY, TIME, LOVE & FRUSTRATION TO DO THIS CONVERSION
- IS IT WORTH IT? - ONLY YOU CAN DECIDE!
28.11.2002
GUILLERMO,
THIS MORNING I TOOK DUCK SOUP TO OUR WORK BERTH TO HAVE SOME PAINT WORK TOUCHED UP.
WHILST THERE I TOOK THE TWO ATTACHED PHOTOS WHICH SHOW HOW I AIR-CONDITION DUCK SOUP DURING THE HOT SUMMER MONTHS NOVEMBER THRU MARCH.
THE AIRCONDITIONER IS A MARINE VERSION AIRCOMMAND MANUFACTURED IN ADELAIDE, SOUTH AUSTRALIA.
ORIGINALLY THEY WERE DESIGNED FOR RETROFIT ON CAMPERVANS,CARAVANS,TRUCKS & BUSSES ETC..
THEY ARE WIDELY USED IN AUSTRALIA ON FISHING BOATS ESPECIALLY THE HIGHSPEED CRAYFISHING FLEET IN WESTERN AUSTRALIA.
I AM SURE SIMILAR UNITS ARE MANUFACTURED IN EUROPE & THE USA.
THE CENTRAL HATCH ON DUCK SOUP IS A GOIOT DOUBLE ACTION VERSION & THE HATCH COVER IS VERY SIMPLE TO REMOVE. WITH SOME FEW MODIFICATIONS IT NOW TAKES ONLY ABOUT 30 MINUTES TO MOUNT OR DEMOUNT.
MY AIRCON IS A 240 VOLT VERSION, 5000 BTU.,COOLING ONLY, HOWEVER FOR SLIGHTLY MORE MONEY A MODEL WITH REVERSE CYCLE HEATING CAN BE OBTAINED.
SHOULD ANY ONE BE INTERESTED IN THE AIRCOMMAND, THE EASIEST WAY TO GET INFORMATION IS TO GO INTO GOOGLE SEARCH, TYPE IN AIRCOMMAND AIRCONDITIONERS & UP COMES THE SITE ADDRESS.
THE UNIT HAS NO PROBLEM RUNNING ON A GENERATOR WHEN CRUISING HOWEVER SINCE REMOVING MY GENSET I NO LONGER HAVE THIS LUXURY - ONLY WHEN ALONGSIDE IN A MARINA.
FROM THESE PHOTOS YOU WILL ALSO NOTE HOW I USE SPRAY DODGERS ON THE RAIL FOR PRIVACY WHILE LIVING ON THE MARINA.
ALSO HOW THE FORWARD CANOPY NEATLY ROLLS UP AGAINST THE MAST ALLOWING ONE TO TRAVEL WITH THE MAIN & COCKPIT CANOPIES IN PLACE.
29.01.2004
DEAR GUILLERMO,
.....LAST FRIDAY 23/01 2004, I RETURNED TO PORT MORESBY AFTER 41 DAYS TRAVELLING VIA THE GREAT BARRIER REEF TO CAIRNS IN FAR NORTH QUEENSLAND FOR CHRISTMAS & NEW YEAR - WE TOOK NINE DAYS TO GET TO CAIRNS AS WE HAD SE HEAD WINDS & SHELTERED FOR FOUR DAYS - THREE WEEKS IN CAIRNS BEING TOURISTS & BUYING EQUIPMENT & CATCHING UP WITH FRIENDS & FAMILY - THEN FOLLOWED THE COAST TO THE TOP OF THE CONTINENT OF AUSTRALIA IN NE HEAD WINDS - FOR A FEW DAYS WE RESTED & CAUGHT UP WITH FRIENDS IN THURSDAY ISLAND THEN SET OFF AGAIN IN SE HEAD WINDS FOR PORT MORESBY WINDING OUR WAY THRU THE LAST OF THE GREAT BARRIER REEF ARRIVING HOME FORTY DAYS LATER....
....WE COVERED APPROXIMATELY TWO THOUSAND MILES MOST OF WHICH WAS TO WINDWARD - WE AVERAGED ONE LITRE PER MILE 0R LESS - ALL EQUIPMENT INCLUDING MECHANICAL REFRIGERATION, ALTERNATOR & COMPUTER PERFORMED WITHOUT A HITCH - CHANGED TWO FUEL FILTERS & TIGHTENED BELTS ON ALTERNATOR ON ONE OCCASION ONLY.
OVER THE WHOLE 41 DAYS WE DID NOT ENCOUNTER ANOTHER CRUISING YACHT EXCEPT TIED UP IN MARINAS IN CAIRNS & PORT DOUGLAS & ONE YACHT RETURNING TO AUSTRALIA WHICH WAS ANCHORED IN COOKTOWN...
15.07.2004
From Brian Hull to Morten & Pia:
MORTEN & PIA,
I HAVE OWNED MY BANJER "DUCK SOUP" SINCE 1984 & LIVED ABOARD SINCE 1986.
I AM A REAL ESTATE AGENT BUT PREFER TO LIVE IN MY BOAT.
WE HAVE A WONDERFUL MARINA & CLUB HOUSE (ROYAL PAPUA YACHT CLUB) IN THE CBD OF PORT MORESBY.
BANJERS ARE VERY COMFORTABLE TO LIVE ABOARD FOR ONE OR TWO PEOPLE - THE AMOUNT OF ENJOYMENT ONE GETS FROM ONE'S BOAT IS INVERSE TO THE NUMBER OF PEOPLE ONBOARD.
I HAVE CRUISED MORE THAN 60,000 NAUTICAL MILES, CROSSING OCEANS & COASTAL & RIVER PASSAGES & FOUND "DUCK SOUP" TO BE AN EXCEPTIONAL SEA BOAT.
BANJERS ARE 50/50 MOTOR SAILORS & CAN BE USED EITHER AS MOTOR ASSISTED SAIL BOATS OR SAIL ASSISTED MOTOR BOATS - I ALWAYS USE THE LATTER MODE AS I LIKE MY COMFORTS SUCH AS REFRIGERATION, WATER MAKER, HOT WATER FOR MY SHOWER, BREAD MAKER, CONSTANT RUNNING INSTRUMENTS SUCH AS AUTO PILOT, RADAR, GPS, CHART PLOTTER, GAS DETECTOR, NAVIGATION LIGHTS & INTERNAL LIGHTS WHEN NECESSARY, ETC. ETC..
GUILLERMO IS RIGHT - THESE BOATS ARE 30 YEARS OLD & YOU MUST CHECK FOR OSMOSIS, DRY ROT, THE ELECTRICAL WIRING, THE INTEGRITY OF THE CHAIN PLATES, THE INTEGRITY OF THE SEAL ON THE HATCHES, THE CONDITION OF THE ENGINE & DRIVE TRAIN, THE CONDITION OF THE SAILS ETC..
UNLESS THE VESSEL HAS BEEN CONSTANTLY MAINTAINED & UPGRADED YOU MAY NEED DEEP POCKETS &/OR A LOT OF PERSONAL TIME, SKILLS & PATIENCE TO UPGRADE YOUR VESSEL.
INITIALLY I PAID US$60,000 FOR "DUCK SOUP" & I ESTIMATE THAT OVER THE LAST 2O YEARS SHE HAS COST ALL UP US$2M.
WHEN BUILT IN 1976/77, "DUCK SOUP" COST HER BELGIAN OWNERS UK97,000 POUNDS - A LOT OF MONEY AT THAT TIME.
ASK ANY QUESTIONS YOU LIKE & I WILL ATTEMPT TO ANSWER THEM.
05.09.2005
From Brian to Angus, in the UK, who was asking for the masts and booms measurements for a TRANSOCEANIC version.
ANGUS,
SORRY FOR DELAY IN REPLYING BUT HAVE HAD A LOT OF DISRUPTIONS TO MY NORMAL
ROUTINE DURING THE LAST TWO WEEKS.
THE FOLLOWING ARE THE DIMENSIONS SUPPLIED TO ME BY MY PERMANENT CREW - STEVEN:
MAIN MAST (TOP TO DECK) 11.64M, DIAMETER AT MID LEVEL 54CM..
BOOM 4M, 26.5CM DIAMETER 41CM AT CENTRE.
MIZZEN MAST 8.86M TOP TO COCKPIT FLOORBOARDS. DIAMETER AT MID LEVEL 41.2CM..
BOOM 2.96M DIAMETER 28.3CM..
HOPE THIS INFORMATION HELPS.
BRIAN
Telephone: (675) 320 3094
Facsimile: (675) 320 3093
Email: pacifica@datec.net.pg
Pacifica Marine®
All Boat & Cargo Surveys
Marine Loss Adjustors
Level 1 Deloitte Tower
PO Box 480 Port Moresby NCD
PAPUA NEW GUINEA
GENERAL PARTICULARS
Name of Vessel: Duck Soup
Sail Number: KP 111
Type of Vessel: Cutter - Ketch rigged Pilot House Motor Sailer
Builder: Stangate Marine, England
Year and Construction Type: 1976 - Solid GRP
Model and HIN: Banjer 37, Hull Number 94
Call Sign: P2V4064
Reported Dimensions :
Hull Length: 11.28
Hull Length plus Bow Sprit: 13.41m
Beam: 03.35m
Draught: 01.37m
Main Engine: Lister HRWM6 reversing diesel
Hull Speed: 8.5 knots
Tender 1: 14 ft Banana Boat with 25 hp Mariner Outboard
Tender 2: Naiad Inflatable with 15 hp Mariner Outboard
GENERAL DESCRIPTION
English built from production moulds; "Duck Soup" is designated as the renowned Banjer 37.
Heavily constructed in solid GRP, this purposeful mid-sized ketch rigged motor sailer features a pilothouse, aft cockpit, walk-round side decks and a canoe stern. She is set up for long range, short handed cruising with a high degree of comfort and amenities.
Duck Soup is an easily identifiable craft with a presentation that replicates her condition at launch.
HULL AND DECKS
Hull and Decks have been recently re-sprayed with Taubmans Interspray 900 (2-pack marine coatings), after gelcoat blemishes and faring work completed to a high standard. Tremco TP100 anti-slip system that included GRP matting has been applied giving additional strength to side decks. The hull gelcoat below the water lines was completely stripped and professionally recoated in 1992, using vinyl-ester combined with structural matting. Restoration at this time included the application of liquid polyester based Copper Clad antifoul, which is purported to have a life of 18 years from application.
The hull, sub divided by engine room, accommodation spaces, fuel and water tanks is heavily constructed in solid GRP with frames and stringers moulded in. The keel, which is also incorporated in the hull moulding, has internal ballast. Hull to deck jointing is fibreglass fixed with no indication of separation evident between the two structures.
Side and foredecks are protected with a hull extension forming a low bulwark with capped stainless steel stanchions and safety lines arranged around side-decks, fixing to pushpit and pulpit.
Foredeck contains an electric chain windlass, which leads to twin bow rollers slung either side of a substantial timber bowsprit that is restrained by a stainless steel wire dolphin striker and opposing forestay. A pulpit extends the full length of the bowsprit.
The self-draining cockpit is deep and protected with side coamings and bench type seating atop of cockpit lockers on either side. The steering gear is enclosed to deck level forming a fill-in across the canoe stern of the vessel upon which stern lines are tied off as well as providing access to a small swim platform.
ACCOMMODATION
The main feature of this vessel is its wheelhouse. This incorporates steering and navigation areas as well as a pilot berth to starboard. Large windows offer good side and forward views and views astern through the doorway. From the wheelhouse, steps lead down into the main saloon that is fitted with settees on either side below pilot berth to starboard and book shelving to port. Forward of the saloon and to port lays the galley, separated from the saloon by a half height partial bulkhead topped with two shelves. The galley contains a stainless steel sink, Dupont Corian bench tops, a new stainless steel LPG marine cook top and oven and a drop-down bench separating the galley from the forepeak.
Opposite to the galley, lays shower/toilet compartment with a Par electric marine toilet, shower and stainless steel hand basin.
Forward in V-berth configuration provides two single berths convertible to a large double and ample locker storage. Access to the chain locker can be gained through the forepeak sub division.
Main saloon and forward berth is fitted with escape hatches.
The interior is lined above deck with laminates and below main deck level with Burmese Golden Teak. Flooring is polished timber and ceilings are vinyl lined and battened.
There is sufficient sleeping accommodation for 4 x single berths and a main saloon double berth.
A marine air-cooled air-conditioning unit is externally mounted above the saloon.
MACHINERY AND ELECTRICAL
Engine space is located under the wheelhouse. Access is from behind the stairs leading into the main saloon or through lift-out floor panels in the wheelhouse. Engine bearers are GRP covered timber upon which galvanized angle brackets are through fastened and appeared satisfactory.
Main machinery is a Lister HRWM6 Reversing diesel fresh water-cooled with heat exchanger. Main machinery is fully alarmed for protection against excessive water and oil temperatures. Raw water intake is also alarmed for flow measurement and is filtered prior to engine reticulation.
Propeller shaft of 2-inch stainless steel and associated bearings and glands were in good condition.
Two x 500-liter GRP fuel tanks are fitted to either wing and both tanks shut-off cocks were operable.
Fresh water is contained in forward 2 x 500 GRP liter tanks.
All tanks were fitted with approved fills, external ventilation/overflows. There is a carbon filter in a fresh water line to a spigot in the galley. Hot and cold pressurized water is available in the galley and the toilet/shower.
Sea valves serving galley, toilet/shower and engine room were in good condition with emergency soft plugs available at each location.
Bilge pumps include a manual Whale 30 in the transom steering compartment, large capacity 24-volt electric pump in the bilge area and another manual Whale 30 located amidships. This latter pump was fitted with a double valve system to pump out bilges or alternatively, a holding tank. The electric pump was fitted with an automatic float switch and direct wired to batteries. A portable electric pump was readily available.
Anchoring equipment included Naco electric anchor gypsy with a chain take-off and hawser take-off to bowsprit mounted 2 x plough anchors. Additional danforth and fisherman's anchors are stored below in reserve.
Chain: A total of 140 meters x 10 mm short link chain, 80 meters of which is situated in chain locker and remainder encased in piping laid along forward bilges.
Eutectic refrigeration is driven by 24v, or alternatively, motor driven compressor.
Steering arrangement incorporates Vetus hydraulics working a single steering ram with autopilot take-off. Emergency tiller was mounted in the steering flat and fitting is gained through a dedicated screw hatch in the transom decking.
The vessel is through wired for 240v, 24v and 12v. Electrical distribution including 24v for engine start and general house. 12v for radio usage is achieved through a dedicated transformer and a 2000 watt inverter converts 24v to 240v. Shore supply 240v connection is professionally fitted and located in the cockpit. Wiring throughout was tidy and installation professional with adequate protection by way of circuit breakers and fuses. Additional 240v protection was achieved through touch sensitive cut-off circuit breakers on both main and inverter power circuits.
MAST, SPAS, RIGGING SAILS AND COVERS
The vessel is cutter-ketch rigged. The masts and spas are all aluminum section and rigging is stainless steel wire and adjusted by stainless steel rigging screws. The main mast is deck stepped and the mizzen is stepped onto the cockpit floor immediately against the wheelhouse bulkhead. Substantial teak mast heels support masts. Mast heel plates were sound and secure.
Main mast rigging configuration incorporates cap-stays, two pairs of lower stays and a backstay. Forestay extends from the cap to the outward extension of the bowsprit and the cutter stay is tacked to the inner end of the bowsprit and attached to the main mast at three-quarter height. Both head stays are fitted with Profurl self-furling equipment. Main mast carries a tricolor & anchor light combination, a radar reflector plus wind instruments. The HF Radio antenna is incorporated in to the backstay. Mizzen mast is fitted with Radar, VHF, GPS and Television antennae and is supported with fore and aft side shrouds. Both masts are fitted with easy climb stairs and carry a single set of alloy spreaders. Main boom nestles onto a wheelhouse roof mounted cradle.
Chain plates for main shrouds are attached through substantial stainless steel box sections that are fibreglassed to the hull interior. Mizzen chain plates are attached to glassed in stainless steel plates.
The vessel had sufficient sheet winches which include 2 cockpit mounted primary Barlow winches, 2 cockpit mounted secondary Lewmar winches, 2 mast mounted Gibb Reefing or Halyard winches and 1 mast mounted Lewmar Wire Halyard winch.
There is a good inventory of cruising sails including Sobstad main and mizzen of good condition and furling genoa, yankee and stay sails as well as near new MPS sails for both main and mizzen.
Sail covers for main and mizzen appear in good condition. Headsails are UV protected and awnings that cover main deck and the cockpit areas were found in satisfactory condition.
Vinyl splash covers had been tailored to fit the height of lifelines and pilothouse windows had available acrylic storm boards for external attachment.
SAFETY EQUIPMENT AND FIRE SUPPRESION
Safety Equipment included:
Valise packed 6 man RFD life raft. Survey current
6 x Secumar 17's Life Jackets
Rockets and flares to coastal requirements - numerous
Signaling Devices and portable spot light
1st Aid Kit
Kanard 406s EPIRB. Survey current
2 x Floatation Device
1 x Life Sling
Fire Suppression Equipment included
4 x 1.5 kg Portable Extinguishers
1 x 4.5 kg CO2 Chemical Mounted Extinguisher in the Engine Room with remote control to wheelhouse.
All safety and fire equipment was in satisfactory condition and appropriate for this vessel.
ACCESSORIES
Furuno FS-1500 SSB Transceiver with automatic tuner
Philips PRM80 VHF Transceiver
GME GX558 VHF Transceiver
Kenwood VHF Transceiver (Handheld)
RSS Radio Telephone
Furuno FR80 3D Marine Radar
Furuno 500 Mk2 GPS Navigator
Garmin 35/36 GPS
Furuno FM601 VDO Depth Sounder
Furuno FAP 55 Auto Pilot with Fluxgate Compass
Navman Wind 3100 (wind speed and direction instruments)
YCM Magnetic Steering Compass
Furuno Dual Function Weather Facsimile 208/A/N
Kiwi Tech CPU Computer System and Navigation Software
Samsung Sync Master 15-inch Color Monitor/TV Screen
Toshiba 14" Color Television
GME GR960 AM/FM/CD
Omnidirectional TV/AM/FM Antenna
Echo Master Radar Reflector
4 x Stereo High Performance Speakers
Ships Clock, Barometer, Hygrometer/Thermometer
2 x Electric Window Wipers
Force 10 Galley LPG Range (3 Burners, Oven and grill)
Inverter 2000 Watt
Portable Spot Light
BEP Gas Detector
Gayrad 40amp Battery Charger
COMMENT
This vessel, because of her specifications, model and manufacturer is highly respected by knowledgeable sailors. Duck Soup is self sufficient and capable of extended ocean voyaging. She is extremely well presented with no obvious defects, and carries a high standard of accessories and safety equipment. Accordingly this office recommends Duck Soup as an insurable risk and advise as to her value.
Learn more about Papua New Guinea at:
| | |
| --- | --- |
| General Information | |
| Hotels | |
| Conservation Areas | |
| Diving | |
| Cruising | |