In 2004 we sailed Sulasgeir from her home port of Balvicar on the Isle of Seil near Oban on the west coast of Scotland to Shetland via the Caledonian Canal and Orkney, across to Fedje north of Bergen and the south and east via Lysefjord and the Blinelia Channels to Langusund, some 50 miles SSE of Oslo. She spent the winter on a pontoon.
Jay and I visited in September 2004 - when it was still warm and the summer restaurants open. We explored the area by road - little inlets with summer houses, a stave church and masses of apple orchards.
I returned for a busy four days in January: the first job each day was to de-ice the pontoon! The plan was to install a new Raymarine C120 chart plotter and radar. In April James Simonds and I finished the installation and also added a SeaMe radar enhancer and prepared the boat for the season.
This year's plan was to go down the Swedish west coat to Gothenburg and cross to the east coast by way of the Trollhatten and Gota Canals and then north to Stockholm. Later in the season we planned to go north to Haparanda on the Bay of Bothnia and then have the boat lifted out on to a trailer and driven north to Kirkenes in Norway just on the Russian border. The trip would be completed by heading west round North Cape and down to Tromso for Sulasgeir to spend the winter.
2005 Part 1 the Swedish Archipelagos and the Gota Canal
Tonsberg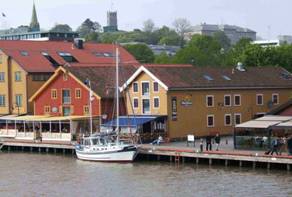 Peter Nicholson, James Simonds and I flew out by Ryanair to Sandeford Torp and caught a bus and taxi to Langusand near Porsgrun some 100km SSW of Oslo.
Sunday 22nd May A few circles and some zigzag runs had calibrated the compass and enabled the new course computer to learn all about Sulasgeir's little habits. We then set off in fog to go about 40 miles northeast to Tonsberg a fine small town with lots of boating activity. We moored on the main quay.
Monday 23rd May. Through a lifting bridge and east across the outer Oslo Fjord to a island of Skjaerkalden still in Norway but just two miles from the border with Sweden.
Tuesday 24th May. Down the coast behind the islands sheltered from the strong south-westerly wind. On to the Guesthavn at Hunningbostrand , a pleasant small town with a fine restaurant overlooking the harbour.
Wednesday 25th May. Through the Sotenkanal. Round the long, sometimes very narrow, channel inside the island of Orust and onto a pontoon at Almosund at the north east corner of Tjorn Island.
Thursday 26th May. Into Lilla Bomman Marina in the middle of Gothenburg. The strong wind and the very tight pontoons made mooring very difficult.
Friday 27th May. The starter motor had occasionally been failing to engage: Peter half removed it and gave it a good squirting of WD40. This seemed to restore it - but see August 16th. The rest of the day was spent seeing the sights of Gothenburg.
Saturday 28th May. Out of Lilla Bomman Marina up the Trollhatten Ship Canal. Numerous freighters laden with timber passed going up and, of course, getting priority in the locks. Went up the Trollhatten flight to moor just above lock 2. Three different series of locks built in 1800, 1844 and the 1900's
Sunday 29th May. A very windy day continuing up the canal. Locks and lifting bridges and timber ships and passing Saab and Volvo factories. Into a small marina in very windy conditions at Vanersborg.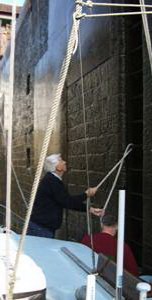 Monday 30th May.
Left Vanersborg and though a lifting railway bridge into Lake Vanern - a 50 miles across shallow fresh water lake. Our route took us northeast to the large island of Kallandso where an amazingly intricate marked passage lead to the very attractive fishing station of Spiken with many huts selling smoked lake fish and a very good restaurant.
Tuesday 31st May. Just as intricate a passage east out of Spiken and across Lake Vanern to near Mariestad then north under a high bridge to Sjotorp where the Gota Canal starts and where we moored in the outer basin below the locks.
Wednesday 1st June.
We had discovered a few days earlier that even in early June we were too early in the season and it would not be until 12th June that the Gota Canal would be fully open and then only `til mid-August. We were booked into a `convoy' for Thursday so we spent a day at Sjotorp mainly lowering the mizzen mast to replace a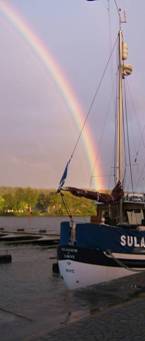 suspect VHF aerial.
Thursday 2nd June. 8am is convoy time! With two other boats we did 19 locks rising, numerous road bridges and one railway bridge (which failed and needed a one and a half hour repair) to moor for the night at Torboda. Lovely restful countryside but with remarkably few birds - no raptors.
Lock control hut.
Friday 3rd June. 8am again. Left Torboda by mainline railway bridge lifting. Numerous farm bridges and one small lock into Lake Viken - a beautiful shallow lake which got shallower and narrower and even more picturesque until we descended through two small towns and another lock into deep Lake Vatern. Crossing Lake Vattern - two hours - we were intrigued but large flocks of cormorants sitting on the surface. We entered the basin at Motalla - a substantial town and the HQ of the canal. They even had a miniature Nessie to celebrate the twinning with the Caledonian Canal in Scotland.
Saturday 4th June. Crew changing day. Peter Nicholson and James Simonds left to go by taxi and bus to Skavsta Airport, I did laundry and searched for a gas cylinder and Jay Whimster and Jackie (Jay's cousin) and Alan Falconer arrived at 9.30pm from Stansted via Skavsta and two buses.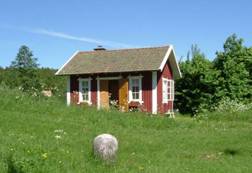 Sunday 5th June. Day in Motalla.
Replenishing the stores and Alan and I walking the outskirts of Motalla looking for gas and failing to understand the complexities of the Aga gas system: more news later. On the quay was a splendid motor museum complete with models and memorabilia appropriate to each vehicle.
Monday 6th June. Left in a convoy at 8am though lifting bridges and, dropping down now, five locks. Then across Lake Boren and more canal to the huge Berg flight where we stopped for the night in a basin halfway down. Several of the very attractive Hotel boats from the 1900's passed and took precedence in the locks.
Tuesday 7th June. Had to wait until 1500 to join the convoy down the rest of the Berg flight to Lake Roxen. Spent the night at Norsholm, a lovely spot - and just by the railway bridge. Ideal for train spotters!
Jay restraining the Soderkoping rabbits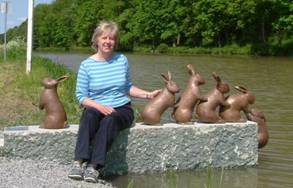 Wednesday 8th June.
The 8am convoy took us gently along the canal, across small Lake Asplangen, and down 9 locks to the town of Soderkoping. The continuing search for gas revealed that the Aga bottle bought in Bergen was not generally available in Sweden and we could only buy the same bottle but with a completely different fitting. So we now had two Calor bottles, and an Aga P6 and H6. And only one full. But now we only use gas for cooking it should last for the rest of 2005. Apart from that we enjoyed Soderkoping, a lovely little resort town, and its restaurants, wooden church and good ice cream shop.
Thursday 9th June. Joined the convoy at 12 noon. Down two more locks to enter the Baltic at Mem at 1330. We had a fascinating journey through a maze of islands to momentarily reaching the open sea before turning north to Arkosand - a very attractive harbour with mooring to the rocks and terns fishing all around us.
Friday 10th June. Another intricate passage amongst the islands past Oxosund and, Ringston Island to the small town of Trosa where we moored to the guest pontoon. We discovered a lovely coffee shop on the river and a Chinese restaurant - Swedish style.
Saturday 11th June. There was a large busy street market with stalls selling everything. We left at 1300 and spent the afternoon amongst more islands before heading north inland by the Sodertalje Canal into Lake Malaren - the large lake to the west of Stockholm. We entered through on ship lock but with only a metre rise and made our way to the very attractive island of Bjorko - which had been the Viking capital before isostatic readjustment left it cut off from the sea and it was replaced by Stockholm.
Sunday 12th June. Jackie's birthday. In the morning we walked through the woods and fields with lots of early summer flowers. At 1245 we
left Bjorko and sailed to Mariefred - a very attractive town with amazing castle. However the wind was blowing F5 from the southeast which made for some difficulty at achieving the desired bows-to and picking up a stern buoy on approach. Being a birthday day we went out for an expensive meal in Mariefred's 16TH century hotel.
Mariefred Castle

Monday June 13th. Back through Lake Malaren with a short diversion to view the Royal Palace from the water then under numerous bridges and one lock and a raised railway
bridge to suddenly emerge in the middle of Stockholm in the hurly-burly of numerous cruise liners, Baltic ferries and all the local ferries and work boats - all zooming about. But soon we were tied up in Wasahammen Marina right in the city by the museum holding Sweden's very own 16th century Titanic - the Wasa.
Tuesday/Wednesday 14th/15th June. Free time in Stockholm! Visited the Vasa ship, the Old Town, Skansen museum, the Royal Palace and a gallery. The Skansen was one of the most interested places we visited in Sweden - a large open air museum of houses, farms, a foundry and some allotments - all from down the centuries and re erected on a park on a hill.
Thursday 16th June. I had decided not to leave Sulasgeir in Stockholm but to try and get her further north at Nortellje - a good bit further on our way but still easily reachable from the centre of Stockholm when we returned. So we left the city centre and motored out past Vaxholm and the archipelago. We eventually tied up on a guest pontoon at Blido - with its own good restaurant on shore.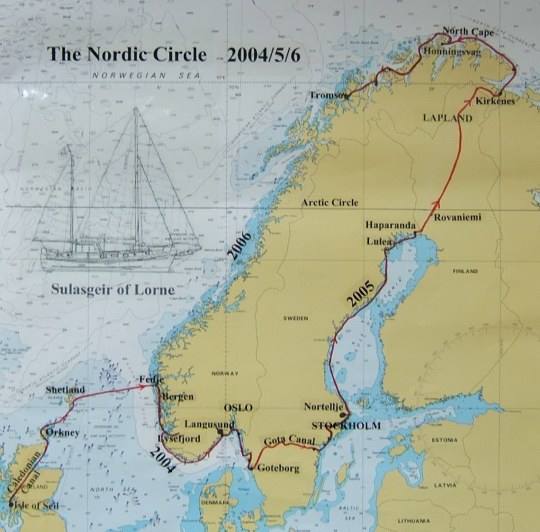 Friday 17th June. Out of Blido - Crossing the main channel we met 10 huge ferries or cruise ships and then spent some time working our way through intricate skerries many just smooth rocks, others with holiday homes on; plenty of sunbathers in the warm weather. Eventually we turned up the long channel to the guesthavn in the town of Nortellje.
Saturday 18th June was spent on laundry and getting Sulasgeir properly settled. On our pontoon all day was a large yacht acting as an inoculation centre for TBE - tick borne encephalitis. In the evening the pontoons were full with at least 50 boats crews attending a wedding in the adjoining restaurant.
Sunday 19th June. Found the pontoons empty apart from Sulasgeir and us off early to catch the two busses to Skavsta and then Ryanair back to the UK.
2005 Part II the Northern Baltic - to the Top
Thursday/Friday 28th/29th July Ken Whimster and I came from Prestwick and Peter Brown and Trevor Ware from Stansted to Skavsta. Plenty of replenishing of food and beer (max 3.5% of course) and getting the boat ready in the very full guesthavn - a real contrast to mid June when it had been empty.
Saturday 30th July. Off again - little wind. Out of Nortellje guesthavn and north up a long narrowing channel which culminated in the Vaddo Canal. We had to wait a short time for two lifting bridges. Then back into the sea heading north into the small attractive port of Oregrund. Trevor made a heroic leap for the shore with a line and got a ducking.
Sunday 31st July. Filled up with diesel (at full road diesel prices) and then north across a wide bay towards a small isolated island - Storgrunfrun. The island has only one all year inhabitant - an 80+ year old Estonian former smuggler who sold us a large side of roasted/smoked Baltic salmon - which , with lots of dill, made a superb pate. We walked ashore amidst bilberries, cloud berries and midges!
Monday 1st August. Off at 6am for a long 90 mile day to Harnosand - a fine town at the beginning of the High Coast. Into a guesthavn on the south side of the town - with another difficult clambering job over the pulpit - Sulasgeir was not designed for the bow to method of mooring.
The largest paper mill in Europe
Tuesday August 2nd.
Through two lifting bridges into the centre of Harnosand whilst food shopping took place. A fast pick up off the town quay then north between numerous wooded islands and glimpses of high bridges. Eventually 60 miles to a small town by the largest paper mill in Europe.
All the way north we had fine weather with eggshell blue skies to the north and thick cloud to the south. The water temperature was 18 C and of course there were no tides and thus no currents to worry us.
Wednesday August 3rd. After days of light northerly winds the wind went round to the south and we could put some sails up. Today we went through the Quark, an area of islands rocks and shallows stretching across from Sweden to Finland and divides the Gulf of Bothnia from the Bay of Bothnia, Eventually we went into Ratan , a most attractive small harbour that had been one of the most important ports in the past and where calculations on isostatic readjustment were done (the process where the level of the land is continuing to adjust to the melting of the ice sheets after the Ice Age - still almost 1cm a year in northern Scandinavia). We also found a superb restaurant to add to the interest!
Thursday August 4th. A rather uncomfortable day working our way north with a lot of rolling from the strong southerly winds. Into Skellefthavn an industrial port with a marina - and a lot of mosquitoes!
Friday August 5th. The first 3 hours was fairly tedious until we entered northern skaergard. It was a complex route through islands and a canal, past huge ice breakers tied up for the summer and then into Lulea. Seemed we were in luck - it was the first day of the Lulea Rock Festival and they were practising at full volume just by the marina! A fly past at full throttle of the Viggen jets of the Swedish Airforce made for good noisy competition. It had been a long haul up the coast - too long - but we were now nearly at the end - and at a most interesting part.
Saturday August 6th. We managed to tear ourselves away from the Lulea Rock Festival and set out for Hinduson Island. The skaergard is an amazing area of wooded islands with shallow channels between then. Some were very well marked and we crept round some very tight bends into Norrisundet on Hindusan Island. Tied up on a pontoon - one of our best berths and best weather with gentle island walks and a barbecue and Peter went skulling and bathing.
Loading at Haparandahavn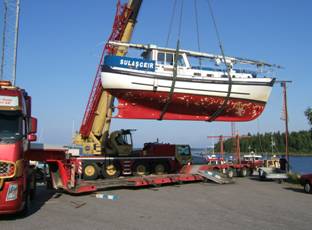 Sunday August 7th.
Nearly there! A change in the weather - NE4/5 - our direction to Haparandahavn. We motored past islands in rain and a rising wind to find the very isolated harbour of Haparandahavn - some 18km from the town.
We had reached our destination in the Baltic - some 510 miles run from Nortellje.
2005 Part III the Land Crossing of Lapland
The rest of Sunday and all day Monday August 8th we lowered the masts and made Sulasgeir ready for road transport. The crane arrived a day early - which was just as well as we were able to determine the best place in the harbour for the crane to lift - and also that a 50 tonne crane was too small and we needed an 80 tonne! Carl - the owner/drive of the vehicle arrived at 9pm. We had spent the day worrying about Sulasgeir's dimensions and spent a long time detaching the steering mechanism to enable Sulasgeir's rudder to be turned to 90 degrees - reducing the length at the keel by at least a further 40cms.
The Crew and Carl waiting for the `follow-car'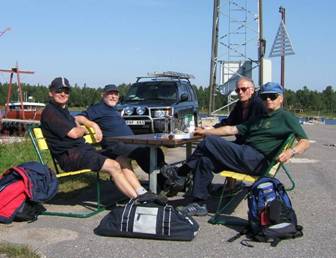 Tuesday August 9th
. The 89 tonne crane arrived at 8am and lifted the boat onto Carl's trailer. The crane driver said she was over 14 tonnes - i.e. 2 tonnes of fuel, water and everything else. We had less than 10cm spare at the keel level and the overall height was about 4.4 metres. Carl's colleague Mats arrive with the "follow car" which actually went ahead and warned of potholes, road works and, most important, wandering reindeer!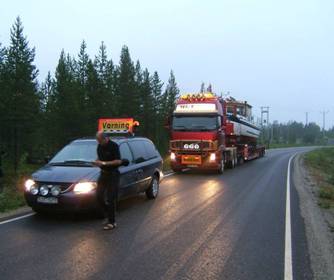 We set out at 11am, soon crossed the border into Finland, and had a close encounter getting under a low bridge which was achieved by lowering the trailer to 1 cm off the road surface and creeping through. We had a police escort through Rovaniemi and then, after crossing the Arctic Circle, went north through the huge forests of Lapland. At Ivalo we saw the first road signs tempting us to turn right for Mumansk - but we pressed on towards north of Inari where we turned on to a more minor road towards Kirkenes. It was evening although still very light as we went along the edge of Lake Inari. At about 23.30 we went across the border into Norway with at apparently closed border post. See next day!
Police escort at Rovaniemi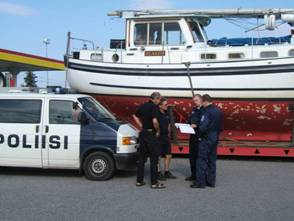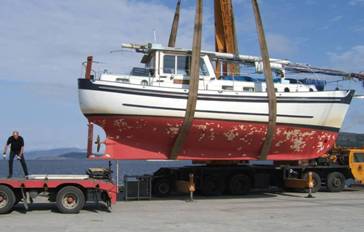 Wednesday August 10th.
Arrived in Kirkenes after midnight and the rig was parked in the dock area. Very very tired, we climbed up into Sulasgeir for a short sleep. At about six I went off for a recc to find the small boat harbour to see if it was a suitable place for putting Sulasgeir back in the water. It wasn't but nor was the north facing ships quays mainly occupied by huge rusty Russian fishing boats. At 8am the crane arrived and we were directed to a more sheltered quay. Just as we were about to be lifted in, a lady from Norwegian Customs arrived and halted the proceedings! Word had reached them and the story of coming by road was obviously not believed until confirmed by CCTV at the frontier! I was summoned to the office where I was able to show two years of paperwork and permissions with Bergen and Porsgrun Customs. So the boat could go in - two expensive hours late - but Carl was still in trouble for not stopping at the border and not waiting until morning. A visit to the police station in the afternoon with my paperwork as Exhibit A had all charges dropped and the crew's promises to visit Carl and me in gaol - occasionally - perhaps yearly - remaining untested.
When we did get into the water it was on a very difficult quay with huge tyres and an on-shore breeze so we were off at speed to the small boat harbour where we were given an excellent pontoon to base ourselves whilst re-rigging the boat.
Thursday August 11th. A day of re-rigging, provisioning and getting ready for the open waters of the Barent
2005 Part IV the Barent Sea to the North Cape and Tromso
Friday August 12th A light wind `on the nose' and fog as we set of north out of Kirkenes in to the wide Varanger Fjord. The MARPA feature on the new radar gave confidence as we picked up what we saw later were fishing boats. We went into Vardo - the only part of Norway that is classified as tundra - with Norway's oldest fort which was soon overrun as the Hurtigruten ferry came in.
Saturday August 13th. Out at 6am in a clear conditions which almost immediately changed to thick fog - three hours which made us thankful for the chart plotter and radar. Clear or foggy for a long 83 mile day into Meham - where we went to the Arctic Hotel for a Stockfish Supper - dried cod - with bacon sauce. Varying reactions!
Honninsvag
Sunday August 14th. Balloons a noisy card and a Greig CD - all at 0730. It must be Trevor's Birthday. Out of Mehamn bound for Honningsvag and back into sheltered waters. Some fog but better views than in the previous two days. Into Honninsvag, the worlds most northerly town, in a wind suddenly gusting to 30knots. Walked up to see the church - one of the very few buildings in northern Norway not to have razed by the retreating Germans at the end of WWII. Two large cruise liners docked in the early evening so there passengers could make the coach trip to North Cape to see the sun at midnight and back on the ship to sleep and wake up somewhere else.
Monday August 15th. Well should we go back east a few miles and north to actually sail past North Cape - because its there. The weather seemed OK - W3 - so we decide to go. We reached North Cape 71 10' North at 1300 with the wind varying from 5knots to 30 as it gusted down off the peaks. About 30mins later we passed what is actually the most northerly point in Europe - Cape Nortidden - which is far less impressive. At 1730 we were back in sheltered waters in the small fishing village of Havoysund.
North Cape and the plotter showing us at 71 11'.265N off Cape Nortidden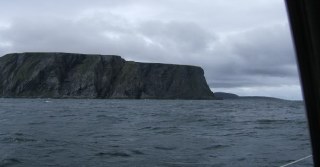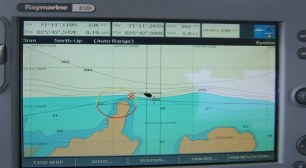 From now on - until we cross back to Scotland from near Bergen in 2006 - we would, with just a few small breaks, be within fjords or skerries and protected from the open sea. Some 900 miles of sheltered cruising!
Tuesday August 16th.
A long day
taking the inside channel south from Havoysund via Samnel-sundet and Vangsundet. The only excitement was a low power line across a sound where we were only warned at the last minute by a patrol vessel. Emergency stop and diversion! At 1940 we reached Oksfjord, a small fishing village with an ice cap on the mountain opposite. We tied onto the end pontoon of the fishing harbour only to have the berth holder return at 2230; I tried to start the engine to move but the starter jammed. We bought two large Saithe which made excellent eating the next evening.
Wednesday August 17th. Up early to find an engineer. He had been seen but despite a lot of asking and searching he couldn't be found. Advice was sought by phone from Argyll and by the use of a large screwdriver and a few sparks the starter motor was shocked back into life. Left at 1250 and motored to the larger small town of Skjervoy where there was a parade of boats just after we entered and Peter excelled himself with the Saithe.
The Lynggen Alps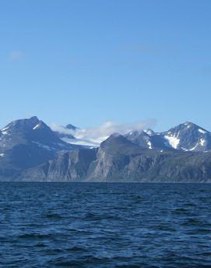 Thursday August 18th. Relief - the engine started. Left at 0650 for the straightforward journey to Tromso. Dramatic scenery as we passed the mountains of the Lyngan Alps with plenty of ice and snow. Arrive at our winter berth at Skateraw at Tromso at 1430 and started preparing Sulasgeir for the rigours of a Tromso winter. A long walk and a fine meal in a Tromso restaurant - the jazz festival was in full swing.
Friday August 19th. Peter and Trevor left at 9am to get back via Oslo to Stansted whilst Ken and I briefed Gulf Yacht on lifting out, winterisation and sorting out the starter motor and we left at 0600hrs on Saturday August 20th to fly back to Prestwick.
So that was it. From Norway to Norway via Sweden and a land crossing of Finnish Lapland. It had been exciting. As usual we had gone far too far in the time. But Sulasgeir could rest for the winter ready for 2006 in the Lofotens and the Fjords and then back home to Argyll.
Colin Whimster
22.09.05
Commercial Break!
Carl Gunnar Bystrom and his colleagues specialise in heavy loads and have the trailers and the experience to move them. They are new to moving boats -the demand is small in the north of Sweden- but he gave an excellent service and is certainly highly recommended -despite the Customs problem! He can be contacted on
0046 70 6318113 or by email at
kg.entrepenad@telia.com