We left Tromso on August 20th 2005 and flew back home. Sulasgeir was left to await lifting out for the winter and a small list of jobs by the yard – including overhauling or replacing the starter motor.
NB Mileages run – in (brackets) after each days log.
Part 1 Tromso to Kristiansund.
During the winter I watched the temperatures on the computer (-15 and lower) and had a series of emails and phone calls. I was promised the boat in the water and ready(ish) when we were due to arrive on Sunday 28th May. Cousin Ken and I arrived at 11pm to find the boat out of the water and with a new lock installed. Fortunately the yard had left a sliding window of the wheelhouse open and I was able to climb in. The starter motor had not been changed. Sleeping was difficult – the sun was shining horizontally through the cabin windows all night!
The next day apart from haranguing the yard we started to fit out and trace the water system leaks and other problems. The boat was amazingly free of the west of Scotland winter mould I normally expect. We had a major saga with the yard about starter motors when they tried to get a 24v one they had had sent from Oslo to work and had to bring in local experts on the Wednesday evening who successfully fitted the 12v I had had sent from Scotland in April!
Launching Sulasgeir on Trolley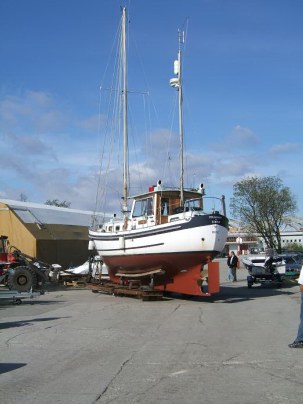 The boat was launched by a tractor and a very ancient trailer with hydraulic rams down a slipway. Seemed precarious but it worked.
Trevor Ware had arrived on the Tuesday evening so we were ready to go. On a meal out in central Tromso we parked in a vacant lot. Our reading of the Norwegian regulation proved in error: we had a 500kr (c£45) parking ticket when we returned after two hours! Very annoying.
Out of Trollfjord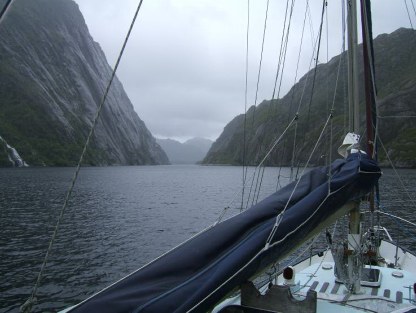 Thursday 1st June. The new starter motor actually worked and we were off south from Tromso at 8am. A light NW wind and motoring in the main ship channel to Finnsnes – with an Arctic Skua with its amazing fork tail gliding past.. A quick turn of the ignition key and no response! We managed to find an engineer who rang the Tromso firm who suggested a relay to boost the current to the ignition. Fitted and it worked – and has so from then on! (36 nm)
Friday 2nd June. We left Finnsnes in light winds but with pressure dropping fast. By 1400 the wind was 30 knots from the south west and raining. However wanted to get to Sortland in case of starter problems so pressed on to a tiny guest harbour where were managed to get Fisksuppe in a small restaurant after climbing a 3 metre perimeter wire and gate – just like the Great Escape! (78 nm)
Saturday 3rd June. It was still raining and blowing the next morning when we set off for Svolvaer. We had a good run down – with a Golden Eagle perched at low level – and through the Raftsundet – the narrow channel used by the Hurtigruten to get though the Lofotens – and then turning through a cleft in the mountain into the small Trollfjord. We then went into the open Vestfjord to make our way into the capital of the Lofotens, Svolvaer. For a large port the entrance is complex and only became clear when a ferry came out and as we went in. We went on to a pontoon in the centre of the town and had a very good meal in an old restaurant on an island in the harbour – together with a family of 25. (43 nm)
Sunday 4th June. Not only were the shops closed but we gathered that the next day was a holiday too. We went a short distance west under the mountainous southern wall of the Lofotens to tie up in Henningsvaer a most attractive fishing village built on a numbers of small islands. All around the village were stockfish drying on racks. We moored alongside the fish restaurant – most convenient! (11 nm)
Cod becoming Stockfish

Skrova Island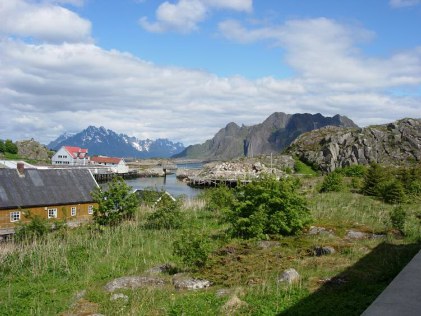 Monday 5th June
. Time, as usual, was pressing. We should, of course, have continued west down the Lofoten chain stopping at the many other fishing stations under the Lofoten wall. But instead we headed east to an island off
Svolvaer
called
Skrova
which had been a whaling centre. We had lunch at the quay in glorious sunshine and then headed east another 20 miles to an amazing wild harbour on the mainland which had been recommended to us. Called
Straumhamn
it was similar to Loch Scavaig under the Cuilleans on Skye. We anchored in the far pool with a line to the shore on a perfect summer evening and walked to and upper fresh water lake surrounded by mountains.
(28 nm)
Tuesday 6th June. I woke at 0440 to find our small amount of swinging had taken us rather near the rocks. So I thought I should wake Trevor and Ken! Rather than re-anchor we decided to set off toward Bodo heading south-west. As usual there was a south-westerly wind! It was a steady plug down the coast and then , for the first time this trip, into the indrelia amongst islands and some complex rock marking. Plenty more to come. At 1440 we tied up on to pontoon of the marina in Bodo – a major town and the rail head from the south – and with one of Chay Blyth's Challenge yachts waiting for customers. (65 nm)
Straumhamn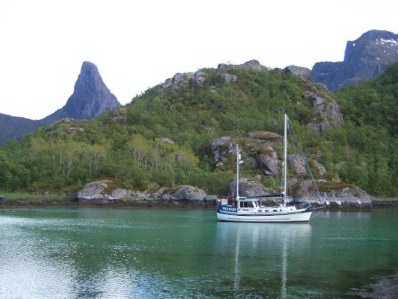 Glacier on Svartisen (and Trevor)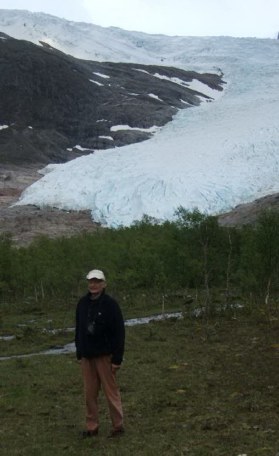 Wednesday 7th June.
We left
Bodo
at 0930 after failing to buy fish! A mild SW wind on the nose down the channels to
Ornes
and into
Holandsfjord
to a pontoon at the head of the fjord. This is where one of the glaciers of the
Svartisen Icecap
almost reaches the sea – as it used to. The wind was strong and we had some difficulty of getting on to the pontoon. Once ashore we set out at about 1900 to walk up to the glacier – through birch scrub and across huge areas of colourful smoothed steep rock – including some limestone which had been dissolved – memories of my last time there on a University caving expedition back in 1957!
Getting back proved difficult with wading across a glacial melt water river. When we got back to Sulasgeir at about 11pm – still bright daylight - we found that the MS Lofoten had arrived with passengers in Zodiacs to also explore the glacier. (60 nm)
Thursday 8th June. We were off before 8am to motor out of Holandsfjord. A long day of plugging into a SW 5/6 wind, crossing the Arctic Circle – without due ceremony – and diverting out of the wind to enter Nesna – by that time it was pouring and gusting force 7. A tour of Nesna in the rain found little fun – no restaurant and a disappointing Co-op. (51 nm)
Friday 9th June. After the disappointment of Nesna we were off in much better weather to go down the Indrelia to the bigger town of Sandnessjoen. We tied up in the main harbour – but although we ate ashore found little more than in Nesna. The day was crowned by a serious heads blockage – which Ken 'volunteered' to clear. The award for heroism was fully justified. (19 nm)
Saturday 10th June. We were out of Sandnessjoen by 7am in light southerly winds heading south with islands and skerries to the west and great views of mountains to the east. As we went south the visibility deteriorated and so we stopped at a harbour on the island of Leka. On land it was a superb evening with lots of waders – curlew and lapwings and a cuckoo particularly – flying and calling and a brass band practising by the shore half a mile away. There was outside museum of local memorabilia and traditional houses. But fog banks kept rolling past between us and the mainland. (66 nm)
Sunday 11th June. We left Leka at 0730. By 0930 we had fog and a 20 knot wind 'on the nose'. We went past Rorvik in improving visibility but then the visibility deteriorated. At 1220 we met a cruise liner "Ocean Majesty" – she dipped her ensign to us – which was a surprise. We reciprocated! I was keen to get out of the shipping channel so diverted in shore inside rocks and islands. The visibility was less than 200 metres but the combination of chartplotter overlaid with radar made it fairly straight forward. Great relief when out of the gloom we found the main beacon that led us into the small harbour of Saetervika – where the fog cleared and the sun shone on a glorious evening – followed by a good meal on shore watching German visitors setting off to fish in small speedboats. (62 nm)
Old Lighthouse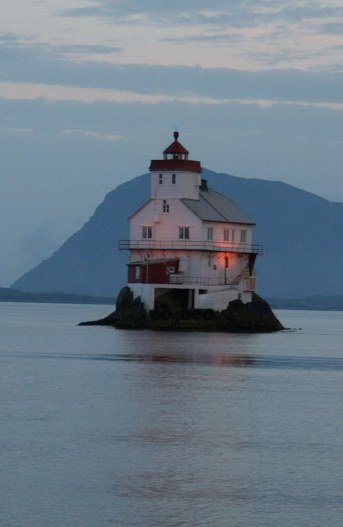 Monday 12th June.
We left
Saetervika
winding south amongst rocks and islands – supposed to be one of the best parts of the route – until we came to Stokkoya Island where we were able to refill with diesel and stock up at the Co-op. Very light winds continued as we went south to reach
Uthaug
in Orland at the entrance to the Trondheimsfjord where we moored to a pontoon. It was a remarkably hot day and we visited a museum devoted to the Russian POW's who built an airfield for the Germans and who lived in appalling conditions
. (52 nm)
Tuesday 13th June. We left the skerries and small islands to head south west down the main channels inside Hitra and then inland into fjord country with steep wooded or rock sides and high mountains inland. We moored at a Mjosund in a placid small side fjord. A good small Co-op for shopping and good walks in the fjord meadows. (53 nm)
Wednesday 14th June. We left at 0800 for the journey to Kristiansund. Although the pressure had risen by 10mb overnight, we found ourselves battling into a rising force 5/7 wind with rain squalls. Considering the fact that we were within a long fjord all the time the sea became very short and steep. The tide was against us but up to 2 knots. We arrived in Kristiansund at about 1400 hours and tied up at the Gjestbrygge. (35 nm)
Sulasgeir in Kristiansund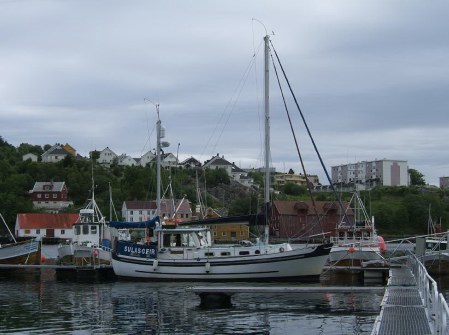 Although the original plan had been to continue to Alesund the Navtex forecast of continuing strong SW winds plus the fact that the next 20 mile stretch was 'outside' the islands I decided to leave Sulasgeir at Kristiandsund. It is a fine small city with a superb harbour and good communications.
After investigating we decided to get down to Bergen by Hurtigruten and fly from there so after spending most of Thursday 15th June clearing up we all boarded the MS Kong Harold for the overnight journey to Bergen and then flights to Newcastle and Stansted. We got a very enlightened 50% fare reduction for over 67's on the Hurtigruten.
Map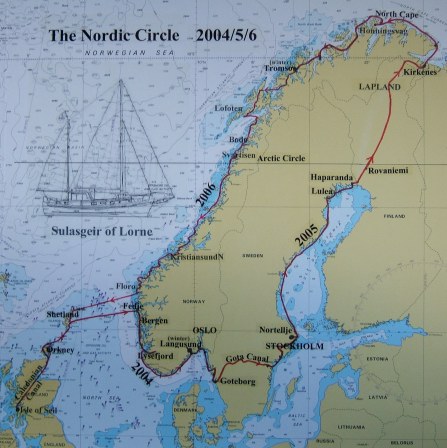 We had travelled 646 miles from Tromso to KristiansundN.
Part II A week's holiday Jay and I came out to KristiansundN for a week from June 27th to July 4th to live in the boat, sort out a few jobs including a new ignition switch and to act like tourists – which we were. We took a boat trip to the remote island of Grip, drove along the Atlantic Road, and drove inland along the fjord. We sorted out the difference between Klippfisk and Stockfish! And we had great weather!
Part III Kristiansund to Inverness
Monday August 7th. Peter Brown and Peter Nicholson came to Kristiansund via Oslo and John Henderson and I via Bergen. Peter found he had left his wallet on the security conveyor at Oslo airport so started a search – phone calls etc – that was to last several days. The wallet was eventually found – intact – and returned to Devon some weeks later. But in the meantime the other three felt we should generously fund all his meals, alcohol and fun – very expensive indeed!
The plan now was to sail down the Norwegian coast – mainly inside the outer fjords and the skerries – until we had a good weather forecast to head west to Shetland where we would go south to Orkney and the Caledonian Canal.
Tuesday August 8th We left Kristiansund at 1400 and had an easy run outside the coast to Bud. For a time the chartplotter position failed and we reverted to the Furuno GPS – the problem proved to be a loose connection. We tied up to a pontoon at Bud.
Wednesday August 9th. No wind – and an easy 6 hours motor to the very attractive town of Alesund where we had a good dinner overlooking the harbour. (38 nm)
Sunrise out of Floro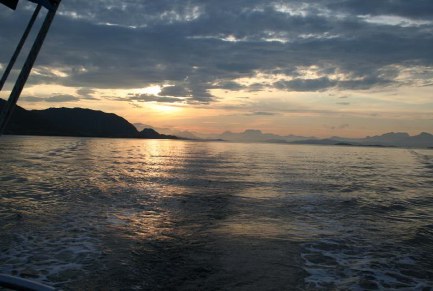 Thursday August 10th. From Alesund we wound down through some steep outer fjords and round the feared headland of Stadt – where there are plans to avoid with a 5km big ship tunnel! We saw a sea eagle soaring. On to a pontoon in the north harbour of Silva Island. (55 nm)
Friday August 11th. The weather remained placid so we decided to press on – another motor down to Floro which we decided would be a good launch point for the crossing to Shetland. Nice small town. We had a good last meal in Norway – a fine example of the modern trend of Vertical Food – all in the middle of a huge plate! (33 nm)
Saturday/Sunday Aug 12th/13th. We left Floro at 0530 – a fine sunrise photo – once clear of the skerries the wind was Northerly F4 – and the forecast was 4/5. Our course was c. SW. and the distance was about 170 sea miles. We set the staysail and mizzen. By 1600 we were passing through the oil rigs which were not on the Navionics charts! By then the wind was top F6. We talked to the skipper of an oil support vessel who said it was gusting F8: they offered to call our families to say that, despite the conditions we were OK – we decided it was better they didn't know! The sea became much rougher and we had to reduce engine speed as we were going too fast and the both the boat and the crew were suffering! Sulasgeir was very well balanced with the mizzen, the staysail and about 800rpm on the engine.
Hearty Scottish Breakfast!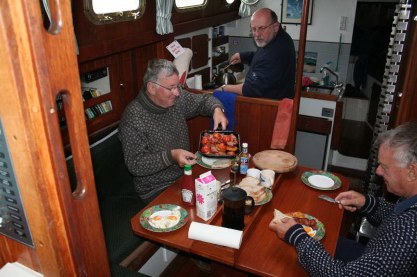 Unst Boat Museum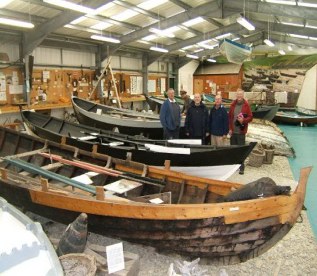 It was a rough night – 2 on with two hours on and two off - and we were very pleased to enter
Baltasound
on
Unst (Shetland)
and to a very sheltered berth in
Balta Harbour
. After a long rough crossing we had a big fried breakfast! The brother of a neighbour at home in Fife then showed us round the area and particularly the superb collection of Shetland Model boats, sixereens etc in the museum at
Haroldswick.
PN was most impressed with the Great Skuas soaring over their breeding grounds
.(168 nm)
Monday 14th August. The weather was typically Shetland with light rain and northerly F4 but we had a good run down into West Lunna Voe – the beautifully protected harbour that was the base for the Shetland Bus – the fleet of Norwegian fishing boats that made amazing journeys to and from Norway in support of the Norwegian Resistance in WWII. We landed and visited the attractive small kirk there. (24 nm)
Tuesday 15th August A short afternoon run down to Lerwick in poor visibility with careful navigation needed amongst all the off lying rocks. We went into the small boat harbour where there we quite a number of Norwegian yachts. (23 nm)
Lerwick Shetland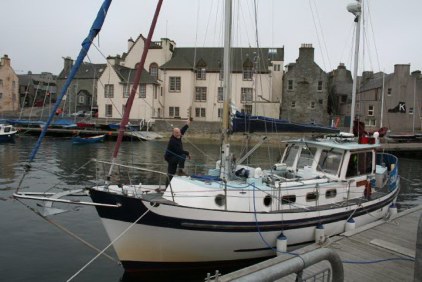 Wednesday 16th August. We allowed ourselves the day off and hired a car to drive north to see the cliffs and sea stacks of the west coast – Dore Holm arch and the superbly titled The Drongs! By chance at Airth we met the coxain of the lifeboat who we had met on his boat in Westray Orkney two years earlier. So we had a full tour of the lifeboat – which has the greatest range of any in the UK. My crew became full of ideas for the improvement of Sulasgeir on £2m per boat RNLI principles!
In the evening PeterN and I visited a local Lerwick Pub – The Lounge – for the Wednesday Shetland Fiddle Session. Two fiddlers started and gradually built up to about 10 playing together - superb!
6.7 knots under full sail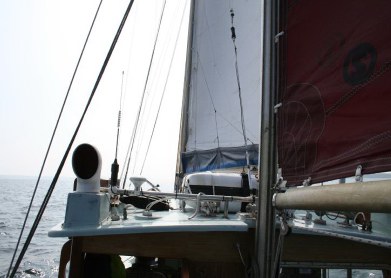 Thursday 17th August.
We had had our day off so we had to press on. So it was out of Lerwick at 0545 for the long crossing to Orkney. A gentle easterly wind but as always a lumpy trip. We arrived at Pierowall Westray at 1700 for fine fish and chips at the hotel.
(78 nm)
Friday 18th August. Filled up with diesel (225l) at Pierowall and then off at 11am. The wind was NE 3-4 and we sailed for 3 hours – maximum speed 6.7 knots – all the way to Kirkwall. It was a fine sail with boat very well balance and needing little helming. We berthed in the marina which has been greatly improved by an extra sheltering harbour wall. (23 nm)
Saturday 19th August. A morning in Kirkwall waiting for a suitable tide to carry us south. We left at 1200 and motored in increasingly wet miserable weather to Wick arriving at 1900. We tied up outside a fishing boat on the dock wall in heavy rain. There were no ladders to get ashore so we stayed on board. (48 nm)
Sunday 20th August. We left Wick – with few regrets – at 0630. Light winds and good visibility down the coast. We had to motor hard to try and reach Clachnaharry Sea Lock before closing time. We just made it and locked in at 1630 and motored up to Muirtown Basin, Inverness. (70 nm)
Monday/Tuesday 21st/22nd August. The crew were restless to get home. Peter B and Peter N and John left for the soft south and Ken and James arrive to complete the journey down the Caledonian Canal to the West Coast.
Part IV Inverness to Seil in Argyll
Coming up!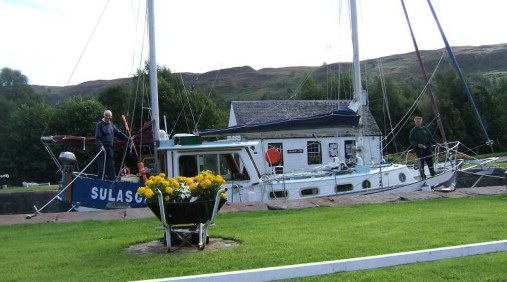 Wednesday 23rd August.
After two days in
Inverness
we were off again. A non eventful trip to
Fort Augustus
apart from meeting a smart Dutch boat coming north whose reverse gear had failed and was stopped when entering the locks by a timely thrown bucket! Rather risky! Stopped at 1620 at the top of the Fort Augustus flight.
Thursday 24th August. A gentle journey down to Loy for the night – overshadowed by Ben Nevis. Joined by canoeists as part of a John Muir Trust 'awareness' campaign.
Friday 25th August. 0815 A BBC reporter arrived to interview the canoeists live on BBC Radio Scotland. We were able to listen on the radio – but with the wheelhouse door closed to avoid feedback. We left Loy and went down the eight locks of the Banavie flight – Neptune's Staircase – to arrive at the sea basin. The steam puffer Vic 32 came in for the sea after its long boiler refit and the Jacobite Steam train came past from Mallaig. They engaged in a short whistle duel. Perfect harmony!
Saturday 26th August. Back into west coast waters and the long motor down Loch Linnhe and the Firth of Lorne. We anchored in Easdale Sound to wait for the tide but I was too keen. We entered Cuan Sound one hour too early, it was very rough and our lowest speed was 1.7 knots. But by 1715 we were back on Sulasgeir's mooring in Balvicar Bay after three seasons in foreign parts. (44 nm)
Sunday/Monday/Tuesday 28th/29th/30th August. Sterling work by James and Ken removed mountains of gear to the cottage as the first stage of preparing Sulasgeir for a mammoth a 32 year refit at Kilmelford Yacht Haven.
By late September Sulasgeir had started her refit - a full repaint, a new rig and a brand new engine. Well deserved after 33 years.
The whole three year journey.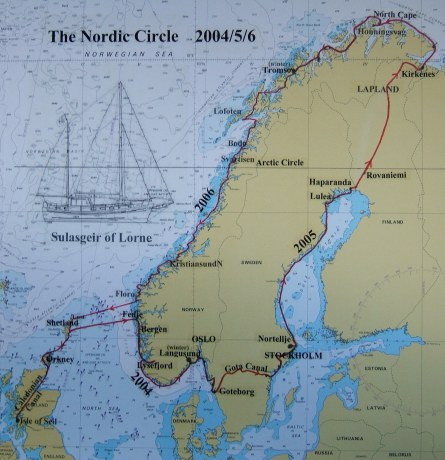 Final thoughts
Navigation
I had been using a Simrad GPS/chartplotter for a couple of years and used it for the first year from Seil to Langusand near Oslo. It was a fine machine but the small screen was just impossible for the intricacies of the southern Norwegian coast: the screen was often just full of indecipherable detail. The change to a Raymarine C120 was a good move especially as it integrated easily with my other electronics and allowed radar overlay on the chart screen. I had problems with Navionics coverage areas. All the planning was done on small scale Admiralty or Norwegian charts – many bought second-hand! Bearing in mind that a full set of the large scale Norwegian coastline charts entails over 116 charts- and that's ignoring that we covered two thirds of the Swedish coast as well – the cost would have been prohibitive.
Most of the time Sulasgeir was on autopilot and on tracks to waypoints: all of which gave plenty of time for passage checking and planning the next route along these most complex of coastlines.
The Route
The circumnavigation idea only firmed up gradually. I had no real knowledge of northern Sweden and northern Norway apart from trips on the Hurtigruten. Without the internet and emailing it would probably not been feasible to arrange it without pre-visits. I was lucky to find the driver who was prepared to take the risk as to whether we would arrive in Haparanda or not!
The whole route was a great experience. The skerries of the south were a very fine sailing ground but a bit too busy for us. The Gota Canal was most impressive. The northern Gulf of Bothnia archipelago was a fascinating area but it is easy to understand why there are few visiting yachts: it's a long long way to get there up a not very hospitable coast. The overland transport was amazing and looking back it seems a miracle it went so well. The Norwegian Coast from Kirkenes west to North Cape is remote and exposed where we were lucky to get good weather. Once round North Cape we were in protected waters and a superb cruising area for about a thousand miles to Stavanger! Except that after 800 we took a left turn to Shetland and home!
Over wintering and services.
Sulasgeir spent two winters in Norway. We were careful each time to get full dispensation from Norwegian Customs; a full VAT charge could be levied if a boat stays more than six months in Norway without full permission.
Sulasgeir survived the Norwegian climate well each winter. Both yards let us down badly, both failing to have the boat in the water by the time we arrived despite repeated promises and both failed to do the small jobs they had agreed to do six months earlier! I must have been unlucky because all other experiences of Norwegian engineering and other services were fine.
But we were wrong to believe the advice that Norway and Sweden use the same gas bottle fittings: they don't but it took a lot of walking round garages to find out!
Pilots and Ports
At first we used the official Norwegian Pilots " Den Norske Los" but found then excessively complex. Of more use were the superb Norwegian Lifeboats "Ferie & Fritits-havner" and the Swedish Gjesthaven guide. The old Norwegian Cruising Guide in English was useful but it has now been replaced by an e-book which is better still. See
www.norwegiancruisingguide.com
A new printed guide is due (June 2007) by Judy Lomax published by Imray in the UK. The existing Imray pilot to the Baltic proved invaluable for the canal and the Swedish coastline.
Almost everywhere we went there was a safe harbour within reasonable distance. Parts of the Gulf of Bothnia coast were a bit tricky and that of Finnmark east of Honningsvaag was very intimidating with large gaps between harbours. But otherwise we found plenty of superb harbours mostly with quays to tie up on or in one of the many fishing boat marinas. Everyone was very helpful at finding us a berth for the night.
The Weather
Of course there are few rules about the weather. But over the three years we were lucky with very few days of strong winds and only one day of seriously bad visibility. The far north seemed to have more stable and better weather and it was only around Orkney and Shetland on both visits that we had the windiest and most unsettled weather.
Our forecasts came from Navtex and from our NASA Weatherman from Hamburg – the five day Baltic Sea area forecasts were very useful.
In some ways the best forecasts were our own eyes. In amongst the Norwegian skerries and channels you are seldom more than an hour or so from a good safe harbour so it was almost always safe to go out and look!
The Boat.
Sulasgeir proved ideal. Much of the time in both the outer fjords and amongst the skerries of both Norway and Sweden we had light or contrary winds. And with the skipper and crew all 'getting on a bit' the wheelhouse was a boon. It was often cold and with the many long days it was essential to be able to keep warm and dry – the Eberspacher for instant heat and the diesel Dickenson stove were both well used. The good strong engine and the enclosed wheelhouse made a Banjer ideal for this sort of coastal cruising. The main criticism of the crew centred on the difficulty, in the wheelhouse, of accommodating four crew members safely and in comfort. In rough weather only the helmsman was totally secure: this is all being improved in the refit.
The most serious problem we had with Sulasgeir was the apparently intermittent starter motor failure which nagged us for two years. We broke a spreader when putting up the mainmast in Kirkenes which made me worry about the rig until we got back to Seil. We had one seriously blocked loo (Ken the hero!) and a cooker oven where the gas safety mechanism stuck at 'off'. And there was a period when the bow thruster would only go to port! We had a variety of leaks from loose stanchions but a more serious one over the saloon table hatch which defied sealant, tape etc for three years.
But apart from these items – no serious failures.
Good old boat!
And the Crew
…. weren't bad either.
Without the crew and the promise to 'see it through to the end' the trip would not have been possible so warm thanks to:-
Michael and Cherry Money
Peter Brown
James Simonds
Ken Whimster
Peter Nicholson
Alan and Jackie Falconer
Trevor Ware
John Henderson
And of course Jay Whimster
Colin Whimster
Aberdour
FIFE
April 2007