Old letters
Warning!: This page is intended for Banjer 37 Motorsailer Club members only. If you are not a member, you are supposed not to be here and your presence is not welcome and probably illegal. Please abandon this page. No person, apart from members, is allowed to use, for any purpose, some or all of the information within this page. Otherwise could be legally prosecuted by the Club and/or any or all of its members.
25.12.2005
From members Daniel & Monique (Banjer Pandora):
...we are now in Israel but on the Red Sea side. We turn the Sinai and visit Jordan and Egypt. We will leave Pandora in ... for some months because we will go to India with another boat next winter. Wi will spend a lot of time in Egypt and Red Sea. Anyway we will be able to go to the next meeting in Amsterdam.
20.10.2005
From friend Glenn Lewis
....I found your info on anchors very helpful, as I work out my specific needs for my 36ft. powerboat. Thanks again.
Glenn Lewis.
31.08.2005
From Commodore to all BMC USA members:
Dear BMC USA Chapter's members,
On behalf of the BMC I want to transmit our condolencies for the terrible devastation caused by hurricane Katrina in New Orleans and other zones in the south of the USA. We hope you and your beloved ones are fine and have not suffered in this disaster.
Best wishes to all of you.
Guillermo Gefaell
BMC Commodore.
Answer from Ellie Naill, USA Delegate:
Dear Guillermo,
This has been a great national disaster – we are not materially affected on the west coast – but our emergency services organizations are sending many people from our area. They are having large crash courses in how to help in an emergency because there is not enough emergency personnel. I wish I were younger – I would love to help, but my help at this point is fervent prayers. Sometimes us human beings forget how delicate and fragile we really are. We should all consider this a wakeup call to remind us of the good and important things in life – our loved ones and the brotherhood of man. It is amazing how the frivolous things we fret over disappear at times like this!
Thank you – and keep our southern brothers in your prayers too.

The Banjer 37 Motorsailer Club mourns for the victims
of devastating hurricane "Katrina" in south USA.
15.08.05
Colin Whimster, BMC's UK Delegate sends an SMS from the north:
"SULASGEIR heading east from Kirkenes today rounded North Cape, 71 deg 11 min north, morale high, no scurvy, now west and south to Tromso"
13.08.05
Ton Koot, BMC Treasurer, writes an SMS from his Channel Islands trip:
"Today we sail along the Belgium coast. Next weekend back home. Angus & Leslie invited us for supper at their lovely home. Very nice evening. Till now weather good. In Holland bad. Galicia hot and dry?..."
21.07.05
From friend Sytse Z., who found an unknown (To the BMC) Banjer:
Hello,
For many years I like the Banjer 37 as a sturdy and well looking motorsailer though I have never owned a sailing boat by myself. Even so I am
impressed by the nice website of the Banjer Motorsailer Club (BMC), a good platform for the BMC members and others who own a Banjer motorsailor. It gives a lot of information about history and technical matter. Congratulations for the BMC team.
As I understand many owners are a member of BMC yet but on the website I have read that BMC is looking for another 4 hulls of Banjers that are (probably) finished by the buyers after purchase.
As a owner of a (single screw) "Channel Island 32" motor yacht (fast sturdy Pilot-type) my boat's home location is at the lake "IJsselmeer" in Holland... It was some months ago that I spotted a sailing yacht over there with a Banjer-like hull. Earlier I did not recognized her as a Banjer because of her non-standard finish.... She has only one main silver-anodized mast (short, non-original), a wooden fore cabin and a wooden aft cabin (both plywood), an open but covered cockpit, etc. But the hull is undoubtedly of a Banjer !! Maybe the owner is already a BMC member. If not the following information could be of interest for BMC and this boat is one of the missing Banjers BMC is searching for.....
Recently I took a picture of this boat and attached it to this e-mail. The original is 2.5 Mb but I compressed it to a rather handy size without
affecting the quality.....
Thats all for now. I hope this information will help you in searching.
Regards,
Sytse Z.
Answer from the Commodore (Sytse's e-mail address seems not to work)
Dear Syste:
Thank you so much for your kind info about this Banjer and your nice words on our web site!
We didn't knew about this particular unit, so your info it's most important for us. Some Banjers were home made after Eista closed its activity, but we do not know how many have been built this way. They cannot be considered as original Banjers, but anyhow they have at least a Banjers' hull.
The Banjer you inform us now, seems to be one of those units, inspired in the arrangement of a Type A-3 version; the one with rear cabin, central cockpit, and a windshield. The special thing is the mounting of a single mast, which is not usual at all....
I'm copying this message to Ton Koot, the BMC Treasurer, so he can try to get in touch someday with the owners and find out more about this unit. I will also post your message and the photo at our web pages to help in the search.
Thanks again for your very kind contact and info. I wish you pleasant sailings on your very nice boat, the Channel Island 32.
Best regards,
Guillermo Gefaell
BMC Commodore.
12.07.05
News from SULASGEIR OF LORNE:
I hope you are well and having a good season....
Sulasgeir is now at Norrtalje about 50k north of Stockholm. We had a good trip in May/June down the west coast of Sweden, through the Gota Canal, in the islands and then into Lake Malaran to Stockholm.
I am going back with friends on 28th July to go north to Haparanda and then overland to Kirkenes and round North Cape to Tromso. I will write up the account in September - if every thing goes well!
I have found a press release on the internet about Seffle Marine.
See www.hme.nl/companies/archive.asp?NewsID=583
It says that all the trade of Seffle have been taken over by Promac. Also see www.promac.nl
So that is good news: my steering leaks a bit and I think I may need to replace the pump behind the wheel at some stage.
Best wishes
Colin
20.02.05
Interesting correspondence about Motorsailers & Motorsailing, Banjers and Roggers:
From Ives in Belgium:
After 30 years pure sailing wet,even with our oil skins, we bought a nab 35 (rasmus), after that we get motor boat: Powless 38 for confort and easy live aboard.But motoring is against our way of life. We were thinking for a boat with not only a wheel house but also with spacious deck saloon and we meet her In ramsgate... Not really a banjer but a rogger 36. It is the FIRST TIME we owned really THE BOAT we want and fully corresponding to our navigation programm!!!France,brittany,East coast rivers, and we hope it now, scotland. I can send photos if you want.We ask you if it is possible to be member of your club? Many thanks for your very nice and interssting site.
Yves.
Dear Yves,
Congratulations for your new Rogger 36! It is a wonderful boat and you will enjoy it for years to come!
We are most greatful for your interest in the Banjer 37 Motorsailer Club and for your nice words about our site. But really we are a "Banjers Club" and not a "Roggers Club". As you may already know, there is a Roggers Association named the "Rogger Motorsailer Club" in Holland, admiting world wide memberships. I think you should become a member of that Club as it will be most interesting for you. They have a web site at: www.rogger.net . Its Chairman, Hans Havers, is a good friend of mine and a most nice person. He encouraged me to beguin with this Banjers Club thing. He speaks fluent english and I think also some french, and will be delighted in receiving you as a member of the RMC. Why don't you get in touch with him? His e-mail address is: rogger@zonnet.nl I'm copying this message to him, for him to know about you.
Well, Ives, this is all for the time being. Contact Hans and become a RMC member. On our side, you'll always be considered a "Banjers Friend" and your visits to our pages and whatever collaboration you would like to give us will be most appreciated.
With kind regards,
Guillermo.
Again from Ives:
First, thank you for your quick answer. Two: I'm more interested by the part of your web site called "motorsailers & motorsailing" I'm not an "ellitist"(presque en francais dans le texte) that's why I dont want to be a member of a club just only because I'm the owner of a boat from this or this model , I'm just looking for people who are sailing with the same feeling than mine . Certainly I'll be member of the rogger site (I know the site).Many thanks for all and I'm being sure we'll enjoy the boat.
Dear Ives,
Thanks for the nice rogger's photos.
Regarding the boating philoshophy, I agree with you that the main question to join a Club (If we think we have to join one at all!) is about what's our own way of understanding boating and sea. From my point of view, owning a motorsailer is almost a way of life and a way of understanding sailing in its own, as well as a way of understanding sea. But unluckily there is not a Motorsailers & Motorsailing club, organization, or whatever. There are plenty of cruising associations and clubs, where motorsailers have their place, for sure, but not a devoted Motorsailing one. And I do not know if such an organization would have enough interest for motorsailers owners, as many of them feel themselves more as being part of the cruising community rather than part of an hypothetical motorsailing one.
Maybe I personally would like to join such a "Motorsailing Community", as I think motorsailing is a kind of sailing philosophy in its own, but I have written to many motorsailers owners associations looking for a possible interest, and the feedback up to now has been zero. On the other hand it is interesting to see the big amount of visits to our site's
Motorsailers & Motorsailing
devoted pages, since we published it a couple of months ago. Around 1.200 page views per month and growing. Perhaps...?
Regarding our Clubs, the Banjers' and the Roggers': What I can tell you is that none of us is an "ellitist" or pretentious person, as far as I know members of both Clubs. We are plain and normal people, who like sailing, like motorsailers, are in love with our boats and want to join other nice people with the same kind of feelings. In addition, we think it is most convenient to be able to share sailing experiences and maintenance tips for our Banjers and Roggers with other fellow-members. No obligations, no impositions. Just being in love with our boats. That's all.
Best regards,
Guillermo
08.02.05
From BARCAROLLE former owner and BMC member
...I write to inform you that Barcarolle has been sold during the last weekend to a very nice couple from Denmark, they found her on your Buy&Sell page and I think they will contact you soon to become members of the club.
Having been a family member since almost 30 year back Barcarolle has given 3 generations, my parents, me and my brother and sisters and finaly my children, many wonderful memories from trips all around the scandinavian coasts and canals.
I think she will be in very good hands and continue to flourish and seduce people with her beauty wherever she visits a new harbour.
I will continue to keep an eye on your web site and if there is anything I can help you concerning sailing in the scandinavian waters, feel free to call or sending an e-mail.
With Kind Regards
Leif B.
14.01.05
From Jeremy, in Florida
I have a motorsailer that I am trying to research its origins. I would appreciate any help. I have included a few pictures.
Thanks for any help.
Jeremy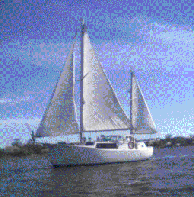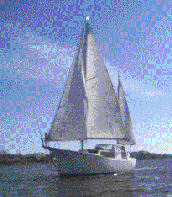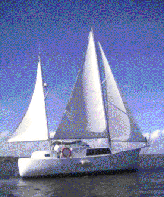 Dear Jeremy:
Thanks for your kind message.
I do not know the brand or model of your motorsailer, but I'll post your mail and some photos at our web pages, to help you to spread the word and so widen the possibilty of somebody being able to identify her. You should also send your request to some of the boating magazines, such as Practical Boat Owner, if you haven't did it already, because that allows you to reach much more people.
Where are you from and where did you purchase the boat? Knowing the country/zone may help.
Best regards,
Guillermo Gefaell
Guillermo,
Thanks for the information, I had not thought of asking the boating magazines. We purchased the boat about 8 months ago in Ft. Lauderdale FL. The boat is according to the title a 1963 Vega, 36' motorsailer. With further research we question the authenticity of the boat type. We have been unable to find anything that resembles the boat with the exception of the Banjer 37, but there are key differences that would not make it a Banjer. We cannot contact the owner because the boat was part of a US Marshals seizure of some sort.
Well anyway thanks for the help.
Jeremy
Dear Jeremy:
I've found this in the web:
| | | |
| --- | --- | --- |
| 96.355 | UNIDENTIFIED; 36 ft. Vega 36 motorsailer | Designer, William Garden; Design #437; Builder, Vega Marine Corp.; Date made after 1960 |
Web page is: http://www.mysticseaport.org/library/manuscripts/coll/spcoll096/spcoll096.html
I hope this can be of help.
Best regards,
Guillermo.
11.01.2005
Missing Australian Ketch.
Nicole Jones Major sends us this message:
To whom it may concern,
I am looking for an Australian vessel called 'Blue Laguna' or 'Blue Lagooner'. It supposedly is a ketch but now it could be a schooner. She is roughly 38 - 45 ft, she is totally wooden all over, has 2 wooden masts, a bowsprit, roughly 6 brass portholes along the hull in a blue stripe that runs the whole length of the hull. She was in excellent condition and is roughly 40 to 60 years old. The cabin is a creamy colour and besides the blue stripe in the hull the rest of the vessel is white. The name is on the stern with 'Australia' written underneath.
I am pretty positive the name is 'Blue Laguna' or 'Blue Lagooner' but I could be wrong & she could have a name change by now in time. I am 100% positive the vessel has Australia written on the stern. The stern goes in on a 45 degree angle.
I am looking for help in finding this vessel or anyone or any company / business that has come into contact with this vessel at anytime either 50 years ago or today. This vessel has been kept in an excellent condition right up until it was last seen in New Zealand waters in January 1998. I need the help of yachting experts/ builders that have great knowledge on wooden ketches & schooners, as this vessel is an Australian vintage beauty but sadly part of a New Zealand tragedy involving 2 missing New Zealanders. I am researching / investigating this crime and I urgently need the help of some Australians that may know of this vessel or could help out some way. If you can't help with any knowledge even just telling your colleagues and friends as this vessel has been around for 40 to 60 years. Some-one must know of this vessel some-where at some-time some-how. I'm pretty sure this vessel could have been used in illegal activities in the late 1990's. Also I would like to know the origins of this vessel from it's conception..What type of ketch it is and the history & who built her?
I AM ENCLOSING IN THE ATTACHMENT A PICTURE OF THE VESSEL - THIS PICTURE IS NOT A PHOTOGRAPH BUT A COMPUTERISED CREATION OF WHAT THIS VESSEL LOOKS LIKE- IT'S MOST CLOSE LIKENESS. The rigging and rope designs could be removed nowdays.

Who I am: I am party to a team of professionals seeking information regarding an unsolved crime and you have my complete assurance that my inquiry is legitimate regards to my research. If there is any information you can impart to me it will be greatly appreciated. If you have any knowledge at all on this vessel we will acknowledge ourselves to you in due course. As a part of this investigation any information you give me and how I receive it will be strictly confidential and will be treated in a professional manner at all times.
Thanks for reading this,
Kind Regards
Nicole
nicole_jonesmajor_@hotmail.com
30.12.2004

The Banjer 37 Motorsailer Club mourns for the victims
of the devastating tsunami in the Indian Ocean.
19.11.2004
From KOALA
Dear Guillermo,
....we met LiLo in Bonifacio (Corse) in April 2002; they told us that they were planning to sail to Greece, to stay there for some time and then to sell LiLo. We exchanged our email addresses and phone numbers and we have been in contact for some time; at the beginning of year 2003 they told us that they were in Porto S. Stefano (in the Nothern Tirrenian Sea); after that date, we received no answer to our emails, and their cell phone seems to be disabled.
A friend of us at the beginning of November has seen a Banjer in Aprilia Marittima, in the Northern Adriatic Sea, with the same colors of Koala. He does not remember exactly the name. We plan to go to Aprilia and we will try to get in contact with that Banjer owners.
Best wishes,
(25.12.04; Note from the BMC: Thanks to another member we now know LILO's actual lying port)
01.10.2004
From Friend John Deacon (In BMC Guest book)
j.deacon@terra.es
I had the great joy to crew a Banjer from Bordeaux to Cyprus (where I was then living and working for EMI) in June of 1970. The owner, a Canadian businessman (John Maclean?), had had extra equipment added to the boat in UK and a crew change became necessary at Bordeaux due to some electrical problems. A Norwegian and I brought the boat through the Canal du Midi ready to depart from Sete. We brought the boat, with the owner aboard, to Kyrenia where it lay for some while (the owner then being attached to the UNDP). Later, when the Turkish army invaded in 1974, an officer delegated some troops to seize her in Kyrenia harbour and sail her to Turkey. The owner never saw or heard of her again.
I have always hoped to see another Banjer again but never did so but I was delighted to find your website. Happy memories indeed.
John Deacon
15.07.2004
From Morten & Pia, in Denmark, looking for a Banjer
Hi
Next year we want to buy our own banjer 37. I would feel more safe to do this, by getting the best advise possible about buying, maintainance, tips etc. - and that must be here. My wife and me want to make our future Banjer 37 our home, but has anyone done this before? - and how can we get in touch with these people, and learn from there experience?
We would like to buy the boat via the the "Banjer 37 Motorsailer Club" site, but can we advertise this on your site?
Best regards
Morten & Pia
Answer from the Commodore:
Dear Morten & Pia:
We are most glad to know about your intention of becoming members of the Banjer community.
Banjers are wonderful boats, strong, sturdy and reliable. If a Banjer has been properly maintained, there should be no major problems, but I recommend you to ask for an independent survey of the boat you finally choose, because we have not to forget they are boats around 30 years old.
Several of the BMC members do live aboard, altough many of them are difficult to contact, due to the fact they are travelling around. But some
of them are contactable. A paradigmatic case is Mr. Brian Hull, in Papua New Guinea, who has lived for extended periods on board, keeps his boat in top condition and is a most friendly and nice man. I'm copying this message to him, for him to know about you.
Whenever you decide to proceed with the purchase, please let me know, and I'll place an ad at our Buy & Sell web page. Let me tell you that the BMC doesn't involve itself in the process of buying-selling of the boats, all we do is inform through our web pages about who is interested in buying or selling. Then it's up to the parts.
I wish you luck in your search for your Banjer and I look forward to receiving you soon as members of our Club.
Best regards,
Guillermo Gefaell
Commodore
From Brian Hull to Morten & Pia:
MORTEN & PIA,
I HAVE OWNED MY BANJER "DUCK SOUP" SINCE 1984 & LIVED ABOARD SINCE 1986.
I AM A REAL ESTATE AGENT BUT PREFER TO LIVE IN MY BOAT.
WE HAVE A WONDERFUL MARINA & CLUB HOUSE (ROYAL PAPUA YACHT CLUB) IN THE CBD OF PORT MORESBY.
BANJERS ARE VERY COMFORTABLE TO LIVE ABOARD FOR ONE OR TWO PEOPLE - THE AMOUNT OF ENJOYMENT ONE GETS FROM ONE'S BOAT IS INVERSE TO THE NUMBER OF PEOPLE ONBOARD.
I HAVE CRUISED MORE THAN 60,000 NAUTICAL MILES, CROSSING OCEANS & COASTAL & RIVER PASSAGES & FOUND "DUCK SOUP" TO BE AN EXCEPTIONAL SEA BOAT.
BANJERS ARE 50/50 MOTOR SAILORS & CAN BE USED EITHER AS MOTOR ASSISTED SAIL BOATS OR SAIL ASSISTED MOTOR BOATS - I ALWAYS USE THE LATTER MODE AS I LIKE MY COMFORTS SUCH AS REFRIGERATION, WATER MAKER, HOT WATER FOR MY SHOWER, BREAD MAKER, CONSTANT RUNNING INSTRUMENTS SUCH AS AUTO PILOT, RADAR, GPS, CHART PLOTTER, GAS DETECTOR, NAVIGATION LIGHTS & INTERNAL LIGHTS WHEN NECESSARY, ETC. ETC..
GUILLERMO IS RIGHT - THESE BOATS ARE 30 YEARS OLD & YOU MUST CHECK FOR OSMOSIS, DRY ROT, THE ELECTRICAL WIRING, THE INTEGRITY OF THE CHAIN PLATES, THE INTEGRITY OF THE SEAL ON THE HATCHES, THE CONDITION OF THE ENGINE & DRIVE TRAIN, THE CONDITION OF THE SAILS ETC..
UNLESS THE VESSEL HAS BEEN CONSTANTLY MAINTAINED & UPGRADED YOU MAY NEED DEEP POCKETS &/OR A LOT OF PERSONAL TIME, SKILLS & PATIENCE TO UPGRADE YOUR VESSEL.
INITIALLY I PAID US$60,000 FOR "DUCK SOUP" & I ESTIMATE THAT OVER THE LAST 2O YEARS SHE HAS COST ALL UP US$2M.
WHEN BUILT IN 1976/77, "DUCK SOUP" COST HER BELGIAN OWNERS UK97,000 POUNDS - A LOT OF MONEY AT THAT TIME.
ASK ANY QUESTIONS YOU LIKE & I WILL ATTEMPT TO ANSWER THEM.
15.07.2004
From friend Christopher, in the UK, willing to know more about Banjers:
.......... I do not own a Banjer, but would like to know more about them before eventually finding one to buy.
Answer from the Commodore:
Dear Christopher:
You can find many useful information within our public web pages at www.banjer37.net
Banjers are strong, sturdy and reliable boats if properly maintained, although we have to take in account they are 30 years old boats. So I
reccomend you an independent survey, in the case you finally decide to buy
one. I'm copying this message to Colin Whimster, our BMC UK Delegate, for him to know about and your intentions. You can talk to him about Banjers and he'll probably may be of great help in advising you and even getting you in touch with some of the UK members around your area, so you can visit one of the boats.
I think Colin is now cruising North Europe waters with his Banjer, so maybe he's not easily contactable. Just in case, I'm copying also this message to John ......, one of the UK members, to find out if he can be of help.
Please let me know if I can be of further assistance.
I look forward to receiving you soon as a new member of the BMC.
Best regards,
Guillermo Gefaell
Commodore
Again from Christopher:
Dear Guillermo
John........ phoned me today. I must say, you're damn fast!
John has invited me for a sail on his boat, and I very much look forward to discovering more about Banjers.
Good sailing
Christopher Sandeman
02.06.2004
From new member MAGUS
Banjer "Will o the Wisp" just passed through our little harbor, informing us of your club. We own & live aboard our beloved "Magus", Hull 50, built in 1971 according to her little brass plate. We bought her in 1985 from Jim Horowitz in North Palm Beach, Fl. She has taken us all through the eastern & Southern Caribbean ...... We like to think we''re aging gracefully together, Magus & us.
We would like any information anyone may have about Magus''s earlier years.
28.05.2004
From friend Frederic Paquay, selling his motorsailer (Not a Banjer) BALISTES
Country: Belgium
Telephone: 00 32 2 763 14 78
E-mail: fred.paquay@skynet.be
Comments: Private owner of a Dutch Steel Motorsailer. I have read your site with much interest. As my boat is now up for sale on the web through my own website (
http://users.skynet.be/cpt.paquay/
) I keep receiving lots of questions from prospective buyers concerning the actual handling/use of a motorsailer.
Would you mind if I made a link on my own site, directing prospective buyers to your site where they would find all the answers to their questions?
Feel free to visit my site for full details of my motorsailer.
Yours Cpt Paquay
10.05.2004
More from the Secretary:
Antilope is now in Narbonne. I left Port Bou after a windy week, waves up to 10 meters, complete new for them around there. I went to Port La Nouvell through the Golf du Lion, to enter there after a day the Canal de La Roubine, to pass Beziers ( Via canal du Midi - lovely route with nice locks, aquaduct and tunnel, also a nine locks area). Unfortunally the channel is not the deep as described in the books so I had to return. It is regular 1.50/1.60 while 1.80 was told. Also the channel is not 3.50 under bridges but 3.30. It was raining and bad weather. It was not the south of France I knew. But we will survive.
We returned to Holland, to come back later. I will then sail to Sete to enter the Rhone. In the mean time I will order a spare part for my vetus waterlocksystem. It broke down and is bringing exhaust water into my boat.
19.04.2004
FROM BMC Secretary, sailing back from Mediterranean to Belgium:
Last week I came from Denia, via Valencia, Barcelona, L'Estartit, on my way to Port St. Louis du Rhone, with my Banjer Antilope. Finanly I was facing a very strong Mistral. After passing the Golf de Rosas and Cabo Cruz, the weather conditions at that time, 7 to 8 bft, waves 2 to 3 meters, did not create a good foundation for completing this trip and finish it at Port st Louis du Rhone. Antilope is now in Port Bou, the first (for me the last) marina in Spain. I already delayed my start in Denia for four days, due to same kind of wheater conditions in that area.
Next week I will try again . This time only by motor. While the masts and sails are down, I then will sail via Port Nouvell and Sete to Camarque, to enter there somewhere the channel. Antilope is now ready and prepared to enter the area of Rhone, Saone and french channel via Lyon, to go back to Belgium / Antwerp.
11.02.2004
From friend Antonette:
Banjer Vaya con Dios is for sale at de Valk Yachtbroker in Bruinisse Holland.... Lisana is.....and Atalanta is for sale at brokers Hetterschijt in Willemstad, Holland
Answer from the BMC
Dear Antonette:
Thank you very much for your kind information.
"Lisana" has already become a member of the Banjer Club, and we are waiting news from the future owners of "Atalanta" and "Vaya con Dios". Anyhow we would like very much to receive the actual members of these two boats as members, until they sell their Banjers (There is a free membership available to all Banjer owners), just to have the Banjers properly listed at the Club's records, but we were not able to get info from the brokers about them. Let's be patient...
We appreciate very much your help and interest in Banjers.
Best regards,
29.01.2004
From member DUCKSOUP in PNG.
DEAR GUILLERMO,
.....LAST FRIDAY 23/01 2004, I RETURNED TO PORT MORESBY AFTER 41 DAYS TRAVELLING VIA THE GREAT BARRIER REEF TO CAIRNS IN FAR NORTH QUEENSLAND FOR CHRISTMAS & NEW YEAR - WE TOOK NINE DAYS TO GET TO CAIRNS AS WE HAD SE HEAD WINDS & SHELTERED FOR FOUR DAYS - THREE WEEKS IN CAIRNS BEING TOURISTS & BUYING EQUIPMENT & CATCHING UP WITH FRIENDS & FAMILY - THEN FOLLOWED THE COAST TO THE TOP OF THE CONTINENT OF AUSTRALIA IN NE HEAD WINDS - FOR A FEW DAYS WE RESTED & CAUGHT UP WITH FRIENDS IN THURSDAY ISLAND THEN SET OFF AGAIN IN SE HEAD WINDS FOR PORT MORESBY WINDING OUR WAY THRU THE LAST OF THE GREAT BARRIER REEF ARRIVING HOME FORTY DAYS LATER....
....WE COVERED APPROXIMATELY TWO THOUSAND MILES MOST OF WHICH WAS TO WINDWARD - WE AVERAGED ONE LITRE PER MILE 0R LESS - ALL EQUIPMENT INCLUDING MECHANICAL REFRIGERATION, ALTERNATOR & COMPUTER PERFORMED WITHOUT A HITCH - CHANGED TWO FUEL FILTERS & TIGHTENED BELTS ON ALTERNATOR ON ONE OCCASION ONLY.
OVER THE WHOLE 41 DAYS WE DID NOT ENCOUNTER ANOTHER CRUISING YACHT EXCEPT TIED UP IN MARINAS IN CAIRNS & PORT DOUGLAS & ONE YACHT RETURNING TO AUSTRALIA WHICH WAS ANCHORED IN COOKTOWN...
26.01.2004
From Seahorse Marine friends.
A Happy, Lucky, Healthy
and Wealthy Year of the Monkey !
(From Jan 22, 04 to Early Feb 05.)
From
The Seahorse Marine Team
www.SeahorseYachts.com
16.01.2004
From member GROS BALOO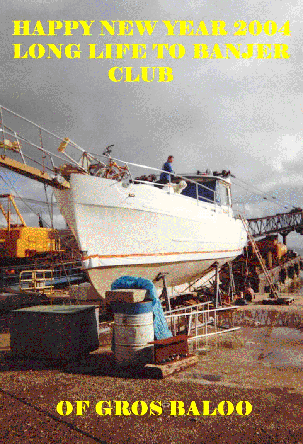 22.12.2003
From Mike McGinley:
Comments: searching for Skip Elias, Villanova University classmate 1971 via e-mail. He was featured on your side on the Por Vida down around Tonga in 1994. If located ask him to please contact me re: Villanova e-mail loop.
Thanks
Email: mcginlm@lmsd.org
05.12.2003
From Ann Miller, ex Banjer owner and BMC member
I give you my heartfelt gratitude to have allowed me to participate in the Banjer Club....We have now sold our beloved Banjer due to my husband's poor health. We very much appreciate the help given to us by allowing us to advertise in your Trading Place. Thank you so much for your help. We now have an empty dock in Florida and would welcome anyone who wishes to dock for a night or two.
Again our heartfelt thanks,
Ann Miller
03.12.2003
From Tom Hewitt, looking for a Banjer
My wife and I would like to buy a Banjer 37 -preferably in the UK, but would be willing to travel to Netherlands or elsewhere in Northern Europe to view. This summer we saw the Banjer 'Tahelia' ... in west Wales. We liked the look of her very much and so our search has started!
30.10.2003
More from Adrian Daley:
Dear Guillermo,
Thanks very much for your prompt reply to my e mail. I really appreciate your help. Let me explain a little about our family interest in Mujaji.
In 1968, my father....bought a Nicholson 32 called Chevin and my mother and father had some wonderful sailing with her until she was sold in 1971 for a new Sovereign 35 ketch. She was also called Chevin....(My parents) took her all over Europe. They sailed her down to the Med and explored the coast of Spain, France and Italy before returning through the Canal du Midi back to the UK.
In 1979/1980.... (my father) decided that he would like to sell Chevin to buy a motor sailer. He put Chevin on the market with Ancaster Marine who told him about a Banjer they were selling called Mujaji. If I recall correctly, she had been exhibited at the London Boat Show a few years previously. She was owned by the owner of Necco Marine who manufactured marine instruments (logs, echo sounders etc). I believe the owners name was Mr Bowman but I cannot be sure. One thing was certain. We all fell in love with Mujaji.
She was a dream boat and so... (my father) negotiated to buy her. I remember that after the survey, the surveyor discovered osmosis so she was taken out of the water in Gosport and her hull was dried out and treated as part of the deal. So it was that my father now owned two yachts! Eventually, Chevin was sold to a Canadian who sailed her in appalling weather back to Canada but that is another story.
My father had an ambition to sail up the North sea coast and then into the Baltic. Mujaji was the perfect yacht to do this. In 1882, they moved her to a mooring in St Mawes in Cornwall and they spent the summer preparing her for the Baltic cruise. My wife and I with our (then) two small boys had a wonderful family holiday in Cornwall and I have photo's of my two sons, Thomas aged 5 and Charles aged 3 at the helm!
In the Spring of 1983... (my parents) set sail for the Baltic. They cruised slowly along the coast of France and Belgium and by June had reached Brouwershaven.....
By late October 1983 (almost exactly 20 years ago)...(we returned)...to Brouwershaven..... We were helped by a wonderful family called Fa Gebr Van Ast of Zuidal at Brouwershaven. They owned a dry yacht storage facility and agreed to take Mujaji out of the water and to store her......we asked them if they could also try to find a buyer for her.... In early1984, I learned that Dr Weiss, also a lawyer from Dusseldorf was
interested in Mujaji and so I flew to Dusseldorf and agreed to sell her.
I soon lost contact with Dr Weiss but whenever we travel since then, whenever we are near the sea, we are always on the lookout for Mujaji as she was such a wonderful yacht and holds many memories. I do not believe we have any of our old records but I have asked my mother (who is now 81 years old) and she is looking to see if she has any old files. Mujaji was ketch rigged with twin foresails and a bowsprit. She had a Perkins marine diesel.
We do have some photos of her which I could copy and perhaps e mail.....
With kind regards
Adrian Daley
Note from the BMC:
We were able to identify MUJAJI. It's number 91 from 1976 and is owned nowadays by a BMC member, under another name.
20.10.2003
From friend Adrian.
My family owned Banjer ''Mujaji'' until 1983. She was registered in the UK but we sold her to a German gentleman called Dr Weiss and I have
no idea where she is now. I would love to know what has happened to her. I may even be interested in buying her if she ever came up for sale.
Any information relating to Mujaji would be appreciated.
Adrian Daley
Answer from the BMC
Dear Adrian,
Thanks a lot for your contact and information about MUJAJI.
At the time being we don´t know where she is, but we'll try to track her with the name of Mr. Weiss among our members (We'll locate an ad within the private site of the Club), and we'll let you know if we find something. We'll also publish your message into "Banjers&Friends" and "Letters" pages within the BMC's public site, www.banjer37.net, to spread the word and find out if there is somebody else who can help.....
We wish you the best of lucks with your search of Banjer MUJAJI.
Kindest regards,
BMC.
01.10.2003
From proud BRIGHTEYES owners
Banjer "Brighteyes" has also been updated and her very long refit has been finished at last - it only took 23 months against the forecast of 6 months! We did all the work ourselves so there's no one to blame - although we did have the hull shot blasted by a contractor (it took all of 4 hours).
But she is now repainted, rewired, retanked (water and diesel) and totally refitted inside and out. There are new rubbing strakes, bulwark caps, bowsprit, hatches, alternators and charging systems, headlinings, soft trim, all floors and bearers. There are also a lot of bruises and spilt blood and tired owners!
There are also 2 new masts and booms, courtesy of the Travelhoist operators who managed to hit us, just before launch' and break a forward lower shroud which caused the mainmast to fold. The original gold anodised mast could not be matched so the insurers agreed to renewing both although it did add about 7 weeks to our lunch date.
The eventual launch went well - yes you can get 22 people on board for a party - and the 'maiden' voyage was to Fowey, Cornwall (about 30km) where she will spend the winter before returning to the Med in 2004.
Was it worth it? Yes! Would we do it again? No, no, no!!
Best wishes to all Banjer owners and lovers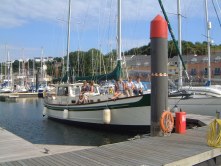 20.08.2003
From Charles Curtis, in USA:
In the next two to three years I plan to upgrade myself. I saw your Banjer 37 and would like some more information . I plan on port hopping on the east coast of the U.S. and she looks like the perfect boat.
Have a great day !
Charlie
Answer from the Commodore:
Dear Charles,
Thanks for your contact through our web pages. We are delighted to know about your intention of purchasing a Banjer. Banjers are great boats, perfect to port hopping along the coast, precisely what most of BMC members do. They are heavy boats, strongly built and, if properly maintained, able to last for another 30 years. They are no racers at at all, but they provide pleasant and "forgiving" sailings, although with some tendency to roll in quarter seas. This is minimized with the use of sails, being the motion more comfortable with a tall rig.
We have several members in the East coast of the USA (Boston, Maryland, Massachusets, North Carolina, Vermont & Florida) and maybe there could exist the possibility of arranging with one of them to show you the boat and maybe even a sailing day. If you are interested I can contact some of them and find out about their availability. If so, please tell me what could be the most convenient location for you.
I look forward to hearing more from you and, hopefully, receive you as a member of our Club.
Best regards.
18.07.2003
From our Member of the Board, Tom Zwijnenberg:
.....I discovered for sale in Willemstad the ATALANTA and in Noordschans KATHARINA from Hamburg...
From BMC: May anybody help us to get in contact with owners or vendors?
16.06.2003
From Mathieu Mathelin, in France.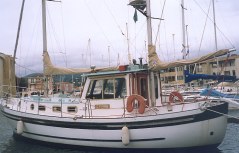 Hello,
I just recognised my former boat on your site.
The third photo, the one on the right from your "which one are these" photos.
It was named : "Le Resolu" and I don''t know if he still has this name.
To make a long story short it was my grandfather''s boat I was almost born on it. You can imagine how I loved that boat. My grand father had to sell it, and I just can''t say how sorry I am.
Anyway I believe the boat is in Port Grimaud in the south of France.
Congratulations for your site that brought up so many wonderfull memories to me.
Regards,
Mathieu Mathelin
Answer from the BMC
Dear Mathieu Mathelin,
Thanks a lot for your entry into our pages and kind words.
We appreciate very much the information about "Le Resolu" and we are glad to learn about your love for this Banjer. Most of the Banjer owners feel the same about our beloved boats.
We'll investigate to find out the actual name and owner of "Le Resolu". As soon as we find out, with the permission of her owner, for sure, we'll let you know. Do you remember her hull number? That should be of great help.
We are honoured to consider you as a "Banjer Friend" and look forward to keeping with you a long and friendly relationship.
Warmest regards on behalf of all of the BMC members.
Mathieu Mathelin again:
Thank you so much for the quickness of your answer.
I definitely look forwards to be one of yours "again" some day.
Regards,
Mathieu Mathelin
12.06.2003
From Stefan Bodin, in Germany:
...Excuse me, but where can I buy these loveley ships?
...Can you help me?
Best regards from Germany
Stefan Bodin
Answer from the BMC:
Dear Mr. Bodin:
Thanks for your kind entry into our pages.
You can find at our site's "Trading Area" page, the Banjers we know are actually for sale. Please go to: http://members.tripod.com/banjer37msclub/trading.htm
Maybe there you'll find a Banjer waiting for you.
We look forward to hearing from you again.
Best regards,
25.04.2003
From Gilles Vergnes, in France
Dear Guillermo,
...To put on banjer37.net: You can buy the collection of books ( 15 books) "NAUTICUS Encyclopédie pratique du bateau Sous la direction de Gérard Borg".It remain some exemplarys. The cost of this encyclopedia is 75 euros at:
Librairie Nautique La Zigzagodromie
29 quai Saint-Antoine
69002 LYON
FRANCE
tel/fax (33) 04 78 37 42 33
e mail lazigzagodromie@wanadoo.fr
site http//lazigzagodromie.fr
Best regards
Gilles
06.04.2003
From Peter Barc, in Portugal
I am Keen on Fisher motorsailors but after spending time on this site I have to admit that I could and maybe be converted to a Banjerman, they sound very good seaboats to me, keep up the good work and regards to all.
Peter Barc (Merchant navy captain, UK)
15.03.2003
From Darren Skrzypek, in Spain.
Hello, I wanna ask you for help, I thought you might gave it to me.
I'm interested in buying a boat, my first boat, I was looking for a boat that I could feel as in home in it, and I think that I found one.
First I didn't know that it was a BANJER, I should remind you my lack of experience in this field, I'm a beginer, but I contacted the owner of the boat and went to see it. I just love it, it is just what I want.
But now I am in the most dificult part of the deal, at least for me it is, The price.
He told me that the price for it is 75.000euros, Iknow that there is a lot to look in a boat like this to see if it is or not a fare price, bur If you can gave me a rought clue, it will help me.
The boat has not being out of the water for 3 years, to my eyes it looks solid and with no visible problems, but as I discovered here in this web site, it is a special boat and I think it needs special considerations.
I'll apreciate very much any help you might gave me.
Till then, thanks.
Darren Skrzypek
BMC's answer (Darren happened to understand spanish)
Estimado amigo Darren:
Nos encanta que te hayas enamorado de un BANJER. Eso es exactamente lo que nos ha pasado a todos los actuales miembros del Banjer 37 Motorsailer Club. Me gustaría saber cual es el nombre de ese Banjer en particular, para ver si tenemos alguna in formación sobre él y poder darte una mejor orientación sobre el precio. En cualquier caso puedes visitar nuestra página "Trading Area" en http://members.tripod.com/banjer37msclub/trading.htm Allí tienes una orientación sobre los precios que se están pidiendo por otras unidades.
Una unidad original, bien mantenida, sí podría valer los 75.000 Euros que te piden, e incluso más. Una unidad original con pobre mantenimiento, pues puede estar en los 50.000 y si no es original, es decir que sólo es el casco y cubierta, y el interior ha sido hecho de forma amateur con poco cuidado, incluso menos. En fin, que la variedad es grande y para poder opinar más atinadamente sobre el caso concreto del Banjer que estás pretendiendo comprar, tendríamos que tener más información sobre él.
Nos encantaría saber más de tí y de ese Banjer.
Un saludo muy cordial.
Guillermo Gefaell
Commodore
05.02.2003
From Richard Treanor, in USA
Name: Richard Treanor
Email: ustwo@cox.net
Comments: I am trying to buy a motorsailer, but not a Banjer37, since I am not in that price range. A Fisher 30, etc is all that I can afford.
I am seeking info on smaller motorsailers, specifically the Dartsailer 27. Do you think any of your members might be able to help me? I noticed that owners of other motorsailers have contacted your member site and made comments.
The Dartsailers have a member association, but all of it is in Dutch. Wish I spoke Dutch, but... Only speak English so can not interpret some of the information on the Dartsailer site. I am interested in pursuing the purchase of a Dartsailer 27 or other smaller motorsailer on the West Coast
of USA. The broker representing the Dartsailer 27 does not have any real info on the spec''s. Does not know the sail area or the mast height or the LWL. He only knows the ballast, LOA and beam. I therefore can''t calculate any performance characteristics.
Would like to know the above info as well as the design criteria for the Dartsailer. I have looked at some Fishers 30''s and would be pleased if the Dartsailer handled as well as the Fisher. My only displeasure regarding the Fishers 30''s was its small and cramped pilothouse. I want a motrsailer that I will feel comfortable with lounging about at anchor or marina when the weather turns cooler. The Fisher 30 does not fit that criteria, although the Fisher 31 with its larger pilothouse does offer that characteristic. The Dartsailer appears to also have that feature.
But how does the Dartsailer perform under sail and power? The Dartsailer with its 51 HP Perkins vs the Fisher''s 35 to 39 HP and lighter displacement of 11000 vs 14560 for the Fisher should power well. But why does the Dartsailer have 7000 lbs of ballast for 11000 displacement vs Fisher''s 6000 for 14520? Why so much ballast?
How does it perform under sail or power and what other information might you share to help me make a decision?
Thanks,
Dick Treanor
Answer from BMC Commodore
Dear Dick,
Thanks for your contact and questions. Unfortunately I cannot answer them, because I have no info about the Dartsailer.
Anyhow I suggest you to write to the Dartsailer Club (Dartsailer@chello.nl ) and put your questions to them. As far as I remember the founder is able to understand and write english.
Best regards and good luck.
Guillermo Gefaell
Commodore
17.01.2003
From Teun de Vries
....Dear Sirs/Madams, I would like to know the cruising speed and the Range (with a Perkins 6 cyl. diesel)of a Banjer 37.
Thanks for helping me out.
Regards Teun de Vries
Answer from BMC:
Dear Teun de Vries.
Thanks for your entry and question. Here the answers I know:
Fuel tanks capacity should be around 900 lts.
You should expect a cruising speed no higher of 8 - 8,5 knots under power, because of the heavy displacement hull forms.
Fuel consumption about 10 lts/h with 8 - 8,5 knots RPM 1.800 : 6 lts/h with 6 - 7 knots RPM 1.500
Regards,
Guillermo Gefaell
05.01.2003
From Ron Jacobs, in the UK.
Greetings and a happy new year
I am planning to change from motor to motor sail later this year and although I like the look and roominess of the nauticats, seaworthiness and good motion are more important than anything else as it is just myself and my wife. Also, the more I understand about these type of boats, and given that we live on the East Coast of England so a deep draft is a handicap, the more the Banjer seems to be the ideal boat.
However my big concern is their age and whether major problems occur with them and what to look for. I am sure many people must have asked this question so I was wondering if you knew of something that collected all the wisdom about Banjer problems together that could be sent to me. I thought of joining the Banjer club to find out this information from existing owners but they must be fed up with people asking similar questions.
Regards.
Ron
From BMC:
Dear Ron,
Thank you very much for your contact and interest in Banjers.
Banjers are pretty good motorsailers, tough and reliable, and easy to fall in love with. Their motorsailing performance is excellent and, although heavy boats with full bows, the tall rigged ones sail quite well, beeing able to attain respectable speeds.
As many classic motorsailers they tend to roll somewhat if they have short rigs, but much less with tall rigs. Banjers are around 30 years old. As the basic construction is very strong and sturdy, if you look for a well maintained one, you may have a boat for another 30 years to come, at least. There are some nice examples for sale at our site's "Trading Area" page.
I'm passing your message to Colin Whimster, BMC Delegate in UK. He owns SULASGEIR and has sailed her extensively, so he may give you a direct and more precise information about Banjer's behaviour and maintenance issues....
I hope to have been of help. Please let me know if I can be of further assistance.
Good luck in your search for your motorsailer. I look forward to having the pleasure of receiving you as a member of the BMC soon.
Regards.
Guillermo Gefaell
BMC Commodore.
Ron Jacobs again:
Many thanks for such a quick reply, your comments are very helpful. I will be trying to getto see one of those for sale in the near future.
Thanks again
Ron
From BMC's UK Delegate:
Dear Ron
By all means give me a ring about Banjers. I am no expert but have taken Sulasgeir from the west coast here in Scotland to Shetland, through the canals to the Med and back and right round Ireland. They are great boats for making journeys in but not much fun for sailing round the buoys!......
Regards
Colin.
24.12.2002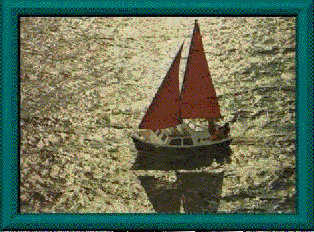 On behalf of the Krammer Motor Sailer Club we wish you all a Merry Christmas and a Happy New Year. And let us all hope that next season we experience a lot of days as shown on the picture.
Regards
Jan van Beek
20.12.2002
From Terry Skeans:
Hi,
I sold my Catboat and am now thinking about the Motorsailer. I'm just now trying to find some information on them. Beside this site. Could you please tell me of some sites of Motorsailer Owners and Sites on Motorsailers. Merry Christmas and Thanks In Advance. Terry
BMC answer:
Dear Terry,
Try the following:
http://rogger.net
http://members.home.nl/krammer/
http://www.nauticatownersgroup.com/
http://www.cheoyleeassociation.com/Owners/motorsailorowners.htm
http://www.seahorseyachts.com/
http://home.tiscali.nl/xp157534/DARTSAILER/
http://home.wanadoo.nl/fisherclub/
Best regards
Guillermo Gefaell
Banjer37 Motorsailer Club
Commodore
Terry again:
Hey Guillermo,
Thanks so much for taking the time to help me out. I really appreciate it. I will check all of these out and looking for to owning my first Motorsailer. Merry Christmas & Happy New Year. Terry
28.11.2002
From member DUCKSOUP
GUILLERMO,
THIS MORNING I TOOK DUCK SOUP TO OUR WORK BERTH TO HAVE SOME PAINT WORK TOUCHED UP.
WHILST THERE I TOOK THE TWO ATTACHED PHOTOS WHICH SHOW HOW I AIR-CONDITION DUCK SOUP DURING THE HOT SUMMER MONTHS NOVEMBER THRU MARCH.
THE AIRCONDITIONER IS A MARINE VERSION AIRCOMMAND MANUFACTURED IN ADELAIDE, SOUTH AUSTRALIA.
ORIGINALLY THEY WERE DESIGNED FOR RETROFIT ON CAMPERVANS,CARAVANS,TRUCKS & BUSSES ETC..
THEY ARE WIDELY USED IN AUSTRALIA ON FISHING BOATS ESPECIALLY THE HIGHSPEED CRAYFISHING FLEET IN WESTERN AUSTRALIA.
I AM SURE SIMILAR UNITS ARE MANUFACTURED IN EUROPE & THE USA.
THE CENTRAL HATCH ON DUCK SOUP IS A GOIOT DOUBLE ACTION VERSION & THE HATCH COVER IS VERY SIMPLE TO REMOVE. WITH SOME FEW MODIFICATIONS IT NOW TAKES ONLY ABOUT 30 MINUTES TO MOUNT OR DEMOUNT.
MY AIRCON IS A 240 VOLT VERSION, 5000 BTU.,COOLING ONLY, HOWEVER FOR SLIGHTLY MORE MONEY A MODEL WITH REVERSE CYCLE HEATING CAN BE OBTAINED.
SHOULD ANY ONE BE INTERESTED IN THE AIRCOMMAND, THE EASIEST WAY TO GET INFORMATION IS TO GO INTO GOOGLE SEARCH, TYPE IN AIRCOMMAND AIRCONDITIONERS & UP COMES THE SITE ADDRESS.
THE UNIT HAS NO PROBLEM RUNNING ON A GENERATOR WHEN CRUISING HOWEVER SINCE REMOVING MY GENSET I NO LONGER HAVE THIS LUXURY - ONLY WHEN ALONGSIDE IN A MARINA.
FROM THESE PHOTOS YOU WILL ALSO NOTE HOW I USE SPRAY DODGERS ON THE RAIL FOR PRIVACY WHILE LIVING ON THE MARINA.
ALSO HOW THE FORWARD CANOPY NEATLY ROLLS UP AGAINST THE MAST ALLOWING ONE TO TRAVEL WITH THE MAIN & COCKPIT CANOPIES IN PLACE.
25.11.2002
From BMC Commodore, Guillermo Gefaell
21.11.2002
From friend Van Taiariol, in USA
Dear Sirs,
I read on your site that you were looking for boat Island Rover. Well I found it! I was on Vacation last week in Puerto Vallarta, Mexico and there she was. The boat was bought by a Canadian named William. We had a nice chat, and he gave me a tour of the boat. This is his first boat and will no sailing experience he headed south from Canada all the way to Mexico. A testment to William''s courage and the Banjer design!
The boat is in good conditon and Willam had no major problems all the way down.
He plans on joining your club, but is now E-mail-less.
Regards,
Van Taiariol
Redwood City Ca. USA
Thanks a lot, Van Taiariol! We are most grateful and we look forward to receive William as a member soon.
BMC.
07.10.2002
From member DUCKSOUP to Jean Luc Lecoque (See more about this downwards here)
JEAN LUC,
LES ANGLAIS TOUJOURS LES ANGLAIS.............................
I APOLOGISE FOR NOT RESPONDING IN FRENCH & FOR NOT RESPONDING SOONER. DUCK SOUP IS HULL NUMBER 94 & BUILT AS A TRANSOCEANIQUE VERSION IN ENGLAND FOR A BELGIAN - A MR TURSCH.
I CAN FLY EITHER A YANKEE OR GENOA JIB ON THE FORESTAY, A STAYSAIL JIB ON THE INNER FORESTAY, A MAINSAIL ON THE MAIN MAST & A MIZZEN SAIL ON THE MIZZEN MAST. IN ADDITION I HAVE AN ASYMMETRICAL SPINNAKER (GENNEKA) FOR BOTH THE MAIN & MIZZEN MASTS AS WELL AS A MIZZEN STAYSAIL.
MOST OF MY WEEKEND BOATING IS DONE UNDER POWER BECAUSE IT IS MY TIME FOR REST. WHEN PASSAGE MAKING I TEND TO MOTOR SAIL - STICKING TO A RHUMB LINE & THEN HOISTING & ADJUSTING SAILS TO SUIT THE CONDITIONS - THIS CAN REDUCE MY FUEL CONSUMPTION BY HALF OF THAT WHEN USED AS A PURE POWERBOAT.
YESTERDAY, BEING A BEAUTIFUL SUNNY DAY WITH GENTLE WINDS BETWEEN 10 - 15 KNOTS JUST FORWARD OF THE BEAM I UNFURLED MY GENOA & SAILED THE 7 MILES TO DESTINATION AT BETWEEN 3-4 KNOTS HULL SPEED. SIMILAR CONDITIONS ON THE RETURN & I FLEW MY MULTI PURPOSE SPINNAKER ACHIEVING A HULL SPEED OF BETWEEN 4-5 KNOTS - ALL MY CANOPIES APART FROM THE FORWARD CANOPY REMAINED IN PLACE & I DID NOT USE EITHER MAINSAIL OR MIZZEN NOR THE STAYSAIL.
I CARRY 140M OF CHAIN IN THE CHAIN LOCKER & UNDER THE GRATING IN THE FORWARD SAIL LOCKER UNDER THE BUNK. IN THE SALOON UNDER THE BUNKS ON EITHER SIDE I HAVE THE EQUIVALENT OF 4 X 200A/H SONNENSCHEIN BATTERIES.
THE ENGINE IS A PHYSICALLY LARGE & HEAVY HRWM6 LISTER DIESEL. ON EITHER SIDE DOWN LOW, JUST AFT OF THE AFT ENGINE ROOM BULKHEAD I CARRY 10 X 20KG OF LEAD INGOTS.
FUEL IS APPROXIMATELY 1200 LITRES.
WATER ALSO 1200 LITRES.
M. BORG STATES THE TRANS OCEANIQUE DISPLACES 12.5 TONNES 4 TONNE OF WHICH IS BALLAST - DUCKSOUP WEIGHS NEARLY 20 TONNE ON A TRAVE LIFT.
I HAVE GIVEN YOU THE ABOVE PREAMBLE AS I THINK THAT THERE IS MORE BALLAST IN CONCRETE IN THE TRANSOCEANIQUE THAN IN THE SHORTER RIGGED BANJERS. I HAVE CONCRETE UNDER THE SETTEES ON BOTH THE PORT & STARBOARD SIDES IN THE SALOON AS WELL AS IN THE FULL LENGTH OF THE KEEL - DO THE SHORT RIGGED BANJERS ALSO HAVE THIS CONCRETE IN THE SALOON?
YOU SHOULD BE ABLE TO GET THE DIMENSIONS OF MASTS & SAILS FROM THE WEB SITE. HOWEVER IF THIS IS NOT POSSIBLE I WILL BE HAPPY TO TAKE MEASUREMENTS FOR YOU.
SETTING UP THE BOWSPRIT & ROLLERS, BOB STAY & WHISKER STAYS ETC WILL BE TIME CONSUMING & EXPENSIVE.
DOES THE BOAT SAIL WELL? - YES IT DOES FOR A TRADITIONAL FULL KEEL KETCH THAT IT IS.
CAN IT COMPETE SPEED WISE WITH A MODERN SAIL BOAT TO WINDWARD? - NEVER! IT WILL TAKE A LOT OF MONEY, TIME, LOVE & FRUSTRATION TO DO THIS CONVERSION
- IS IT WORTH IT? - ONLY YOU CAN DECIDE!
07.10.2002
From R. Pasqualin, in Brazil
Hi
I want to know if there are available plans from this beatiful boat. I want to build by myself a motorsiler.
Regards
Raul
Dear Mr. Pasqualin:
Thank you for your entry in our pages and your interest in the Banjer 37. We are sorry but we do not have construction drawings for the Banjer 37, because we are just an Owners Association and not the builder, who went out of business a long time ago. We only have some General Arrangement drawings, and Lines Plans taken from old leaflets. You can find a sample of what we have at our "History/Techs" page in www.banjer37.net. If you are interested we may send to you a paper copy of some of those leaflets.
Best regards,
Guillermo Gefaell
BMC Commodore.
04.10.2002
From BMC member to Jean Luc Lecocq (see downwards in this page...)
Dear Jean Luc,
I........ have a bowsprit of 1,5 meter, a genoa of 30m2 and a light halfwinder (gennaker) of 65m2.
Sailing performance is ok. From 15 knots up, we can make at least 5 knots, not pointing too high. Also, if the sheets are trimmed perfectly, the boat sails herself without automatic steering. With 20 knots of wind, you can make 6 knots. High winds are no problem either. I carry genoa, mainsail, mizzen up to 25-30 knots of wind. Very comfortable too. Our rule is: never less that 5 knots speed, in that case I switch on the Engine (6 cil. Perkins, 100 Hp) at abt. 1000/1200 revs. You hardly hear the engine and motorsailing is a delight.
Hope this will help you making your choice. But....always go for the ocean going version (bowsprit, tall rig).
Happy sailing,
25.09.2002
From Richard Roberts, in the UK
Email: Richard@Sirisdigital.com
Comments: Hi, we used to own a Banjer in 1972 until 1980.....She was an Aft cabin Banjer and she had a new helm seat fitted. Her name was "Alne Wanderer" and then, when she was sold, she was re-named "Bobreaka II" - I think that is how it was spelt.
Can anyone help me find her? We are intersted in buying her back! or a similar Banjer.
We are in the UK.
25.09.2002
From Jean Luc Lecocq, in France.
Email: claudelecocq@hotmail.com
Comments: I would like information on the performance of the transoceanic version. Where is it possible to find the modifications to transform a classical banjer into a transoceanic one?
Thank you
JLL
(Redaction's note: Jean Luc is looking for a suitable motorsailer for his planned trips to North Europe)
12.08.2002
From Hans Stromberg, developing an association for the owners of Dartmotorsailors
banjer club
ik lees en bezoek uw site regelmatig ik vind hem zeer provi en zeer goed verzorgd
ik ben zelf nu na lang af wegen in het bezit van een 38 ftn dart sailer die zeer goed bevalt.
de banjer heeft altijd boven aan mijn verlang lijst gestaan maar toen wij onze boot gingen kopen is de keus op de dart gevallen
veel succes met uw vereniging
hans stroomberg
25.06.2002
From Enric, an Spanish modelmaker, dealing with a model of a Banjer.
El caso que me lleva a ponerme en contacto con V des es el siguiente:
Hace ya bastantes años, el Sr. Jacques Dore contra almirante de la Armada francesa y en la actualidad Conseiller Reguional de Bretagne, y amigo de la familia al enterarse de que yo, me dedicaba al modelismo naval me dijo, si podría hacerle la maqueta del yate del cual mando a Udes. una fotocopia, sobre este particular, me mando un folleto, de donde he sacado la dirección de Vdes, que francamente ignoro si sigue siendo la misma ya que han transcurrido algunos años. EI Sr. Jacques Dore me mandó algunas fotografías indicándome algunos detalles del yate, pero lo que no tengo y me precisan, son la forma de las cuadernas, que en relación a la quilla le dan el arrufo que ha de tener el yate. Si Udes. tienen algún plano donde se vean estas,mucho les agradecería se sirviesen remitirmelo, en fin todos cuantos detalles pudieran serme utiles, ya se que esto es un poco difícil ya que existe una relación entre cuadernas que además del arrufo le da la forma exterior.
Yo, por mi parte estoy acostumbrado a trabajar de otra forma pero espero que si tengo los planos, podre salir del atasco.
Saludos Enric
30.05.2002
From Richard Creel
Hallo,
I am currently living in the UAE (Middle East), and will probably be here for several more years. I am looking for an older sailboat/motorsailer which I would probably sail down here sometime in the next year or so. My choices at the moment are between a Banjer and a Formosa 41 and I am leaning towards the Banjer because of its seaworthyness and durability. I note that there is one for sale at the moment in Split, Croatia. Do you have any information on this boat? I am quite prepared to buy a boat in need on some TLC and fix it up over the next few years.
Yours, Richard Creel
creel_richard@hotmail.com
05.05.2002
From José Arocena, to our Delegate in France
Bonjour,
J'ai pu voir sur un site dédié au banjer 37 que vous étiez le "délégué" pour la France.
J'envisage d'acquérir une unité "fiftie" dans ce style pour changer radicalement de navigation. J'ai actuellement un First 35S5...et suis basé au pays basque (Hendaye).
Connaissez vous des propriétaires qui pourraient me parler de leur Banjer et peut être me le faire visiter?
Les unités étant assez âgées, vieillissent-elles bien?
Je suis preneur de tout renseignement.
Merci par avance.
Arocena José
10.04.2002
From Steve Lloyd, in USA.
Hello Guillermo, Greetings from Seattle!
Congratulations on a great website for a great little ship!
I know of a 1972 Banjer 37 that is available here in Puget Sound, State of Washington, "HUNTRESS" (original name), but I do not know her HIN yet. I have emailed the four USA interested parties that had their email addresses on your site, and would like to notify August Krebs in New Mexico and Van Taiariol in Redwood City, California. Perhaps you could forward my email to them as well as posting up this info on your 'Trading Area' web page. I will be in touch with more info after I have met the owner and seen the boat next week.
I have also put out feelers to try and locate "Island Trader" for you, are you just assuming she is still in British Columbia, Canada after the 'NORTH TO ALASKA' trip? Do you know when they did that trip?
You have your Banjer "MARIE" in one of my favorite places to stop on the English Channel to the Mediterranean route. I have spent many very enjoyable stops there in the seventies, always at the Club Real de Yates at Bajona (Baiona?). The last time was in 1979 when I was taking my 45' cutter back down to Puerto Banus from Lymington; in the middle of Biscay my Perkins 4-107 threw a bearing, so I had to sail into the club. I then found a new Perkins 4-108 in Bilbao and had it trucked to the club in Bajona, where I had taken the 107 out of the boat with the hoist at the club and put the new 108 in the cockpit and we sailed the boat up to Vigo for the local Rolls Royce/Caterpillar people to install the new engine. Then back to the club for R & R before heading South. Wonderful memories of the Seafood restaurants and the Parador. Great to see the photos on the website - it hasn't changed!
We are well qualified to help with questions on motorsailers as our company has been the West coast of North America dealer for Nauticat for over eighteen years. I myself delivered, in 1982, a new Nauticat across the 'pond' from Hamble to Annapolis, MD., and I recently sold a Fisher here in Seattle; I visited the Fisher Factory when I was in Lymington in 1979. I will continue to monitor your website for any questions that your members may ask that we can contribute to.
Many thanks and Best regards, for Marine Servicenter, Inc.,
Steve Lloyd, Yacht Consultant.
Phone: 206-323-2405,
Cell#: 206-261-2646.
boatsmsc@marinesc.com
18.03.2002
From Augusts Krebs (Zelda?), in New Mexico ( 28/01/2002)
(Dear Augusts: Unluckily we had to "decipher" the message -not HTML- and we do not have a valid e-mail address to be able to answer you on time. So here there are the answers to your questions, Augusts. I hope they are still of use to you. GG.)
Guillermo:
You have a great web site and my hat is off to you for the effort that you have put into it
- I am looking at buying a Banjer and would like to pick your brain for information, if you will let me . I have owned a Hobie 16, G-Cat 18 and a Colombia 27 monohull. I have sailed for about 7 years. I live in the US and the boat will be docked in Florida
- What is the advantage of a motorsailer over a pilothouse sailboat?
a- A pilothouse sailboat, if provided with enough HP's, is a motorsailer by all means. Motorsailer concept nowadays is a very wide one. You may even consider most cruising catamarans as motorsailers. We are talking here (Banjers), about "classic" motorsailers, originally breeded on fishing boats designs. From my point of view, classics have more appeal to some people, because of their lines and way of living concept.
- How does a Banjer sail with just sails and no motor running?
a- Banjers are heavy, with generous volumes forward and a long shoal keel, so they are not racers at all, but generally speaking they perform fine from a reach to a quarter running. They like to motorsail when beating to winward.
- What do you think of the Transoceanique rig over the conventional rig?
a- More sail power and softer motion for the Trans, due to bigger inertia, which is a better option for sea sailing. Short rig is better for canal navigation purposes, or for an extensive use of motorsailing.
- How do you rate the 4 cylinder Perkins over the 6 cylinder?
a- Cheaper to run but noisier. From the point of view of power, I find the 4 cyl. good enough for the boat.
- What is the engine noise level with the engine running?
a- Sorry, I do not have it measured, but owning myself a 4 cyl, I find it acceptable if adecuate silentblocks are fitted. Banjers' solid wood floor panels over engine, are pretty effective dampening air borne noise.
- Are there any special items that need to be looked at when doing the survey that are different than when buying a conventional sailboat?
a- No, they are basically the same.
- Thanks for your help with this and again congratulations for all the effort that you have put into this site and the club
August Krebs
25.02.2002
From Ned Costello,in USA
I am looking for a Banjer, would you have a network for buying them in the north-east USA? Thanks for your website, it is great to see a dedicated group to such a wonderful boat.
Ned Costello
30.01.2002
Correspondence among Mr. Van Taiariol and the Commodore
From: "Van Taiariol"
January 27, 2002 3:33 pm
Regarding: Pilothouse
Dear Sirs,
In the US we are limited to 13 ft in height for shipping via trucks. Do you know if the pilot house on the Banjer 37 can be removed for the purpose of shipping?
Best Regards,
Van Taiariol
Redwood City Ca. USA
Great site, interesting boat.
Dear Van Taiariol:
I think the pilothouse cannot be removed without major works being done, but I have had no previous experience with this. If you are not in a hurry, I may try to ask some of the other BMC members, to find out if somebody knows. Are you purchasing a Banjer? If so, could you tell me what's her name and where is she lying? All available info will be very much appreciated for our records purposes and also for being able to better help you with other Banjer matters.
Best regards,
Guillermo Gefaell
BMC Commodore.
Guillermo
Thank you for your prompt reply, No I am not purchasing a B37 at this time, but looking for one. Not too many have made it the the west coast of the US.
I have only seen one here in the San Francisco area. At the time I did not even know what it was. Very interesting design. I will keep looking. If the pilot house can not be removed, transporting the boat to the West Coast will be a problem, but I will keep looking and do some more research.
Best Regards,
Van Taiariol
27.01.2002
From Michael G., purchasing a Banjer
I am in the process of purchasing 1970 Banjer 37 with the larger marconi rig. I would like verification of the following information:
Fuel and water capacities?
Sail Area?
Cruise rpm with 85 hp Perkins diesel?
Fuel burn rate with 85 hp Perkins diesel at cruise rpm?
Cruise speed under power?
Does the vessel perform reasonably under sail alone?
Thanks for any information you can supply. I look forward to becoming a member soon.
From our Commodore to Michael:
Dear Michael.
Thanks for your entry and questions. Here the answers I know:
Fuel should be around 900 lts, and water around 700 lts with the two tanks.
For a Transoceanique rig, sail area should be around 75 sq. mts., if the boat has had not rig alterations.
I don't have information about the cruising rpm and fuel consumption rate for a Perkins 6354 ( I imagine that's the engine you mean), but I'm copying this message to a couple of BMC members whose's banjers mount that engine, to find out if they can be of help.
You should expect a cruising speed no higher of 8 - 8,5 knots under power, because of the heavy displacement hull forms. Under sail, I should say you could expect something around 7 knots over the sea, at its most.
Banjers with Transoceanique rigs perform reasonably well under sail alone, although they are pure breed traditional motorsailers. Some of our members have logged more than 60.000 miles with their Banjers...
I look forward to having the pleasure of receiving you as a member soon.
Best regards and good luck.
Guillermo Gefaell
From our Treasurer to Michael
Dear Michael,
Fuel consumption about 10 lts/h with 8 - 8,5 knots RPM 1.800 : 6 lts/h with 6 - 7 knots RPM 1.500
Regards, Ton Koot
07.12.2001
More from Florian Schumann:
....Thank you for answering my mail. At least my grandfather owned a Banjer. This one was called "Schwabine", and was number "28" built on the eista shipyard. I think my familiy fetched the ship in the summer of 1970 at the shipyard. It was laying until 1978 in the "Marina Hannibal" Monfalcone near Triest/Italy.The ship was member of the ADAC München. It had the small 28 sqm rig, and the 6 cyl. Perkins engine. In 1978 it was sold to an yugoslavian man. We are still in contact with this man. After he sold it to another yugoslavian, who was perhaps going to Sweden or Norway with this ship during the civil war......
The "Pothos" which I have seen in Rab/Croatia in about 1995 was for sale, but I don´t know anything about this ship.
So thanks a lot, and I hope this some information is a little help,
Florian
06.12.2001
From Florian Schumann
E-mail: docpowder@gmx.de
Does anybody know something about the Banjer formerly knowen as "Schwabine"? Or does anybody know where the ship is now?
Thanks, Florian
25.11.2001
From Merdeka's former owner.
I am the former owner of 37'' Banjer Transoceanique "Merdeka", sold 1983 (USA). She sailed in the Great Lakes and along the US East Coast.
I have many warm memories of this "little ship".
Best wishes,
J. S.
24.11.2001
From Clark van Galder, in the USA
Email: clarkvg@aol.com
I live in La Crosse, Wisconsin, USA. We have a cottage on Lake Superior and after reading about the Banjer37 I think it might be a great boat for up there. I would also like to sail alone the East coast of the United States and Canada. Are there any Banjer37 on Lake Superior? Or the anywhere on the Great Lakes??
19.11.2001
From a Banjer 37 ex-owner:
Hello,
I just want to report on a 1971 Banjer 37'' I bought in Panama under the name of Snug, in 1977. I changed the name to Araok, added a bowsprit and a roll furling mule sail subtended by a wishbone, that filled the triangle between the main backstay and the mizzen mast, that was raised 4 feet.
I crossed the Atlantic to the Mediterranean and back to the Caribbean and she would average 5.5 to 6 knots. She even reached 12 knots once under spinnaker in force 6/7. She was an excellent boat that I sold in Miami in 1985, after living onboard full time for 7 years.
Regards,
F. G.
From Mike Ingle, who worked at Stangate with his uncle Alec:
Banjers & Roggers History
In the 60's Maurits Van Wassenaer started a business building steel pleasure craft for canal use - the Doerak range from about 6m to 12m length. The designer, Le Feber, had previous experience of fishing boat design, and in the late 60's designed the first GRP boat the Banjer.
Banjer 1 was the wooden plug, and Banjer 2 the first GRP hull fitted out at the Eista Werf yard at Nederhemert. She was exhibited at the Hiswa in Amsterdam, I think in 1968, where Alec Ingle, recently retired from the RAF, met Maurits on the stand and bought Banjer 2.
Alec, a Battle of Britain pilot, had sailed all his RAF life once he was released from Stalag III, where I believe he swapped a car for a boat. He had a range of boats, both sailing and motor, and when CO of RAF Eindhoven cruised the Dutch canals in a lovely TSDY Moina. She was berthed at Amerzoden (not far from Nederhemert), and Alec was instrumental in the growth of Anna Wever's Trintella business.
His last boat before the Banjer was an Olin Stephens designed Finisterre class yawl, which he had had built in Hong Kong when he was stationed in Singapore. Although a beautiful sailing boat she had an open cockpit, and Alec wanted more comfort, hence the search for a motorsailer.
I understand that during the negotiations for the sale of Banjer 2 Maurits questioned Alec about someone to represent their business in the UK. Having recently retired Alec offered to try the market as Eista's agent, and formed the company Stangate Marine to promote the range. Stangate Creek was a favourite weekend quiet mooring for Alec & his wife Joan when they sailed from the Medway.
After a move to East Sussex, Alec decided to run his business from Chichester Marina, from where we demonstrated the Banjer, and exhibited the boat for the first two years at the London Boat Show on the water at …………….pier. I became involved as a part time assistant, as I had sailed with Alec from a young age, however I was still in the RAF, and in the middle of the company development inconveniently got posted to Germany.
Sales in UK started to take off as the Banjer was one of the first true motor sailers with obvious deep water potential. She appealed to the more senior sailors, who had served their time in open cockpit boats. The Rogger was designed fairly soon after the Banjer, and pretty quickly became a success. The hull was very seaworthy, better in fact than the Banjer, and at the initial price of under £10,000 was a bargain. At the 1972 London Boat Show we had four or five boats on the stand, including GRP versions of the Doerak (I'm trying to remember their names)
In the early 70's the business was growing rapidly and needed a better base to fit all the extras to new boats, and provide credible sales premises, so Alec with three others bought a broken down yard at Littlehampton. Williams Boatyard dated back to pre war yachting, and wooden craft production, but it was slowly slipping into the river. My father Frank, one of the four owners, and a civil engineer, organised the piling of the river frontage and concreting the whole yard area.
Shortly after the commissioning of the yard HM Government decided that yachts were a luxury, and would be subject to 25% VAT. We had several orders at this stage, and to avoid this extra cost, we brought as many boats as possible across from Holland to beat the tax. I have vivid memories of a trip across in a shell of a boat with a plank as the wheelhouse sole, a small compass, and a road map. I was living in Germany and for several weekends drove to Nederhemert on a Friday evening to set off for UK. We generally managed to get the Sunday night flight back for work on Monday, but luckily my boss was fairly relaxed when the weather delayed us. Most of the boats were finished at Stangate, but some went back for `repairs' once they had been imported.
I left the RAF in 1974 to join Alec full time, as by then the business was booming. The whole European market was very active, and we fitted out a couple of Trintella III's for Anna Wever to offload some of his production problems. At this stage the yard only had four or five tradesmen, as most of the work was fitting extras and doing repairs on boats stored for the winter.
However the currency problem was starting to kill UK imports, so a decision was made to move the fitting out to Stangate. The new designs of the Ushant and Atlas were ready so we started on the first Atlas for Billy Martin, our all time favourite Irish owner. Hulls, after the first of each type, were moulded by Halmatic. As always with boatbuilders we were late, and had a problem getting ready for his mid 1975 cruise, but we learned quickly and had our first Ushant on the stocks by late 1974. The first Ushant hull was fitted out on spec by Eista for a Hiswa, but somehow it never sold there.
A total of 6 Atlas and 11 Ushant were built between 1974 and 1979, and in 1977 the whole Banjer and Rogger production was moved to UK. Eista was sold to Chamotte Unie, and Maurits reverted to the steel craft and commissioning boats imported from the UK. If my memory serves me correctly I think all Roggers after No 55 and Banjers after No 75 were fitted out at Stangate. The remaining moulds were moved to Halmatic, and we made a new deck mould for the Rogger with the larger wheelhouse.
The UK inflation rate eventually killed most of the boatbuilders on the South Coast, and we were no exception. We tried everything but could not escape the problems of selling at a fixed price early in the year,and delivering at the same price in the Autumn when costs had risen by 20%. We built 17 of the 35' Red Admiral one design cruiser racers, and made about £10,000 on the whole deal! We built a couple of prototypes for Moody's but they had the same problems as everyone else. In 1979 Alec retired and closed Stangate Marine - I got some finance and kept Stangate Wharf going for another year, but finally gave up when the investor wanted his money in something more profitable.
The Shipyard at Littlehampton was leased to various enterprises in the 80's, and eventually Cunningham's, who had made most of the stainless fittings for our production, took over for aluminium boat production in 1991. They are still there, making the occasional hull for Camper's or private owners, but they have built quite a few racing craft for the Italian market...
Back to "The Banjer 37" page
30.10.2001
From Leonid Bondarenko, in Ukrainia
Dear Sir.
My name is Leonid, from Ukraina. I am a 37yr old, 17 years experience in ship building, Marine Engineer (Guaranty Engineer from shipyard "Ocean", 2-d, 3-d, Service Engineer)- big experience in mending and repairing diesels, auxiliary and automatic systems, Yacht captain (my hobby) (sailing-motor vessels of any displacement and sail area without restriction of navigation area).
I am look for job as repair crew the qualified Ukrainian motormens for repair and service of diesel engines and ship systems.
I am search for communications with the owner or superintendant who can not contain the line fault service for average repair onboard a vessel and the manipulation to the repair company is unjustified under the charges.
I thank for assistance.
I shall be given thanks for any information.
Best regards.
Leonid.
E-mail: bondarenko_leonid@fromru.com
Fax: 380-512-471-094 for Bondarenko Leonid.
12.10.2001
From new member ERIDANI
...If all goes well, I shall be picking up Albatros - renamed ERIDANI - on 16 October and heading down the Rhine, through the Netherlands, and back to England! Should take two weeks.
It was a wonderful gathering, and could not have been better timed for me: I learned so much, and met so many wonderful, interesting and informative people - not to mention seeing some lovely Banjers....
...Again, my warmest thanks for making all this possible: your achievement has been remarkable, and I am sure the Banjer Club will go from strength to strength.
Best wishes,
12.10.2001
Taken from Uitkijk magazine.
(Click on image to better view it)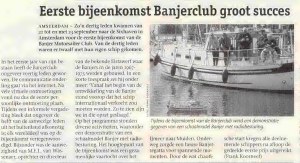 Translation. by Tom:
" FIRST MEETING BANJERCLUB GREAT SUCCES" Amsterdam. About 30 members came from 21 until 23 of September to the Sixhaven in Amsterdam for the first gathering of the Banjer Motorsailer Club. Among the 30 members 12 came with their own ships to Amsterdam. In the first year of the existance of the BMC, 40 members were collected for the club. Communications to each other goes by Internet. After many virtual communications now there was the first meeting personnally. During the meeting it seems that many members came from abroad from each part of the world, especially the founder and former director of the EISTA, Mr. M.E.L. van Wassenaer .It was under his supervision that there were build Banjers from 1967 till 1975. He said : "From the beginning it was clear that the Banjers would be sold international and as we can see here we succeeded in that". During the meeting there were several activities organized as a demonstration of a Banjer on scale 1:10 which was very succesful. Also and very succesful was a Regatta to Muiden with all the ships and members on the IJsselmeer, which gave some exciting moments . All the members got a nice medal to remember this first meeting".
This is a very nice and unforgettable story from Mr. Frank Koorneef who published it in the UITKIJK De Waterkampioen van 12 Oktober 2001.
Old Banjers Never Die ....
Tom Zwijnenberg.
05.10.2001
From RESPITE in U.S.A.
Dear Commodore,
I would like to thank you and all the others for the wonderful time at the Amsterdam meeting. I have not had that much fun in a long time. When is the next meeting? My thanks go to all the members who were wonderful hosts....
Again thanks to all.
01.10.2001
More about the gathering, from KITTY BOOT (UK)
Just a note of appreciation on behalf of my crew .... this exceptional event. It was well worth our detour to Amsterdam, in spite of our late arrival. I feel we made many new friends. "Kitty Boot" cleared Ijmuiden at 1330 on Monday and was in Hartlepool at 0200 on Wednesday, (254 NM).
Many thanks for a very enjoyable, and for me a specially memorable, weekend.
29.09.2001
Excerpts from VROUWE KLAZINA's letter, also about the gathering.
....We derived a lot of pleasure from the contacts with " like-minded " people and never saw so many Banjers toghether...
29.09.2001
Excerpts from KOORENBLOEN's e-mail, also regarding the Gathering.
...We think the past weekend in Amsterdam was very special.... as well for meeting so much charming Banjer-crazy people and seeing so much Banjers in one place. (by the way, I counted 11 Banjers, on Sunday 'Banjer' ... joined the fleet, and you could say that the Banjer-scalemodel... was number 12.....)
Very special to that so much people came from all over the world... to be there!
25.09.2001
From BANJER's new owner, about the Banjers Gathering in Amsterdam.
... My wife and I enjoyed it very much. As a new owner, just selecting a ship that appealed to me for her shape and character, it was a very special experience to be an attendee on this first Banjer gathering. Meeting all these people with love for their ship and see all these different interiors. Of course I will now carry the burden of doing alterations to the ship after my wife has picked up a number of ideas. But just the drive of all these people and their offers in assisting me as a new owner in sharing their experience gave me the feeling of beeing very exepted. I also have made some pictures and will distribute them over the site after having them developed (usally takes a while). On Monday sitting in my office at Amsterdam, I again enjoyed a small parade of Banjers when a number of them set their course home...
09.09.2001
From PANDORA
Pandora is now in Tunisia. We met another banjer owned by a french guy. The boat is called AI CANG she is n° 28, wooden mast and no bow sprit. She has a cockpit.
02.09.2001
From David Perry:
Comments: What a great site! I hadn''t seen a Banjer previously, or at least, not knowingly. I have always fancied a MS, as opposed to a pure yacht because, well, I don''t know, something about the lovely shape of a motorsailer.
I am very much taken with the looks of the Banjer.
I''ll keep the site bookmarked and visit again.
David
28.07.2001
From USA member PELICAN:
Subj: Smarts
Last on a long list of things done by not so bright people, sent to me by my friend Willie.
Last summer, down on Lake Isabella, located in the high desert, an hour east of Bakersfield, California, some folks, new to boating, were having a problem. No matter how hard they tried, they couldn't get their brand new 22 foot Bayliner to perform. It wouldn't get on a plane at all, and it was very sluggish in almost every maneuver, no matter how much power was applied. After about an hour of trying to make it go, they putted to a nearby marina, thinking someone there could tell them what was wrong. A thorough topside check revealed everything in perfect working condition. The engine ran fine, the outdrive went up and down, the prop was the correct size and pitch. So, one of the marina guys jumped in the water to check underneath. He came up choking on water, he was laughing so hard....
NOW REMEMBER THIS IS TRUE. Under the boat, still strapped securely in place, was.....THE TRAILER !!
11.07.2001
From José C. Alegría, member of the Spanish Vexillological Society, the Flag Institute, the North American Vexillological Association and Flags of the World
Hi. Guillermo!
Thanks for your message. I would like to give you mi opinion about the size of your Pennant (Burgee)
You see, Banjers ar 37 feet long, but the most important thing is mast height
As a guide, the Burgee has to be 1/2 inch for every feet of height between the flotation line and the top of the mast. (Yachting Protocol Guidelines, Southern California Yachting Assoc.).
You are proposing 40x60 cm dimensions, but this cannot be, because your Pennant (Remember: Burgee because it is a flag of a nautical association and Pennant because of its form) should have a 3:5 proportion, so, if it has 40 cm of height, length should be 66.67 cm.
My Club (Real Club Astur de Regatas) uses Pennants with dimensions 30 x 50 cm
Jose C. Alegria
Gijon, Asturias. ESP
alegria@netcom.es
04.07.2001
From a would be member
Dear Guillermo Gefaell,
I'm seeking a good motorsailer, and have been looking at Fishers. Recently went to see a Fisher 34 in Holland, but discovered that they handle really poorly and visibility forward is very bad - so the hunt continues!
Discovered your excellent website, and thought a Banjer might well be suitable. I'd now like to get in touch with Banjer owners here in Britain, talk to them by phone, and, if possible, see one of their boats. Do you think you could give me contact details?
I should like to act quickly, as one of the German ones for sale may be just right for me. Perhaps you could enrol me as a 'friend' of the club? I'd be most grateful for your help.
By the way, the Banjer on sale through Bob Brinton, a broker near Southampton, has now been sold.
THANKS A LOT...!
30.06.2001
From new member Respite.
..There was a big marketing push in the US in 1970 and 1971 as the boat was written up in several magazines: Boating (March 1970), The Skipper (January 1970) and Sailing (September 1971). It is also listed in the book The Sailing Yacht 2nd Ed., by Juan Baader, W. W. Norton and Co. Inc. NY.
Impex Enterprises Ltd. in Reading, Pa. USA was the importer and the point of entry was Baltimore Md. USA.
I ... have refurbish and upgraded the boat. I have tried to keep the original design and equipment as much as possible. It is amazing to me how a 30 year old boat can still be in such good shape. This boat has be used in the Great Lakes and east coast of USA. I hope to take it to the Caribbean in a few years...
Again I am so glad you have started this club...
Thanks. John Lucas
30.05.2001
From Baard Vetteren:
Hello
As you remember I asked for information regarding a Banjer in Sweden. The other day I received the message below. I also enclose the pictures, so you can put it on the wanted list.
Best regards
Bård Vetteren
PS! After enlarging the pictures as much as possible I beleive that the name could be BARCA
21.05.01
Attention Baard Vetteren
Mr. Vetteren
I saw your note on the Swedish Banjer on the Banjer website. I too saw this vessel, at Sandhamm Island outside Stockholm in June
1998. I attach two photos. Unfortunately I did not make a note of her name or home-port.
I hope this is of interest.
Regards
Angus Bodman
Guernsey
Channel Islands
(Thanks a lot, Angus!)
05.05.2001
Letter from Mike Lindsay in Port Moresby:
Email: joanna2@global.net.pg
Annette & I are residents of Port Moresby in Papua New Guinea, we have been introduced to the Banjer 37 via your club member and our friend Brian Hull, owner of "Duck Soup", a beautiful example of the Banjer. We have long admired Duck Soup to the point that we now find ourselves actively pursuing a Banjer as replacement for our existing boat "Joanna". Joanna is an authentic Slocum Spray, she was built on the Brisbane River in Australia from plans drawn up by Victor Slocum, Joshua's son, of Oxford Massachusetts in the US. To the traditional enthusiast, there is no more finer example of an authentic Spray anywhere in the world. Prior to us negotiating with any prospective Banjer seller, we must locate a new home for Joanna. To this end, we would be very appreciative if we could list Joanna on your web site for perhaps exchange with a Banjer. I will forward to your email address Joanna's specifics and some photos. In the meantime, we would very much like to become members of the Banjer37 Club. Yours in anticipation - Mike Lindsay.
27.04.2001
From Baard Vetteren, in Norway.
There is a Banjer 37 in Sweden.
Can anyone help to locate this Banjer? In the late 90's I found a Banjer 37 several times using Browsers. This Banjer occurred on a list of rental boats/boats for hire, I believe on the East Cost of Sweden, might also have been the West Coast. I have a good friend looking for a Banjer, and he certainly deserves to own one.
So this Banjer from Sweden is very interesting to us.
If somebody has information, please email: banjer@netcom.no
23.04.2001
From Frank K., Honorary member:
...a picture of a ship that will have it's 35th anniversary next year (introduction of Banjer was 1967), maybe something to celebrate too, next year. This photograph, one of a session, was owned by Dick Lefeber, I think taken during trial runs, but I'm not for sure, Mrs Lefeber couldn't tell me...
21.04.2001
From Brian Hull
Duck Soup under full set of sails.
... I FOUND A HARD COPY OF A PHOTOGRAPH TAKEN BY AN ENGLISH GIRL WHO ... WAS CREWING ON AN AUSTRALIAN YACHT - EVEN - & THERE WERE 31 YACHTS ALL TAKING PART IN THE 1993 OVER THE TOP CRUISE FROM GOVE TO DARWIN BEING THE PRECURSOR TO THE NOW DEFUNCT DARWIN TO AMBON RACE.
WE HAD JUST CLEARED GOVE ON OUR WAY TO OUR FIRST ANCHORAGE ON THE WESTERN SIDE OF THE WESSEL ISLANDS.
THE CAMERA SHE USED WAS A REASONABLY CHEAP MODEL BUT THE RESULT IS WONDERFUL.
THIS PHOTOGRAPH APPEARED ON THE COVER OF THE 1994 YEAR BOOK OF THE ROYAL PAPUA YACHT CLUB.
I ALSO HAVE AN ENLARGEMENT ON MY WALL IN MY OFFICE.
I THINK THIS IS THE ONLY PHOTOGRAPH AMONGST THE EXTENSIVE RANGE IN THE CLUB'S ALBUMS SHOWING A BANJER REACHING UNDER FULL SAIL.
AS YOU CAN SEE DUCK SOUP IS CARRYING A YANKEE, MAINSAIL, MIZZEN STAYSAIL & MIZZEN..
THE FLAGS FLYING ON THE MAIN STARBOARD SPREADER ARE THE AUSTRALIAN COURTESY FLAG & A PNG INDEPENDENCE FLAG
MIZZEN STARBOARD SPREADER FLAG IS THE CENTAL PROVIDE FLAG.
MIZZEN PORT SPREADER FLAG IS THE PNG NATIONAL FLAG.
AND OF COURSE ON THE STERN IS THE PNG NATIONAL FLAG. THE PENNANT OF THE RPYC IS FLYING AT THE MAIN MASTHEAD & HIDDEN BY THE MAINSAIL ON THE PORT SPREADER FLIES THE SOUTHPORT YACHT CLUB PENNANT & THE ASSOCIATES PENNANT OF THE SEVEN SEAS SAILING ASSOCIATION.
20.04.2001
From Joseph Vogler, former owner of Island Rover.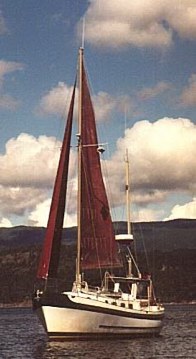 Dear Guilermo!
I have a habit of looking through my old "log books" from time to time, for a obvious reason, memorys. The Island Rover log book stirrs the fondest memorys, memorys that have absolutly no anxious moments, compared to my log books flying through much the same country, Alaska, British Columbia and Youkon, in a Float-plane. The reasons that the Island Rover is a pleasant memory is that this 37ft BANJER was such a well suited vessel for coastal cruising, with a relatively shallow draft, very stable, totally dry, and the 4-236 Perkins Diesel with 85 h.p. supplying ample power. My findings regarding accomodations were: It drinks 12 people, eats 6 People and sleeps 3 people, all in extreme comfort. With a full compliment of electronics she was a pleasure to sail in, with a small "s" for sailing, but a extremly kind vessel. She was so kind, that the two only " incidents" happened to her and me, was not of -shore but in the harbour of Gibsons and Prince Rupert, B.C. Tied up to a dock, I was tuning the injection pump, it finally sounded ok and I closed the engine cover. At idle rpm I changed from forward to astern a few times when, clunk, clunjk clunk, a horrible sound the shaft coupling seperated from the shaft. Over the years the 4 -1/2X3-1/2 bolts had backed out and let the shaft drop of, tied up at a dock!!!!!!!! The second incident was even kinder than that. She was a Great Lady and gave me 1846 hrs/9yrs of mainly motoring through probably one of the worlds most dramatically beautiful country
17.04.2001
From Friend Odd Arild Jacobsen
Comments: Dear Banjer 37 Motor Club.
It was wery nice to see all this information about Banjer 37 Motorsailer. I do not have any Banjer, buth a friend of mine have one and I have past this web site to him. If any of you have any contact with someone who will sell a Banjer 37 Motorsailer, pls contact me. I am looking forward to hear from you.
Best regards
Odd Arild Jacobsen
02.04.2001
From new member Pelican (USA)
"...We found our Pelican at the Port of Sonoma. She had been donated to the Sea Scouts and had been for sale for at least a year before we first saw her. She kept drawing us back, time after time,until we finally hocked the house to buy her in August of 2000. Pelican is listed as a year 1969...
You have no idea how exciting this is for us. One of the fellows ... at Marina Bay in Richmond California found your website and told us about it Sunday. We live about an hour and a half from there, which is where Pelican is berthed. I could hardly wait to get home to get on line to see....
This winter has been a very lovely time for us to get acquainted with her. We go on cruises with the United States Power Squadron and out Yacht Club out of Marina Bay and have had a wonderful time...
...The Pelican attracts attention everywhere she goes. We have people with grand large expensive boats wanting to check her out all the time. Both power and sail I might add. We are just in love with her. She feels like home to me, even though we have only had her for a few months... "
23.03.2001
From Maurits van Wassenaer (Jr)
"Hello, being one of the sons of the founder of Eista, I visited your site and want to express congratulations with the initiative! There should still be some archives around on original boat-owners, although I am not sure about that. My father (around 70 now) is still in pretty good shape and is aware of your activities. Hope that you will be successfull in your mission and wish you good luck. Yours sincerely,
Maurits van Wassenaer"
21.03.2001
From Antilope:
Hi,
I was surfing on the site.
The Perkins link is changed in http://www.perkins-sabre.com (Many thanks. We've changed that, already. GG)
By the way Perkins is (very)well supported in the Netherlands by Kemper en van Twist diesel in Dordrecht, name of their web site is http://www.kemperenvantwist.nl They even supported me in Spain together with Perkins England whem the original distributor for Spain... failed in their support.
Before cruising the Med I bought their workshop manual for the Perkins M4236 engine. It is still available and a very good help when your are in technical trouble. All engine parts are listed and pictures and photo's explain a lot of the needed information for a technician.
Unfortunally they did not put in a electric design.
Antilope - lekker banjeren over de golven
20.03.2001
From former MAGNUM owner to our UK Delegate, Colin.
Colin - Thank you for your letter concerning Banjers. I purchased MAGNUM in the Fall of 1976 and sailed her for nineteen years. I sold her... in August of 1995....
My wife Alice & I lived aboard for five seasons while cruising the canals of France, Germany, Holland & the Western Med. We sailed her home to Norfolk in 1981 and spent the remaining years of ownership cruising the East coast of the US. As you know, they are fine yachts. MAGNUM brought us safely home many times in difficult weather.
If I can add anything to help your Banjer Owners Assoc. don't hesitate to ask.
Fred.
04.03.2001
From James, British Isles Chapters' Research Assistant, to Colin Whimster, regarding Stangate Marine:
"...Sally & I had a very interesting trawl round Littlehampton yesterday and did some useful research without visiting any pubs!
We started at the Marina Office but as it is under newish ownership we were advised to visit Aruncraft who had recently moved out of the Marina complex...
Burt Lambson who runs this business with his son John worked for Stangate from 1976 to 1979 and told us that the yard was just around the corner and now operates as Cunningham. He was not sure how many Banjers were completed or built there but recalled that one was sent to PNG. They were involved in other Eista Werf boats and he thought that they had produced 6 Atlas 14M, 6 Ushant 12.5M & an unknown number of Roggers (10.5M). These all look like developments of the Banjer design and we were told that there was a Rogger in the Marina out of the water for winter storage, which we subsequently found (it had a very neat bow thruster!)
...I will send you:
Rogger brochure with Stangate Marine stamp
Rogger FD brochure
Stangate Marine & Salterns combined marketing brochure
Original Dutch photo of a gaff-rigged Banjer
...(Burt) said that Alec Ingle and his son Mike had run the Stangate Yard. Mike was still around and he had seen him recently but he had no contact numbers and advised us to see Ian Cunningham.
We were fortunate to find Ian Cunningham in his office and he was interested in our project. There was a gap between the closure of Stangate and the subsequent opening of Cunningham but it is the same site. It is situated on the West bank of the Arun just down stream of the opening cantilever footbridge. He had in his office a slightly tatty photo of the yard as Stansgate with a group of Banjers etc on the hard awaiting completion... (we) ...took it to a nearby printer who ran off a fabulous colour print and he was so beguiled by the needs of the Banjer Motorsailing Club that he refused all offers of payment! I will get it copied again locally so that I can post it to you with a suitable back up if it should get lost in transit....
...I do hope that this will help to fill in some of the jigsaw for the website and that you will be able to contact Mike Ingle to get an answer on detailed questions relating to numbers, dates etc...
With best wishes
James"
18.02.2001
Some news about Lex van Viegen, Banjer modelbuilder, from Tom:
Mr. Lex van Viegen ( Model Builder)
The Netherlands.
With many thanks to Mr. Van Viegen and the Rogger Motorsailor Club who paid a visit to the modeller/builder of a Banjer model 1:10, we are now allowed to publish this nice and lovely picture of our favorite ship. It won the 1st. price in the Dutch competition and the 10th on the World-Championship. We sent Mr. Van Viegen our congratulations for this.
As he made it radio-controlled, copied it in the smallest details and even got a place in the Guiness Book of Records it must be a very superb copy of the Banjer 37. He sailed with her from Amsterdam to Harderwijk, all radio-controlled and that is a distance of 51 KM. At the moment he is building a model of the Rogger, another lovely creation and product of the Eista-wharf.
So far. Tom
Lex van Viegen and his model Banjer
(Click to go to dedicated album)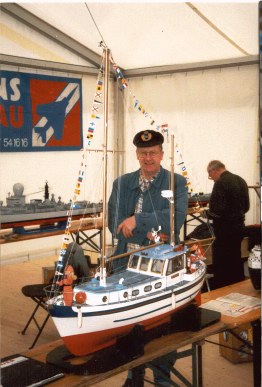 11.02.2001
From Summer Rain , new member from the USA:
"I am the happy owner of a Banjer 37, (hull #51 ?), built at Eista in 1971. I have lived aboard for the past 7 years and have motorsailed from Boston to the Bahamas twice. I am passionate about my Banjer and cannot imagine owning anything else. I have the tall rig with a 69 hp Lugger diesel. I will be replacing the bowsprit and portlights this summer and look forward to sharing advice with fellow Banjer owners. I am thrilled to discover this Banjer club!!
09.02.2001
From Amberes in South Africa:
"I know that Amberes is the only one of its type on the South African coast - there are a few Fishers around but not any Banjers.Also there are relative few yacht clubs on our coast (approx 15 clubs only) - so not too difficult to monitor! I will however keep you informed if I hear of any other Banjers in this part of the world. I will try and make it on Sunday for the virtual meeting - but maybe I am still out sailing at that time! ...
Kind regards
Robert
03.02.2001
From Antilope owner and new member:
"...The Antilope is built in 1969, number 15. I own this beautiful boat since summer last year. The former owner bought the boat, then called Majare, in 1995 and started to restore and renew the ship. In december 2000 we stayed a full month on the french channels, passing more then 258 locks, to reach Port st Louis in the South of France. After then we sailed along the east coast of Spain.
I visted you're site after getting information about your club. I am impressed about all information you have gathered. I will send you some pictures of the boat and (technical)information I gathered.
I'd like to be a member of your club.
27.01.2001 From Weemelah's owner.
"...Doesn't the boat look so different when the paint job is one colour? I do think the lines of the boat are more complimented by the original paint job but I also like my "banana boat".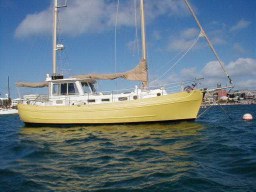 21.01.2001 This Banjer MS Club's site reached today 1.000 home page hits, in only a couple of months! Not a bad performance at all !
21.01.2001 From Barry W. in Hertfordshire, England:
Dear Guillermo, ( I do hope I've spelt that right)
I'll be very happy to join the club as a friend and might take advantage of your club pages to advertise for the boat I am looking for. I live in Hertfordshire in England, I am a Science teacher and also teach children to sail. I have owned a Kingfisher 26 for 10 years and I am
planning to get a bigger boat for retirement.
Regards - Barry.
21.01.2001 We are in business again ! (Guillermo)
12.01.2001 From Guillermo to members and friends:
"Dear Members and Friends:
As some of you know I have had a major computer breakdown this past Christmas time and I've been not able to update the BMC site. I hope this annoying situation will be solved soon. Maybe in four to five days more I'll be able to be back again in the publishing activity. My apologies for this inconvenient, but I'm not precisely a computerwhizz kid, and I'm learning the hard way to deal with computers and so on...
Actually we are 15 confirmed members, and I'm waiting for confirmation from one more in Cape Town..."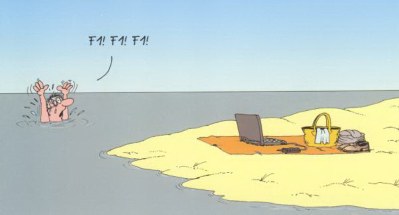 02.01.2001 From new member Chapeau
"I am owner of Banjer Baccarole renamed Chapeau, 300 sqft, since 1995. Perkins 6 cyl. The boat has now longer masts, a bowsprit 1,2 m. and bigger sails.... I am very happy with Chapeau. In spite of the heavy displacement and the big propeller is the boat an easy sailing one. And in most conditions under sail self steering (without autopilot).
...Due to the age the ship needed a lot of maintenance. I have done a lot. This year the treadmaster on deck must be renowed. Are there people that have done before?..."
29.12.2000 From a would-be member in the Channel Islands:
"I do not yet own a Banjer but am very interested in the type and wish to keep track of available vessels. Can you advise if there is an aft-cockpit version of the Transoceanic?" (Yes there is a cockpit version, as can bee seen at the Techical page. G.)
28.12.2000 From infatigable Douwe Willem:
"...On the 2nd Christmas-day I went to ...... looking for ZEEHOND in order to give you more informations about her. It was a trip of 85 KM. from here and I hoped to find the owner there to make him a member of our club. I did not succeed at this time because the (Club) was closed that day and I tried several phone-calls afterwards, no succes because it is snowing, wintertime and nobody is working the at this time of the year. I now know that the ZEEHOND has no masts for this moment and she lies in the water, I think ( but I could not come very close) that it must be a Caribbean-type (like MARIE ?) but I am not sure. The colors are the normal ones like our ships, so I could see. In the future I will try again to find the owner.... Today (Wendsday) there is falling much snow and it is freezing -2 degrees C, so the roads are very slippery these days . Here we are looking forwards to the spring and summer specially when we read the stories on the BANJER-site from DUCK SOUP when he is sitting and bathing in the sun down there ...No further news from me for this moment and I will let you know if there is. And as you know.....Old Banjers Never Die !
27.12.2000 More from Duck Soup
"...BANJERS ARE 50/50 MOTORSAILERS - THEY WILL NEVER PERFORM WELL TO WINDWARD - BUT WITH BEAM WINDS OR DOWN WIND THEY CAN FLY IF THE WIND IS ABOVE 15 KNOTS & YOU HAVE THE RIGHT COMBINATION OF SAIL. I ALWAYS SAY THAT WHEN GOING TO WINDWARD I HAVE A 88HP SPINNAKER WITH A 3:1 REDUCTION BOX."
21.12.2000 Duck Soup informs Weemelah:
"....PAPUA NEW GUINEA.... WE ARE IN THE WESTERN PACIFIC & BASICALLY MELANESIAN
ALTHOUGH WE HAVE POCKETS OF POLYNESIANS & MICRONESIANS.
WE ARE THE WORLD'S MOST DIVERSE & COMPLICATED LINGUISTIC REGION HAVING
NEARLY 800 LANGUAGES. WE HAVE 3 OFFICIAL LANGUAGES - ENGLISH, MOTU &
PIDGIN - I AM FLUENT IN ALL THREE.
THE CRUISING HERE IS PROBABLY THE BEST UNSPOILT TROPICAL CRUISING IN THE
WORLD AS IS THE DIVING. IF YOU COME DOWN THE MILK RUN FROM PANAMA IT IS NOT PARTICULARLY
DIFFICULT TO GET HERE.
... I DO NOT HAVE SHUTTERS FOR THE CABIN PORTS. WHEN I BOUGHT THE BOAT I
REPLACED ALL THE OPENING PORTS WITH FRENCH GOIOT HARDWARE - I ADDED 2
OPENING PORTS TO THE LEADING END OF THE FORWARD CABIN COACH HOUSE & AN
OPENING HATCH JUST TO THE REAR OF THE LARGE ELECTRIC ANCHOR WINCH -
IMMEDIATELY ABOVE MY HEAD WHEN I AM SLEEPING.
....WHEN I TOOK DUCK SOUP TO TASMANIA ABOUT 6 YEARS AGO WITH MYSELF & MY GRANDSON
JOHN ON BOARD, WE CROSSED BASS STRAIT BOTH WAYS IN 40 KNOT SW WINDS - BASS STRAIT IS
CONSIDERED TO BE ONE OF THE WORLD'S MOST TREACHEROUS SEAWAYS. WE WERE DOWN
TO 1 KNOT UNDER STAYSAIL & MOTOR GOING SOUTH & SURFING UP TO 12 KNOTS GOING
NORTH WITH YANKEE, REEFED MAIN & MIZZEN. WE TOOK NO GREEN WATER ON BOARD
EITHER WAY. I HAVE NEVER TRIED TO HOVE TO - HAVE THOUGHT ABOUT IT.
FOR ME THE BANJER IS THE IDEAL SHORTHANDED CRUISING BOAT - FULL WHEELHOUSE,
POWERFUL ENGINE, PLENTY OF FUEL & WATER, HEAPS OF BATTERY POWER, EXCELLENT
HEAD & GALLEY.
FOR ME 2 PEOPLE IS IDEAL HOWEVER I CAN PUT UP WITH 3 FOR A WHILE.
I AM LUCKY AS I HAVE A FULL BUNK ON THE STARBOARD SIDE OF THE WHEELHOUSE
WHICH IS WHERE I SLEEP WHILE CRUISING. THE CREW CAN SLEEP IN EITHER THE FORWARD CABIN
OR SALOON. WITH ONLY 2 IT LEAVES THE SALOON AS NEUTRAL GROUND.
A BANJER CAN BE CONSIDERED EITHER:- A SAIL ASSISTED POWER BOAT OR A POWER ASSISTED SAIL BOAT.
I ALWAYS USE DUCK SOUP AS A SAIL ASSISTED POWER BOAT - I LIKE MY COMFORTS -
HOT WATER, REFRIGERATION, PLENTY OF WATER, AUTO PILOT, RADAR, ETC ETC..
20.12.2000 Our new member Sulasgeir's owner writes:
Thank you for your email: I was very interested to hear about the formation of the Banjer Club and
to visit your very good web site. I am the owner of Sulasgeir which is a 1973 boat with aft cabin:
Sulasgeir means Gannet Rock and is a small island north of Scotland - on the way to the Faroes!
I am trying to sell the boat to have something smaller (N.E.: Not any more!) although we have enjoyed our journeys to Shetland and via the canals to the Med - when in the Med we saw two Banjers at Porquerolles and one at Port Grimaud. (N.E.: Has anybody some info about these Banjers or can help to find them?)
18.12.2000 Weemelha's owner writes:
"Weemelah was initially named Nestor and was commissioned by a wealthy American who shipped the boat by freighter to the States. This owner also had 2 electric winches installed both forward and aft which must have been quite high tech in that day. The boat sunk in Jamaica around 1983 where it was bought and repaired by a Bermudian who sailed it home... the next 5 years the boat was owned by Richard ... who lived on her with his family and fished on her off Bermuda. Richard sailed the boat 1000 miles South to the Caribean on several winters so she has a good few sea miles under her keel. He sold the boat to.... who allowed her to go into quite a state of disrepair such that when I bought her in 1993 she needed a complete refit. I have replaced most things on the boat in the 7 years that I owned her and finally she is ready again to cross an ocean.
I was inspired to read about the Banjer who sailed extensively in the Pacific..."
09.12.2000 Rogger Motorsailer Club welcome.
We
received a welcome letter from Hans Havers, Chairman of the Rogger Motorsailer Club. Find it at our
Mission
page.
The BMC thanks Hans and all RMC members, as well as we give our best wishes of a Merry Christmas and a 2001 plenty of great sailing, to every and all Banjer, Rogger, Doerak, Krammer, etc., owners throughout the World!
03.12.2000 E-mail from Douwe Willem's owner.
Dear Guillermo, here a rectification on de name VIJF GEBROEDERS 2. The new owner who bought her in 1985 ....renamed her to VROUWE CLASINA and was hull-number 24. 1969-1970. I think is goes as it belongs to go with the development of your ( and our) web-site Succes......Old Banjers Never Die...! (N.C.: Thanks a lot. We inmediately changed boat's name in our records and this page)
01.12.2000 Letter from Guillermo, BMC founder.
Dear Would-be Members:
To clarify some aspects regarding the security about using members' data, here we display the Club policy and commitments regarding this matters:
"Member names, boat lying port, addresses, etc., will never be published at the public pages of our Site, unless a particular member gives the Club permission to do the contrary.
At the Members Only page (password protected) members names and e-mail addresses
will be published, to allow personal contacts among members. Home address or telephone numbers will never be published and will be kept only in the Club's private records, for exclusive use of members.
At Members Only page, we'll publish the info members want to share only with other members. For the atractiveness of this Site, we'll publish at the public pages, excerpts from those letters not containing sensitive information, unless especifically instructed not to do it.
And, finally, if someone feels insecure about this privacy policy, and asks the Club so, we'll publish absolutely nothing about him or his boat, even at the Members Only page, with the exception of boat name, version, construction year and number.
Good winds for all of you."
27.11.2000 Frank writes again:
"I have some information about the Banjer called 'Banjer' on the homepage. Indeed the picture was taken by Theo Kampa, one of the most respected nautic photographers in the Netherlands. It was made for promotion purposes. (I have some more pictures of that 'heavy weather' session on the Oosterschelde that I will send too...) This boat is called 'Banjer" because all boats for trial-run of the Eistawerf had the type-name as boat-name." (N.f.C: Frank sent a beautiful photo of BANJER you can better view by clicking the small one below)
26.11.2000 Frank K., from the Netherlands, has many useful information about Banjers. Here are some excerpts from his messages. Thank you, Frank.
"After visiting the attractive site of the banjer motorsailer I realized I might have some material that could interest you. I'm owner of another succesful creation of the Eista Werf in Nederhemert, a Doerak. This is the Eista Werf first (and biggest -about 2500 Doeraks were launched between 1964-1981) succes. I was always very interested in the other boats coming off the Eista Werf and collected things like what you can find in the attachment: the plan of the Banjer GSAK with aft-cabin, a picture of such a banjer, taken at the harbour-for-trialruns of Eista in Nederhemert, and a Banjer on its way between the wharf and its launching, rounding a difficult corner..." (Note from the Club: You can view this drawing and photos at the "Technical" page and in our Banjer 37 album)
"Further I can tell you that there is a Doerak-club since 1969, at this moment there are about 250 members and an Internet-site is in development. At this time I'm busy making an article on the history of the Eista Werf for publishing in the magazine of the Doerak-club. If I learn more about the Banjer I will let you know, I think you will be interested. I already contacted Hans Havers for an exchange of information and he told me about the Banjer-site.
I have some addition on your general story about the Banjer; did you know that the Eista-agent for England, Stangate Marine, has build the Banjer ('Transoceanique', with bowsprit and a standard sailplan of 75 m2) from about 1976, after the production had stopped in Holland ? Just like the Rogger-series, building in England was much more 'low cost' than producing in the Netherlands."
25.11.2000 The owner of "Jan Onrust" writes:
"... I think that the photo in your web site is either the Jan Onrust or the BANJER. The photos are made by Theo Kampa. Jan Onrust is number 25, built in 1970. Powered by Perkins 6 cyl. 40 sqm sail. As for the moment she is transformed as a motorboat because there are so many places where masts are not welcome, and in the mean time I will give the masts an overhaul". (Note from the Club: The picture at our Home Page is, efectively, a Banjer 37 named "BANJER" photo. We would like to know more about this boat. Can somebody help?)
24.11.2000 "Noorderzon" owner, e-mails us:
I own a Banjer since 1 year. Rerigged her, with bowsprit of 1.50 m, allowing a cutter rig and genoa of 30m2 + gennaker of 65m2. Experience: better sailing than ever expected: needs wind above 10 knots. Sailed her in high seas with up to 30 knots wind, full rig making 7 knots and more. Sailed Den Helder Lowestoft (North Sea), 120 miles in 18 hours (no motoring). She moves like a much bigger ship, sails pretty dry."
23.11.2000 Excerpts of the mail from "Duck Soup" owner.
"DUCK SOUP WAS BUILT IN ENGLAND IN 1976/77. SHE IS A CUTTER KETCH WITH THE TALL TRANS OCEANIC RIG INCLUDING A 7' BOWSPRIT..."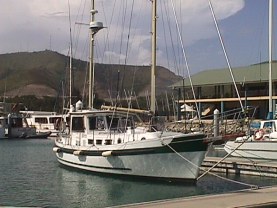 "DUCK SOUP WAS SHIPPED TO LAE ON THE NORTH COAST OF PNG IN 1977. SHE THEN PROCEEDED WEST TO MADANG WHERE SHE WAS USED AS ACCOMMODATION FOR 6 MONTHS OF THE YEAR BY BELGIAN MARINE BIOLOGISTS..."
"IN 1984 I BOUGHT DUCK SOUP & BROUGHT HER TO PORT MORESBY..." "...MY FIRST OVERSEAS CRUISE WAS TO THE WHITSUNDAYS ON THE AUSTRALIAN GREAT BARRIER REEF. ON THE RETURN TRIP I LEFT DUCK SOUP IN CAIRNS TO BE REPAINTED & HAVE THE OSMOSIS DAMAGE ON THE BOTTOM REPAIRED. 1986/87/88 SAW A LOT OF LOCAL CRUISING & A RETURN TO THE WHITSUNDAYS. IN 1989 I CRUISED EAST TO THE MILNE BAY WATERS, THE TROBRIAND ISLANDS & THEN THE BISMARCK ARCHIPELAGO AS FAR AS THE EQUATOR".
"1990/91 SAW DUCK SOUP TRAVEL TO NEW ZEALAND VIA THE EAST COAST OF AUSTRALIA AS FAR SOUTH AS SOUTHPORT, LORD HOWE ISLAND & THEN AUCKLAND FOR A REFIT AT SALTHOUSE & ARCHER BOATBULDERS & A FULL BOTTOM JOB WITH MIKE MENZIES. 5M OF GLASS & CLOTH REMOVED & 7M OF STRUCTURAL CLOTH & VINYL REPLACED. I ALSO HAD THE BOTTOM COATED IN COPPER COAT WHICH GAVE A BEAUTIFULLY FAIR FINISH & HAS SO FAR LASTED NEARLY 10 YEARS. AFTER 12 MONTHS WE RETURNED TO PNG VIA TONGA, FIJI, & VANUATU.
"1992/93 SAW US CRUISING THE SOUTH COAST OF PNG WITH CHRISTMAS/NEW YEAR SPENT 20 KM INLAND AT KIKORI IN THE PURARI/KIKORI/TURAMA RIVERS' DELTA SYSTEMS. THIS DELTA SYSTEM IS STILL REASONABLY PRISTINE & ONE OF THE WORLD'S LARGEST".
"IN 1994 DUCK SOUP TRAVELLED TO DARWIN VIA THURSDAY ISLAND, TORRES STRAIT, JOINING THE "OVER THE TOP CRUISE" AT GOVE THEREBY VISITING MANY CLOSED ABORIGINAL AREAS & HARBOURS. FROM DARWIN WE JOINED THE DARWIN AMBON RACE WHICH FURNISHED US WITH AN INDONESIAN CRUISING PERMIT. FROM AMBON WE CRUISED NORTH OVER THE EQUATOR TO THE HALMAHERA GROUP THEN EAST ON THE EQUATOR AS FAR AS BIAK IN IRIAN JAYA. WE CONTINUED EASTING CROSSING THE BORDER & RE ENTERING PNG AT VANIMO. WE TOOK ANOTHER 6 WEEKS TO CRUISE THE NORTH COAST & ISLANDS OF PNG RETURNING TO PORT MORESBY VIA EAST CAPE".
"1996 SAW DUCK SOUP TRAVEL FROM PORT MORESBY AT 09 DEGREES SOUTH TO PORT DAVEY ON THE WEST COAST OF TASMANIA AT NEARLY 45 DEGREES SOUTH. THE TRIP SOUTH TOOK A LEISURELY 3 MONTHS VIA MANY INTERESTING HARBOURS INCLUDING 4 WEEKS IN SYDNEY & 6 WEEKS IN TASMANIA. THE RETURN TRIP WAS VERY TIRING AS WE HAD TO FIGHT A SOUTH BOUND CURRENT & NORTH EAST WINDS ALL THE WAY & ACHIEVED IT IN 4 WEEKS".
"1997/98/99&2000 HAVE BEEN SPENT WORK BOUND WITH LIMITED LOCAL CRUISING. IN NOVEMBER LAST YEAR I TOOK DUCK SOUP WEST ALONG THE PAPUAN COAST TO THE PURARI DELTA FOR 10 DAYS. IN ALL I HAVE CRUISED APPROXIMATELY 60,000 MILES. I CONSIDER DUCK SOUP TO BE A 50/50 MOTOR SAILOR WHICH CAN BE VIEWED AS EITHER A POWER ASSISTED SAIL BOAT OR A SAIL ASSISTED POWER BOAT. I RUN DUCK SOUP AS THE LATTER AS I LIKE ALL MY COMFORTS - PLENTY OF ELECTRICITY, REFRIGERATION, WATER & HOT WATER FOR SHOWERING ETC.. I HAVE LIVED ABOARD FOR NEARLY 14 YEARS..."
"OVER THE LAST 5 MONTHS I HAVE STRIPPED DUCK SOUP & PREPARED HER FOR A COMPLETE EXTERNAL PAINT JOB. I HAD TO SPEND 6 WEEKS ON THE SLIP AS THE TRADE WINDS WOULD NOT ABATE SUFFICIENTLY TO ALLOW PAINTING. WE EVENTUALLY GOT THE JOB DONE & I AM NOW BACK IN THE MARINA PUTTING DUCK SOUP BACK TOGETHER. THE FINISHED PAINT JOB WAS WORTH THE EFFORT & WAIT. WE USED INTERSPRAY 900 OVER PERFECTION UNDERCOAT - THE GLOSS & FINISH IS UNBELIEVABLE. I HOPE TO HAVE DUCK SOUP FINISHED BY CHRISTMAS."