Forum - Improvements

BANJERS MAINTENANCE FORUM
Post by yourself your maintenance questions.
(Click to open)

IMPROVEMENTS




Down here you'll find messages about improvements and major maintenance works made to Banjers.

Let us know what you have done on your Banjer. Share your experience!



August 25, 2011
More from Mike.
HI Guillermo,
I am closing the Facebook page about Rendezvous, FB is too restrictive, instead I've moved everything to
where you can read my fun with the old water heater, mystery fresh water leak to the center tank, new water pump and an assortment of other bits an pieces. I've got enough content now I need to spend some time on improving the site navigation, separate the Banjer sail from the Banjer Improvements and non Banjer content, since all my boating interest worth writing about shows up there.
When I had her hauled out I would have been able to answer this question, but I didn't need to know then. Where is the factory installed ballast?I am thinking it might be along the length of the keel. I chipped away at old paint on the very lowest part of the keel, it seemed to have a dull thud sound, so it probably is the lead. When nest out I plan to strip it down better for the repaint, this time I just knocked the loose stuff off and scraped back to solid bottom paint.
Rendezvous came with extra ballast. According to her spec sheet 1000$ extra lead. I have found a lot of lead pigs on board, mostly inder the seats port and starboard main cabin, but some forward, below the chain locker. We are wondering what it might to do the handling to remove it, but even more curious to attach it to the bottom of the keel. A NA friend says it will do nothing but improve her performance, bet he is also talking about adding a plate across the bottom, maybe a meter wide and two or three meters from the stern. This will slow its rolling moment and give us some windward sailing help. Interesting ideas, I mentioned that one of the other boats in the fleet had put some fins on the hull to slow the rolling, he thought this would be much easier and more effective.
Doesn't matter too much just now, it will be two or three years before I should have to haul her again, according to the yard that sold me the bottom paint.
Answer from Guillermo:
Hello Mike!
Thanks a lot for the information about your very nive blog. Outstanding! I will put a link to it at the Club's web pages within the next minutes.
Yes, the 4 tons ballast is embed in the keel, that's why it is so wide.
Regarding the extra ballast, I have heard some tall rigged Banjers also have it but it is not the case of my Marie. In her case she just carries several lead pigs at the rear end to avoid excessive bow trimming when both water tanks are full, but that's all. In fact Marie does not need extra ballast because she is a short masted unit.
I know there is at least a Banjer which has been added extra depth and ballast to the keel. I have some images somewhere. I'll look for them and send them to you.
It is interesting your NA friend's idea. Adding a heavy metal plate under the keel will of course increase the righting moment and so the sail carrying ability, as well as it will contribute to the dampening of the rolling motion. On the negative side, keel-wings add drag and are always exposed to damage by groundings, etc. If you decide to go for that option, please let me know results as they will be of most interest.
October 19, 2010
More from Mike Euritt
Rendezvous is doing fine, I finished a series of projects in/around the pilothouse that has been sort of underway since 3/09. This is replace the shorewpoer wiring with marine grade, increasing size of the wire from the shorepower plug on the boat to the distribution panel, replace the VHF cable and mounting the antenna on top the mizzen, tracing and eliminating dead short in the anchor light, adding nav table led red/white light, re-connecting the electric powered air horn, and many other small, annoying projects. now we go play in the wonderful fall weather for a month or so, then start tracking down the leak in the fresh water tank.
I think the hose, probably original, is leaking, but there is no way to access it, so I may do one of two things, run a smaller diameter hose inside the original so I don't add clutter, or epoxy over the old connection, (I can't reach the outside of the tank at that point) and run a new hose, in a new route to the fill. It seems to be the lower tank with the problem.
I finally got to use the factory supplied ladder to drop the main mast, worked like a charm with the electric anchor windlass, a one man job. However, no easy solution for the mizzen, with the radar mount 2/3 up, it is a two man job, one in the cockpit, one on the PH deck. Not hard, just awkward.
Mike
San Francisco Bay
June 09, 2010
More from Mike Euritt
For whatever care Rendezvous has had, it appears in 38 years no one has dealt with the halyard winches on the main mast before. The winches are an old style, not metal but some kind of brown plastic, I forget the name, but blocks were also made of it, I like them because they vaguely look like wood. They are held to the mounting base by 4 bronze bolts, the (aluminum I think) base is attached to the mast by 8 aluminum rivets, 4 on each side.
While sailing Saturday the main halyard winch started to pull off the mounting base. It held, once we got back to our slip I opened the winch to find it has probably never been serviced, and the bronze bolts were all broken just under the head. All that was holding the winch in place was a bit of corrosion from the bronze bolts. To get access I had to drill the rivets out.
I've taken off both bases and will lube the winches when they are reassembled, I will use aluminum rivets to reattach the base, and stainless steel bolts to attache the winch to the base. The condition of the bronze bolts under the jib halyard winch was identical to the main winch.
Best Regards
Mike
Rendezvous
Dec 15, 2009 (lost in e-mail and posted 22.05.2010)
From Mike Euritt (Rendezvous)
Greetings Guillermo,
I think I have overcome the last hurdle to actually raising sails on Rendezvous, the seized starboard winch. To free it, I had to actually take it off the stainless steel base so I could punch the rusted pin through the bottom. All went well, cleaned everything up and reassembled with one minor glitch, one of the springs holding a pawl took off for parts unknown. I made a spring from some monel I had, so I am operational,
I started a search for a rebuild kit only to find that Barient is out of business, however, Hutton-Arco yacht Winches still makes parts, some even an improvement over original, according to their site. They provided a quick turnaround on the quote and have a good reputation based upon referrals from the online sailing communities.
I thought it might be worthwhile information for the club's website since both Pelican and Rendezvous have the same model in the cockpit.
Cross your fingers that nothing else comes up so we can get out before the first of the year and actually sail her!
Mike
Dec 08 2009
Most interesting information on masts and sails downsizing on NAIK (thanks a lot Jenny!)
(See the ad about the selling of the old taller main mast and sails at the
Buy & Sell
page)
Original masts and sails:
Mast 11,65 m, boom 4,50 m, from Transoceanique Banjer
Sails: mainsail 23 m2, genoa 42 m2, 2 jibs of 10 and 15 m2
Original Naik's mizzen had been reduced by 2 meters by Jenny and Bob, and they wanted to do the same with the main mast, when they met a Banjer owner sailing his banjer with only the mizzen, and who had the smaller mast and sails for sale. So, they bougt this mast and the sails who are in very good condition, picked them up in Alkmaar, north of Amsterdam, and rigged on place there
Mast and sails after refit:
The mizzen is now 7,50 m, was 9,50 m
The main mast is now 9,50 m, was 12 m (mast foot included)
Main sail now 15 m2, mizzen 10 m2, genoa 25 m2, boom jib 7,5 m2
That brings sail area from ±100 m2 (downwind) to 55 m2
Dec 07, 2009
From Mike Euritt ("Rendezvous"), regarding chain plates
A year ago I asked you about the chain plates and how the standing rigging is attached to the hull. I now have an answer.
The starboard pilothouse top mounting was leaking and the deck mounted one was loose, both on the mizzen, Both are identical eye bolts, (see attached photo, a photo I found online, not the actual mount on Rendezvous)

with an 11/16 nut and a large fender washer to act as a backing plate. I do hope not much is lost in the translation.
I've got the hanging locker disassembled because of work in the head, accessing the plumbing, and took the opportunity to reach way back in the depths and feel around until I found the forward attachment for the main mast lower forward attachment. It is the same thing.
So now you have an answer and I have more questions. I know our boats are Lloyds Certified, so it must be OK, their reputation being excellent, but that just seems like asking for trouble in heavy weather.. With almost all other boats having real, through the hull attachments, this seems rather toy like. Yet the boat is so overbuilt with its heavy FRP lay up it may be fine, but what effect does age have on FRP.
Do you know, do the Trans-Oceanic versions appear to have the same attachment? I am inclined to change to standard hull mounted chain plates for the main mast, especially if I get a new full batten main, which won't happen for a couple of years, at least.
This may explain why the port locker under the V-Berth is damp after a sail or rain, the eye bolts need rebedding, which I've done to the mizzen ones I mentioned earlier. It looks like to access the main side stay and aft lower stays I will have to cut into the finished interior of the head and galley. Seems a slight oversight on an otherwise brilliantly built boat. Rebedding the eye bolts and stanchions has risen up a little higher on the to-do list.
Mike
Nov 27, 2008
LISANA mounts new black waters tank
We are on the Lisana busy with a septic tank for the toilet. That will be a must at January 2009. We looked everywhere and the best place we could find was the location under the stairs. It's a place you don't use very often and it's in the middle of the ship. Ma by it is a idea for other Banjers. We make it from polyester but you also can place a cos-tum build tank. With kindly regards Frank and Ineke.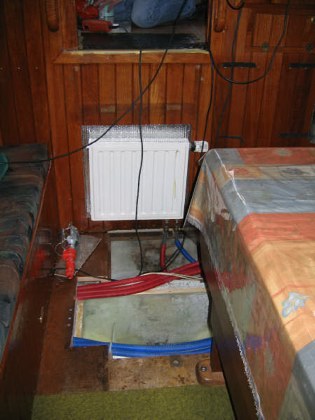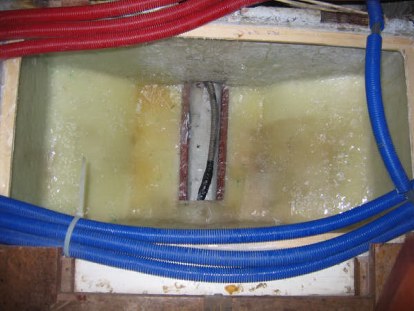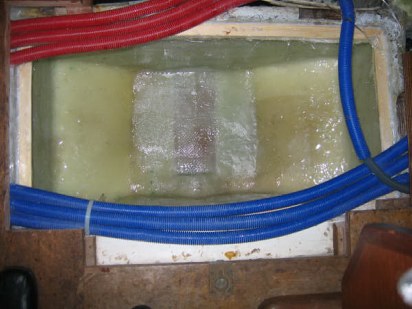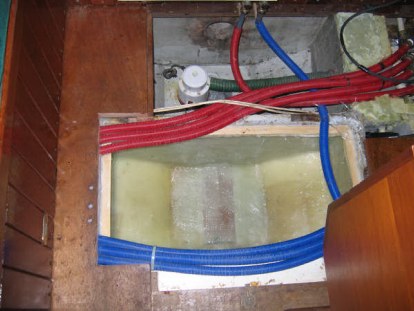 Oct 15, 2008
Steering cylinders modification, by Hans Ekdom (TIJDVERDRIJF)
Promac could not fix my Seffle steering gear (they are very helpful), so I replaced by a Vetus MTC175 and pump HTP4210r and working both excellent, I think 2 turn less .
Oct 11, 2008
More useful information from Ineke
Hello Guillermo, Frank bought the propeller directly at the factory in Bremershaven (Germany) and made the agreement that he get price reduction from 20% or 25% when he buy more propellers. More propellers in the same order gives more reduction.
He also found at last a firm. Kroon in Hoogezand (
www.kroon.nl
) that sell the whole original assortment locks from 1960 / 1970 for the Banjers. On the photo a view things Fran bought. I hope that this is information that can help some members.
Greetings Ineke.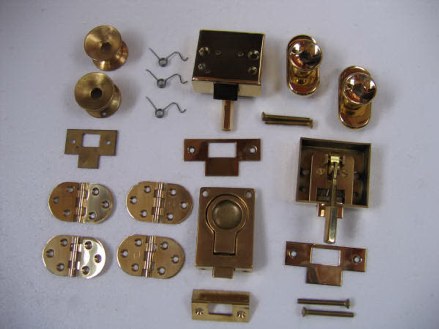 Oct 6, 2008
More from Ineke de Grijs
Hello Guillermo, The name of the new propeller is Variprop and the web site is
www.variprop.de
there you can get all the information over the propeller. The web site for the new seal is
www.amertech.nl
. it's leak-and maintenance-free, environment-friendly - isolates noise and vibrations . The new propeller gaves a speed of 9 knots by 2000 rpm and the old one 8.5 knots. By 1400 rpm a speed of 6.8 and 1500 rpm 7.2 knots and 1600 rpm 7.4 knots. The old propeller gave by 1600 rpm a speed of 6.5 knots. During the motoring it gives much more power for less fuel consumption. The Waves behind the ship are much lower and that is more comfortable for other boats when you are motoring thru the canals. It stops the boat quicker and going back is easier. On sailing the blade's turn a 190 degrease and speed increase from 15 to 20 % depending on wind conditions. The Hull number we don't now because Frank made a compartment for his gas tanks and so we can not find the number. But he bought the casco in 1979 and bought also the last complete eista wood packet. Greeting Frank and Ineke.
Oct 04, 2008
LISANA's propeller substitution for a MaxProp controllable pitch one. From Ineke de Grijs
Hello Guillermo, How are you, I hope every thing is fine. I send you a view photo's from the Lisana . we replaced the old screw for a maxprop. That is a screw that change the blade's in sailing position and for and back wards. The first photo's is the old situation with a seal you could not stand on it because it was leaking and the new seal is smaller and you can stand on it. Greetings Frank, Henk and Ineke.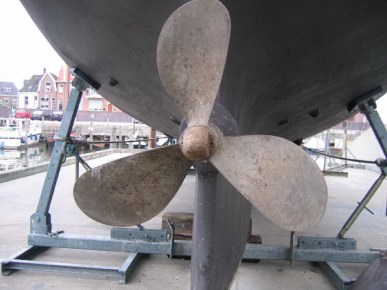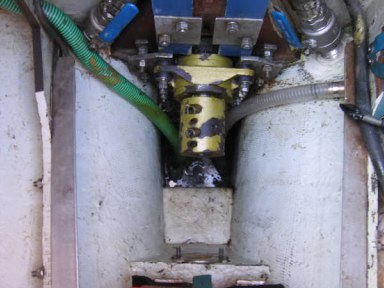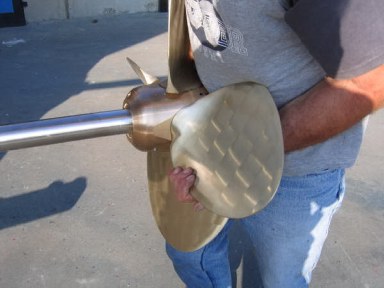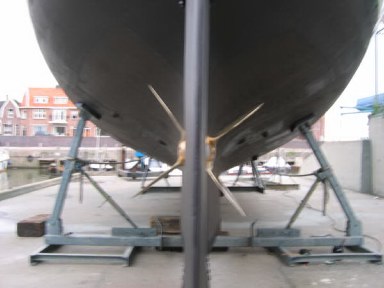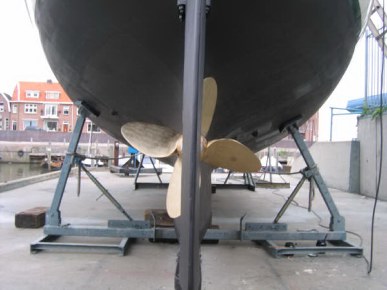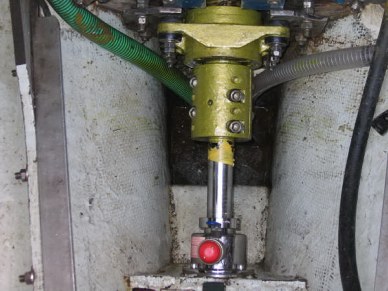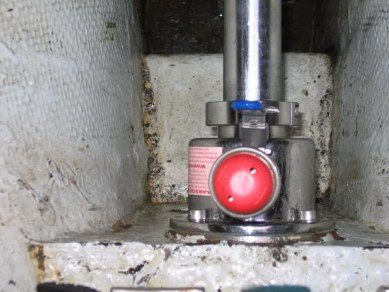 August 24, 2008.
Some pictures from SARBRI's refittment:
1.- Holding tank in poor condition
2.- Where the sink was.
3.- Before removal of cooker.
4.- Cooker removed.
5.- Stripping forward compartment.
6.- Things begin to look better.
7.- Complete head refit.
8.- Resprayed and rewashed
9.- New levers on most storage units.
10, 11, 12.- Things redone.
13.- Taking care of hull
14.- Gelshield 200 application.
15.- Ready to go.
16.- There she is.
1 , 2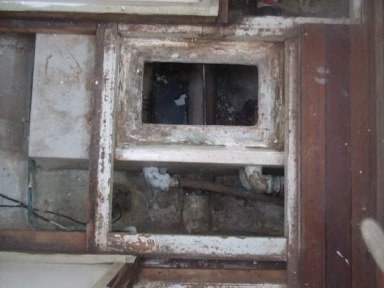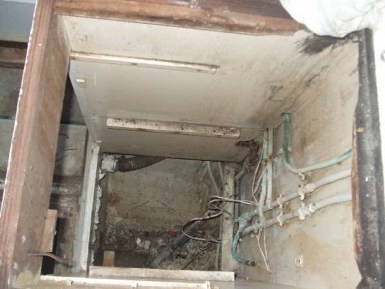 3 , 4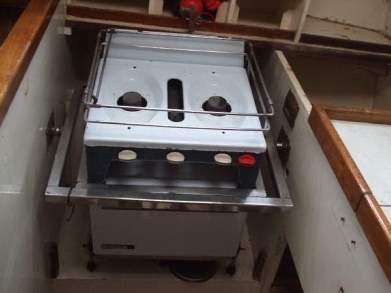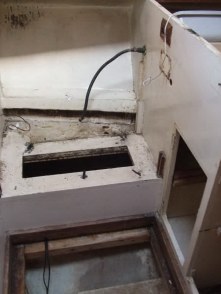 5 , 6 , 7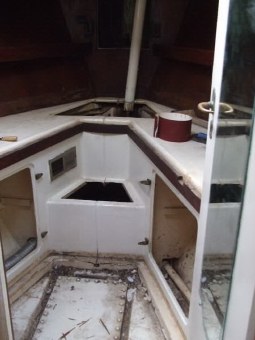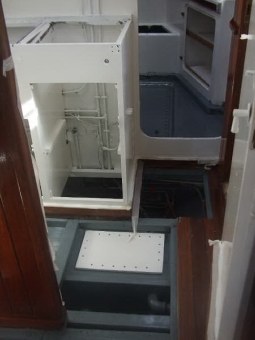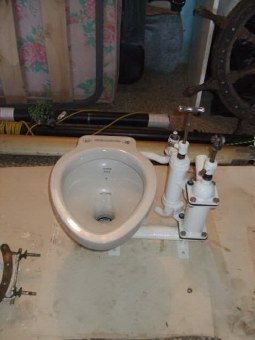 8 , 9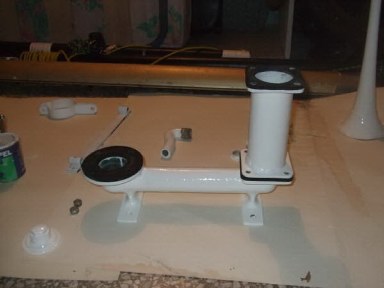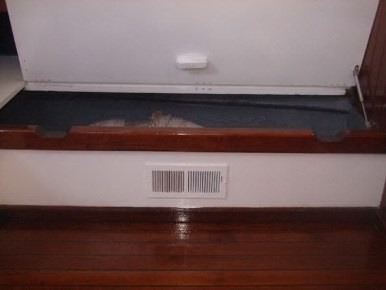 10 , 11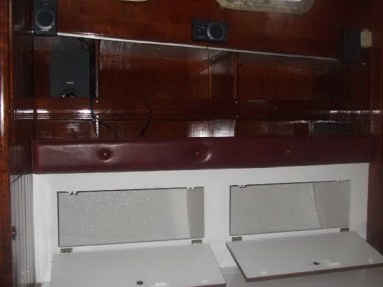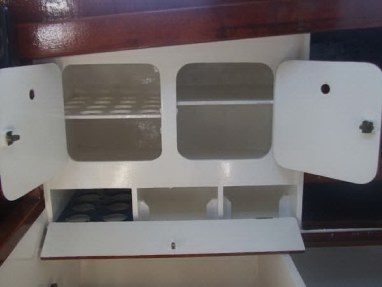 12 , 13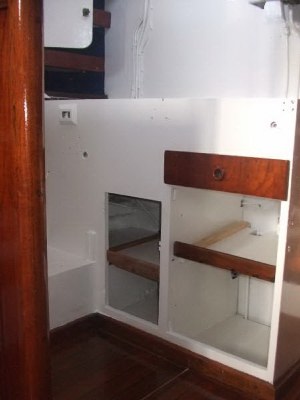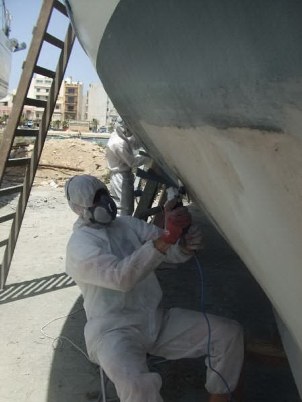 14 , 15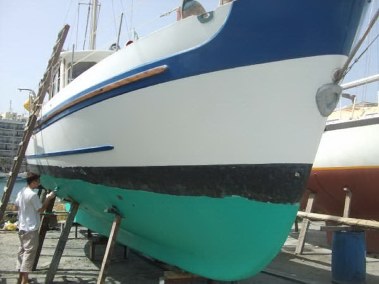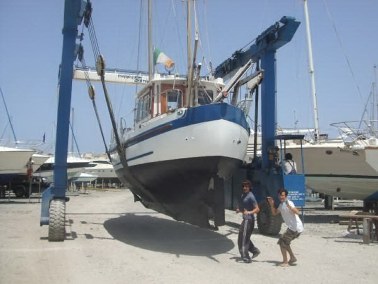 16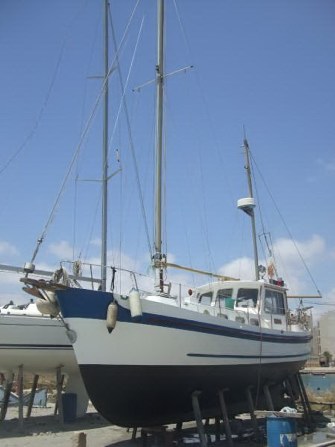 May 4, 2008
From Treasurer, Ton Koot:
K. L. (Catelijne) has replaced the airfilter of the 6 cylinder Perkins for a big one from a lorry. He says it reduces the noise considerably. May be I do it next winter too.
This week Chapeau made her first trip from Elburg to Andijk.
April 20, 2008
DAMY III's owner informs us on the following:
Voici enfin les références de ROTULES (kneecaps) qui s'adaptent parfaitement à la direction hydraulique du BANJER
Manufacturer: SIDEM
OE Ref : 811 419 812
Batchnr : P 064286
pour vehicules (Audi 80/VW Derby - Passat - Polo - Santana)
- Le Filetage (thread) et le cône s'adaptent parfaitement aux vérins et supports
Adresse du fabricant:
info@sidem.be
Amitiés bonjour à tous DAMY 3
December 29, 2007
DUCK SOUP mounts a new S.S. bowsprit
Guillermo,
I took these photos of the new Duck Soup bowsprit yesterday lunchtime. It was so bright & hot I was unable to see the subject in the view
finder. This explains any lack of quality in my photography.
The previous wooden bowsprit was handed to the tradesman who then created this replica in 8mm 316 stainless steel.
The nose cap, bow rollers & their brackets were reincorporated in the new bowsprit.
The precision of this rebuild was so good that it required no alteration to be refitted by my crew Steven.
Apart from the thought of the yet unknown cost of this work of art, I am very happy with the end result.
From purchase in 1984, I needed to rebuild the wooden bowsprit on four occasions. This new stainless steel version should see me out without any further maintenance as long I can keep stray electricity out of the system & ensure electrolysis does not damage it.
Seasons greetings.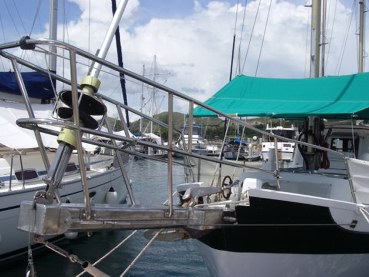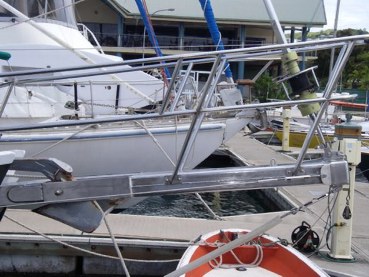 September 27, 2007
SARBRI is being refitted in Malta.
A brief history:
The boat has had 2 previous owners. The previous owner was a doctor and sold the boat to my father with osmosis. The previous owner, Dr Mantel, was from Northern Ireland. The boat itself is still in its original berth from when she was bought and is the longest serving boat in this marina. The boat was purchased in 1984. All the equipment is still intact and works. Last year the mizzen mast cracked in half and had to be removed. The boat has a gangplank which is about 2m long and was supported by the mizzen mast. The rigging was planned to be replaced this year, however due to excess weight on the gangplank, the already weak stay anchorage uprooted out of the wheelhouse roof.
My father pass on 4 years ago and my mother was unsure whether to sell the boat or keep her. She decided to keep her in the family. Since I basically grew up on the boat I took an interest. When I was fourteen, I was taken out on her with my father's friend and he began teaching me a few things. I basically took over doing the basic things on board, like checking batteries and running the engine, however I was still young and did not really understand what was going on most of the time. I started skippering her myself at the age of 15 and have been since then. This year I have done 281miles in the first 2 weeks of summer. All coastal sailing and 'fun' sails. However this year I am taking a gap and I plan on slowly getting her back into a better shape. My Father used to keep a 'Bible' so to speak on everything that occurred on the boat (oil filter changes, replacements, etc.), however this has somehow gone missing and I have to start from scratch.
Work intended (brief overview)
I will be taking pictures of the boat in her current state and create an album to show how the work progresses; when finished I will send everything to you. However this is basically what is being done at the moment:
Mizzen Mast has been rejoined and reinforced.
Inside of wheelhouse roof has been striped and new anchorage points have been place and reinforced by spreading the area over a stainless steel plate.
The bow sprite has recently been replaced and anchor winch serviced.
New rigging for both masts is intended.
Recently had new sea cocks installed. (We had an incident recently where one had corroded so badly that when touched is broke off in my hand and we had to seal it up with an emergency bung).
The original head needs to have maintenance done to it (new washers, pipes, paint and a really good clean!)
The bilges will be cleaned and repainted.
The fuel tanks are to be cleaned.
The boat will be antifouled and repainted
Repairing the Genoa drum.
We recently replace the forward middle window in the wheel house.
Work to the engine. ( few pipes need to be replaced together with normal maintenance)
I also plan on stripping the boat naked and removing most panels and floor boards so to be able to varnish everything. Another plan of mine is to also retrace all the wires back to the power source, label the boat throughout and where possible remove old, out of date equipment (for example we have a beacon finder still attached to the ceiling in the wheelhouse). Basically I'm doing what I'm sure most boat owners do when they buy a boat, study the boat inside out.
Jamie.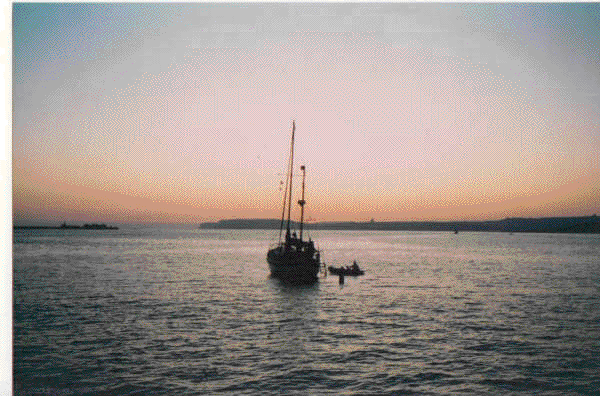 July 31, 2007
ALBATROS' shaft problems solved.
...........
This week we had to take Albatros out of the water for propeller shaft inspection.The shaft made a terrible high frequency noise when motoring at low revs. We soon found out that the aft end bearing had gone and the shaft showed significant damage (pitting).
Here you see some pictures how we changed the shaft.
At the inside we had tremendous problems to get the connecting flange (connecting the shaft to the gearbox) off the shaft. The internal nut dit not move at all. We had to cut the shaft in the engine room to be able to get it out.
Once the shaft came out, the seriousness of the damage became evident and we decided to have a new shaft made in a metal workshop. The aft end bearing has been removed to and replaced by a new one. The forward end bearing is very difficult to approach and view it's good condition we decided to keep it in place.
Something for the web site ?
Damaged shaft Flange, internal nut and special tool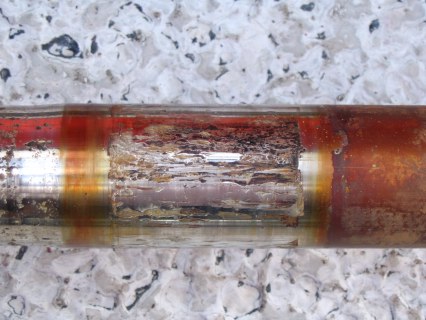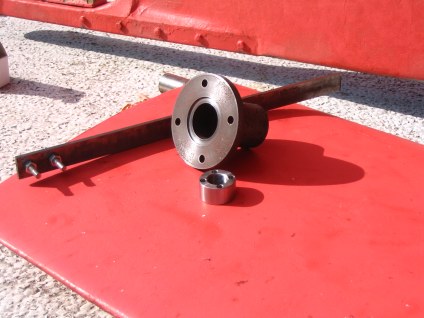 New bearing being placed Gently pushing in the new shaft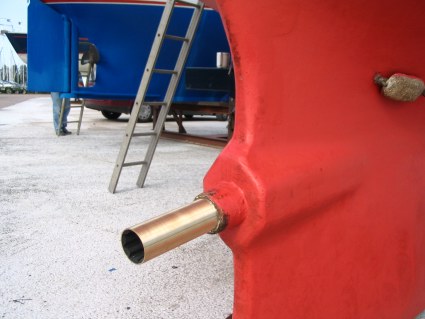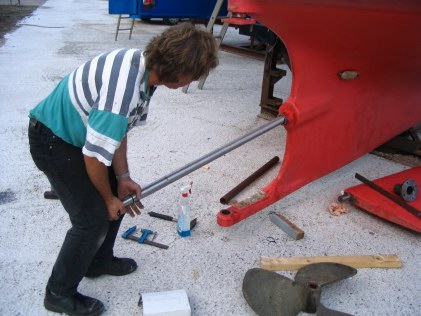 Fastening the nut with the special tool Ready!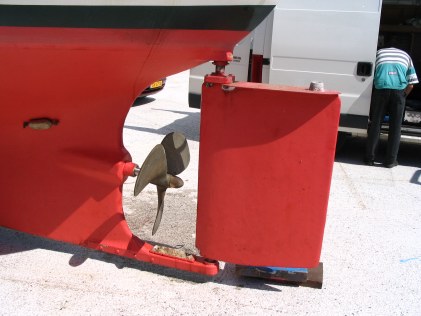 July 18, 2007
BARBAROSSA experienced some problems with the reduction gear dipstick.
Hello,
Long time, but still sailing the N orwegian Coast with Barbarossa.
This morning I had the most unfortunate experience. The lowe part of the dipstick in my Paragon 35L fell of and into the box.
Have you heard of this problem, and if there is any way of removing it without taking the whole box out and taking it apart.?
And of course alle this happens in the vacation where help is very hard to get.
Best regards
Bård
Commodore replied:
Dear Bård,
Nice to hear from you again, although not so nice because of the dipstick problem.
I had never heard of it falling into the box. Most annoying!
I suggest you to post your message at the Maintenace Forum, for other members to find out. Maybe any of them has had this problem before.
I also suggest you to contact Paragon manufacturer:
Bård again:
Thanks for your advice. I've received advice from a very competent friend (working for Catepillar Marine) who says nothing is likly to happen if I continue my trip and remove the stick later. I also placed a powerful magnet on the lower side of the box. (He has serviced my Paragon 35L some years ago so hopefully he knows it well enough......) How this works out; I'll let you know later. Best regards Bård PS! According to my fiend this is not a very rear incident. So good advice to all Banjer owners must be to make sure that the dipstick is properly tightend as a part of serviceing - certainly I will.
And, at last:
Back from Holiday, and no problems with gear-box. But I will remove it later and take out the stick......And good luck with the upcomming Garthering. I had plans to be there, but unfortuantely a big event for my company was placed at the same time, and not possible to move. (We have 5 pc of Sony Ericsson boats at the hottest location in Oslo and arranging comeptitions for most important costumers and contacts followed by kick-off for staff.)
Bård
July 14, 2007
SULASGEIR REFITTED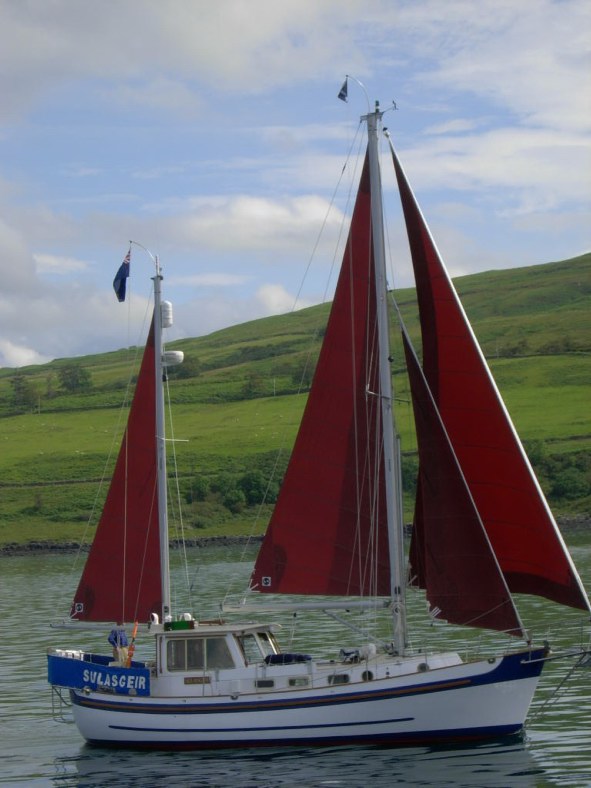 Main features of the 2006 / 7 refit of Sulasgeir, Banjer #75
Following the voyage back from northern Norway Sulasgeir was taken out of the water at Kilmelford Yacht Haven Argyll Scotland in September 2006.
The hull was blasted to remove antifouling paint. No osmosis was found but boat was taken into the shed, tented and heated to reduce moisture levels. The hull was prepared and two coats of epoxy applied below the waterline.
All skin fittings had been previously removed and were replaced with new.
All external hull and deck fittings were removed.
Topsides and coach roof all sanded down, filled and prepared and seven coatings applied – the last three of Awlgrip.
All spars removed and replaced with new main mast and mizzen (both 1.5 – 2m higher) with in-mast reefing. Sheets for self tacking staysail and for main and including main outhaul and reef control lines lead through starboard side of wheelhouse and controlled by winch and jammers. 1, 2
New tan sails supplied and fitted.
New stainless steel compression posts for mizzen and mainmast fitted – mainmast support down on to keel. 3, 4
Long under deck reinforcement for shrouds found to be badly corroded – replaced with stainless steel version.
Wheelhouse roof removed – Perkins 4236 removed. Replaced with Perkins Sabre M92B (85hp), 3:1 gearbox on soft mounts, Centaflex flexible coupling and new propeller shaft fitted. Extensive sound proofing. Diesel tanks cleaned.
New VHF and Navtex fitted. 5 Controls revised 6
Existing bowsprit reinforced with extra SS bobstay and anchor stowage. Pulpit extended. 7, 8
New 'poop deck' pushpit with platform, ladder and seats fitted to stern giving far more space and sheet handling ability. 9
New teak toe rail fitted.
Extensive internal repainting. 10 New upholstery in main cabin. 11 New chart rack 12
Sulasgeir is now ready for the next 35 years! 13
| | | |
| --- | --- | --- |
| 1 | 2 | 3 |
| 4 | 5 | 6 |
| 7 | 8 | 9 |
| 10 | 11 | 12 |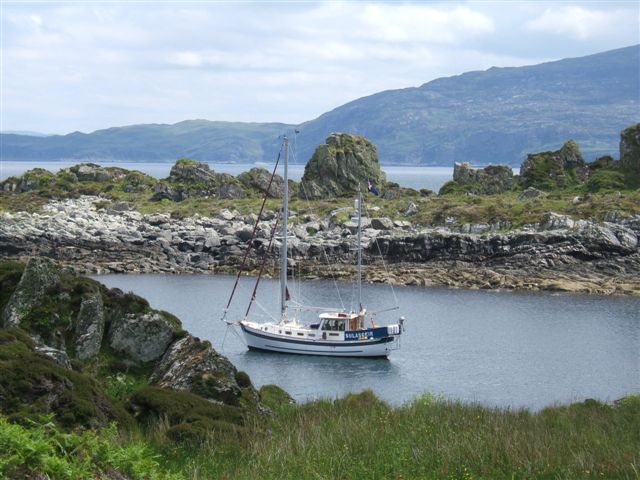 June 13, 2007
From PANDORA, in Cyprus:
A long BALLJOINTS story:
1) In october 2OO6,we noticed that one of the 4 balljoints in the steering system was loose. As we were sailing in the red sea from israel to jordan then to egypt, we opted for an emergency repair allowing us to go on sailing. It consisted in placing a washer inside the balljoint.
2)200 nautical miles further, 2 other balljoints were loose as well. Meanwhile we had contacted Promac.NL to order balljoints. It was done thanks to the help of the club and more specially Ton Koot .
3) In January 2007 we flew back to France and got the balljoint which had been sent there: it was not the right one ! ! though we had given the reference number engraved on the plate:SEFFLE TYPE HL 440 . We contacted Promac but they couldn't do or say anything. We do reproach them not to have checked the dimensions we had also given; they also sent us the wrong o rings for the 2 pistons.
As it had been suggested by a club member we started a long search for car balljoints which would be the same: no success
4) We bought RENAULT balljoints: same size, same thread BUT the conic part fitting inside the plate is too big...
5) In June 2007 we arrived safe in Larnaka (CYPRUS). Our renault balljoints were in a drawer on board ...And there we found a mechanic who could easily retapered the conic part .Now it 's done.
In case you woud be interested the balljoints we bought are produced by MOOG with the reference RE-ES 4256 . You can find them very easily. Here in Cyprus our mechanic even found the right balljoints but there were only 2 left. If you have time you could try to find them. They were from U.K and the mechanic thinks they could be for a "mini minor" car
About our so nice mechanic:
He is the crane man owning the travelift which has just lifted pandora out of water in Larnaka And he is also the owner of the BANJER number74 .He is discovering the story of the banjers with us .The boat is now named CAPTAIN MANOLIS after the name of the captain. He bought this banjer from British people here in Larnaka, she was then named RED SHANK.
About our water tanks:
We have just open them to clean them and we discovered something like osmosis inside. Not yet important but it never gets better with the years. We cleaned, sanded a little bit and we will put some epoxy paint in September.
We 'll fly back to france on the June 17th ,go to the banjer meeting in August and fly back to cyprus in September.Meanwhile Pandora will stay on the hard standing area of Larnaka marina next to Captain Manolis which has just been painted... see you soon
Oct 22, 2006
BRAVOUR has been refit by her new owner. Works included:
Engine out for rebuilding,
Gearbox split and refurbished
New fuel pump
New alternator
New starter-motor
New prop
New prop-shaft
New flexible engine-mounts
New flexible coupling
Main-mast support fabricated and fitted,
Seacocks replaced,
Anchor-winch refurbished,
Sea-Me radar transponder fitted,
Radar serviced and repaired
New depth and speed transponders fitted
Yeoman chart plotting system fitted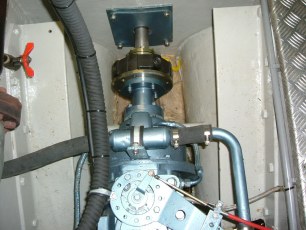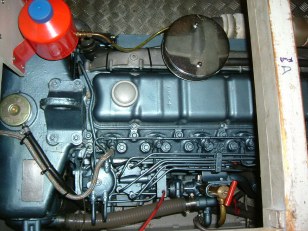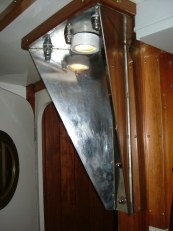 Sept 07, 2006
Maarten informs on problems with his Paragon gearbox. Interesting to all members with such a gear in their Banjers. Have look at the Forum and post your contribution on the subject!
20.03.2006
Maarten Jansen sends info on the changes done in their Banjer named BANJER.
MAARTEN AND MARGOT JANSEN RENEW HEATING SYSTEM AND KITCHEN IN THEIR "BANJER"
When we bought Banjer more then a year ago we already knew we wanted to make some changes. First of all we wanted to get used to the boat in the first year and then make these changes, based on our experiences. After the first year (2005) we made a list of priorities:
A- remove the heater from where it was in the kitchen.
B- change the kitchen.
C- Fit a hot air or central heating system.
D-Long list of other jobs.
As you can see from the below picture the heater was really in an awkward place. When cooking in wintertime with the heater on it was very easy to get burned by the exhaust pipe.
The heater itself was fabulous!! No electricity required and it warmed the boat very nicely, so that was not the problem.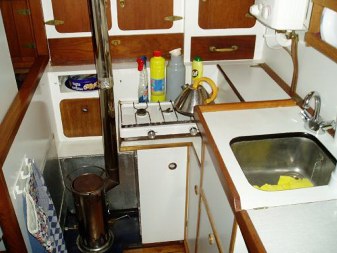 Kitchen as it was.
Now Margo (my wife) and I tried to figure out where to re-locate the heater. As you may know Banjers are very efficient boats and there is no space left unused, so after some mind breaking sessions on board with the measurement tape we came to the conclusion that there was no way to re locate the existing heater without having it obstructing other necessary space. Fitting a central heating system was also not an option due to space restrictions for the heater elements. (This option had our strong preference due to good experiences with this system in the past)
Result was that the priority list had to be adapted. We decided to get rid of this type of heater and fit a hot air system which could be built into a convenient space.
-New heater purchase, fitting, old heater out when the new one was working and then the kitchen out and re-build. That was the schedule.
Again some heavy thinking and measuring had to be done to decide where to fit the heater unit. I made several sketches based on Banjers plans but when checked on board they turned out to be worthless. In the end we decided to put the heater unit on the Starboard side in the wheelhouse under the "pilot bed" and next to the battery bank. We found a void space there which was just big enough to fit the Webasto 3500 unit.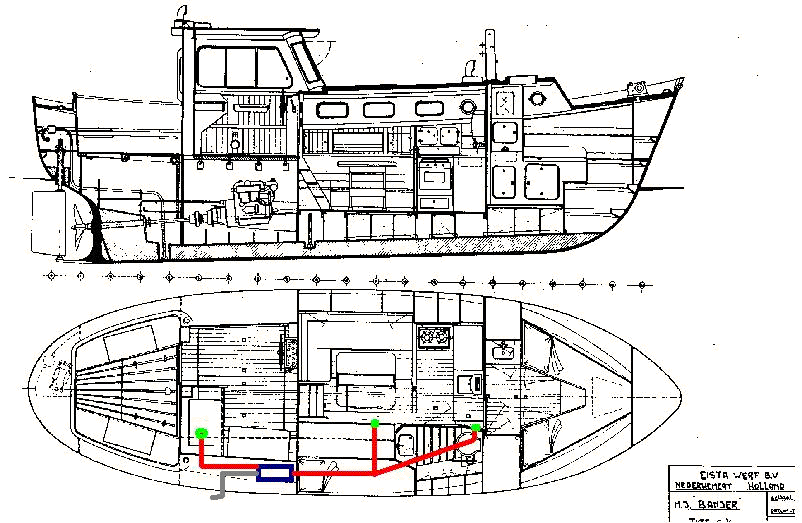 Sketch of heater as built in, December 2005.
Actually this is a bit of a "no go" space as it is next to the battery bank and in front of the fuel tank. Two potential fire hazards!! The problem was that we did not had any choice of putting the unit in another space other then in the "cellar" which is the space under the cockpit floor. This would lower the efficiency of the unit by 50% and that was not acceptable.
We built in the unit on one cold December day. Started working at 08.00 and had the thing up and running by 16.00 the same day. The biggest problems were the thick bulkheads of Banjer. Very difficult to cut a hole in a 30mm thick teak bulkhead! By the end of the day the hole drill was finished.
After the heater was installed, the old heater was taken out in an hour and we could start with the kitchen.
After installation the exhaust line was properly insulated as it will get hot and can be dangerous.
KITCHEN.
We decided to completely re/build the kitchen from scratch. We had to do so because there was no fridge and no oven installed in Banjer when we bought her.
In the new kitchen, a fridge and a stove-oven should be fitted, so we had to take that into account when building the new kitchen.
As everything is round or not right angled on board of a boat it was not possible to make a plan on forehand. I made some sketches and asked for a quotation at a well known interior builder but eventually got no reply. Nothing left but to do it all myself. I started to take out all the panels with minimal damage. Some panels could be used as templates or re/used as bottom plates etc.
| | |
| --- | --- |
| Removing of the old kitchen | |
It was tough sometimes to take out panels as they were screwed from inside and later a bulkhead was fitted over the screw heads. Anyway, we managed without too much damage. After that and a lot of measuring, slowly the re/construction of the kitchen began. Measuring and making lists of the required wood was necessary as well as a couple of drives to the supplier of the wood. The idea was to keep the kitchen in the same style as the rest of the interior. White panels and teak finishing.
Re-building the kitchen
After a few weekends we had the new kitchen fitted and were waiting for the stove to arrive. This was delayed till mid February. I could finish the kitchen anyway because I had the proper dimensions of the stove.
Total costs for the new kitchen:
New Fridge Euro 600
New Stove/oven Euro 600
Wood Euro 200
Stainless steel Sink Euro 65
Various Euro 35
Total costs approx Euro 1500
This is excluding labour and I guess I have worked some 40 hours on the job. Most work was measuring and the finishing touch, e.g. sanding, painting and varnishing.
Margo is quite pleased with the result and looks forward to go sailing again.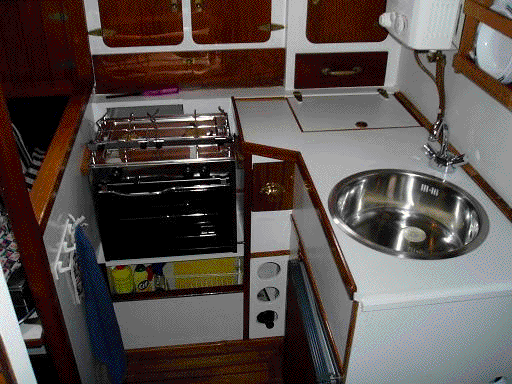 The finished job, including gimballed stove.
Next jobs on the list are:
-Checking and adjusting the valves
-replace leaking seal on the gearbox
-Teak slats on the cockpit seats
-Sanding, fairing and Painting the deck, cockpit and cabintop.
-Replace the sails.
And so on.
Keep on Sailing!!!!
Maarten Jansen
Banjer #12
19.02.05
From KITTYHAWK
Concerning the update of the Kittyhawk for the files, the following:
Engine Perkins 4.236 , 81 HP (yes it is exceptional but it is correct)
Paragon gearbox
Masts 13.2 m and 9 meters. Bowsprit 1.5 meter, 5 sails
Bowthruster Rheinstrom (almost soundless)
Heather, Radar, gps, autopilot, marifoon, victron inverter, hydraulic steering.
Warm (connected with engine) and cold water, gascooker.
1300 liter diesel, 700 liter fresh water, 100 liter wastetank
Osmoses treatment
New rudder, new seacocks, new toilet, new sun tent (as duck soup), bolders.
4batteries 12 V total 480 A + batteries bowtruster 12 V 100 A
New propeller shaft, water-lubricated.
The only Banjer-convertible.
24.01.05
I've found this most interesting photos from the selling pages for LE RESOLU (Now renamed PHILEAS) in the web. A totally different and attractive solution for a Banjer's cockpit.
Guillermo.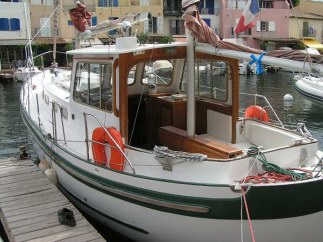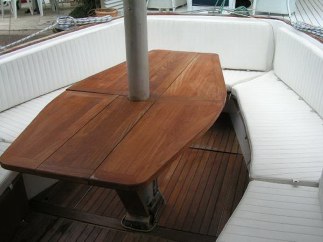 12.01.2005
From SULASGEIR OF LORNE
Sulasgeir Improvements list
1992 Bought as Dopheide from Baker family. Name changed to SULASGEIR of LORNE.
1993 Fitted Apelco Radar ( replaced 2005)
Fitted Autohelm 7000 + Hydraulic drive (replaced course computer 2005)
1994 New starter motor and alternator
New Genoa
1997 Gearbox removed and refurbished
Holding tank with plastic pipework fitted inc pump out facility
1999 New mainsail and lazyjacks
2000 Steering failure - replaced copper pipes with armoured rubber hoses
Eberspacher fitted
2001 Engine raised into wheelhouse - stripped and repainted
New exhaust system fitted
Batteries moved to box on port side of engine.
Boat completely rewired with contact breakers etc
Shore 220v circuit fitted inc charger
Vetus 55 bow thrusters fitted working off main batteries
SL Sprint 1500 anchor winch fitted
Calorified fitted above engine
2002 Boat replumbed with plastic push-fit piping
Lewmar Ocean hatches fitted in aft cabin, Wheelhouse, main cabin, and forecabin
All window catches replaced
New staysail and mizzen
Simrad 32 GPS Chartplotter fitted (replaced 2005)
2003 SSB radio + weatherfax + printer fitted
Furuno GPS fitted with Simrad RD68 VHF linked
All internal brass fittings removed cleaned and lacquered and replaced
All internal teak sanded cleaned and revarnished
New cooker fitted - built in and fixed. New tiling
2004 Weatherman fitted
New Delta 35kg anchor replaced CQR. 65 metres new chain.
Dickenson diesel stove fitted with own tank in old battery space on stbd side
2005 Raymarine C120 GPS Chartplotter and radar fitted
Raymarine 7001 + new course computer fitted
CJCW 12.01.05
01.10.2003
From proud BRIGHTEYES owners
Banjer "Brighteyes" has also been updated and her very long refit has been finished at last - it only took 23 months against the forecast of 6 months! We did all the work ourselves so there's no one to blame - although we did have the hull shot blasted by a contractor (it took all of 4 hours).
But she is now repainted, rewired, retanked (water and diesel) and totally refitted inside and out. There are new rubbing strakes, bulwark caps, bowsprit, hatches, alternators and charging systems, headlinings, soft trim, all floors and bearers. There are also a lot of bruises and spilt blood and tired owners!
There are also 2 new masts and booms, courtesy of the Travelhoist operators who managed to hit us, just before launch' and break a forward lower shroud which caused the mainmast to fold. The original gold anodised mast could not be matched so the insurers agreed to renewing both although it did add about 7 weeks to our lunch date.
The eventual launch went well - yes you can get 22 people on board for a party - and the 'maiden' voyage was to Fowey, Cornwall (about 30km) where she will spend the winter before returning to the Med in 2004.
Was it worth it? Yes! Would we do it again? No, no, no!!
Best wishes to all Banjer owners and lovers
Brighteyes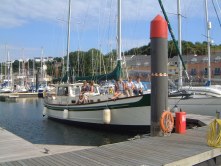 17.12.2002
From ZOE
.....Work on Zoe has included rebuilding the deadwood at the stuffing box (the bolts attaching the stuffing box to the deadwood were corroded), new cutlass bearing, several new seacocks, a new PYI (dripless) stuffing box, and new bottom paint. Prior to our ownership the hull, (from the waterline down) was coated with epoxy.
with
She is now at our slip here in Wilmington and I am addressing such things as new valves, gauges and an alarm for the propane stove, rebuilding the head, completing the installation of teak decking, going over the rigging and raising the masts, Etc. Some major electrical work, new sails, and so on.
16.12.2002
From MARIBE, USA
MARIBE is a marconi rigged ketch with a short bowsprit, added to carry a roller furling headsail and anchor - after dismasting the original rig due to corrosion of the masthead fitting. Sail plan is same as original.... Much cosmetic work on decks, pilot house, cockpit and below is needed and is underway. Perkins 4-236 has been rebuilt and runs fine. PH windows need new gaskets, and portlights need replacing. Also installed is an Entec 3.5 KW generator, Farymann powered.
02.12.2002
From DUCK SOUP
GUILLERMO,
THIS MORNING I TOOK DUCK SOUP TO OUR WORK BERTH TO HAVE SOME PAINT WORK TOUCHED UP.
WHILST THERE I TOOK THE TWO ATTACHED PHOTOS WHICH SHOW HOW I AIR-CONDITION DUCK SOUP DURING THE HOT SUMMER MONTHS NOVEMBER THRU MARCH.
THE AIRCONDITIONER IS A MARINE VERSION AIRCOMMAND MANUFACTURED IN ADELAIDE, SOUTH AUSTRALIA.
ORIGINALLY THEY WERE DESIGNED FOR RETROFIT ON CAMPERVANS,CARAVANS,TRUCKS & BUSSES ETC..
THEY ARE WIDELY USED IN AUSTRALIA ON FISHING BOATS ESPECIALLY THE HIGHSPEED CRAYFISHING FLEET IN WESTERN AUSTRALIA.
I AM SURE SIMILAR UNITS ARE MANUFACTURED IN EUROPE & THE USA.
THE CENTRAL HATCH ON DUCK SOUP IS A GOIOT DOUBLE ACTION VERSION & THE HATCH COVER IS VERY SIMPLE TO REMOVE. WITH SOME FEW MODIFICATIONS IT NOW TAKES ONLY ABOUT 30 MINUTES TO MOUNT OR DEMOUNT.
MY AIRCON IS A 240 VOLT VERSION, 5000 BTU.,COOLING ONLY, HOWEVER FOR SLIGHTLY MORE MONEY A MODEL WITH REVERSE CYCLE HEATING CAN BE OBTAINED.
SHOULD ANY ONE BE INTERESTED IN THE AIRCOMMAND, THE EASIEST WAY TO GET INFORMATION IS TO GO INTO GOOGLE SEARCH, TYPE IN AIRCOMMAND AIRCONDITIONERS & UP COMES THE SITE ADDRESS.
THE UNIT HAS NO PROBLEM RUNNING ON A GENERATOR WHEN CRUISING HOWEVER SINCE REMOVING MY GENSET I NO LONGER HAVE THIS LUXURY - ONLY WHEN ALONGSIDE IN A MARINA.
FROM THESE PHOTOS YOU WILL ALSO NOTE HOW I USE SPRAY DODGERS ON THE RAIL FOR PRIVACY WHILE LIVING ON THE MARINA.
ALSO HOW THE FORWARD CANOPY NEATLY ROLLS UP AGAINST THE MAST ALLOWING ONE TO TRAVEL WITH THE MAIN & COCKPIT CANOPIES IN PLACE.
Regards,
BRIAN HULL.
28.05.2002
From GROS BALOO
Dear Guillermo,
.....
Sur Gros Baloo j'ai découvert un peut de rouille (oxydation) qui s'écoulait sous le plancher de la cabine avant. Après avoir démonter l'habillage teack de l'épontille du mât, j'ai constaté que celle ci était rongée par l'oxydation et prête à céder. Il faudrait prévenir tous les propriétaires de Banjer que celà peut arriver suite à une petite entrée d'eau au niveau de la base de la jumelle. Et surtout se méfier car la rouille apparait quand c'est presque trop tard. Bien vérifier l'épontille qui est une pièce rectangulaire 100mm*50mm, épaisseur 5mm, hauteur 2000mm avec plaques haute et basse d'épaisseur 10mm soudées sur l'épontille. Tout ceci étant fabriqué en simple acier.
Amicalement
Approximate translation (Anyone can help with a better one?):
On Gros Baloo I discovered one can of rust (oxidation) which ran out under the ceiling of the front cabin. After having to dismount the piece of teak that hide the nuts under the mast base, I noted that it was corroded by oxidation and lends to yield. It would be necessary to warn all the owners of Banjer that this may happen following a small water entry at the level of the base of the mast. And especially to be wary because rust appears when it is almost too late. To check well the nuts plate base which is a rectangular part 100mm*50mm, thickness 5mm, height 2000mm with plates high and low thickness 10mm welded onto the nuts base. All this being manufactured in simple steel.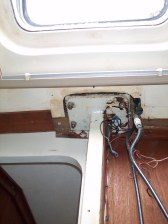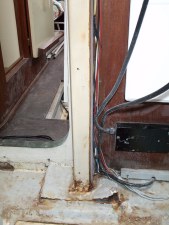 25.04.2002
From BRIGHTEYES, UK
"Brighteyes" is still in the middle of a major and long overdue refit. We started last October and the original relaunch target was June 2002. It is taking much longer than expected because we're doing much more than we expected but we may see the water by the end of the season if we are lucky.
She has had a new interior -almost total -with new furniture, side and head linings, new galley and a rewire. We have taken out the underfloor water tanks and added extra ballast to cope with a bigger sail area. The new tanks will fit under the side berths in the saloon.
We have also replaced the two diesel tanks and a new day tank. All wiring-12v and 230v -has been renewed and a new instrument panel fitted. We have also renewed the toe rail cappings and added cheeks to the inner and outer faces to give more strength - we didn't like the way the genoa track pulled out on us in the middle of the Med!
The exterior has yet to get any real attention but we should start preparing for repaint soon - she is going to be painted cream and dark green....
Good winds and happy sailing to all Banjers!
LIST OF KNOWN IMPROVEMENTS
Let us know whatever improvements you have done on your Banjer. Share your experience!
Was done..

Banjer (s)

Remarks

Osmosis treatment, Peeling off, etc.

Weemelah, Marie, Duck Soup, Gros Baloo, Kittyhawk

Peeling off / Treating blisters one by one/ Delaminations

Roll dampening keels

Marie

Dampening rolling down in a short masts rigged Banjer.

Replacing opening ports

Duck Soup

Resealing windows and portlights

Marie

Nuew hull & deck paint

Duck Soup, Weemelah

Electric whinches

Weemelah

Mizzen staysail

Duck Soup

Re-rigging, new bowsprit

Noorderzon, Zeehond, Antilope, Young Banjer, Kittyhawk, Brighteyes, Maribe

Cockpit tent

Antilope, Marie, Kittyhawk, Duck Soap

Tropical forward sun awning

Duck Soup

Water heater connected to engine

Sulasgeir, Kittyhawk

Bowthruster

Kittyhawk, Sulasgeir

Rheinstrom, Vetus

New masts

Antilope, Kiskadee, Brighteyes

Teak deck

Antilope, Kiskadee

Railing around rear cockpit

Zeehond, Duck Soup

Swimming platform

Marie, Duck Soup, Lontananza

Home Completion, Custom

Wesselina, De Widje Blick, Lisana

Banjers with a difference

Dinghy davits

Summer Rain, Pelican (USA), Respite

8 KW Generator

3,5 Faryman-Entec generator

Merdeka

Maribe

General rewiring

Brighteyes

Rewiring engine electrics

Antilope

220 Volts mooring powers

Antilope

And batteries charging system

Below-decks main mast base reinforcement

Marie, Duck Soup

Deck almost collapsed when mast de-aligned with base (Marie)

Tropical Sun Awning

Duck Soup

Staysails tracks and cars over gunwhale

Duck Soup

24 volts electrics

Duck Soup

Computer on Navigation table

Duck Soup, Respite, Spindra, Lisana

Hydraulic power pump

Alte Liebe

Rigid tender astern

Respite

120 Volt engine driven Generator/Inverter

Zoe, Spindra

Increased draught and ballast.

Nymphe III

1,6 m draught and + 3 Tm of ballast.

Wind Gen

Spindra

SSB

Spindra

Air conditioning

Spindra, Duck Soup

Retanked (Diesel & Water)

Brighteyes

New hatches

Brighteyes

New sea-cocks

Kittyhawk, Zoe, Marie

New rudder

Kittyhawk

New propeller shaft

Kittyhawk

Hydraulic reservoir for steering system

Marie
| | | | |
| --- | --- | --- | --- |
| Brighteyes | Brighteyes | Marie | Duck Soup |
| Duck Soup | Marie | Marie | Duck Soup |
| Duck Soup | Duck Soup | Duck Soup | Duck Soup |
| Respite | Respite | Antilope | Marie |
| Spindra | Spindra | | |