Round Ireland
A short account of the voyage from Argyll clockwise round Ireland.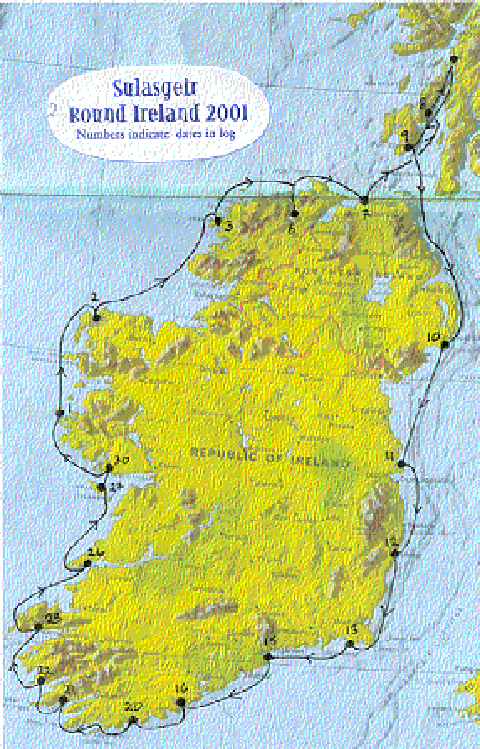 Sulasgeir Round Ireland 2001
Sulasgeir is a Banjer 37 motor sailer and is based at Argyll on the West Coast of Scotland. The plan was to sail Sulasgeir clockwise round Ireland. See the map above. We had about 4 1/2 weeks to manage the trip. This was a little tight but had some spare days for hold-ups.
Sulasgeir had had several improvements in the spring of 2001 of which the Vetus bowthruster (to improve manoeuvrability in tight situations), an Eberspacher heater and a Simrad chartplotter/GPS were the most important. It was time to try them out!
Participants:
James Simonds, Peter Brown, Richard Killick, Ken Whimster, Geoff Weyman and Jay and Colin Whimster.
Four of us met at Balvicar on 8th June - after voting in the UK General Election.
Saturday 9th June
Colin, James, Geoff and Richard. 0845 Left Balvicar. We re-fuelled at Craobh Haven. Down the Sound of Jura passing the farmhouse where George Orwell wrote 1984. We approached Islay to anchor in Loch an't Sailean just off the Ardbeg Distillery. The approach involves a transit in towards the Lagavullin Distillery so that only the letters `ULLIN' are visible. It was a glorious evening with basking seals and rocks all around us.
(33 miles)

Sunday 10th June
0715 Left Islay to catch the south-going tide at Otter Rock. The tide runs hard across the North Channel between Scotland and Northern Ireland and it is essential to carry it down the Irish coast. 1915 arrived at Ardglass, a small fishing town just south of Strangford Lough.
(95 miles)
Monday 11th June
0945 Left Ardglass. A long motor in little wind well offshore. Two of us had passed our RYA Ocean Navigator Exam and so sun sights were taken. Found we were fairly near where the GPS said we were! 1730 Into Howth Marina - about 15 miles north of Dublin.
(53 miles)
Tuesday 12th June
1230 left Howth. Down the east coast if Ireland inside sandbanks. 1800 into dock in Arklow - STS Winston Churchill came in behind us.
(36 miles)
Wed. 13th June
0600 left Arklow. Took tide round the corner inside Tuskar Rock to Kilmore Quay a small village but with a good marina. Arrived 1300. Two square-riggers from Charlestown were in on their way to Barrow-in-Furness - we had a tour.
(47 miles)
Thursday 14th June
Day off! Lots of rain, wet walks and crabs claws for lunch.
Friday 15th June
0930 Left Kilmore Quay - E4 against a SW swell - very uncomfortable. Into tiny fishing harbour - Helvic - 1500.
(35 miles)
Saturday 16th June
Richard left for home. 0830 Left Helvic. Genoa jammed - Geoff heroic. NE4/5. 1530. Onto Castlepark Marina Kinsale. (near Cork)
(44 miles)
Kinsale .......

Sunday 17th June
Day in Kinsale - an attractive town with lots of restaurants. Moved to the Trident marina.
Monday 18th June
Geoff left for the ferry to Wales. Domestic duties. Lots of rain. Jay arrived by plane from Edinburgh.
Tuesday 19th June
Day in Kinsale. Walked to see Fort Charles.
Wed. 20th June
0940 left Kinsale. W3. Confused seas - rough off headlands. First brush with salmon nets - nets up to two miles long laid at right angles to the shore with tiny floats and minimal markings. 1400 onto mooring at Glandore very attractive bay and harbour with excellent pub above. A horse being led swimming across the harbour was a bizarre sight.
(30 miles)
Thursday 21st June
0830 Left Glandore. NE3 - but fairly rough. Unfortunately we had to miss out most of the fine harbours in this area. Round Mizzen Head to Lawrence Cove Marina on Bear Island on the Beara Peninsula. Arrived 1530. Very attractive small marina. NE3. Filled with diesel.
(44 miles)
Cont of Kerry information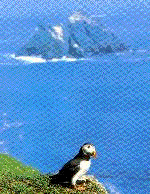 Friday 22nd June
1000 Left Bear Island. Through Dursey Sound under cable car
Onto mooring in Derrynane Hbr - a magnificent narrow entrance. 1330. Visited Daniel O'Connel's House.
(23 miles)
Saturday 23rd June
0830 Left Derrynane. Round several SW facing headlands - past Puffin Island - which proved well named - lots of puffins! 1330 Dingle Marina.
(31 miles)
Sunday 24th June
1st day in Dingle. Restaurants galore!
Monday 25th June
Jay left by 3 buses and 2 planes back to Edinburgh. Peter arrived via Kerry airport.
Tuesday 26th June
James left for Surrey. 1215 Ken arrived. 1230 cast off. Off headland Customs boarded . Round Slea Head and into shelter of Shannon at Carrigaholt - mooring 2020.
(52 miles)
Wed. 27th June
1015 Off from Carrigaholt. NW3 to 5. V. rough off Loop Head. Heading Northeast up to the
Aran Islands
where we took up a mooring at 1730 in Kilronan harbour (Inishmore).
(48 miles)
Thursday 28th June
Day on shore - a dry limestone island. Visited Dun Angus - an iron age fort on the edge of a high cliff - v.dramatic.
Friday 29th June
SW6. Although in the harbour it was almost impossible to land so stayed on boat all day!
Saturday 30th June
0830 Out of Kilronan. SW6. Dash across to Connemara mainland to Cashla Bay. Fine coastal walk.
(10 miles)
Sunday 1st July
0830 Left Cashla Bay. SW4/5 with poor visibility. Difficult trip heading west then northwest off the rock-girt lee shore of Connemara. Conditions and vis. Improved as we turned north. 1500 into Inishbofin Harbour. A fine evening: superb lobster dinner in Day's Hotel and a good walk.
(44 miles)
Monday 2nd July
0900 Left Inishbofin. SW3/4. Vis improved. Ran over salmon net, which ran about two miles from shore: no damage to Sulasgeir or net - thanks to the long keel. 1730 Mooring in Broadhaven Bay (Ballyglass). Bought whole wild salmon from fisherman. Beautifully cooked! Delicious!
(55 miles)
Tuesday 3rd July
0630 Out of Broadhaven Bay. S1/3. Salmon nets and boats everywhere across of route across Donegal Bay and up to Aranmore. 1630. Mooring. Strong northerlies forecast.
(68 miles)
Wed. 4th July

N5/6. Ferry to Burtonport with food shopping and a walk.
Thursday 5th July
N4/5 Walk round island.
Friday 6th July
0730 left Aranmore. N4/5. Along NW coast of Donegal to Lough Swilly. 1600. Rathmullen Quay pontoon. Fine meal.
(53 miles)
Saturday 7th July
0715 Left Rathmullen Quay. NW3/4. V rough off Malin Head.
Into Portrush Hbr. at 1330. Afternoon amongst the holidaymakers. Poor forecast for crossing but getting worse
(41 miles)
Sunday 8th July
0915. Left Portrush. NW4/5. V. Rough but reducing. 1600 on to mooring in Craighouse, Jura - back in Scotland!. Wind up to F7. Dramatic lifeboat rescue of a French yacht.
(41 miles)
Monday 9th July
1030. Left Craighouse. 1630. Back on Balvicar Mooring
(30 miles)
Tuesday 10th July & Wedneday 11th July
Dispersed back to Edinburgh, Yorkshire and Norfolk.
GPS Mileage 995.5
Daily log mileages 913 - so although we had a lot of favourable tide the log is probably under-reading as well.
Comments on the new toys
Vetus Bowthruster. Model 55. We didn't have a lot of close manoeuvring but it was useful on occasions. A lot more practice needed.
Eberspacher Heater. Excellent on the west coast when it became really cold and damp.
Simrad 32 Chartplotter. Mainly used as a GPS because I could not run to all the cartridges needed: which I might never use again. However it was a huge improvement on my old GPS and when it was used as a chartplotter it was superb. More experience needed in 2002!
The big projects for this winter is a calorifier tank to replace the Vaillant gas heater and full replacement plumbing and - with the engine lifted - full electrical rewiring with new instruments and an engine room paint.
Comments on the voyage.
This years voyage was a great success with no major problems apart from weather and the salmon nets. As usual we mainly motored or motor-sailed and, as usual, we needed far more time. Ireland is a superb cruising ground that can be summarised :
East coast. Sheltered with marinas and harbours but very few anchorages.
South and south-west coasts. More exposed but with lots of superb anchorages. Quite busy and plenty of good restaurants.
West and north coasts. Empty - we saw about six moving yachts! Good mooring and anchoring facilities but even more exposed to Atlantic swell than West Coast of Scotland - more cooking on board! Fantastic scenery - nearly as good as home!
Galway Hooker
| | |
| --- | --- |
| "SULASGEIR" AT SKYE | |
You'll find lots of useful information about Sailing in Ireland at: