Gathering 2007
The 3rd Banjers Gathering and BMC Meeting took place
in Enkhuizen Holland, the 17th, 18th and 19th of August 2007.
Last update: Nov 1, 2007
NEW BOARD OF DIRECTORS
At the BMC Meeting held in Andijk on the 18th of August, the old Board of Directors ceased its three years period of time and a new Board was elected. The new one is now as follows:
Commodore: Guillermo Gefaell (Spain) (center)
Secretary: Colin Whimster (Scotland, UK) (right)
Treasurer: Ton Koot (Holland) (left)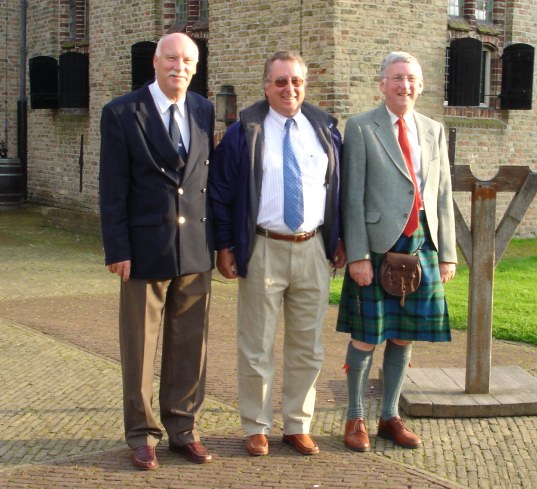 The BMC wants to thank the former Secretary, Oscar Alstede,
for all the nice work done in favour of the Club for six years.
Thanks a lot, Oscar!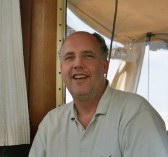 Other decisions of the Meeting were:
- Maintaining the 50 euros voluntary membership fee for the next three years period of time (17 members did pay the fee right at the Meeting!).
- Organize a new Gathering in 2010, most probably in south Holland (Middleburg, Vlissingen, Goes or the like sound as possibilities. France, Belgium and the UK were considered as alternatives. A final decision will be made by the Board after consulting all members).
- Reduce the size of the public WWW Club's site. Many pages will be deleted and the site re-organized. Only paying members will have access to the whole information, delivered in a CD.
SHOTS FROM THE 2007 GATHERING
Updated September 22, 2009
Click on image down here to access.
BANJERS CONTEST
On Sunday the 19th it took place a Banjers Contest to evaluate the abilitties of Captains and Crews.
The Winner was ANNE MARIE's crew, with 85 points
over a total of 115. Well done, Banjerers!
Click
HERE
to find what the tests were and the answers for the questions.
DEFINITIVE PROGRAM
Berthing was at the "Oude Haven" in Enkhuizen.
2007's BMC Meeting and Banjers Gathering.
Program
Friday August, 17th
13.00h Say Hello
16.00h Guided tour Enkhuizen
19.00h Dutch Captain's Dinner in the Port van Cleve
Saturday August 18th
09.30h Rally Enkhuizen to Medemblik
11.00h Stop in Andijk
11.30h BMC Meeting and lunch
15.30h Continuing rally Enkhuizen to Medemblik
19.30h Dinner in Radboud castle
23.00h Transfer of hotel guests back to Enkhuizen (ca. 20 min.)
Banjers sleep in Medemblik
Sunday, August 19th
09.30h Transfer hotel guests to Medemblik
10.00h Palaver
10.30h Departure Medemblik, start test seamanship Banjers, skippers and crew.
16.00 - 16.30 h Arrival Enkhuizen
17.00h Farewell drink in Drommedaris
LIST OF ATTENDING MEMBERS (Updated July 21, 2007)
| | | | |
| --- | --- | --- | --- |
| CREWS | COUNTRIES | Count of crew including skipper | Coming with Banjer |
| Jan Onrust | Holland | 2 | Yes |
| Sprot | Holland | 3 | Yes |
| Chapeau | Holland | 2 | Yes |
| Kitty Hawk | Holland | 3 | Yes |
| Damy III | France | 2 | -- |
| Marie | Spain | 2 | -- |
| Bravour | U.K. | 1 | -- |
| Lisana | Holland | 4 | Yes |
| Qimmiq | Belgium | 2 | -- |
| Sulasgeir | U.K. | 2 | -- |
| Elizabeth Ann | U.S.A. | 2 | -- |
| Young Banjer | U.K. | 2 | -- |
| Kiskadee | UK | 2 | -- |
| Albatros | Holland | 2 | Yes |
| Anne Marie | Holland | 2 | Yes |
| Pandora | France | 2 | -- |
| Banjer | Holland | 2 | Yes |
| Robbe | Germany | 4 | Yes |
| Thelemite | France | 2 | Yes |
| Gross Baloo | France | 2 | -- |
| Weemelah | Bermuda | 1 | -- |
| Eridani | UK | 1 | -- |
| Stangate Marine | UK | 1 | -- |
| TOTAL : 23 | 8 | 48 | 10 |
Attending costs were € 110 per person
In this price was included:
- Guided Tour Enkhuizen
- Dutch "Captain's dinner"
- Meeting costs and lunch in Andijk
- Dinner in Medemblik
- Bus Transfers
- Farewell drink in the Drommedaris, Enkhuizen.
The Club financed part of the costs.
BMC bank account's data:
Banjer37 MS Club
Wapenveld, Holland
Account number: 49.69.08.871
BIC : ABNANL2A
IBAN: NL48ABNA0496908871
Northboud Convoy's program
BANJERS IN CONVOY:
Sprot, Elskerinde, Kittyhawk, Qimmiq, Lisana
Other Banjer's crews are joining the Convoy as guests: Sulasgeir, Pandora
Convoy leader: KITTYHAWK
The program of the northbound convoy was as follows:
- Monday 13/8 Captains Meeting (Pallaver) in the evening, to decide route.
- Tuesday 14/8 meeting in Willemstad, leave at 1100 hours to Stellendam.
- Wendesday 15/8 Stellendam-ijmuiden (Here Colin from Scotland can join us and perhaps other british members). Leave with the tide, arrival in the afternoon.
- Thursday 16/8 Ijmuiden-Amsterdam-Hoorn. Leave 1000 hours, arrival 1500 hours
- Friday 17-8 Hoorn-Enkhuizen Leave 1000 hours arrival 1400 hours.
IMAGES FROM THE CONVOY
(Courtesy: Ineke de Grijs)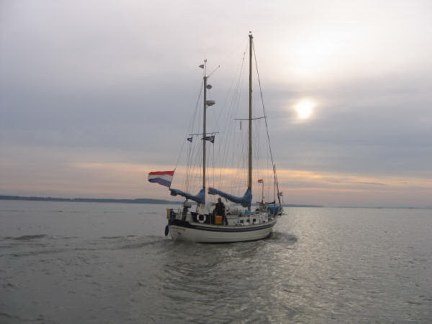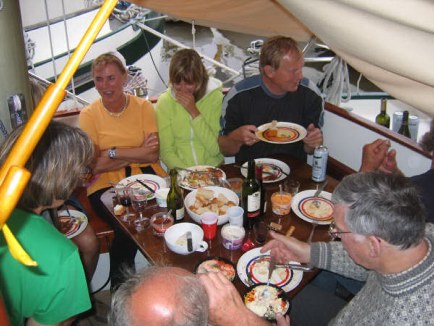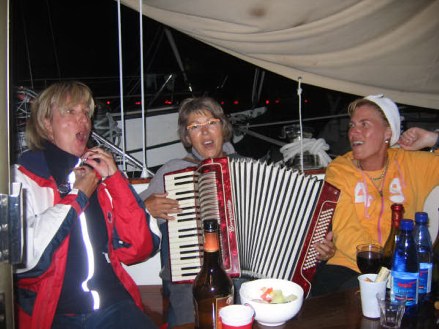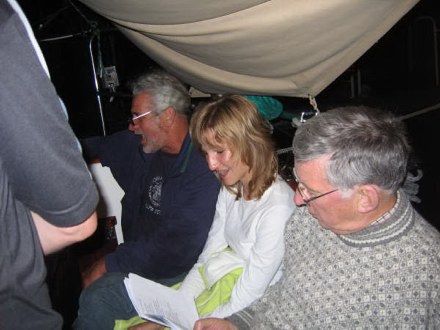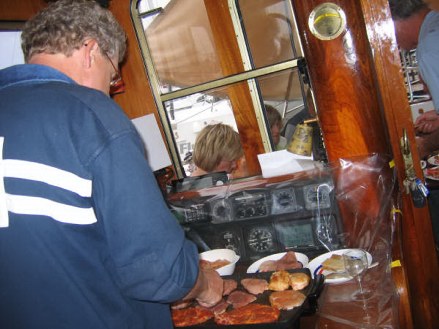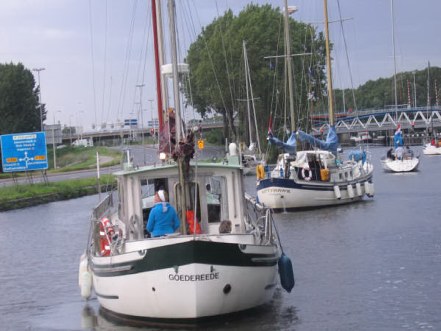 MESSAGES
I've received a CD from GROSS BALOO with all photos at the previous mentioned site, and also with images from the Meeting of the French Chapter. Here a couple of them from this last. Members are: Gros Baloo, Damy III ,Vent Vers, Krisma, Fouly and Pandora.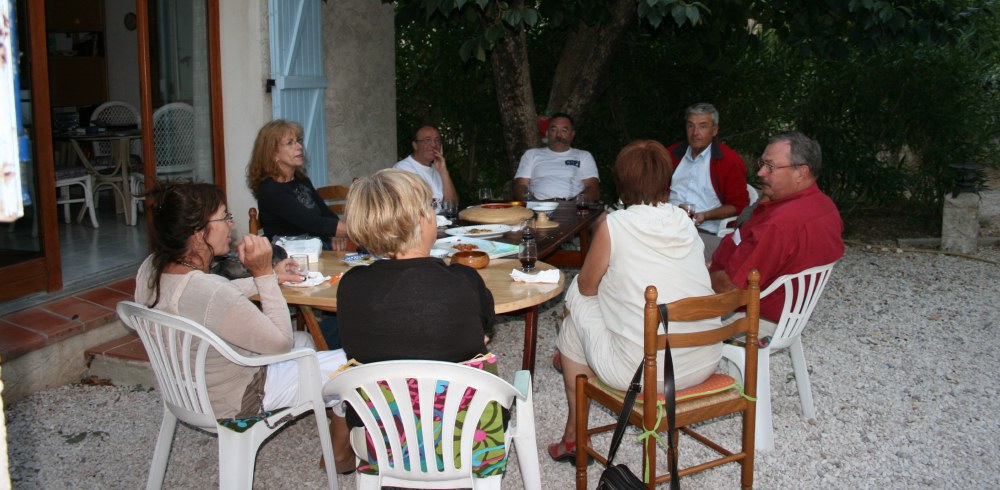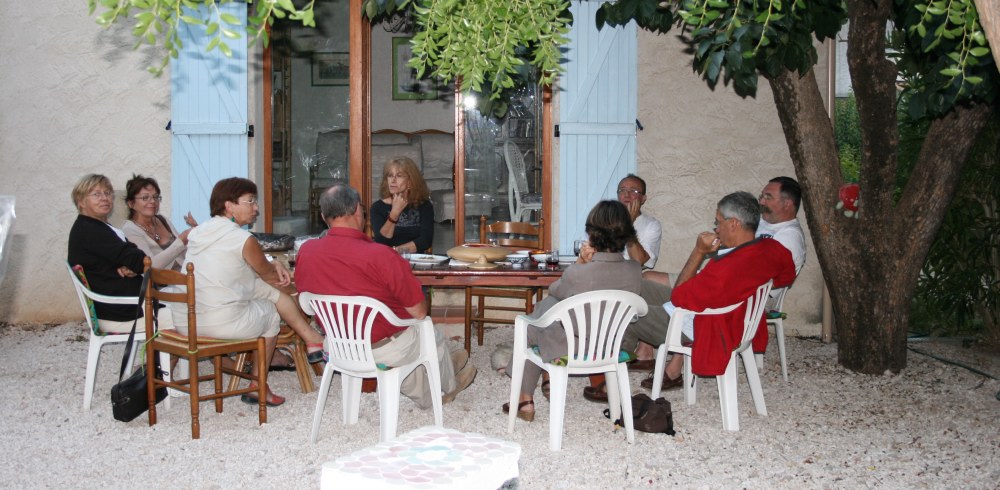 Oct 17, 2007
GROSS BALOO
has posted in the WWW a very nice album with 177 photographs from the Gathering.
He will send a CD with all images, so I will post a few here.
Sept 30, 2207
I've received a CD full with excellent photos from Gathering and Meeting from QIMMIQ. I'll post them little by little, and also find a way to upload most of them at one of those (free!) photos-places. Down here a couple of them.
Cheers.
Guillermo.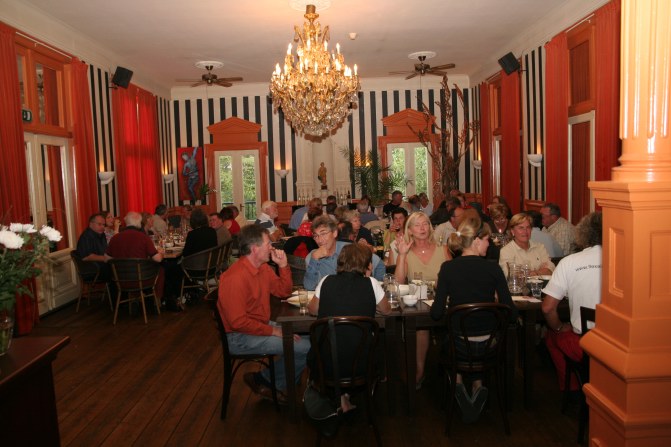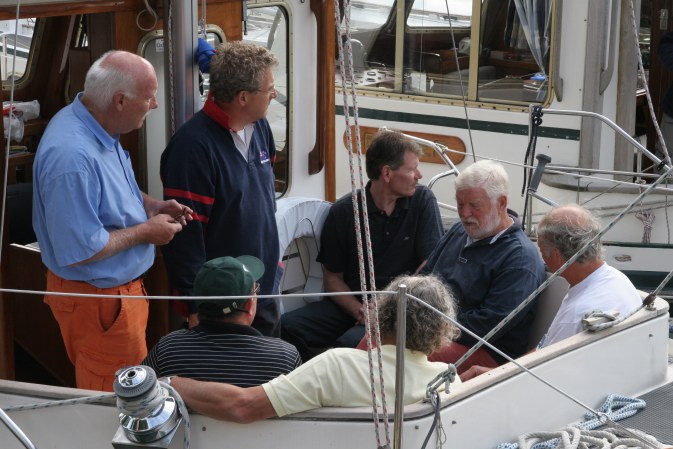 Sept 29, 2007
NEWS FROM THE FRENCH CHAPTER'S MEETING:
hi guillermo,
our meeting took place in excellent conditions.The weather was fine and we could stay in the garden till midnight . It was wonderful and warmful. We were 6 couples :Gros Baloo ,Damy ,Vent vers, Krisma ,Fouly and Pandora .I didn't know Vent Vers and Krisma ,so I was proud for having convinced them to come! I suggested such a meeting every year ...wait and see! As for the photos Gilles will send them to you as soon as he can. We met from 4 to midnight and it was all about Banjers; Did I tell you we had the visit of Lisana? (just 2 nights at home).
Monique
September 17, 2007
From PANDORA, regarding the French Chapter's meeting in France:
Hi guillermo!
We had a wonderful summer weekend at home with F. and M., Lisana's owners, and we also had dinner together with G. (Gros Baloo). F. brought us all we needed from Gebbo for Pandora's, Gros Baloo's and Damy's windows. It's great ; We also spoke of the next meeting (in 2010) and we agreed with F. about a technical half day meeting.
For the meeting on the 22nd of sept, Vent Vert and Krisma will join us as well but Lisana already left !
Monique.
August 29, 2007
From PANDORA
....Other good news : I spent hours on the phone to contact the french owners and gather them at home near Toulon on Saturday 22 of sept. I have got Damy, Gros Baloo and Fouly at the moment . We hope Lisana and Phileas and more if I can find any.....
Monique.
If you're interested contact Monique at: pandora.lefevre<at>laposte<dot>net
August 28, 2007
From ROBBE
Hallo Guillermo,
Once more many thanks for the very nice weekend and for all your activities.
Enlosed some photos of the meeting.
Best regards
Peter & Monika
From ANNE MARIE
Hello Guillermo,
Here some picture's of the Banjer meeting.
Real great wekend at Enkhuizen.
regards
Hans E.
From KITTYHAWK
(Dees bought a very nice model of a Botter, which was presented to the Commodore on behalf of all attending members. He also bought a very nice lamp, similarly presented to our honourable Treasurer, Ton Koot. Thanks a lot Dees!)
Dear Guillermo,
Thank you for your kind mail.
Unfortunately we had to leave the gathering early, due to a businessmeeting mondaymorning.
We appreciated the work and enthousiasme of you and Ton during the last years. It made having a Banjer extra nice.....
Concerning the Botter: it was a fishingboat wich was used on the Zuiderzee (Ijsselmeer) and the Northsee until the 1940's. It had no stays .The mast had no stays because without stays the fishing net could be used on all sides.
It could be sailed by two men if nessessary.
It was very seaworthy with a high front and a low back (wich was also low because using the fishingnets).
Still botters are used on the ijsselmeer for chartering.
Again we like to thank you for all your highly appreciated work for the Banjer MC club
We wish you and your family a good health and good sailing .
Warmest regards
Dees, Irmgard and Amber.
De Botter
(Click on image for more info on this type of boats)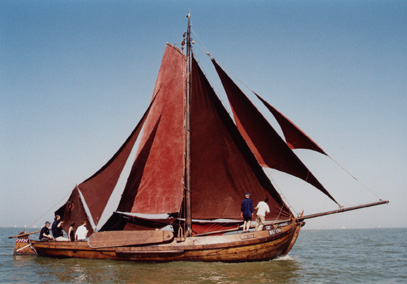 From ALBATROS
(Rob suffered terrible pains during the Gathering, and had to be urgently operated)
Hi Guillermo!
Thanks for your mail...yes I was not feeling too well that Sunday morning and ended up in the hospital with an emergeny surgery Sunday afternoon.
In the gall blatter there were 8 stones as big as the beans from the captain's dinner........
Recovering now, and have started the work again slowly.
It has been a wonderful weekend and we have made our special compliments to Ton Koot for the perfect organisation....... In our view it has been a great success.
Suggest we stay in contact in the near future!
Cheers,
Rob
August 26, 2007
From GROS BALOO, in France
Dear Guillermo,
........................................
Give me your post adress to send you CD with last photos of gathering
Gathering was magnificent and very well organized. A big thank you to "les gentils organisateurs".
Amitiés
Gilles
From LISANA, in Holland
Dear Guillermo,
again, thank you for a beautiful gathering. We had a wonderfull time in Enkhuizen and Medemblik.
It was pity that you where not in Gouda during the dinner. We hope you can be with us during the next convoy. I will make you a nice dinner again.
Greetings
Ineke.
(Ineke sent a very nice set of photographs from the Northbound Convoy and the Gathering. I'll post them very soon. Guillermo)
From Mike Ingle (STANGATE MARINE)
Dear Guillermo,Ton,& Colin
I would like to thank you and all the members of the club who made my visit to the reunion so enjoyable. It was a trip into the past for me, and very heartening to see so much enthusiasm for the Banjer. I only wish I had kept more of the information and drawings when we closed the yard, as it really taxed my memory trying to answer all the questions.
I shall certainly try to make the meeting in 3 years time, but in the meantime wish you and the club members happy sailing. If anyone is near Littlehampton I would be delighted to entertain them.
Very best regards
Mike Ingle
Stangate Marine!!
August 24, 2007
From AMBERES, in South Africa:
Hello Guillermo
Greetings from a cold and wet Cape Town.
Please accept my apologies for not being able to attend the Banjer Gathering this year. Many thanks to you and your Committee for all the hard work to promote our unique Banjer interests.
I would like to wish you and all those present at the Gathering a very pleasant and enjoyable weekend.
Kind regards
Robert R.
AMBERES
Cape Town
South Africa
Excerpt from a message from BARBAROSSA, in Norway:
....And good luck with the upcomming Garthering. I had plans to be there, but unfortuantely a big event for my company was placed at the same time, and not possible to move. (We have 5 pc of Sony Ericsson boats at the hottest location in Oslo and arranging competitions for most important costumers and contacts followed by kick-off for staff.)
Bård
August 11, 2007
From Gathering organizer, Ton Koot:
Reservated berthing is in de "Oude Haven" in Enkhuizen. For operating the bridge call "Havendienst Enkhuizen" VHF 12
July 28, 2007
Banjers come to Enkhuizen not only by sailing....
"SPROT" UNDER WAY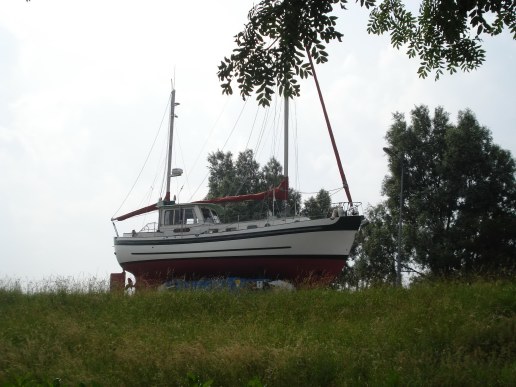 July 16, 2007
From Convoy Leader, Dees de Smet:
Comments: Please put on gatheringsite that Lisana is joining the convoy.
Convoy now :Sprot, Elskerinde, Kittyhawk, Qimmiq and Lisana.
Please let Damy lll , Jan Onrust and Maarten Schenk contact convoy leader in case they travel along.
kind regards,
Dees De Smet
June 4, 2007
Pre-Gathering in Ouddorp:
SPROT, ELSKERINDE and KITTY HAWK's crews are so anxious about our Gathering in Enkhuizen,
they couldn't wait till August, so they got together in advance to 'warm engines up', making a pre-gathering in Ouddorp!
May 15, 2007
From Dees de Smet, Convoy Leader:
Dear Commodore,
Hope you are well.
please be informed that the convoy will be starting with reasonable weather in Stellendam.
Sprot, Kittyhawk and Elskerinde will either via Ijmuiden or den Helder go to Enkhuizen.
.................
I will try to reach Maggy May , Albatros and Banjer for the convoy.
greetings Dees
March 10, 2007
From Ton, regarding the hotel: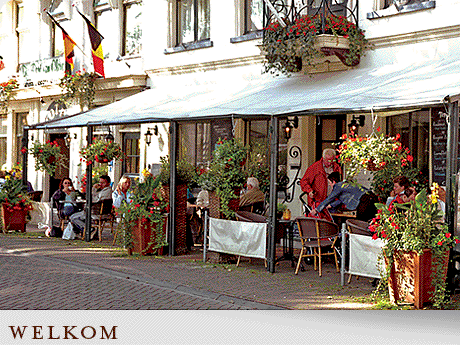 February 7, 2007
News from our Treasurer and Chairman of the Organizing Commettee, Ton Koot:
The program of the Gathering will have a little change. Soon as possible you get the little changed program. Because the Drommedaris is closed, Im am working out the alternative....there are two (other) possibilities (I'm working with). By the end of february I will make a deal for a special price.....
See the attachment of members who have said to me that they will be there....
...Ask the members in the website if they will be on the Gathering, ask them to tell with how much people and the names.....
October 29, 2006
From PANDORA owner:
For the gathering I would enjoy being a crew member on any banjer.
The captain of the banjer who would acept me as crew would be welcome on my board for a week in Egypt on the red sea this winter.
Thanks.
(Contacts through the Club or at the private pages)
June 3, 2006
First news on 2007 Banjers Gathering's program
Ton Koot is in charge of organization.
Dees De Smet will organize the Northbound convoy.
No Southbound convoy this year. Maybe Banjers coming from Scandinavian countries could organize one...?
Some information:
Enkhuizen is situated in the middle west part of the Ijsselmeer and is the busyest sailing area of Holland. Enkhuizen is lying north of Amsterdam. By train 1 hour, by Banjer 4,5 hours.
In the 17th century Enkhuizen was maybe a more important commercial seaport than Amsterdam.
Much buildings around the harbour were built in that time. The Drommedaris is one of the most interesting. In 17th century the Ijsselmeer was called Zuiderzee (Southsea) and had an open connection to the Northsea.
Medemblik is the Dutch's regattas sailing centre. Dutch, European or World championships regattas are held in Medemblik.
Enkhuizen – Medemblik: 10 nautical miles
More information about f.g. hotels, prices, what to see, what to do, etc. coming soon