Da Kine
AMAZING STORY OF BANJER "DA KINE"
(Note: Da Kine was susequently named Pelerin, Lexie McDonald and presently Rendezvous)
From Jerry McGregor
In 1971 I bought a Banjer from Stangate Marine in England. ........ I took 2 years sailing her back to San Diego where I regretfully sold her.
The name we gave her was "Da Kine" meaning 'the best' in Hawaiian. I know she ended up in Dana Point Harbor & I don't know if the name was changed.
Below are some pics & a little article in the LA Times about how we lost her to a storm for a week but she was found & returned to us.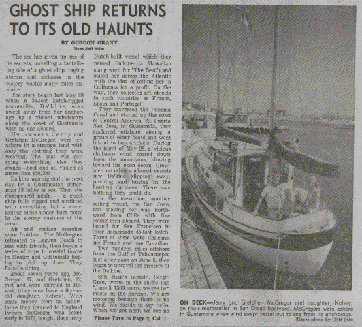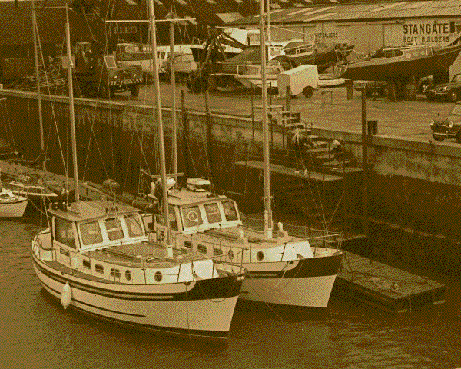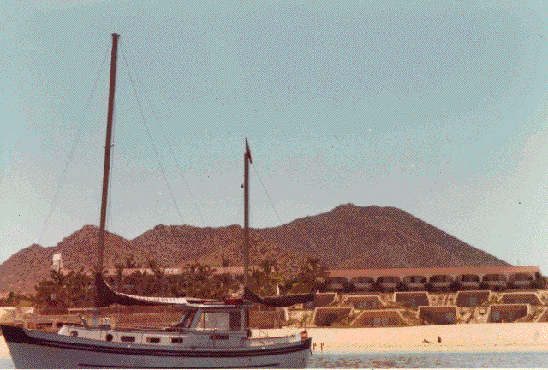 Here's a couple of chapters from my autobiography I wrote years ago.
CHAPTER 14
As we walked towards the pier the only boat I could see was Ralph's. Where was Da'Kine, where was our home, where was our boat. It was gone.
We hailed the guys from Ralph's boat to come and get us and they yelled back that they had no dingy, it had blown out to sea by the storm. We got a local guy to row us out to Ralph's boat . We were anxious to find out just what had happened.
The guy I left onboard Da'Kine said the weather was fine in the afternoon, sky blue, no waves, no wind, the calm before the storm. He went over to Ralph's boat for lunch and within half an hour the chubosco winds hit the coast like a ton of bricks. He said the rain was like bullets and was blowing over 60 mph. Their eight foot fiberglass dingy with a 10 horsepower motor on the stern, was lifted out of the water and spun on the chain like a top, till everything broke loose and sank.
All they could be was watch Da'Kine pitch against the six foot swells and finally break anchor and drift out to sea. Holy shit! Our boat was out there's some place, lost at sea.
That news was better than the newspaper I was handed saying in Spanish that Da'Kine had broken loose and smashed up against the pier and sank in several pieces. Even I knew that couldn't be true because I was anchored well away from the pier and the wind was blowing dead West out to sea.
What were we going to do. All our possessions we had collected during the cruise, the Quan Yen porcelain, that was worth twenty thousand dollars by itself and our beautiful boat with everything on it was gone. I started to cry. I started to throw up.......
An airplane, that's what we needed. A plane, so we could look for the boat at sea.
The guy I left onboard Da'Kine said she was all buttoned up nice, so I knew she was still afloat out there somewhere.
What would I have done if I found her, get the guy to slow the plane down and jump out the door and swim over to the boat. Sure. The water was still churned up from the storm, blue and white, white and blue, as far as the eye could see. It was a big ocean out there. If the boat was red and had flares shooting out its stern I still wouldn't be able to find it.
Fortunately there was a small airstrip just few miles south of San Jose so ....... I took a cab down there to see if there were any planes available.
There was a single engine plane and a pilot willing to take us aloft for one hour. He wasn't bold enough to go too far out to sea. He mostly covered a couple hundred miles of beach front to see if Da'Kine had somehow washed ashore.
I knew this was doubtful because the winds were still blowing offshore.
I talked the pilot into venturing out of few miles and fly a grid pattern but it was a poor suggestion because I knew he wasn't far enough out and the ocean was still loaded with white caps.
When we landed, a twin engine plane was warming up and I ran over to the gentleman boarding the plane and asked them if I could rent their plane for one hour searching for our lost boat. They had heard of our situation and were nice enough to help us out.
With twin engines the pilot felt safe enough to go further out to see and we again fluid grid pattern of several hundred miles. I occasionally caught a glimpse of a long wake of a fishing boat but Da'Kine would be leaving no wake, it would be just bobbing around out there.
We were flying around one thousand feet and everything started looking the same and after while my eyes couldn't focus on anything. It was just a mishmash of blue ocean and white caps.
The gentlemen were on their way to Acapulco and their time was limited. They gave us two good hours of looking and then we headed back to the air strip.
They didn't charges anything and wished us good luck in our search. There was nothing else to do except head home to Los Angeles.
CHAPTER 15
Meanwhile, somewhere on a route West of Cliperton Island, written in the logbook of Da'Kine:
My dear friends:
This is a detailed explanation of the things that occured during the five incredible days that lead to finding and saving your boat Da'Kine and getting it to Salina Cruz, Mexico.
The story begins as follows:
The yacht San Juan, built in Chile by Carlos Lauterbach and Sargio Grau during four years of hard work and money. We have been sailing for one year and two months. Northern coast of Chile, Robinson Caruso island, San Ambrosio Island, Iquique, Arica and out of Chile to Peru.
Then we sailed to Callo, Equador, Galapagos (incredible islands, spent three months there) A big schooner 'Sophia' one hundred fourty foot rebuilt by some young American in Sweeden and Spain, we met there. A couple of days later they sunk in Baltra. We went with the San Juan and workede foe three sweeks with diving compressor and finally floated the Sophia. Then we saiuled around the islands and afterwards made company to the Sophia while sailing to Puntarenas, the nearest place to take Sophia out of the weater. We stayed five days in Coco Island (fantastic) in Puntarenas we made some minor repairs and on June thirtyfirst we started on a two month, five thousand mile trip to San Fransisco on a route west of Cliperton Island.
As soon as we were out to sea we changed our plans and start to turn to Salina Cruz because of hurricane Ava which just started sixty miles from us. We got plenty wind and water from the East. It was a big chubosco and thunder storm.
June 5th 1300 hours.
I see two masts on the horizon.
As we were motoring because of no wind we decided so say hello to this yacht. We change course and approached.
After one hour we get near the boat but see nobody aboard. Something was happening from the bow, the mizen boom was loose hanging from the stern and the sail was around the cockpit.
The boat flew a British flag and it was named Da'Kine.
We get closer and shout, wait, nothing happened, everything was closed.
We start feeling a tragedy.
There were many sharks and Dorado around, also little fish. We decided to take a closer look.
When we got near, Dennis and Carlos swam to the boat. They found nobody aboard. Carlos tried to start the engine and it started right up. We started looking around and tried to guess what had happened.
Our first assumption was a single handed sailor had fallen overboard.
Why were the bumpers still hanging over the side of the boat?
We start looking for more information. We found some tourists cards for Mexico. Three people, a man, women and child.
All three lost? Very difficult.
Carlos found no anchor and no chain. The last log entry read May 26, sailing to San Jose. We tried the auto pilot but something was wrong with the condenser and it started smoking so we did not use it. The diesel tanks were near empty.
We decide to take the boat with us to Salina Cruise. We thought the boat was blown off course by the storm and lost the anchor and chain. We found the winch unlocked. Big mistake not to fasten the chain to something else also. We start to bring some diesel from the San Juan in plastic containers. We split the crew and put Carlos and Mike on board Da'Kine. The night went OK and we kept both boats in sight of each other. There is little wind. Course 320.
June 6, 0800 hours:
Barely in the morning we change screws. Dennis and I'd go to Da'Kine and take more containers of diesel.
At mid-day the wind starts to blow from the north and by 1700 hours it reaches thirty to fourty knots. We could hardly move forward because of too much short and high seas.
The idea was to go as soon as possible to Salina Cruiz.
We were very tired and we could not use our self steering vane because there was too much wind. We had little sleep because we were fighting the chubosco and thunderstorm.
We raise the stay sail, main and mizzen on the San Juan.
Da'Kine running at 700 rpm trying to hold on a 45 degree from the sea.
Wind now all fourty to fifty knots. Sea intensifying.
San Juan rips main sale. Sea 13 to 15 feet swells.
1800 hours:
Engine fails on San Juan. Water pump freezes. Wind vane shatters.
2000 hours:
Mizen rips and stern stay snaps. When vane goes overboard. Wind now 60-70 knots. One of three waves break over the deck of Da'Kine and floods the cabin. Dennis and I are tired but we go out and fix the main sail.
June 7, 0600 hours:
The boat works pretty good. Much better than I expected. I couldn't find a storm jib. The wind sings loud and we do the best we can.
The rope that we tied the diesel containers we have goes into the water and wraps around the prop but is cut quickly.
1000 hours:
I get up and reduce the main sale. I find a jib and fix the boom of the mizzen. After I find parts in the engine room. I finally raise the mizzen and jib. Wind at 30 knots from the North. I take a fix on the sun. We are about 30 miles from Salina Cruz. We were moved 40 miles by the storm. We see no mountains.
1600 hours:
No wind. We tow San Juan with Da'Kine. We hope to reach Salina Cruz by morning.
1800 hours:
when the back up to 13 knots from the north east.
20100 hours:
Carlos found that water it is covering two-thirds of the engine of Da'Kine and shots for help. The sea again is rough but not so high. Dennis goes to Da'Kine at night attached to a rope. He was raised out of the water six feet when the rope tightened. He made it and he and Alan start bailing water out of the engine compartment. The two boats get very close to each other and it becomes very dangerous.
Black smoke is coming from the engine room and shuts off the engine. We untie the boats and within two minutes are separated and lucky not to be crushed by the rough see. Then we find water in the bilge of Da'Kine. Carlos works a little to stop the water. Something is done.
Note: I'll interject here and tell you why the engine shut down and why there was black smoke coming from the engine room.
The shaft was stern lubricated on Da'Kine which means, salt water is forced through the shaft baring to lubricate it and the water ends up in the bilge.
I didn't have an automatic bilge pump and any excess water was manually pumped out when needed, usually at the end of the day.
Even though I left instructions on the chart table for Ralphs crewman to do this, the crew of San Juan failed to see them.
So after a few days of motoring, the engine room filled with water and the diesel engine continued running under water till finally something happened and it shut down. End Note.
Both the crews are exhausted. We started to go in by sail. Very dangerous, because we have to enter against the wind. The entrance to the harbor is very narrow and we have to turn on the wind immediately after getting inside. Carlos makes the engine work again and we finally get inside. We anchor San Juan and tie Da'Kine alongside. Finally we are calm.
June 8, 0800 hours:
We send a cable to Jerry McGregor and Carl Gruber. The next day I talked to Carl by phone and explain to him our story. We expect the arrival of Jerry and Gretchen and Kelsey and we will have a big party.
Complaints:
We don't think it's very polite to leave the boat in the middle of the ocean without any booze onboard for refreshing the minds of the tired visitors that are on board. Also you should have extra diesel and food on board. There is no beer and the fridge is disconnected and without any ice. Sergio Grau, Carlos Lauterbach, owners and captains of San Juan. Salina Cruz, June 8.1973.
Crew: Dennis Letelier, Alan Walther and Mike Woods.
We didn't read this entry in our log book until we met up with the boys in Salina Cruz where they told us the complete story and related their individual tales of what happened.