Alaska
NORTH TO ALASKA
From Michael & Dee Pignéguy
"Reprinted courtesy of Boating New Zealand magazine ".
A CRUISE UP THE INSIDE PASSAGE
Part One
The
Skookumchuck Rapids
are an awesome sight when the flood is in full flight. At around 16 knots they are the fastest flowing rapids in British Columbia and no-one in their right mind attempts to transit them unless it's slack water.
Dee and I had flown over the rapids a few days earlier in a floatplane. and had a great seagull's eye view of the vicious rips and whirlpools that would strike fear into any seafarer's heart!
But now here we were at sea level aboard the 13m motor sailor "Island Rover", awaiting slack water on the edge of the mayhem that runs for about a mile but is only about 350m wide at its narrowest part. Just to make it interesting, there is a slalom course around a few islands and depths that vary from 4m to 20m.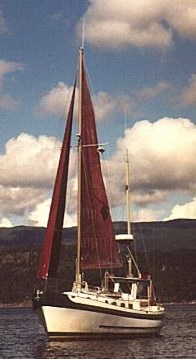 As soon as the current slowed enough for us to make progress we were off, and apart from getting thrown around a bit by some determined eddies, and making sure that we didn't get sucked into house-sized whirlpools, it really wasn't too bad. Although, we were somewhat relieved to be able to look back at them, past the red maple leaf on the Canadian ensign fluttering at our stern.
The Skookumchuck Rapids were the first obstacle on our voyage from Sechelt, just 35 miles north of Vancouver, to Glacier Bay, some 1,000 miles to the north in South East Alaska at the top of the fabulous Inside Passage. .The "Island Rover" was a pretty Dutch designed and built (in fiberglass) double ender. Her 80hp Fordson gave her a healthy 8 knots and tanned sails on her useful ketch rig made her a pleasure to sail.
Our friends, Joe and Lynn, had recently bought the "Island Rover", and being relatively new to the boating scene had asked us if we would like to accompany them on this epic voyage and show them the ropes, as it were. We didn't need asking twice! So after laying up our own charter boat "Te Aroha" for the winter months in Auckland, it was north to Alaska for us both !
After spending our first night aboard, anchored in the rather ominous sounding Storm Bay, it felt great to be heading north. Once out into the Strait of Georgia that separates Vancouver Island from the mainland, we were soon in waters that had been charted by Captain George Vancouver in 1792 in His Majesties Sloop "Discovery". As we progressed northwards, through the maze of islands and strong currents that is the Inside Passage, my admiration for Vancouver's seamanship and charting skills grew, as for every straight mile there are 30 miles of contorted shoreline! What with the lack of wind in the summer months combined with pea-soup fogs and strong currents, working his way along this rugged coastline must have, at times, been a nightmare.
But now, armed with good charts, a Raytheon 16-mile radar, a Furuno Sounder, a VHF set and a good, well found and provisioned boat under us, we felt well equipped to handle anything.
When cruising this coast, the navigator is faced with a choice of routes with which to make the same destination. Apart from how quickly one wants to make the passage, the decision is usually made by considering the rapids and currents that are likely to be encountered along the various possible routes.
(Seymour Narrows Ripple Rock's Blast!)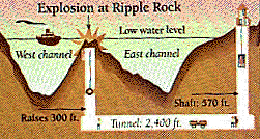 In leaving the Straight of Georgia we chose to avoid the 15 knot current and whirlpools of the notorious Seymour Narrows opting instead for the longer route, with the more sedate 12 knot current of the Yuculta Rapids. One of Vancouver's officers described the Narrows as "the most nightmarish spectacle his eyes had ever beheld. "Over the years the destructive nature of the Seymour Narrows has caused the sinking or serious damage to 14 large vessels, and over 100 small boats have been sunk with the loss of 114 lives. We reckoned there were enough good reasons to warrant us taking the longer route!
It is really important to have a set of good tide tables on board and there are some publications with diagrams that show the best route through the many rapids on the coast,plus illustrations of the currents and positions of the whirlpools at various stages of the tide.
Always, there is fantastic scenery to look at with mountains up to 1700m just 3 miles from a heavily forested shoreline. And with so many islands there are a multitude of stunning anchorages where your neighbours will be seals, eagles, bears and otters !
Port Hardy, the main port on the northern end of Vancouver Island, is where BC Ferries have their terminal for their Inside Passage operations. The largest ferry makes the 300 mile run up to Prince Rupert in around 14 hours which costs CDN$110 for a single fare. We were now 178 miles from our start point and it had taken us the best part of 4 days. As Prince Rupert was our next major destination we thought it prudent to top up on some of our stores, which was no problem in this big fishing port.
The following morning we motored out into a windless, but foggy and calm, Queen Charlotte Strait, bound for the notorious Slingsby Channel, a fast flowing inlet on the mainland some 30 miles away. Even in clear weather with a heavily indented coastline it can be tricky identifying the many inlets and headlands, but with a good fog it becomes much more interesting! Definition on our Raytheon was good though, and without too much guessing we were able to find the entrance that we were looking for. It was `V' shaped with the open end to seaward and exposed to the low ocean swell that we were now experiencing. The narrowing of the `V' however, caused the swell to build up to a cresting 3m as we were approaching the narrow entrance. It then became obvious that we had the tide times wrong as there was a strong outflow that was causing the incoming swell to break.
(The Bald Eagle)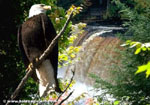 It was a question of 'do we or don't we' attempt to enter. But with the swell now picking us up and pushing us forward it would have been uncomfortable or possibly dangerous to turn around, so we continued making our entry. To our dismay the "Island Rover" almost stopped when we came under the full influence of the outflow. But the incoming swell helped us as every wave picked us up and literally pushed us through the narrow entrance and into the wider, slower flowing channel where we could make our own speed. It was one of those character building moments, but well worth it when the silence of the forest fell upon us in a snug anchorage. A seal came to inspect us, while a majestic bald eagle gazed somewhat scornfully from the lofty heights of a Douglas fir leaning precariously over the water from a rocky outcrop.
We had a lot of fog in those first few days north of Vancouver Island, but life becomes a great deal easier on this coast if you are comfortable using radar in poor visibility. Not only is coastal identification important, but also working with traffic in busy commercial areas. Most of this coast does not fall into the `busy' category, but traffic does at times tend to bunch up around major headlands with fishing boat fleets and tugboats towing large container stacked barges. As there are no roads along the coast of British Columbia and South East Alaska due to the coastal mountain ranges, the Inside Passage has become the coastal highway with tugs and barges carrying all means of cargo to islands and coastal towns. Fishing boat skippers have a mind of their own and tend to go flat out in straight lines when on their way to a fishing ground when there is an `opening', a strictly regulated time in which it can be fished. Once an area is `opened', there is a mad rush to be first by every boat that has a licence to fish that area.. Just don't get in their way is a lesson we learnt, especially in fog when they are travelling in convoy!
Namu, once a thriving cannery settlement employing some 600 people, was one of 76 canneries that were scattered along the BC Coast , but with the decline of fish stocks ,only three of them are still operating. It was here the first Orca, named Namu was captured. But now the houses, factory and workshops are silent save for the family of the caretaker that live among the slowly crumbling buildings and boardwalks, and the occasional visiting yachts and ferries. We were greeted warmly by Bob and Tammy Gardiner and their two children who keenly accepted an invitation to dinner. Although the operation had been closed down for ten years, we were surprised to see workshops with all kinds of equipment and machinery in this handyman's heaven, just waiting to be used.
The First Nation's settlement of Waglisa (better known as Bella Bella) provide an interesting stopover as we were invited to a cultural evening of traditional Heiltsuck tribal dancing. We found that some carving styles of coastal tribes were not dissimilar to those of Polynesians and Maori.
(Protecting Spirit Bears)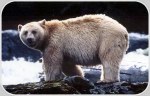 After 5 hours of motor sailing in light winds and through fog patches, we fetched up at a delightful un-named cove on the seaward side of the mountainous Princess Royal Island, home of the rare Kermode or Spirit Bear. This bear is no different from a black bear except that it carries a recessive gene that gives it a white or creamy colouration, and its parents and siblings are typically black. We were lucky enough to get quite close to one of these graceful creatures.
While picking a quantity of blueberries sufficient to make a pie for dinner and pancakes for breakfast, it was my job to keep a lookout for bears as berries were also a favourite of theirs, and indentations in the grass was good evidence that they were not too far away !
With few sounding details for many of the coves like this one that we anchored in, caution was they key! With a rise and fall of up to 7.5m anchorages have to be chosen carefully, and generally we didn't anchor in anything less than 10-12m. After entering the selected cove very slowly we would then choose what we thought would be a good position in which to drop the pick.. As we didn't have the benefit of a forward and side sweeping sonar, from the chosen anchor position we would slowly steer in ever increasing circles to ensure that there were no nasties within our proposed swinging area
A light southwesterly carried us further north the following day to a better detailed anchorage at Promise Island which lies at the southern end of the 43 miles long Grenville Channel. The island lived up to its name and we were rewarded with Joe's promised salmon as he landed a very healthy 12 pound coho and a tasty rock cod. Not so much luck with the prawn pot though. We dropped it in 85m for the night, but on surfacing found only one large prawn in residence and so, to avoid any arguments as to who was to consume this delicacy, it was given its freedom !
On the mainland side of the straight , narrow and deep Grenville Channel, are some fascinating inlets that you have to be careful not to miss due to their narrow entrances. With the Fordson just ticking over we drifted into Baker Inlet on the flood, our rigging brushing the forest cedars that overhang the rocky foreshore. Once inside, we were rewarded with a mirror like lake some 3 miles in length with incredible reflections of mountains and forest.
(Prince Rupert's Council site)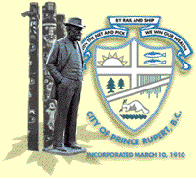 Twenty five miles north of Grenville Channel lies the major commercial port of Prince Rupert. .The fishing industry takes up a large part of the busy waterfront, and with the country's largest cannery here there are always hundreds of fishing boats in port. It is also the railhead port for the wheat fields of the country's interior, and being a deep-water port, bulk carrying ships are frequent visitors. It's also the northern extremity of the BC Ferry system, and to continue further northwards into SE Alaska passengers have to transfer to Alaskan ferries here.
With a population of 18,000 people Prince Rupert has good public facilities and shopping center, and is an excellent place to stock up so as to minimise having to spend US dollars while in Alaska.
As we were now half way on our northbound voyage we decided that we should a day "off", and so took in a movie and dined ashore in preparation for the next 500 miles.
PART TWO: SOUTH EAST ALASKA
Prince Rupert to Glacier Bay
It's always with a feeling akin to relief I have when leaving a busy port and heading into open water. I think all four of us aboard the 13m "Island Rover" had similar emotions as we motored out from Prince Rupert, the largest port in Northern British Columbia.
After motoring (there wasn't enough wind for a decent sail!) 490 trouble free miles since leaving Sechelt, just 35 miles north of Vancouver, a fractured fuel line on our 80hp Fordson had inflicted itself upon us and it had taken a frustrating 2 days for spare parts to arrive
But now it felt really good to be heading north again towards our destination of Glacier Bay, some 500 miles away through a maze of 1,000 islands of un-paralleled coastal cruising. We had decided to overnight in Port Simpson which is just 8 miles south of the US/Canada border, and this would give us a good starting point for our 70 mile run tomorrow.
(kelp forest)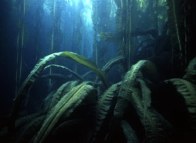 We hugged the coast for the 30 miles to Port Simpson and this meant keeping a good eye open for bull kelp. This kelp is the fastest growing of all seaweeds and can have growth spurts of over half a meter a day. The air filled bulb is about the size of a tennis ball and can have ribboning fronds from 3m to 9m growing from them. The good thing about this kelp is that it grows on rocks and lies on the surface in long streaks, and thus can give an early warning of a possible grounding.
Just as important is keeping a lookout for drifting logs that have either escaped from log booms, got away from tows, or just fallen from log ships. We often found ourselves weaving through a scattering of partially submerged logs, the most dangerous being those that are floating in a vertical position with the end just flush with the surface. These are often the cause of serious damage, or even sinkings, to small vessels. It's a good reason not to travel at night!
Port Simpson, it turned out, was just a small fishing port and a bit too noisy and smelly for our liking. But Joe did manage to buy a US chart that we were short of from the Skipper of a small tugboat there. The Skipper charged double the new price for his old chart, as he knew there was no other place we could get one. We were a little peeved until we saw some crafty crows stealing some steaks that his cook had thawing in the afternoon sun! He look mystified when we gave him a cheery wave as we left for a quieter anchorage!
The day dawned with the sun rising into a clear sky over the mountains. There was no wind but there was a thick fog! By now, we had confidence in our new 16 mile Raytheon radar, and so with Joe on the wheel, me on radar, and with Dee and Lyn using their Mark 1 Eyeballs, we set off into the unknown. Visibility was down to 30m at times, and knowing that the fishermen we had encountered previously in fog didn't really take other boats into account, we were very cautious when proceeding through a group of them !
Alaska at last
(Alaska information)
We crossed the US/Canada border in thick fog, but soon afterwards the warming sun started to burn it off and the snow capped mountains of South East Alaska came into view. Our port of entry was Ketchikan, a thriving little settlement of 15,000 people built on the steep sided shoreline of the tongue twisting Revillagigedo Island and overlooking the Tongass Narrows. With both fishing and logging in steep decline, the town's main income comes out of the wallets of the tourists who walk down the gangways of the 3 cruise ships a day that call here during the four month summer season.
As with all the ports that we called at on this coast the Harbourmaster was very helpful and the marina facilities for visiting small craft were very good. It was only a short walk to downtown Ketchikan and we soon found that it was only the waterfront that benefited from the tourist dollar, as once into the backstreets the dwellings looked somewhat tired. But it's a town full of character, especially Creek Street, built on a boardwalk along the shoreline of a creek up which salmon were swimming on their way to spawn.
Sailing out of Ketchikan was quite a hair raising experience with seaplanes, which are a major form of transport on the coast, landing and taking off sometimes within a boat's length of us ! It was in complete contrast to the isolation of Myer's Chuck, a beautifully sheltered little cove where we fetched up for the night. Once a busy place for loggers and fishermen, it's now a lovely sleepy hollow with some imaginative holiday homes.
Out into Clarence Strait the following morning, we found a 15knot NW'ly on the nose and the wind over tide made it a bit choppy. But one of the beauties of a coastal archipelago is that there nearly always is an alternative , more sheltered course, that can be taken to reach one's destination. This was one of those occasions when we opted for Plan B.
Island towns
Wrangell is built on a site that has harboured civilisations through the ages, a fact that is easily proven by viewing the 8,000 year old petroglyphs that lie on a nearby beach keeping a silent watch over the surrounding waters. Situated on an island of the same name , Wrangell is just 6 miles south of the entrance of the great Stikine River, a 400 mile waterway born in the heartland of British Columbia. It is Alaska's only town to have flown Russian, British and American flags( not all at the same time!) Furs, gold and salmon created this rather scrappy town, but now trees, fish (although both in decline) and tourist dollars help sustain the 3,000 inhabitants. The tourists come off the Alaskan State Ferries that run all the way from Skagway in the north to Bellingham, 1080 miles to the south, near Seattle. The port is a busy hotch potch of mostly fishing boats and small tugs, with a few cruising yachts like ourselves. We are reminded of the area's rich cultural heritage by a collection of totem poles near a traditional long (meeting) house situated in the middle of the port.
(Petersburg)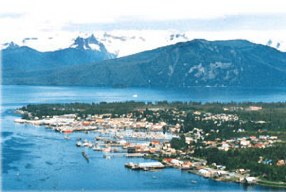 Some 30 miles to the north is a another small town that boasts a heritage from another continent. In 1899, a Norwegian cannery pioneer built a cannery on the northern end of Mitkof Island, and soon hardy Scandinavians, mostly Norwegian fishermen, were working out of this little settllement which became known as Petersburg. This early Norwegian influence is still retained in this tidy little town in its building styles, street names and also in the names of many of its 4,000 inhabitants.
We approached Petersburg from the south via the 17 mile long Wrangell narrows, which is yet another narrow channel that twists and turns with many obstacles and shallows. But again it is well marked, and if you time it right you can go in on the flood and then catch the ebb at the halfway mark which will spit you out at the northern end ! Our first bear is sighted on the nearby shoreline, but it takes absolutely no notice of us !
With 4 canneries still working, the fishy aroma in the air leaves one in no doubt that Petersburg is close by! Even with us arriving at 2000 hrs we were welcomed by the Harbourmaster and directed to a good marina berth for the night. Again we found some excellent facilities such as toilets , showers, rubbish disposal, power, fuel berth, fresh water, and a laundromat close by. With up to a 7.5m rise and fall in the tide the gangways from the shore to the pontoons can get quite steep. It was with interest we saw that these gangways were covered with a roof which we learnt was to keep them useable when it snowed !
We all felt that Alaska really started for us here, partly because of the "frontier" feel to the town , but also that we were now seeing snow-capped 3,000m mountains with glaciers that were plainly visible, running down their sides.
Our first Glacier
Barely making headway against a strong flood tide, we motored out of the Wrangell narrows the following afternoon across a rather lumpy Frederick Sound. As we approached the glacial carved Thomas Bay, the depth decreased dramatically from 200m to 15m , indicating that we were crossing the moraine formed by the rocks and shingle dropped by melting glaciers of long ago. The depth then rapidly increased to 185m , and it stayed like that right up to the glacier's face.
(All about Glaciers)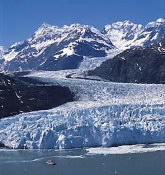 The scenery was now quite stunning with mountains , forests,. azure sky, eagles and seals and the Baird Glacier, a river of ice that over millenniums has carved valleys out of solid rock, but now just melts as it reaches the cold waters of the bay.
It was difficult to find a spot shallow enough to anchor, but we found 25m in an aptly named Scenery Cove. Dee and I were on berry picking duty and went ashore for a steep climb up the rocky shoreline into the overhanging forest. Dee picked blueberries, suitable for pies and pancakes, while I keep a lookout for bears, of which there was recent evidence of their presence !
The Brothers Islands lie at the southern end of the 129km long Stephen's Passage. They are not particularly well charted, but are home to a large colony of Steller sea lions that we were keen to see. After a cautious approach we found a `good' anchorage in nearly 30m, and then we were off in the Zodiac to the source of the amazingly loud barking and roaring sounds that were emanating from the seal colony. Once we found them ( it wasn't hard!) on a rocky outcrop, we stopped the outboard and just drifted slowly towards them. The massive bulls were kept busy defending their rights to their harems, and as bulky as they are, they can move really fast. Many of the young were playing close to the shoreline and were quite inquisitive about us, even putting a head on the Zodiac's side and giving us a baleful look ! Then, quite suddenly, they took exception to our presence and collectively charged at us, barking very loudly at the same time. An outboard has never been started so fast and we backed off real quick !
(The humpback whale)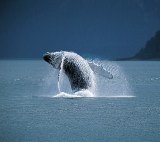 Just around the point on the way back to "Island Rover", we were surprised when a humpback breached very close to us. It was actually lunge feeding, chasing a school of fish into a small bay and lunging at them, coming half out of the water while doing so. It's a truly amazing sight when only 50m away!
]Dinner on deck that night was with a setting sun, rising moon, sealions barking in the distance, and the sounds of humpbacks blowing with the cry of a lonely eagle.
Icebergs ahead !
Soon after leaving the Brothers we sighted our first ice-berg. It had the appearance of a sleek motor yacht with an azure blue hull and white superstructure. This spurred us on to Tracy Arm, a narrow fjord that winds 23miles along a deep glacial carved channel with depths of up to 370m rising straight up to peaks of 1860m.
Before anchoring in Tracy Arm Cove for the night we had to negotiate past some really unusually shaped ice-bergs that we later closely inspected in our kayaks. Throughout the still night we could hear humpbacks blowing as they surfaced during their feeding in the rich cold waters of the fjord.
(Icebergs information)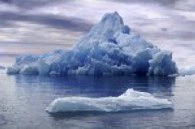 It's an all day trip up to the glacier and back, and because of ice-bergs , there's no guarantee of making it up to the end, or of coming back, I guess ! We were kept busy with boat hooks fending off the smaller ice floes and watching seals on them as they unceremoniously flopped off into the water upon our approach. The South Sawyer Glacier in Tracy Arm is not visible until the last bend is rounded, and the view that opened up to us was just stunning. The glacier was just like a super highway winding down out of the mist and mountains and ending in a 60m wall of crumbling ice, trying hard to hold onto its dignity. With there being no wind, we were able to just quietly drift amongst the ice-bergs, enjoying lunch with a bottle of suitably ice-chilled wine while soaking up the wonderland that surrounded us.
Juneau is Alaska's capital, and is the only town in South East Alaska situated on the mainland. Even so, being surrounded by mountains, it is only accessible by boat or plane. Mount Roberts (1,200m) grows out of downtown Juneau where Victorian homes are reached by steep wooden staircases from narrow streets. Historic hotels and storefronts recall Juneau's days as a mining town, where today half of the town's workforce is employed by the government.
Many of the town's 30,000 inhabitants also earn from tourism. Although there is an average annual rainfall of 2.28m, it doesn't stop the 3 cruise ships a day berthing here during the 3 to 4 month summer season. But people and towns weren't really our thing, and after storing up we were off, as Glacier Bay was now tantilisingly close.
We were very lucky with the weather as the wind was rarely more than 10knots , which is not unusual during summer months in the Inside Passage, and so we were very pleased to have an 80hp diesel that pushed us along at 7-8knots.
Glacier Bay
In 1794, Capt. George Vancouver sailed past Glacier Bay but recorded only a slight indentation in the coast and the face of a glacier. Today Glacier Bay is 60 miles deep, the ice field having receded back to the glaciers that fed it. Glacier Bay is now a National Park and its 3.28 million acres are home to humpbacks, orcas, mountain goats, deer, porpoises, seals and a myriad of bird species.
(Glacier Bay)
We entered Glacier Bay under a darkening sky with rain and rapidly decreasing visibility - our worst weather after nearly 1,000 miles ! After checking in at the Ranger Station ( you have to book ahead for entry as there is a daily limit on boats ) we headed further into the bay and the gathering gloom. Being surrounded by mountains covered with snow and ice made it appreciably colder, and after finding a suitable anchorage by radar, we decided to have our fresh salmon dinner in the saloon rather than on deck!
The weather gods were very kind to us and the following morning gave us sun and blue skies, the perfect backdrop to the magnificent scenery that now surrounded us. Tufted Puffins flew around as we made our way up the 2 miles wide and 450m deep northwest arm of Glacier Bay. We were making for the 8 mile long Tarr Inlet, at the head of which is the Grand Pacific Glacier. Heading up this inlet we crossed latitude 59 degrees north and notched up 1,000 miles, and as we had also realised our goal of reaching Glacier Bay, we decided it was time for a celabratory drink! The dinghy was lowered so that we could collect some ice to mix with a good rum and the success of the voyage was toasted !
Thirteen smaller glaciers feed into the Grand Pacific Glacier as it sweeps down from the skyline until it spills into the bay, where it is about four miles wide and quite magnificent in its grandeur. We were warned not to get closer to the glacier face than a quarter of a mile as it's quite possible for a small vessel to be swamped by the waves sent out from the calving that is constantly happening. Even more spectacular was the John Hopkins Glacier, again sweeping down out of 2,500m mountains, but here, thick ice kept us one and a half miles from its 70m face. It was a stunning spectacle and one which provided an appropriate finale to the northbound leg of our adventure.
Michael Pignéguy