2001 Meeting







BANJERGATHERING SIXHAVEN AMSTERDAM
SEPTEMBER 2001
Program
Date

Hour

Event

Place




21

17:00

Welcome drink - Happy Banjers hour

Banjers at Sixhaven

19:30

Dinner

Smits koffiehuis

22:00 - 23:00

Canals night tour

Amsterdam by night

22

10:30 -12:30

BMC Meeting (&coffe)

Tolhuis

13:00

Lunch

Tolhuis

14:30

Banjers gathering & owners chatting

Welcome on board

Changing experiences in boating and maintenance Banjers

Demonstration banjermodel Lex van Viegen

Sixhaven

19:30

Dinner

Tolhuis

23

10:00

Briefing and distribution lunch packets

Sixhaven

10:30

Departure and motoring to IJsselmeer

Het IJ

12:00

Banjers Parade

IJsselmeer

13:00

Regatta to Muiden

IJsselmeer

15:00

Arrival & sightseeing Muiden

Jachthaven Stg Muiden

16.00

Farewell party & drinks

De Gooyse Boer

Ome Ko.

Muiden

17:30

Leaving towards Sixhaven

19:30

End of 2001 BMC Gathering and meeting

Sixhaven Amsterdam
Attendant Members
| | | | |
| --- | --- | --- | --- |
| # | Banjer Name | Coming from | Came with Boat |
| 1 | ANTILOPE | Holland | No |
| 2 | SULASGEIR | Scotland | No |
| 3 | CHAPEAU | Holland | Yes |
| 4 | ZEEHOND | Holland | Yes |
| 5 | JAN ONRUST | Holland | Yes |
| 6 | MARIE | Spain | No |
| 7 | DOUWE WILLEM | Holland | Yes |
| 8 | SPROT | Holland | Yes |
| 9 | AMBERES | South Africa | No |
| 10 | NOORDERZON | Holland | Yes |
| 11 | ELSKERINDE | Holland | No |
| 12 | DUCK SOUP | Papua NG | No |
| 13 | BANJER | Holland | Yes |
| 14 | TAPIR | Holland | No |
| 15 | ROBBE | Germany | Yes |
| 16 | ERIDANI | England | No |
| 17 | VROUWE KLAZINA | Holland | Yes |
| 18 | KITTY BOOT | England | Yes |
| 19 | YOUNG BANJER | England | No |
| 20 | RESPITE | U.S.A. | No |
| 21 | BARJAC | England | No |
| 22 | DE WIJDE BLICK | Holland | Yes |
Attendant Honorary Members
| | | |
| --- | --- | --- |
| Name | Came with boat | Remarks |
| Mr. Maurits van Wassenaer | No | Honorary BMC Chairman |
| FIFTY | Yes | RMC Chairman & BMC HM |
| KOORENBLOEN | No | Honorary Member |
| BANJERMODEL | Yes | Honorary Member |
Attendant Banjer Friends & Guests
| | | |
| --- | --- | --- |
| Boat Name | Came with Boat | Remarks |
| WESTERWINDT | Yes | RMC member |
| Mr. Jan de Visser | ---- | Doerak Club Chairman |
| Mr. Ted van der Woort | ---- | Looking for a Banjer |
MEETING PHOTOS
1 2 3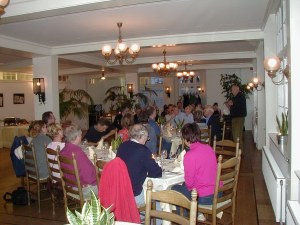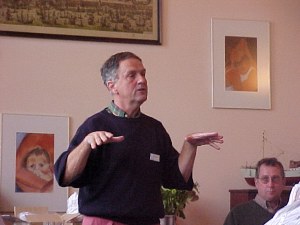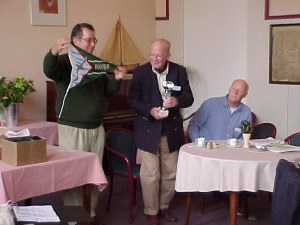 4 5 6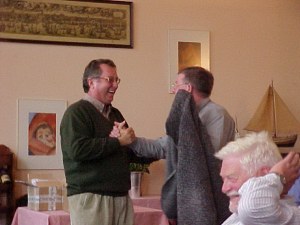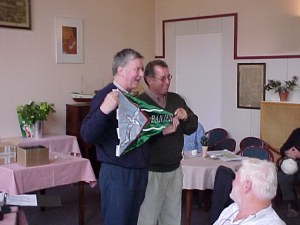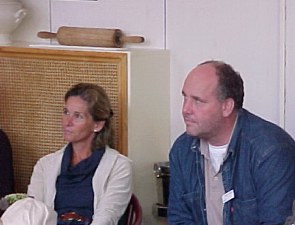 7 8 9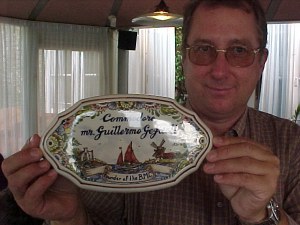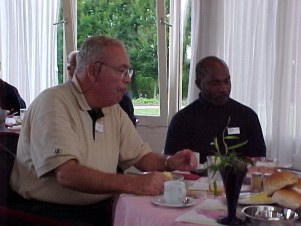 10 11 12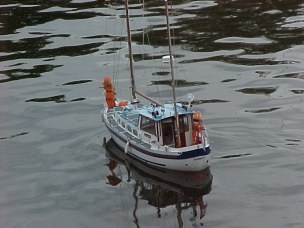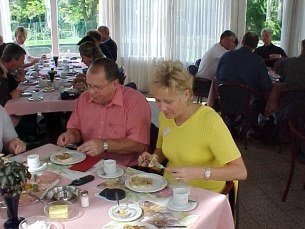 13 14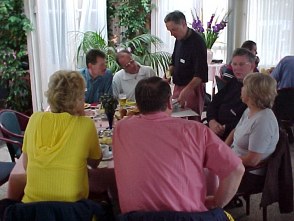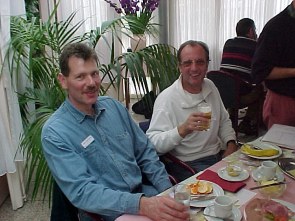 1.- First dinner at Smitts Koffiehuis. Afterwards we went for a night canals sightseeing.
2.- Hans Havers, RMC Chairman, talking to BMC members.
3.- BMC burgee given to Baron Maurits van Wassenaer.
4.- Guillermo compriments TomZwijnenberg at the Meeting.
5.- The special prize for Colin Whimster, as the winner of the Burgee Designing Contest.
6.- Secretary Oscar Alstede and Chus Gefaell.
7.- Plaquette offered by members to Commodore.
8.- Maurits van Wassenaer having a good time with fellowmembers on board a Banjer.
9.- Brian and Simon came from Papua New Guinea!
10.- Banjermodel at work
11.- Not a good quality photo, but a nice table...!
12.- John and Susan, from England.
13.- Hans Havers, with Susan, Jay, Colin, Peter and Klaus
14.- Peter and Klaus, from Germany.
On Saturday the 22nd, at 10:30 hours, in Het Tolhuis premises, we held the first (and constituent) Meeting for our Club. All of 21 full voting rights Members listed above were present, as well as Mr. Maurits van Wassenaer, Hans Havers (Chairman of the Rogger Club and BMC Honorary Member), Frank Koorneef (Honorary Member and Eista site webmaster), Jan de Visser (Chairman of Doerak Club), Lex van Viegen (Banjermodel maker and -now- Honorary Member) and Hein Terwindt (Banjer Friend and RMC member).
The most relevants facts and agreements from the Meeting were:
Hans Havers, Chairman of the Rogger Motorsailer Club, kindly gave us a sight about the Eista times, the RMC, the DC and the BMC foundation, as well an explanation about how having strong and collaborating "Eista-organizations" will serve all Eista-boats owners by boosting the gathering of new members for each Club and so enriching the sharing of information and experiences among them. This will result not only in helping members to keep their boats in shipshape condition, but also to keep a better value for our boats, building a widespread interest through public knowledge of the series. Internet sites are vital to this end.
Mr. van Wassenaer honoured us by accepting his nomination as the BMC Honorary Chairman. A gift was given to him as a caressing recordatory from this moment. He had an excellent time an spent all day with us, even for dinner in company of his charming wife.
Colin Whimster was given the special prize for his winning of the BMC Burgee Design Contest, a big-sized, high quality hand-sewn reproduction of the Burgee.
To cover the small yearly expenses of the Club, a Membership Fee was agreed. We took the experience of the RMC and so fix the Fee in 15 Euros a year for 2002, which is an small and reasonable amount. Club will try to give back every year to members a value for their money (apart from the site, organization, etc) by delivering each year a CD Rom with photographs from Banjers improvements, etc., to all paying members. Oscar Alstede (ANTILOPE) kindly offered himself to help us with this.
A Board of Directors was chosen as follows:
| | |
| --- | --- |
| Guillermo Gefaell | Commodore (Chairman) |
| Ton Koot | Treasurer |
| Tom Zwijnenberg | Member of the Board |
| Oscar Alstede | Secretary |
Session was ended at 13:00 hours. Next we had a quick lunch at Het Tolhuis and then went to Sixhaven marina to visit the 11 Banjers present there. It was most interesting finding out the different solutions owners gave to specific needings. We hope to publish some photos soon as well as make the upwards mentioned CD Rom At night we had an Etiquette Dinner, also at Het Tolhuis. Special mention to the fact that this day was the anniversary for the owner of RESPITE (USA). We congratulated and sang for him the "..Jolly Good Fellow..." song...
BANJERS PARADE AND REGATTA
On Sunday the 23rd, we held an outstanding Banjers Parade & Regatta in the Ijsselmeer!
1 2 3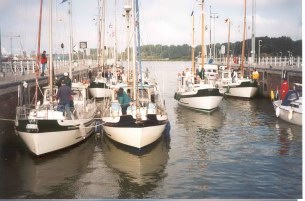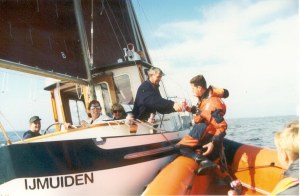 4 5 6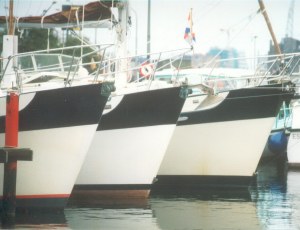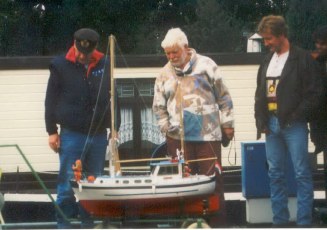 7 8 9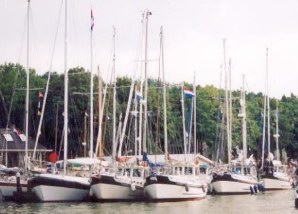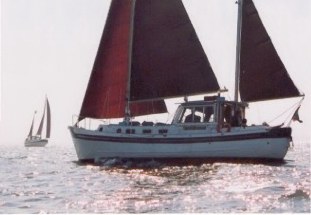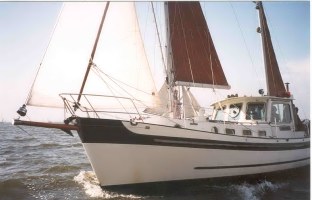 10 11 12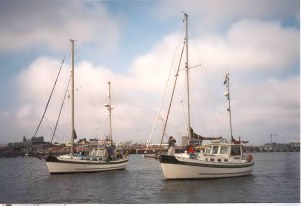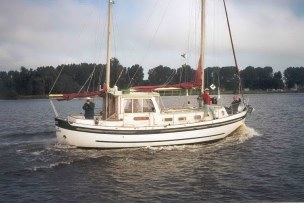 13 14 15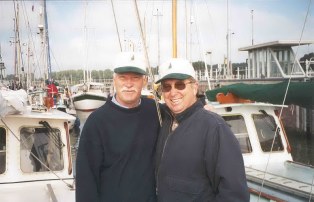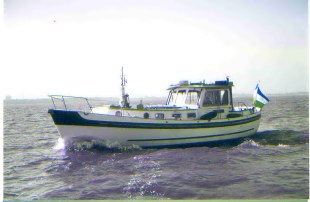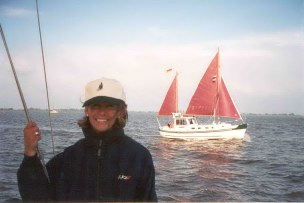 16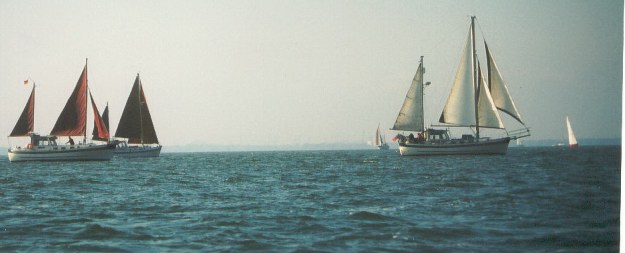 17 18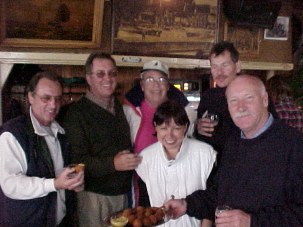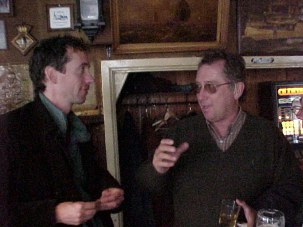 1.- Banjer under full sails.
2.- At the lock.
3.- Refreshing the life-saving boat crew.
4.- Banjer bows at Sixhaven marina.
5.- Admiring the Banjermodel.
6.- Chapeau sailing at IJsselmeer
7.- Banjer and Rogger 43 at Muiden.
8.- Douwe Willem
9.- Noorderzon
10.- Captains Meeting
11.- Kitty Boot & Noorderzon
12.- Sprot
13.- Treasurer & Commodore
14.- Jan Onrust
15.- Commodore's wife & Robbe in the back.
16.- What a regatta!
17.- Klaus, Guillermo, Brian, Monika, Peter, Ton at the pub in Muiden.
18.- Frank & Guillermo
Letters from members about the Meeting:
24.11.2001
From René and Linda (DE WIDJE BLICK)
Dear Tom.
In the name of my parents, my wife and me I like to gratulate ( and thank you) for the fantastic weekend in Amsterdam. It was for all of us a weekend to remember and for everyone who owns a Banjer it was unforgettable, especially for my parents and me. We were very happy to get so much attention and admiration from all the other members of the Banjerclub. Thanks again.
Of course we also took many pictures of the other Banjers to keep them for the time that we want to place masts on DE WIJDE BLICK to have a example when we want to do that in the future. As we only spend half a day together with you and meeting the Baron van Wassenaer and family it was great for us . We hope to meet you in the future on board of your boats................................When you will have all organised and perhaps on a paper maybe you will sent some thing to my parents too. My parents are loving to have contact with the Banjerfriends. We will follow all interesting matters via the web-site.
PS. We forgot to inform you about a Banjer in France. When my parents were sailing in France they met French people ( Peeters is the name) there and you are wellcome to invite them to be a member of your club.
With love René and Linda van Loenen.
12.10.2001
From David (ERIDANI)
...If all goes well, I shall be picking up Albatros - renamed ERIDANI - on 16 October and heading down the Rhine, through the Netherlands, and back to England! Should take two weeks.
It was a wonderful gathering, and could not have been better timed for me: I learned so much, and met so many wonderful, interesting and informative people - not to mention seeing some lovely Banjers....
...Again, my warmest thanks for making all this possible: your achievement has been remarkable, and I am sure the Banjer Club will go from strength to strength.
Best wishes,
12.10.2001
From Frank Koorneef:
...In the attachment is a copy of my article in 'de Uitkijk', which is a newspaper belonging to 'de Waterkampioen', which is the magazine I sometimes write for. (More than 50.000 copies read in the Netherlands, de Waterkampioen is the major magazine on boating etc.) ....
Pictures coming soon...
With regards,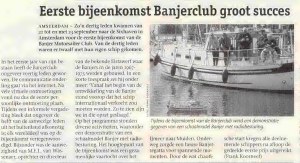 Translation:
" FIRST MEETING BANJERCLUB GREAT SUCCES" Amsterdam. About 30 members came from 21 until 23 of September to the Sixhaven in Amsterdam for the first gathering of the Banjer Motorsailer Club. Among the 30 members 12 came with their own ships to Amsterdam. In the first year of the existance of the BMC, 40 members were collected for the club. Communications to each other goes by Internet. After many virtual communications now there was the first meeting personnally. During the meeting it seems that many members came from abroad from each part of the world, especially the founder and former director of the EISTA, Mr. M.E.L. van Wassenaer .It was under his supervision that there were build Banjers from 1967 till 1975. He said : "From the beginning it was clear that the Banjers would be sold international and as we can see here we succeeded in that". During the meeting there were several activities organized as a demonstration of a Banjer on scale 1:10 which was very succesful. Also and very succesful was a Regatta to Muiden with all the ships and members on the IJsselmeer, which gave some exciting moments . All the members got a nice medal to remember this first meeting".
This is a very nice and unforgettable story from Mr. Frank Koorneef who published it in the UITKIJK De Waterkampioen van 12 Oktober 2001.
Old Banjers Never Die ....
Tom Zwijnenberg.
11.10.2001
From Robert (AMBERES), with a full set of photos.
Hi Guillermo
Firstly many thanks for the wonderful event that you were so instrumental in arranging in Amsterdam. I thoroughly enjoyed it.
Here are the first of some of the digital photos I took - the quality is unfortunately a little variable.
Other pictures will follow.
Kind regards
Robert
05.10.2001
From John (RESPITE)
Dear Commodore,
I would like to thank you and all the others for the wonderful time at the Amsterdam meeting. I have not had that much fun in a long time. When is the next meeting? My thanks go to all the members who were wonderful hosts. I would like to become a member for next year when is the deadline? Who do we send the money to?
Again thanks to all.
John.
04.10,2001
From our Honourable Treasurer, Ton Koot
It is already 1 1/2 week after our great meeting. What rest are very warm feelings about all the banjer people. You are very nice people....
I promised you a overview of the financial results:
The estimated costs were Dfl. 7.831,- (3.554 Euro) The real costs were Dfl. 7.881,- (3.576 Euro) Difference < -/- 1%.
The total amount of income Dfl. 8.617 Positive saldo is Dfl 735 (334 Euros).
Burgees: Income Dfl. 920. Paid Dfl 1.454 Negative saldo Dfl 534 . 20 Burgees in stock.
Already paid contribution by RESPITE Dfl. 100
Total income Dfl. 9.637, total costs Dfl 9.335, total result Dfl. 301 positive (rounded). (137 Euros)......
Best regards...,
Ton
01.10.2001
From Chris (KITTY BOOT)
Just a note of appreciation on behalf of my crew, Brenda and Brian, and myself to you and Ton and all who organised this exceptional event. It was well worth our detour to Amsterdam, in spite of our late arrival. I feel we made many new friends.
"Kitty Boot" cleared Ijmuiden at 1330 on Monday and was in Hartlepool at 0200 on Wednesday, (254 NM).
Many thanks for a very enjoyable and memorable weekend.
Best regards,
Chris Gladish
29.09.2001
Excerpts from Frank Koorneef's e-mail
Dear Guillermo,
...We think the past weekend in Amsterdam was very special. Not only for meeting you 'real life' but as well for meeting so much charming Banjer-crazy people and seeing so much Banjers in one place. (by the way, I counted 11 Banjers, on Sunday 'Banjer' of Pete Reid joined the fleet, and you could say that the Banjer-scalemodel of Lex was number 12.....)
Very special to that so much people came from all over the world (like you and Chus) to be there!
...About my pictures: I think I have some very good ones (although you may never say that about yourself) but I have some difficulties digitalizing them, because I have made dia's (for the best quality). It will take some time to send them, but of course I will do so as soon as possible.
As soon as my report comes in 'De Waterkampioen', the magazine I mentioned, I will send it to you.
Our very best wishes...
Ellen and Frank Koorneef
26.09.2001
From Jack (TAPIR)
Hello Guillermo,
I couldn't agree with you more about the gathering!!!! Usha and me, we had a great weekend and as far as I could see, everyone did. So thank you very much for all the things that you did to make it happen!!!! Indeed Tom and Ton did a great job by organizing it all and I wil mail them to say so.
You mentioned that we maybe wil have a next gathering within a few years, I hope that we can achieve that, do you think that it will be possible within every two years or???
Okay, Guillermo give my best to your lovely wife and I hope to hear from you soon!!
25.09.2001
From Pete (BANJER)
Guillermo,
... Thanks to you and your (just appointed) staff, for making this possible. My wife and I enjoyed it very much. As a new owner, just selecting a ship that appealed to me for her shape and character, it was a very special experience to be an attendee on this first Banjer gathering. Meeting all these people with love for their ship and see all these different interiors. Of course I will now carry the burden of doing alterations to the ship after my wife has picked up a number of ideas. But just the drive of all these people and their offers in assisting me as a new owner in sharing their experience gave me the feeling of beeing very exepted. I also have made some pictures and will distribute them over the site after having them developed (usally takes a while). On Monday sitting in my office at Amsterdam, I again enjoyed a small parade of Banjers when a number of them set their course home.
Thank you
Pete.
25.09.2001
From the BMC Commodore to all members.
Dear members,
On Sept 21,22 & 23 we held our first BMC Meeting and Banjers Gathering in Amsterdam, Sixhaven Marina. It was a tremendous success, with the presence of 21 Members and 11 Banjers (Not to mention the Banjermodel!). We met, decided important matters for our Club's life, chatted about our loved Banjers, sailed them, enjoyed new friends and did a lot of laughing! And even the weather contributed to the general well-being and happiness of all, by being sunny and warmth.
We were honoured with the presence of Mr. Maurits van Wassenaer, former Eista Werf owner and developer of the Banjer 37 series, as well as his wife, son and daughter. The Chairmen of the Rogger Motorsailer Club and the Doerak Club, Hans Havers and Jan de Visser respectively, also honoured us with their presence and support. From here I want to express the Club's gratitude to all of them.
But very specially I want to say thanks, from the deep of my heart, to all of the attendant members and friends, because their caress and enthousiasm were the powerful root for the enormous success of the event. And very, very specially, I want to give thanks to Ton Koot and Tom Zwijnenberg for the excellent organizational job they did.
We were sad not to be able to gather in this ocasion all of the BMC members, but we look forward to have a next opportunity soon. We are thinking about meeting again in a couple of years.
........
Best Banjers wishes to all of you.
Guillermo Gefaell
BMC Commodore.
24.09.2001
From Christian (NOORDERZON)
Fantastic is all I can say!. I want to thank especially Guillermo for coming over and Ton for organising the financials (and bitterballs) and Tom for organizing most of the event here in Holland. Incredible to have a club like this started from scratch about a year ago. It's like we have been members for years!
See you all in the near future I hope.
Happy sailing!
Christian.
We had a wonderful time, folks !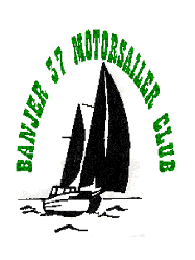 Sixhaven Marina
...Originally the Sixhaven was a workharbour when the Centraal Station was built. In 1974 the "Watersport Vereniging Dok- en Scheepsbouw" moved in the harbour and maintains since then. This yachting club consists of former workers at NDSM and ADM, the large wharves where many ships were built and repaired. This year the Sixhaven celebrates its 25th anniversary. ..Address: WVDS, Sixhaven, 1021 HG Amsterdam.
Address:

Sixhavenweg 15

1021 HG Amsterdam

Noord

Telephone(s):

+ 31 (0) 20 632 94 29 (havenmeester)

+ 31 (0) 20 631 50 97 (secretaris)

+ 31 (0) 20 637 08 92 (accommodatie)

Fax number:

+ 31 (0) 20 636 16 22

Post address:

Spicastraat 2

1033 CN Amsterdam

Noord

Bijzonderheden:

Secr.: R. Hylkema

accommodatie: Jachth./clubhuis Sixhaven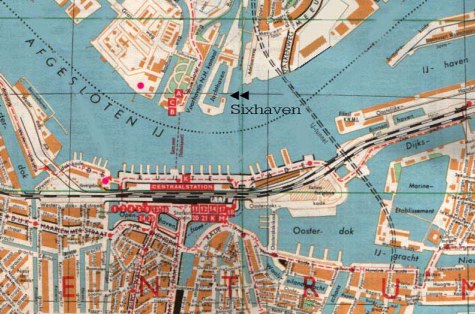 Amsterdam
Canals & Night Tours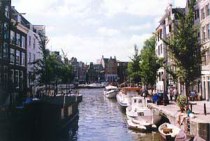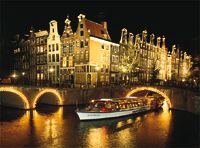 Centraal Station & Floating Flowers Market